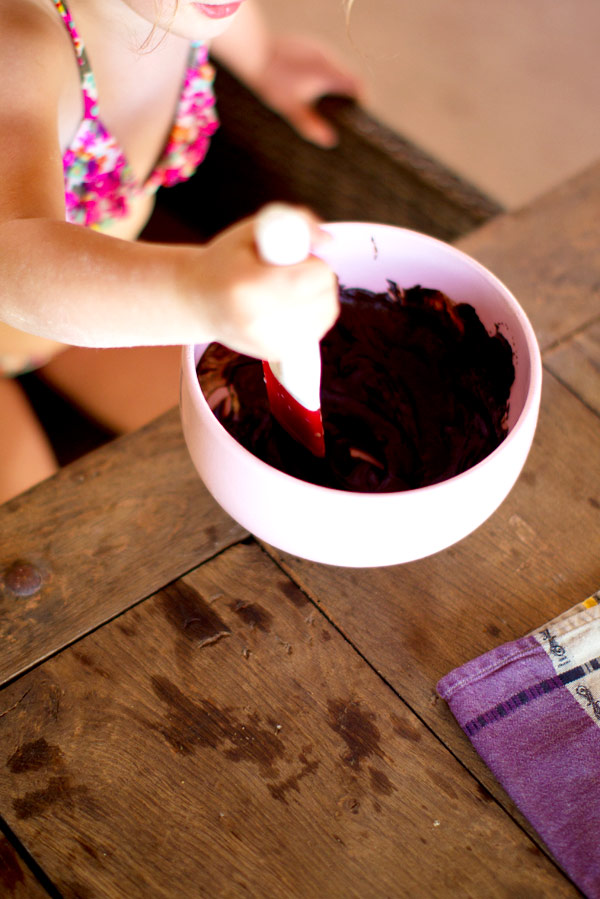 Making Chocolate Ganache
Today Lulu baked chocolate tartlets.
"C'est pour qui ?" (Who is it for?) I asked. She was kneeling on a wooden stool that my sister-in-law and I had pulled for her next to the outdoor kitchen counter top. Lulu was carefully making the rolling pin move forward and backward, curious to watch how the pastry thinned slowly. Her hands and nose and tummy were covered with flour. She looked very happy in the middle of all of it.
Pour tout le monde !" (For every one!) she exclaimed while describing a circle in the air with her hand.
She looked proud.
I was extremely proud of her.
Of the care she was putting in it.
And of her delicious chocolate tartlets.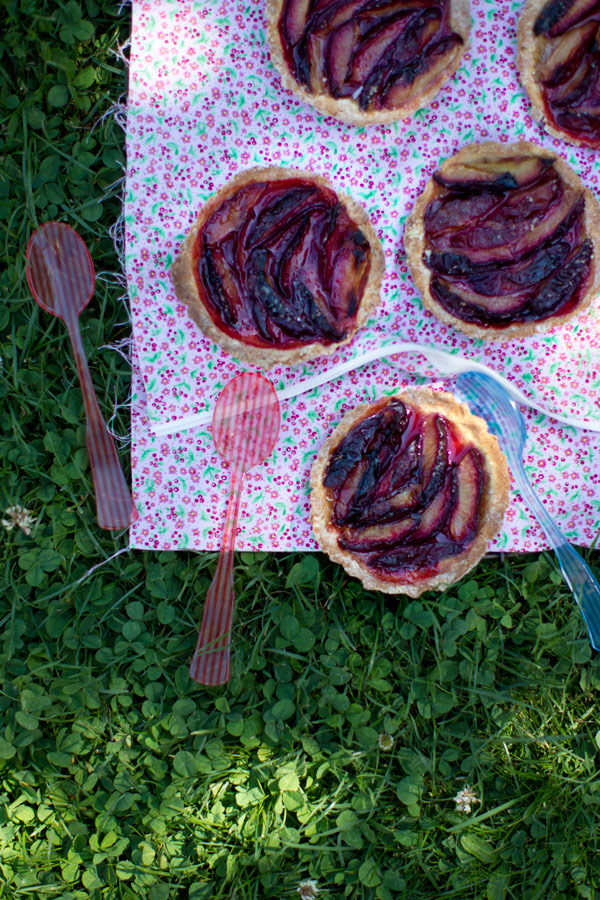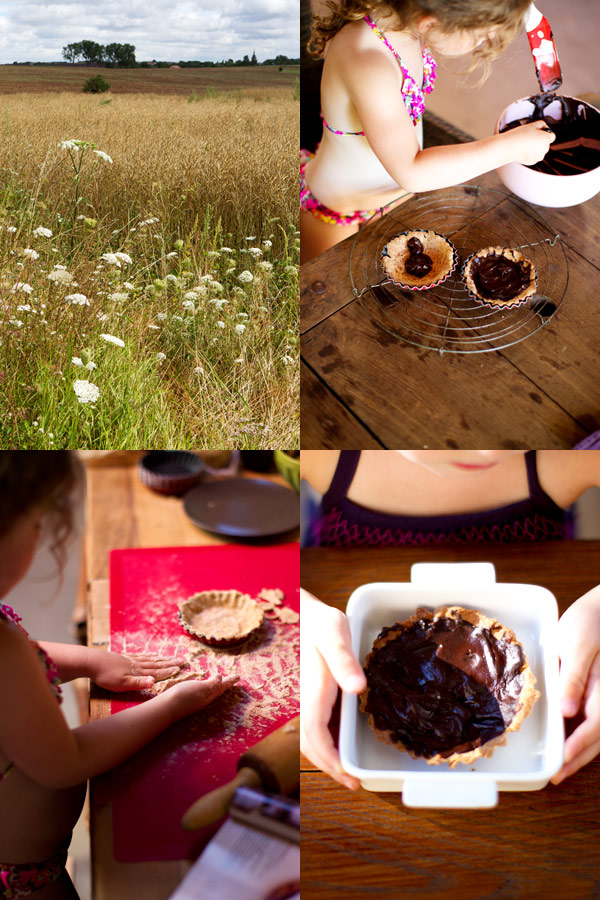 That evening, as my family gathered to eat, we shared Lulu's chocolate tartlets and my sister-in-law's plum tartlets.
One of the most delicious and simple desserts, in my opinion, to seal a summer dinner.
This is an excellent recipe to try with your little ones. Lulu is only three and a half and she did very well with it.
Lulu's Chocolate Tartlet Recipe
For six 4-inch tartlets
You need:
Rustic pastry crust of your choice (I will share my recipe later, but in a nutshell, use preferably whole flours)
For the chocolate ganache:
7 ounces (200 g) dark chocolate (70 % cocoa contents minimum), broken in small pieces
3/4 cup + 1 tablespoon (20 cl) heavy cream
3 tablespoons (40 g) unsalted butter, diced
Steps:
Preheat the oven to 420 F.
Roll the pastry and garnish six 4-inch tartlet molds. Make small holes at the bottom of each and prebake the tartlets for 15 minutes, or until golden in color. Remove and let cool.
To make the ganache, place the chocolate in a bowl. Heat the heavy cream and when it starts to boil, pour over the chocolate while stirring.
Add the butter while continuing to stir.
Garnish the tartlets with the chocolate and use a spatula to even the surface, and a fork to make a decoration on top (Lulu didn't want anything else on her tartlets).
Place in the fridge for a few hours, or until the chocolate is hard. Serve at room temperature.
Le coin français
Tartelettes au chocolat de Lulu
Pour six tartelettes de 11 cm
Ingrédients :
Pâte brisée rustique de votre choix (je donnerai ma recette ultérieurement, préférez les farines complètes)
Pour la ganache au chocolat :
200 g de chocolat noir à 70 % de cacao minimum, cassé en petits bouts
20 cl de crème liquide
40 g de beurre non salé, coupé en dés
Etapes :
Préchauffez le four à 210 C.
Roulez la pâte et garnissez les moules à tartelette. Faites de petits trous avec une fourchette et précuisez les fonds de tartelette pendant 15 minutes, ou jusqu'à ce que la croûte soit dorée. Sortez du four, démoulez et laissez refroidir.
Pour préparer la ganache, mettez le chocolat dans un bol. Chauffez la crème et versez-la esur le chocolat tout en remuant.
Ajoutez les dés de beurre et continuez à mélanger jusqu'à ce que la ganache soit lisse.
Garnissez-en les fonds de tartelette et utilisez une spatule pour égaliser le dessus. Faites aussi des dessins avec une fourchette (Lulu ne voulait rien d'autre sur ses tartelettes).
Mettez au réfrigérateur jusqu'à ce que le chocolat soit pris. Servez à température ambiante.