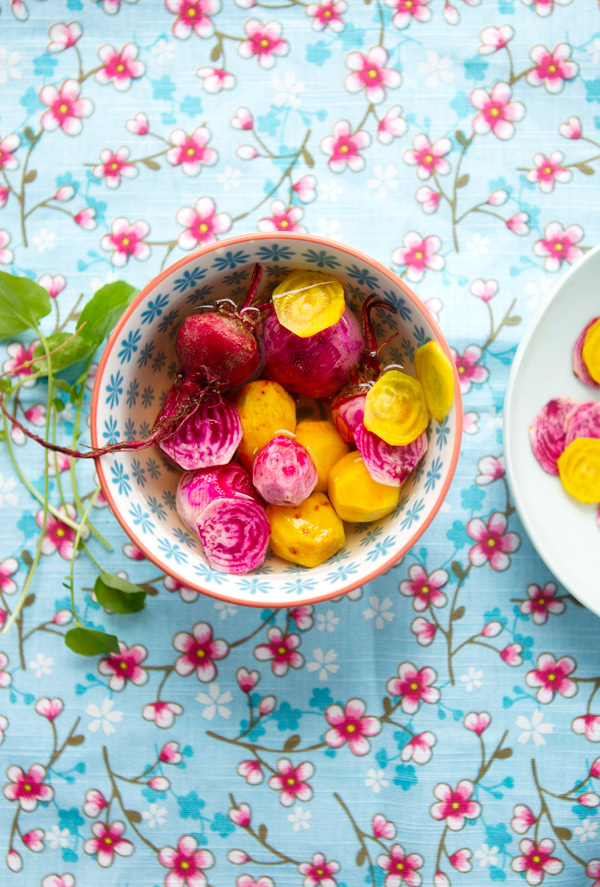 Beet chips
This weekend, I wanted to prepare something fun for Lulu. She's been sick with a cold. She's rarely sick. But she's been a real trooper. And so despite her fever and runny nose, she wanted to spend time in the kitchen with me.
"Je veux cuisiner avec toi maman," (I want to cook with you mummy) she said when she watched me peel the small beets I had kept from one of our late farmer's markets. I had meant to keep them as long as I could. I had fallen in love with the colors.
Amongst others, Lulu likes crunchy foods. I am not blaming her. I do too. I knew that a bowl of finely sliced beet chips would make her happy.
All of us, as a matter of fact.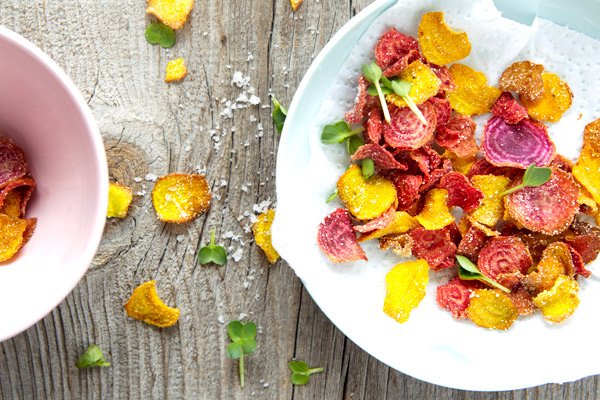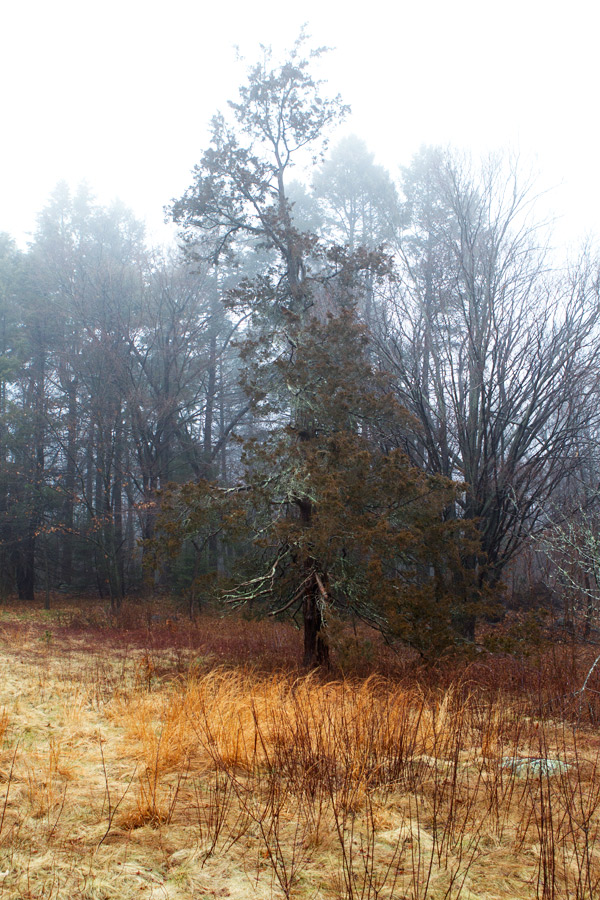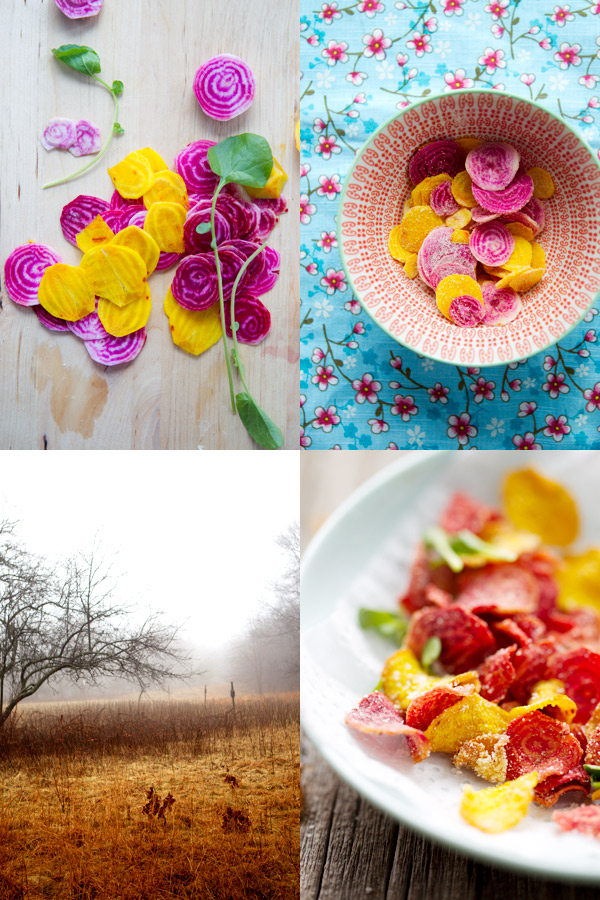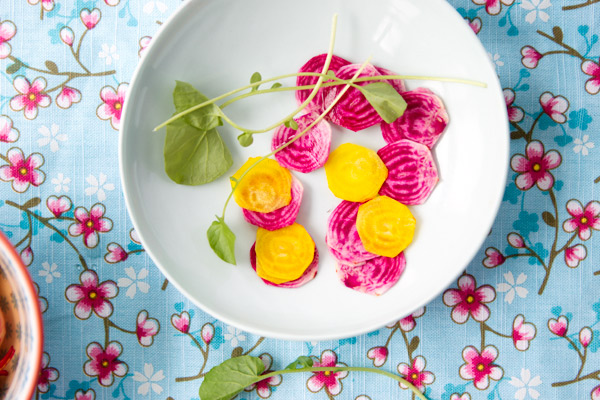 So we cooked together. And we prepared beet chips. I can still see her eyes lighting with excitement when she noticed tiny bubbles form around the slices of beets inside the boiling oil.
"Regarde toutes ces couleurs maman !" (Look at all of these colors mummy) she added. She was right to notice. They looked really pretty!
"Tu veux ajouter le sel," (Do you want to add the salt?) I asked.
I knew she would.
Simple things to cheer my Lulu up.
And help her feel better.
Thank you so much to all of you for your emails about the workshop. Lara and I are really happy to have received such wonderful feedback. We will be back with more information about to register very soon.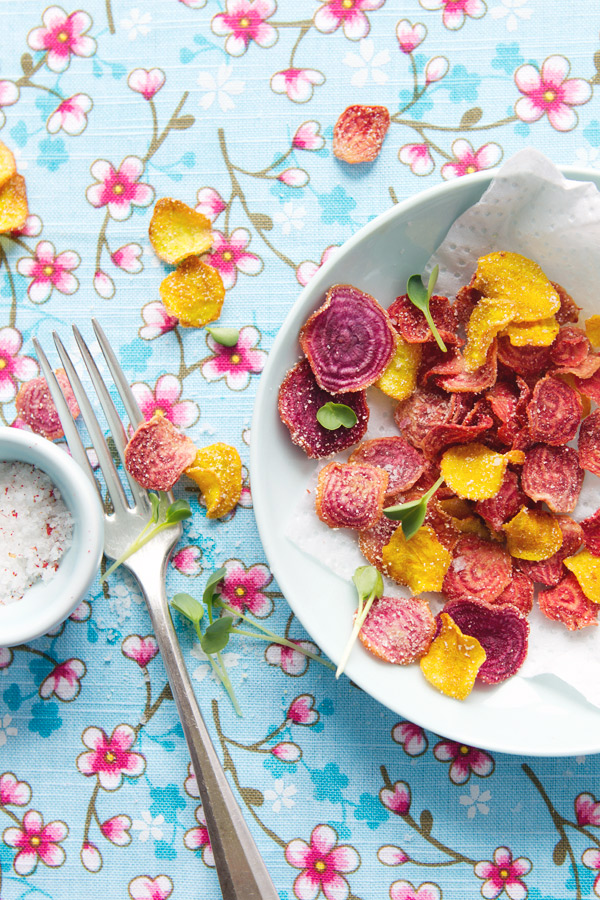 Beet Chips
You need:
Baby beets*, peeled and finely sliced with a mandoline
Brown rice flour
Pinch of ground coriander
Fleur de sel
Vegetable oil, for high-temperature frying, like canola oil

*Any types of beets will do

Steps:

Pat the beet slices dry between towels.
Transfer to a large bowl and sprinkle with brown rice flour and a dash of ground coriander. Shake off the excess flavored flour.
In a medium-sized pot, heat the oil on high heat. When hot, add the beet slices, making sure that you are not overcrowding the pot. Let the beets fry for a few minutes, until they look crispy.
Using a slotted spoon, transfer onto paper towels to cool.
Repeat until you run out of beets.
Once cooled, transfer to a bowl and sprinkle with fleur de sel. Enjoy!
Le coin français
Chips de betteraves
Ingrédients :
Petites betteraves*, pelées et coupées en tranches fines avec une mandoline
Farine de riz complet
Pincée de coriandre en poudre
Fleur de sel
Huile végétale, pour cuisson à haute température

*Toutes variétés de betteraves sont possibles, tant qu'elles sont naines

Etapes :

Mettez les tranches de betteraves dans des serviettes pour enlever l'excès d'eau.
Transférez-les dans une grande jatte et ajoutez un peu de farine et de coriandre en poudre. Mélangez bien, et enlevez l'excès de farine.
Dans une casserole moyenne, faites chauffer l'huile sur feu fort. Une fois l'huile chaude, ajoutez des tranches de betteraves, sans trop en mettre dans le casserole en une fois. Laissez frire pendant quelques minutes jusqu'à ce que les chips de betterave aient l'air croustillantes.
Sortez-les de l'huile, et mettez-les sur du papier absorbant.
Répétez avec le reste de betteraves, jusqu'à épuisement des légumes.
Une fois refroidies, mettez les chips de betterave dans une jatte et ajoutez de la fleur de sel. Dégustez sans attendre !