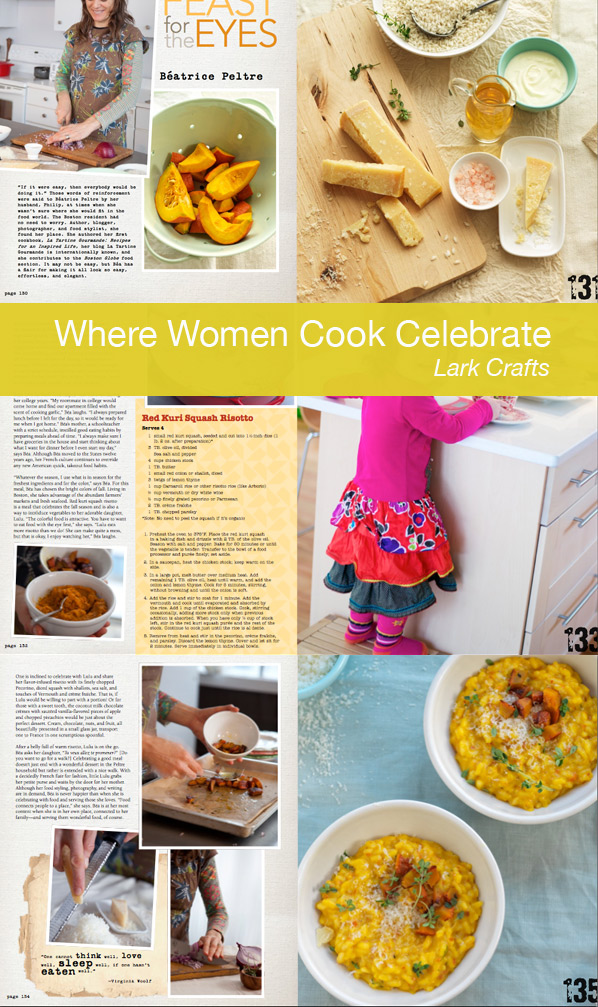 Feature of La Tartine Gourmande inside Where Women Cook Celebrate!
Back in summer last year, Jo Packham emailed me to ask whether I'd be willing to be featured inside a book she wanted to design. I liked her right away. I loved her book idea just in the same way.
Her book was going to celebrate a selection of women artists who like to cook. I loved that she asked me. I said Yes without a second of hesitation.

A year later, Jo's book is available. It's called Where Women Cook: Celebrate!: Extraordinary Women & Their Signature Recipes
It's a beautiful hard-cover book with over 175 pages. With recipes and stories about these women who cook and celebrate. With amongst them, talented artists like Molly, Helen and Ree.
At the time of the shoot, my kitchen was in the process of being renovated. And I needed to find a photographer. I immediately thought about Francine Zaslow who kindly accepted without hesitation to become my photographer.
Last fall, I drove to Francine's studio in Boston where she and I worked together during a full day. It was fun and creative. While I cooked and styled a red kuri squash risotto, she photographed it. Then, once my kitchen was done, I was able to shoot a few of my own pictures inside in my new kitchen, when Lulu helped me cook.
In celebration of the release of the book, the Lark Crafts blog is hosting a giveaway. Click here to receive details. If you post a comment on their blog before Friday October 21st by midnight EST (sorry if I am late, but the pre sale announcement of my own cookbook ate up my time), you are likely to win a copy of this gorgeous book filled with pretty photographs. The winner will be selected at random and notified on Monday, October 24th.
Bonne chance !
Thank you Jo. Thank you Francine. And everyone who worked on the project. I am honored to be part of it.