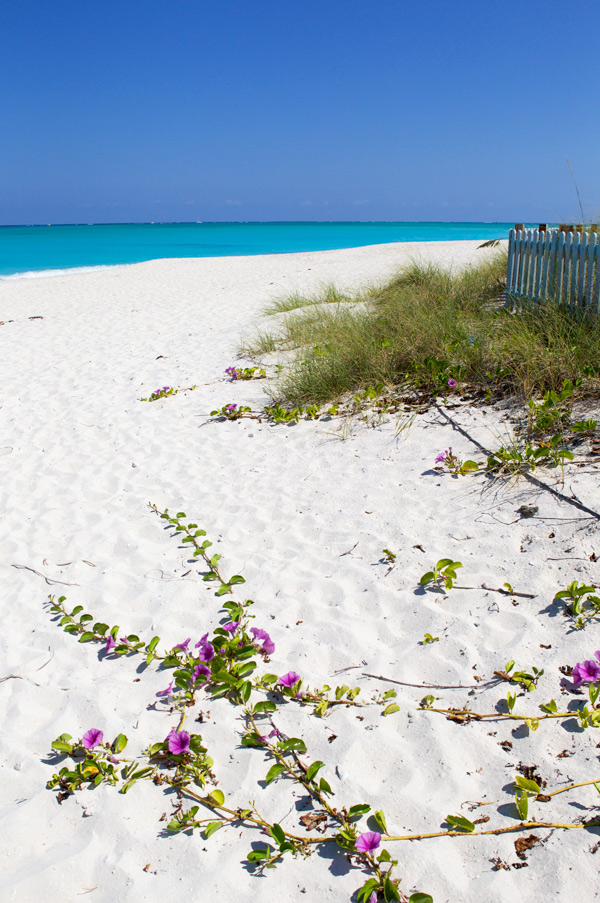 Grace Bay Beach in Providenciales
"How did you end up deciding to go to that island?" my friend R. asks. She is casually sitting on the bed next to me while I am packing our suitcases. Clothes are lying everywhere on the floor.
I must pause as I don't actually know how to answer.
"I am not sure," I eventually mutter. "We just need a break, you know. P.'s heard about the island from friends who went. We wanted something simple and low key. Then, I found a house with a pool. Not too expensive. And it was not too far either. So I made it happen. Voilà ! You know me, that's how it goes."
We wanted to see turquoise blue waters. Feel the warmth of fine sand under our feet.
And breathe.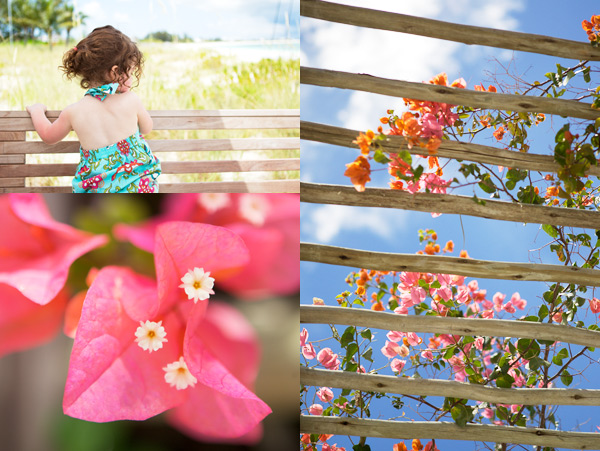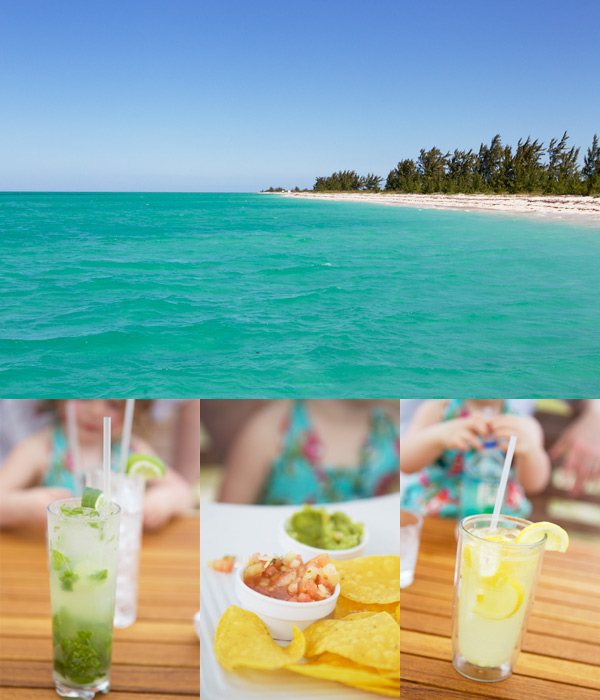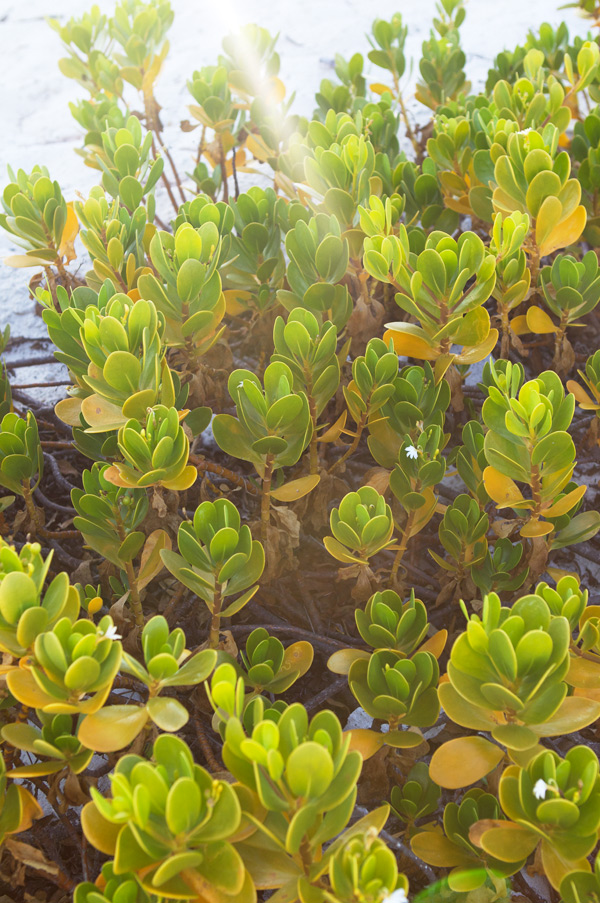 It's close to noon on Saturday morning when we arrive at the airport of Miami. The place is bustling with activity. We have less than an hour to wait before our next flight. It's short. Lulu is casually resting on my lap, feeding her baby doll, and despite our early start of the day, I can feel that my body is finally starting to relax.
It's happening.
Everything has been so far easy and it feels weird. This time, I am glad not to have forgotten a passport back at home. These things happen now.
The flight connection works fine. We don't experience delays. Lulu is happy. So we are too. And now we even have a car ready for us at our final destination. Our next stop after that will be the house. At that point, I am simply craving a dip in the pool.
"Look at these colors!" I tell P. as I catch a glimpse of reefs in a beautifully clear blue sea, minutes before we eventually touch the ground.
The change of weather is striking.
"Wow, I had forgotten how summer feels! " I tell P. as I watch him toss our bags in the trunk of our small rental car.
I am wearing a pair of jeans, a long-sleeved shirt and converse shoes, and all I wish for now is a pair of flip flops, a light skirt and a tank. Lulu looks tired and hot, but like us, she shows real signs of excitement about the new environment surrounding us. Especially when she catches a glimpse of the booster seat loosely installed in the back. While we are worried it might not be secure enough, she loves it right away.
"She looks grown up in it, don't you think?" I tell P. when I see the big smile that lights up her entire face.
"She does."
We don't need to say it. We both feel proud of her for handling the trip so well. We are also very happy to have a quiet vacation, the three of us, on an island for an entire week.
"Is the house far?" P. asks after I start the car. I prefer to drive while he navigates. We always seem to work more efficiently this way.
"I can't be."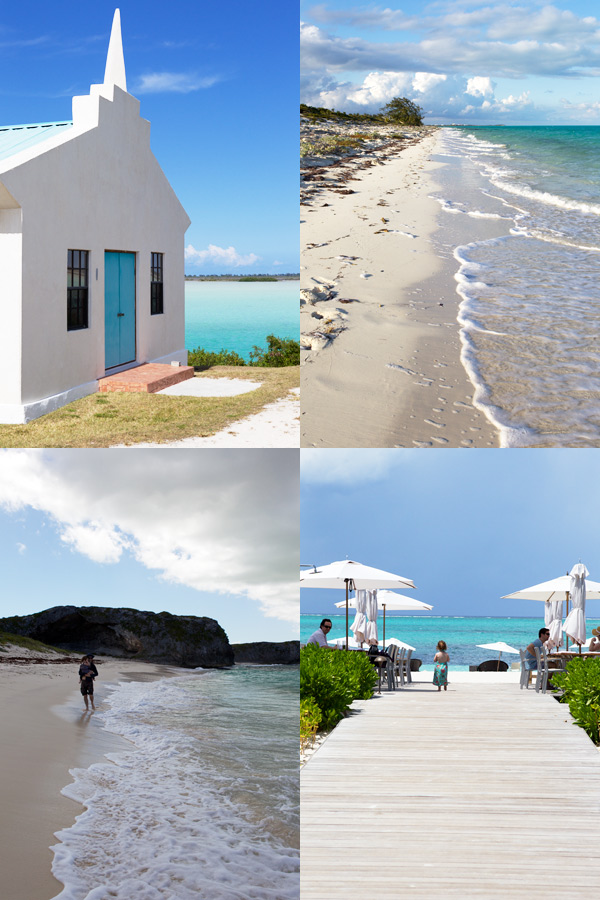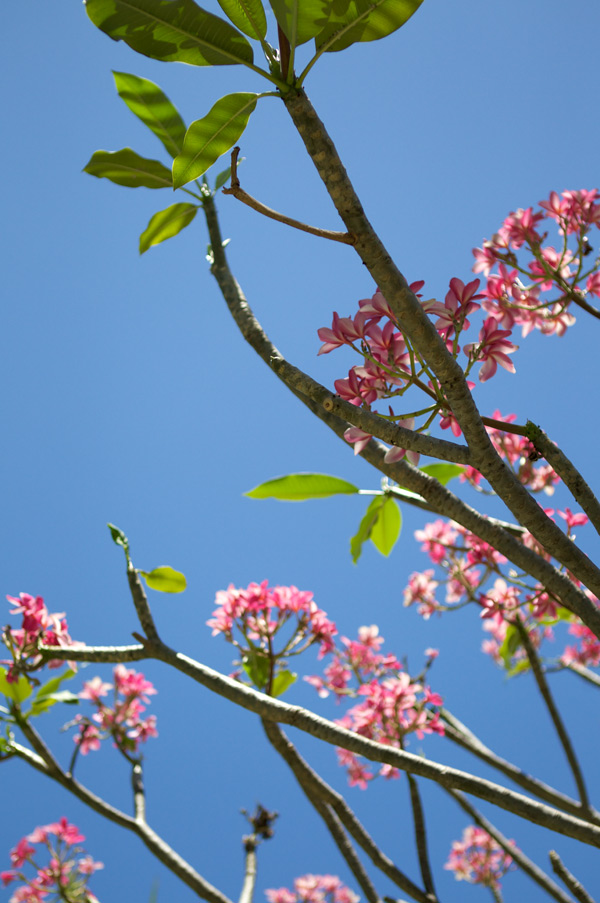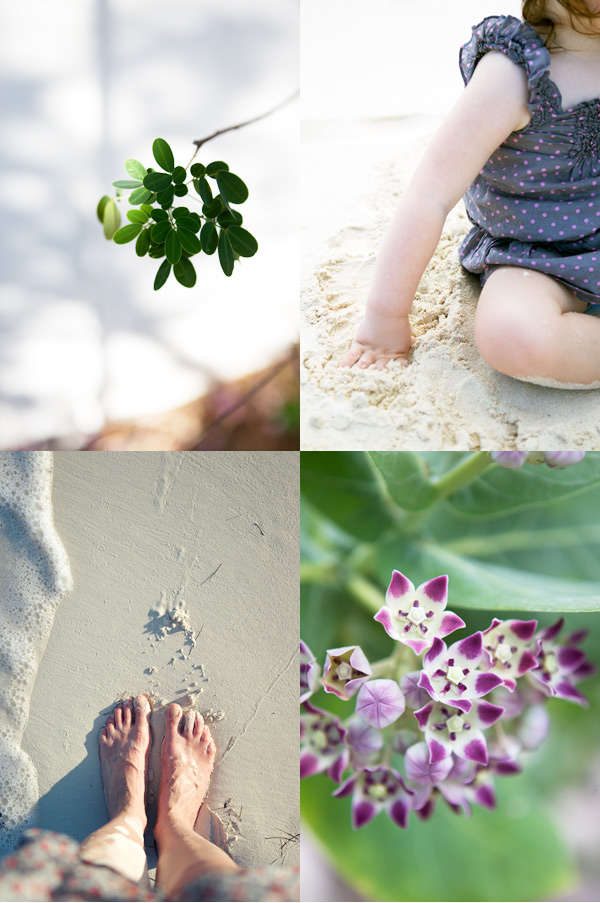 Provo–as the locals call it–is small indeed. It's part of two groups of tropical islands in the West Indies that form Turks and Caicos.
The islands lie southeast of the Bahamas and north of Haiti and Dominican Republic. The land area covers 430 square kilometers and the total population is around 36,000, of whom approximately 22,500 live on Providenciales in the Caicos Islands.
We've decided to stay on the quiet side of Provo, away from the bigger and more touristy resorts. As is common with us when we travel.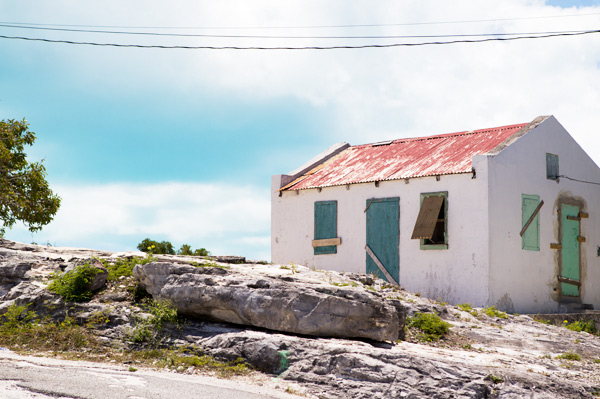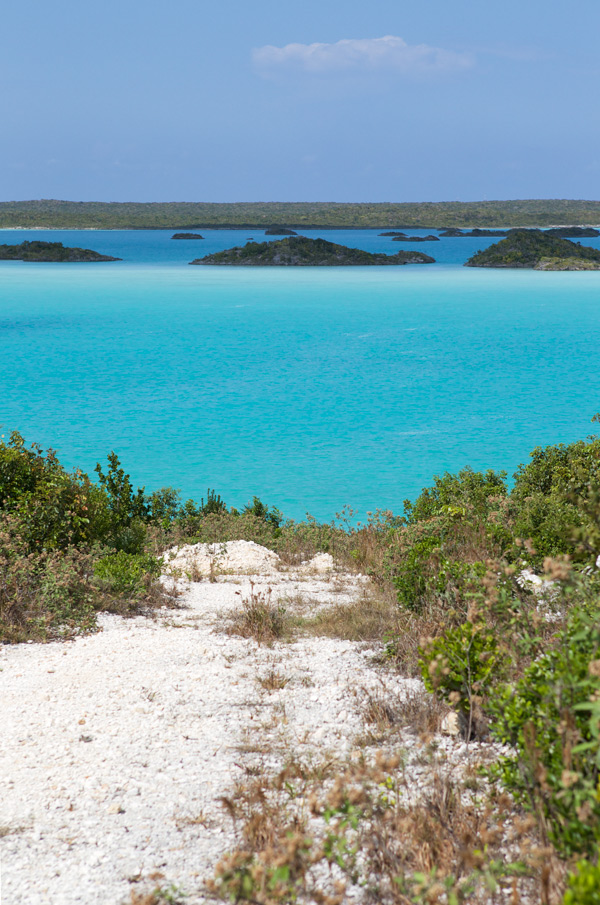 Our house is located in a quiet neighborhood near Long Bay Beach. The kitchen, I quickly notice, could do with better equipment, but I make do with it.
"I feel less silly about the vegetable grater and knife I've brought with us," I cannot help remark. to P. He always likes to tease me about this weird habit of mine. I like to think of it as useful instead.
With the privacy, the pool, jacuzzi and beach are what make the place.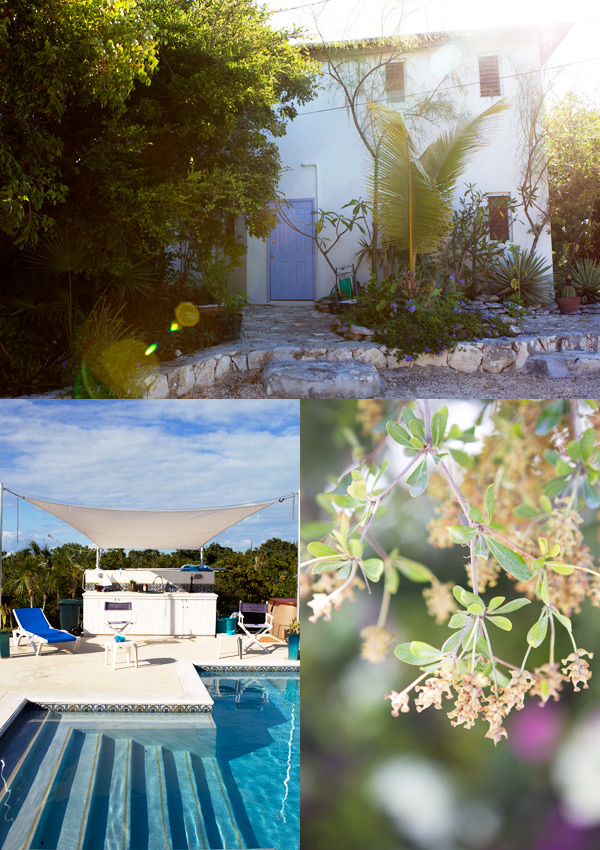 Our days start slowly and follow an even slower routine with neither phones nor computers which we embrace with great ease.
That's all we want.
After a morning swim, we eat at home, or we end up in pretty-looking beach bars, lunching on conch ceviche or tacos, mussels cooked in white wine, rice and peas and BBQ-ed fish. In the afternoon, we read, nap and go swimming again before dinner, and then we take a walk on the beach to watch the sunset. With the dogs who live on the property escorting us back and forth each time.
And the next day, we repeat the same pattern.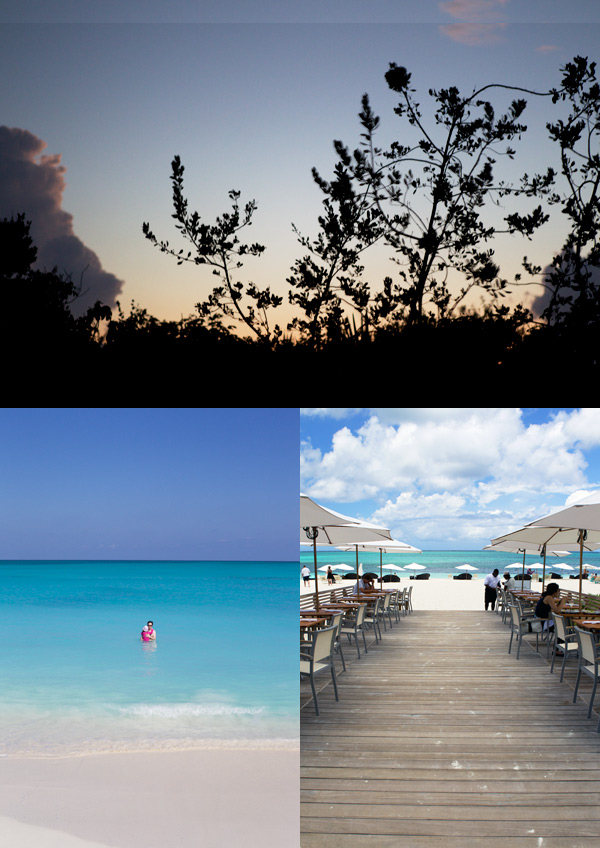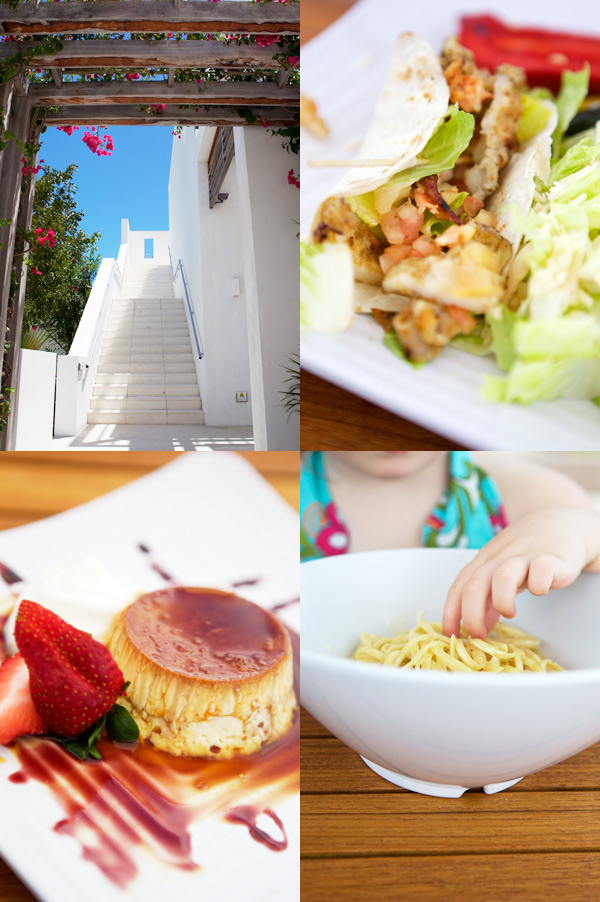 "It's funny how people decide that one beach is amongst the most beautiful in the world," I tell P. one morning while the three of us play in the sand on an empty end of Grace Bay beach.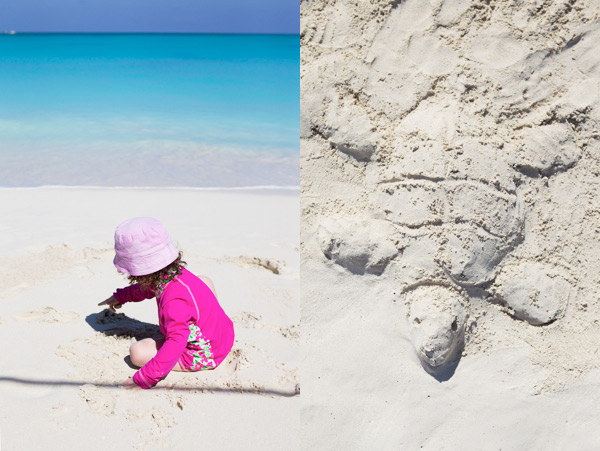 While preparing for our trip, we had read that guide books refer to Grace Bay beach as one of the world's top beach destinations. We understand why. The contrast between the green turquoise of the water and the lightly colored sand is stunning. Truly eye-catching. But yet we still prefer by far the natural beauty we find in Long Beach beach on the other side of the island where we stay; Whitby Beach in North Caicos and Mudjin Harbor beach in Middle Caicos that we visit as well. There are no crowds or fancy resort hotels there. If you wanted to, you could have the beach just for yourself.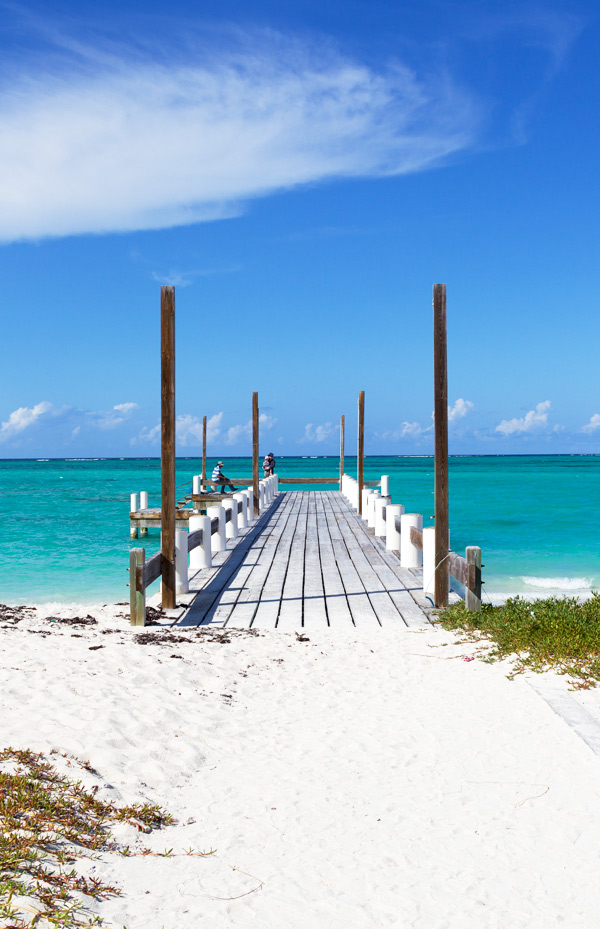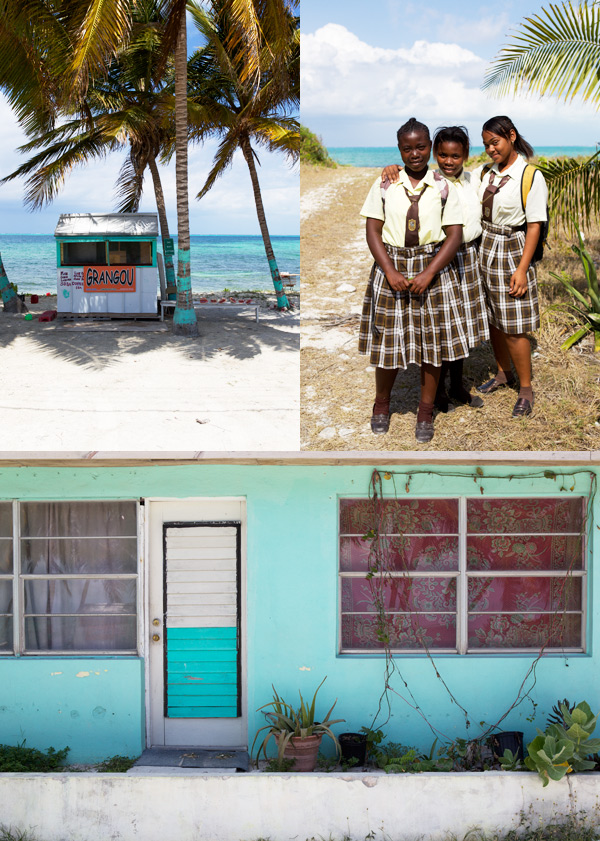 On the Tuesday night, while we sit on the patio and enjoy a dinner made of white quinoa with stir fried vegetables and shrimp cooked in coconut milk, lime juice and lemongrass", I tell P.: "I am really excited about tomorrow."
"I know!" he says looking amused. "But it's going to be a long day…."
I know it will, especially for Lulu, I fear. Yet that night, I cannot help but feel selfish. I am thinking about the visit of Government Farm in North Caicos, one bigger island near Provo.
P., I know, understands my eagerness. Over the years we've been together, we've traveled to a fair amount of islands in the Caribbean, and this time is my first to visit a farm on an island and see how local produce is grown.
Writing that I am excited is simply an understatement.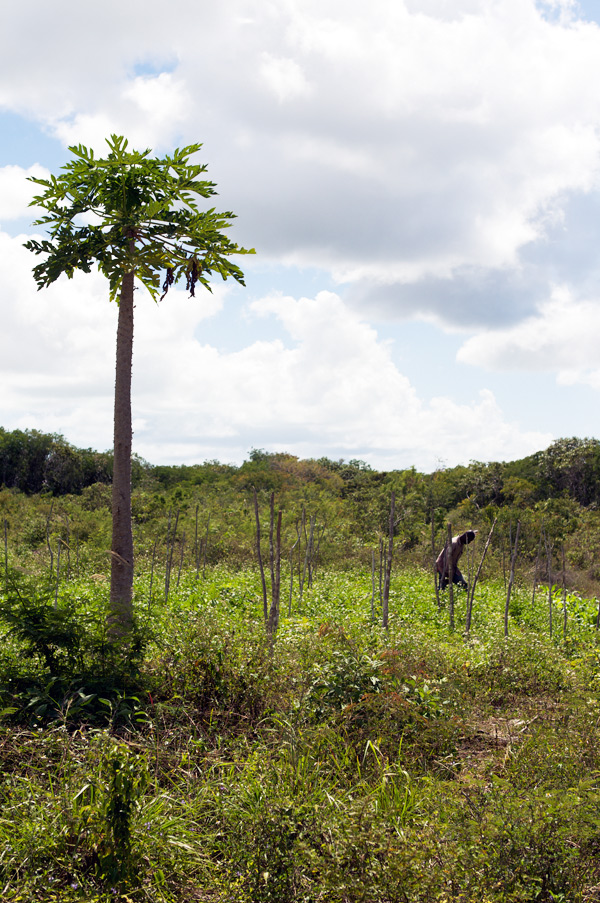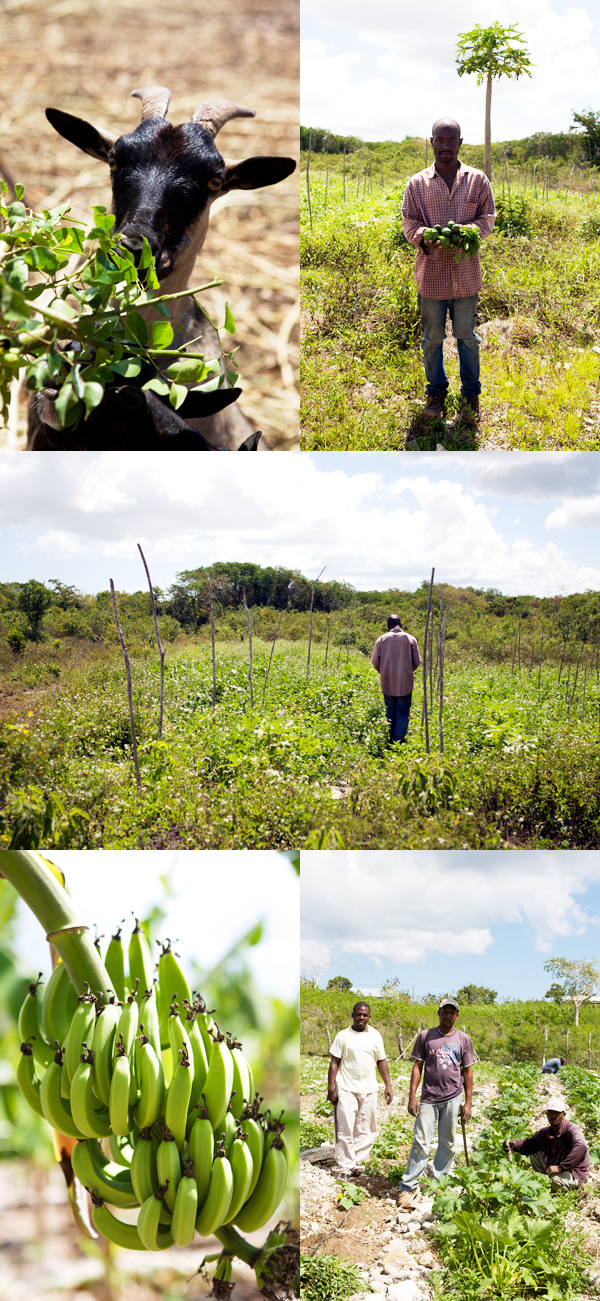 Government farm, North Caicos
The trip to North Caicos is a short thirty minute ferry ride, which amuses Lulu who enjoys saying hello to every passenger. Before we know it, she has become the amusement on board.
"Will you tell me on this map how to get to the farm?" I ask miss Suzy, the short woman waiting for us on the dock.
Plump but moving with grace, wearing glasses covering her face, Miss Suzy who is renting us a car looks friendly and motherly right away. She bursts into a loud laughter and then says: "Sure, but you'll just have to follow my directions, not the map. There are no signs".
She is right. I am doubtful that we will be able to find the place, but oddly, her directions–plus a few stops to ask locals by the side of the road—work.
And the visit to the farm is a true delight.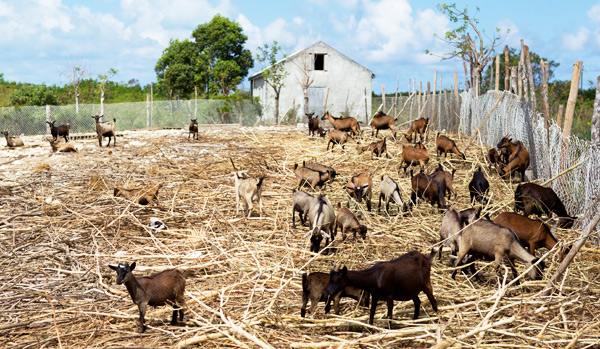 "Oh, des moutons!" Lulu exclaims joyfully after we make a turn left through a fence onto a rugged path leading to the farm. Surprised, P. and I look around to see whether we can see sheep too.
"Où ça ?" (Where?) I ask her.
"Là-bas !" (Over there!) she says as she points directly in front of us. We burst out laughing. Dozens of goats, old and young, are gathered behind a fenced area where they can run and play.
Lulu has found friends.
A few footsteps away, I spot three men bent down. They are busy cleaning lines of zucchini, they tell me after I ask what they are doing.
"Are you selling anything right now?" I then ask another man who piques my curiosity. Tall and slender, he carries himself in a way that makes him look focused. Even serious. At first, I even have a hard time understanding him.
"Vous êtes française ?" (Are you French?) he eventually says.
Surprised, I look at him, unsure about what to respond. But when he eventually smiles, I smile back and let a faint "Oui" escape between my lips.
"Je suis haïtien." (I am from Haïti.)
His name is Iram.
He walks me around the farm, showing where they grow eggplants, bananas, papayas, thyme and parsley–and so many plants I don't know or recognize. I am enchanted to find so much. Iram enjoys talking. We chat away in French. "We just need a lot of water," he tells me when I ask whether it's hard to grow vegetables. "We can grow a lot. It's easy."
"At the moment, we also have a lot of callaloo," he continues on.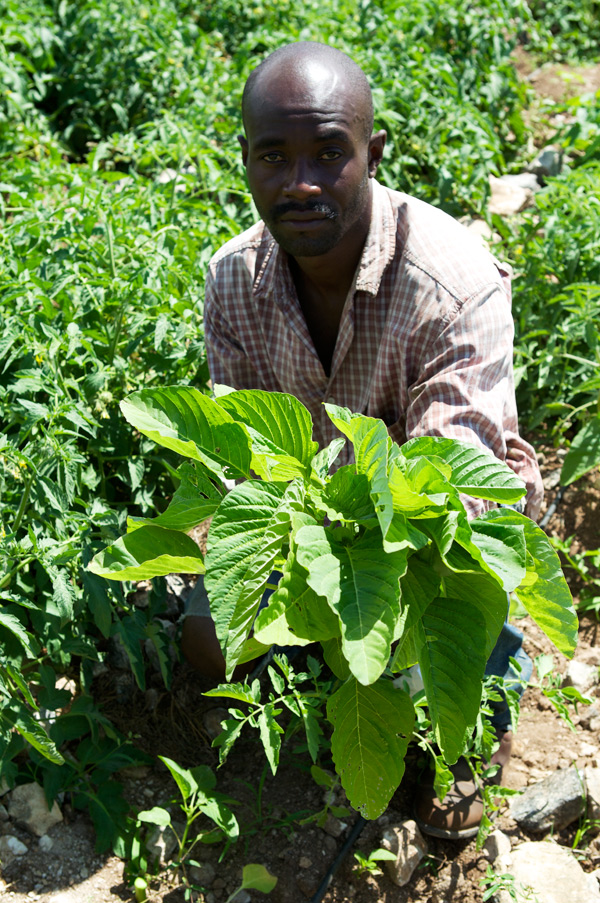 Callaloo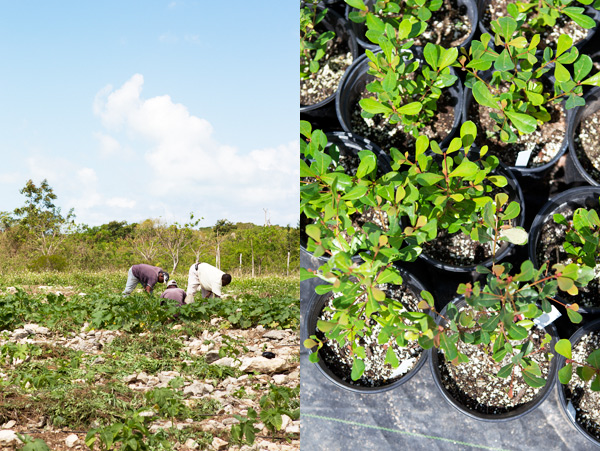 Hearing that, I feel thrilled. I recall P.'s conversations about callaloo, and the fond memories he keeps of eating callaloo soup when he lived in Trinidad as a child.
"Can I have some?"
Before I know it, I am leaving the farm with a bag full of parsley, papaya, zucchini, peppers, a large bunch of callaloo that I stir fry that night, and four eggplants.
"And what are you planning to do with those?" P. remarks, seeing the heavy bags I am carrying in each hand. "Did you forget we are leaving in two days?"
"No." I am smiling. I have ideas.
"You'll love it."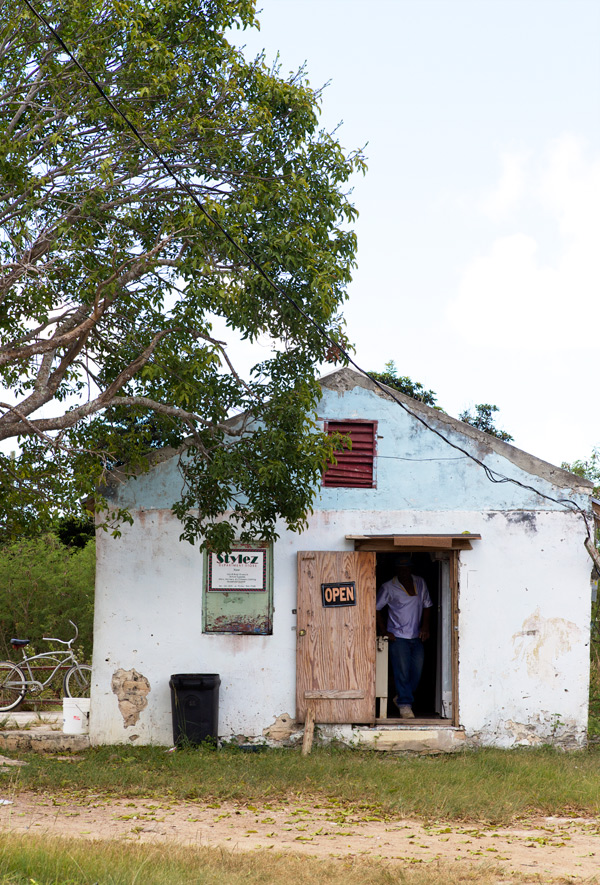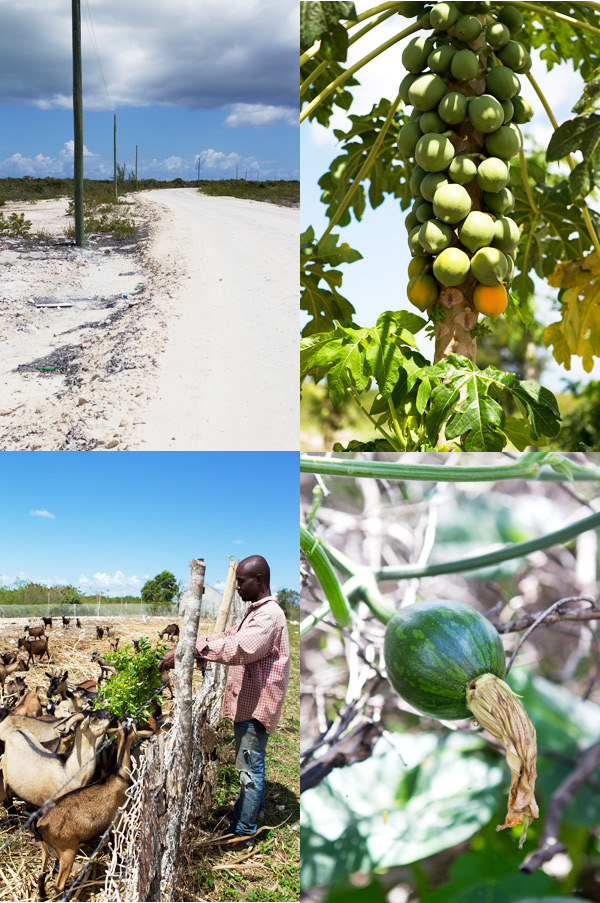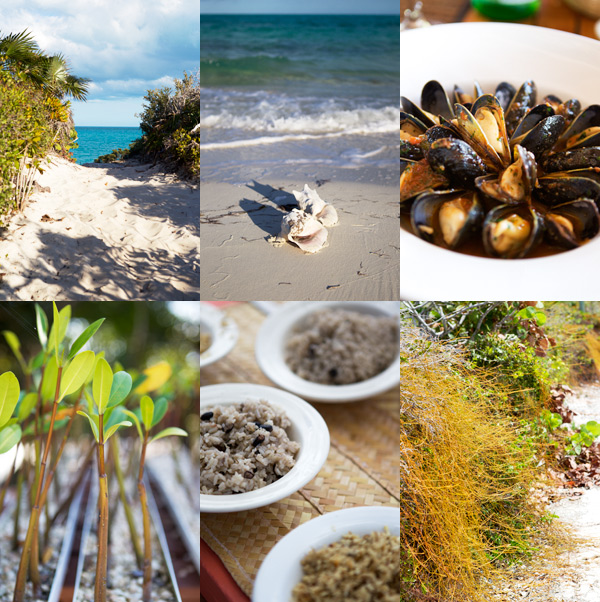 The night that follows, we are eating stuffed eggplants. De belles et délicieuses aubergines farcies !
My recipe is simple. Mix ground pork with carrot, sweet potato, tomatoes and eggplant flesh cooked in olive oil with garlic, shallot and spices. Then, stir in cheese and parsley, and then an egg to bind the ingredients together.
Once cooked, the eggplants are tender and melt-in-mouth. Their taste improves even more the second day.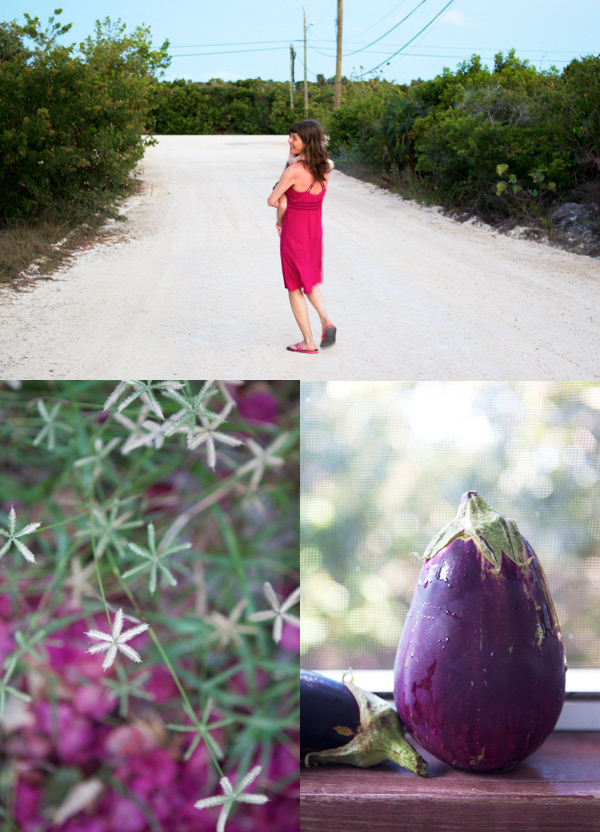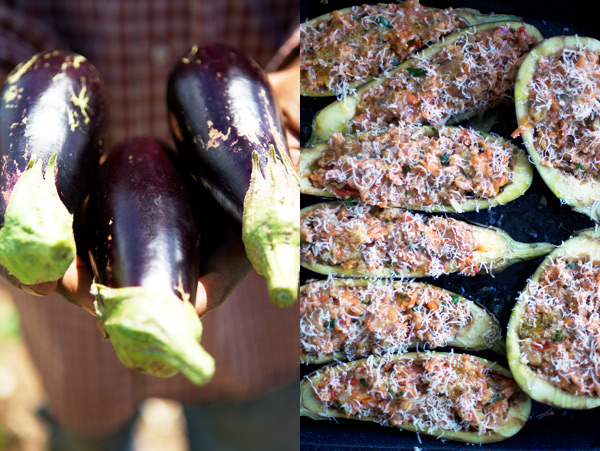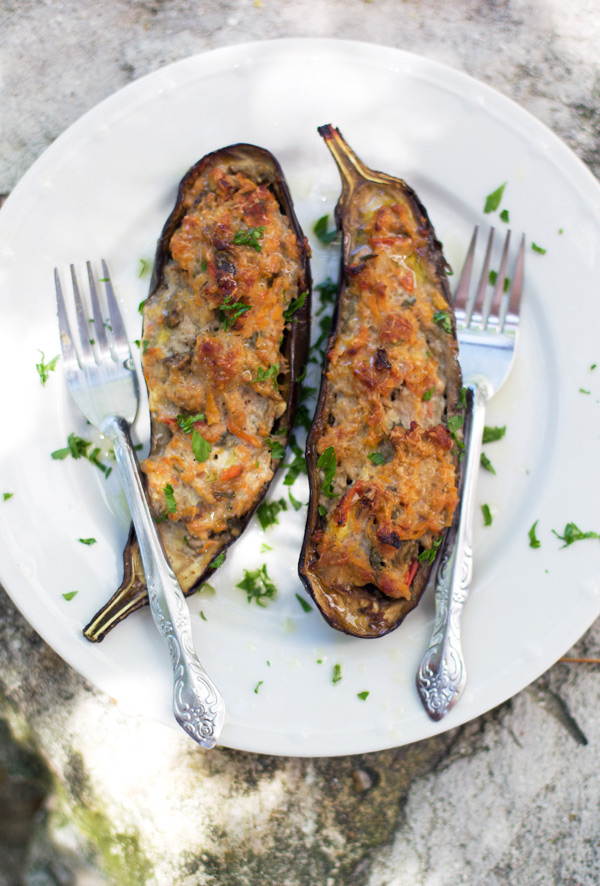 Eggplants stuffed with pork, vegetables and spices
"I cannot wait to try the recipe again at home."
We are finishing lunch. Our last on the island.
"Oh please, yes!"
That dish, we agree, will always bring the memory of Iram; the visit to the farm; Callaloo; Miss Suzy; daily swims in the pool and deep green waters; drawing turtles in delicate fine sand; beautiful smiling school girls walking home by the side of the road; conch shells found on Long Bay beach during our evening walks; our first taste of conch; Lulu's growing confidence in the water, and her discovery of bumpy roads and lizards.
All of it.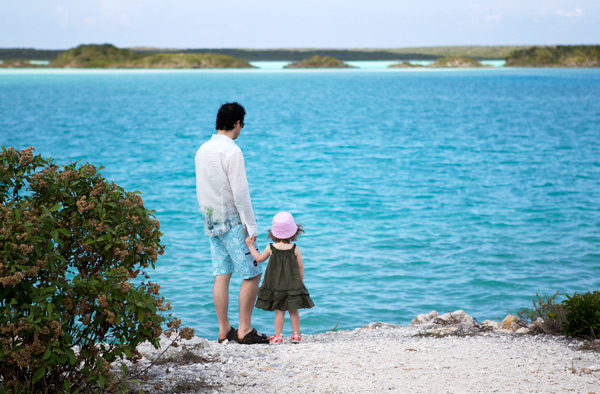 Eggplants stuffed with pork, vegetables and spices
(For 4 people)
You need:
4 medium eggplants
Sea salt
Olive oil
1/2 teaspoon ground cumin
1/2 teaspoon ground coriander
1 shallot, chopped finely
1 garlic clove, peeled and minced finely
1 small carrot, peeled and grated finely
1/2 sweet potato, peeled and grated finely
4 medium tomatoes, blanched, peeled, seeds and diced
1 pound (450 g) ground pork
1 large egg
Fresh parsley, chopped
2 ounces (60 g) Comté cheese, grated
Pepper
Steps:

Using a small spoon, scoop the flesh out of the eggplants. Sprinkle the inside with salt and turn them, face down, on a working surface. Leave to rest for 30 minutes minimum. Chop the flesh finely and keep 1 cup aside.
Preheat the oven to 375 F and have an oiled baking dish ready.
In a frying pan, heat 2 tablespoons olive oil over medium heat. When warm, add the shallot, ground cumin and coriander. Cook for 2 minutes and add the garlic. Continue to cook for 1 minute.
Add the grated carrots and sweet potato and cook, stirring once in a while, for 3 to 4 minutes. Add the tomatoes, season with salt and pepper and cook for 3 to 4 minutes. Add 1 cup of the eggplant flesh and cook, stirring occasionally until the vegetable preparation looks soft. Transfer to a bowl and let cool slightly.
Stir in the meat, 3/4 of the cheese and then the egg. Add the parsley.
Stuff the eggplants with this preparation. Place the eggplants in the dish and sprinkle with the rest of the cheese. Drizzle with olive oil and add water (or chicken stock) at the bottom of the dish (enough to create a small bed). Bake the eggplants for 1 hour, or until the cheese is lightly colored. These are even better the second day.
Le coin français
Aubergines farcies au porc, légumes et épices
(Pour 4 personnes)
Ingrédients :
4 aubergines moyennes
Sel de mer
Huile d'olive
1/2 càc de cumin en poudre
1/2 càc de coriandre en poudre
1 échalote hachée finement
1 gousse d'aïl hachée finement
1 petite carotte, pelée et râpée finement
1/2 patate douce, pelée et râpée finement
4 tomates moyennes, pelées, sans les graines et coupées en dés
450 g de hachis de porc
1 gros oeuf
Persil haché
60 g de Comté râpé
Poivre
Etapes:
Utilisez une petite cuiller pour évider les aubergines. Gardez une grosse tasse de chair d'aubergine et hachez-la. Salez l'intérieur des aubergines, retournez-les sur une planche à découper et laissez-les dégorger pendant 30 minutes minimum.
Préchauffez le four à 180 C et huilez un plat allant au four.
Dans une poêle, faites chauffer 2 càs d'huile. Ajoutez l'échalote, le cumin et la coriandre et cuisez pendant 2 minutes avant d'ajouter l'aïl. Poursuivez la cuisson pendant 1 minute.
Ajoutez les carottes et la patate douce râpées et continuez à cuire, en remuant de temps à autre, pendant 3 à 4 minutes. Ajoutez les tomates et cuisez encore pendant 3 à 4 minutes. Ajoutez la chairt d'aubergine et poursuivez la cuisson jusqu'à ce que tous les légumes soient tendres. Transférez dans une jatte et laissez refroidir légèrement.
Ajoutez le porc, 3/4 du fromage, l'oeuf et le persil.
Farcissez les aubergines de cette préparation et mettez les aubergines dans le plat. Ajoutez le reste de fromage et arrosez d'un filet d'huile d'olive. Ajoutez de l'eau (ou du bouillon de poule) au fond du plat et enfournez pendant environ 1 heure, jusqu'à ce que le dessus soit doré. Le plat est encore meilleur le lendemain.