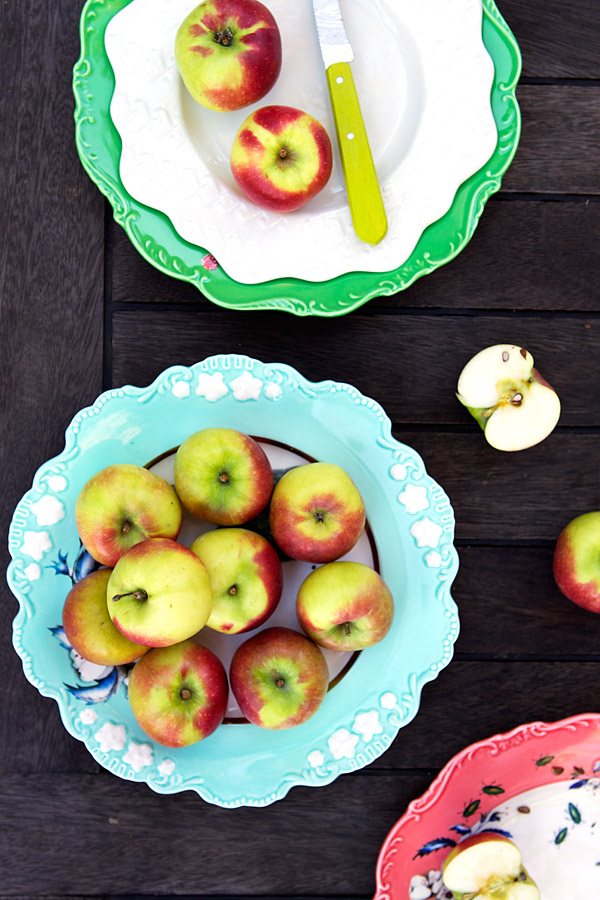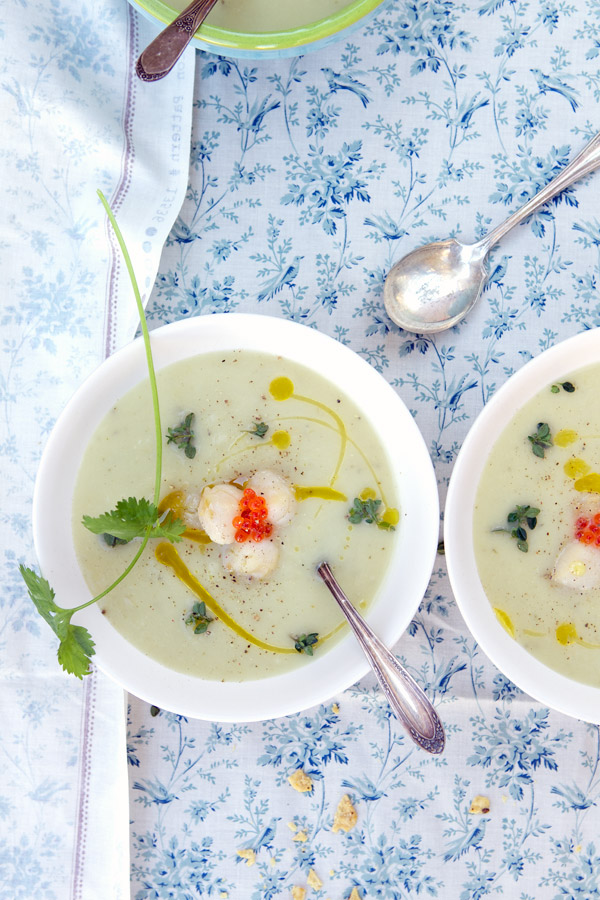 Lemongrass-flavored celeriac and sweet potato soup with bay scallops
It was a Saturday when it all happened. The crumble and the soup.
We got up early to take Lulu swimming, following our Saturday morning routine. The day was glorious. Mild. Sunny. It was a day without the need for warm jackets. Clearly unusual for November. But maybe not. I don't know what to think anymore.
One thing I knew, though. That very Saturday was a day we had to spend outside. To feel the season.
A beautiful day in November in New England, once again.
Lucky, that was how I felt.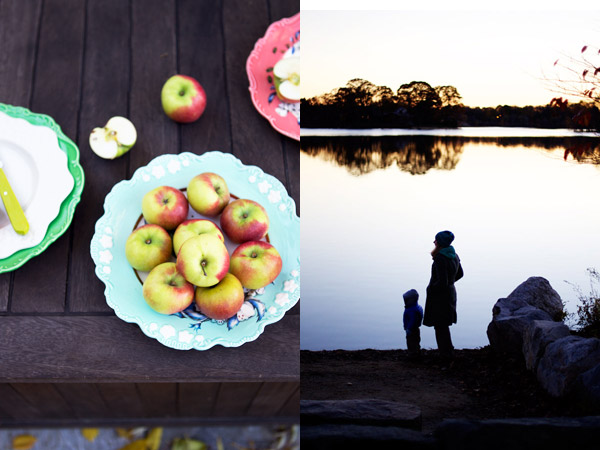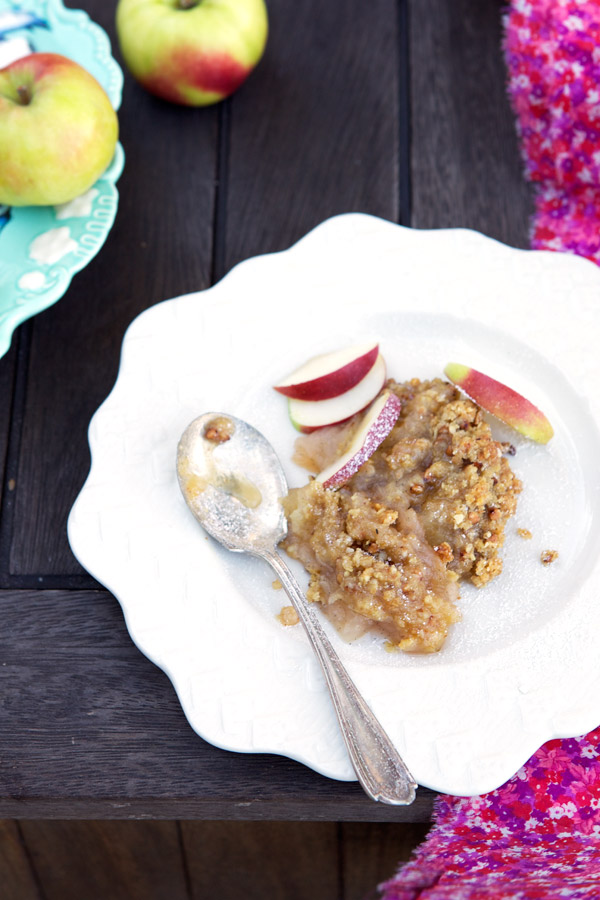 Spiced apple and kasha crumble
I had gone shopping the day before with many cooking plans in my head. Clearly, I must have been feeling hungry. I cannot recall now. I wanted to make so many things: Poach salmon with coconut milk and lemongrass; bake a vegetable quiche; prepare a fennel salad; make risotto; bake muffins and prepare crêpes which we would eat with sautéed apples. Just writing it down makes me realize that obviously, I had been carried away, determined to bring each one of these dishes on our kitchen table.
But the weather. That deep yellow sun and delicate but invigorating morning air. Those happy autumn colors and the warmth of our wintry sun in early afternoon. I had not thought about the possibility that they might stand in the way. Between me and my kitchen. Inviting us three out. Calling our names assertively. Insistently. Until we gave in.
Frankly, that was easy. No one needed to twist our arms too hard.
"Une soupe et un crumble, ça te va ?"(Are you fine with soup and crumble?) I asked P. when we talked about what our weekend eating plans. I always like to share my cooking ideas with him.
In fact, I just had to say the word crumble.
I have not yet met a single Irish person that can turn away from the sweet aroma of a warm crumble. Have you? Crumble! It's a magic word inside his family: Uncles, aunts, mother and father, sister, cousins–every member of the Irish clan, as I like to call it. Who could not fall in love with a country and its people for their dedication to crumbles?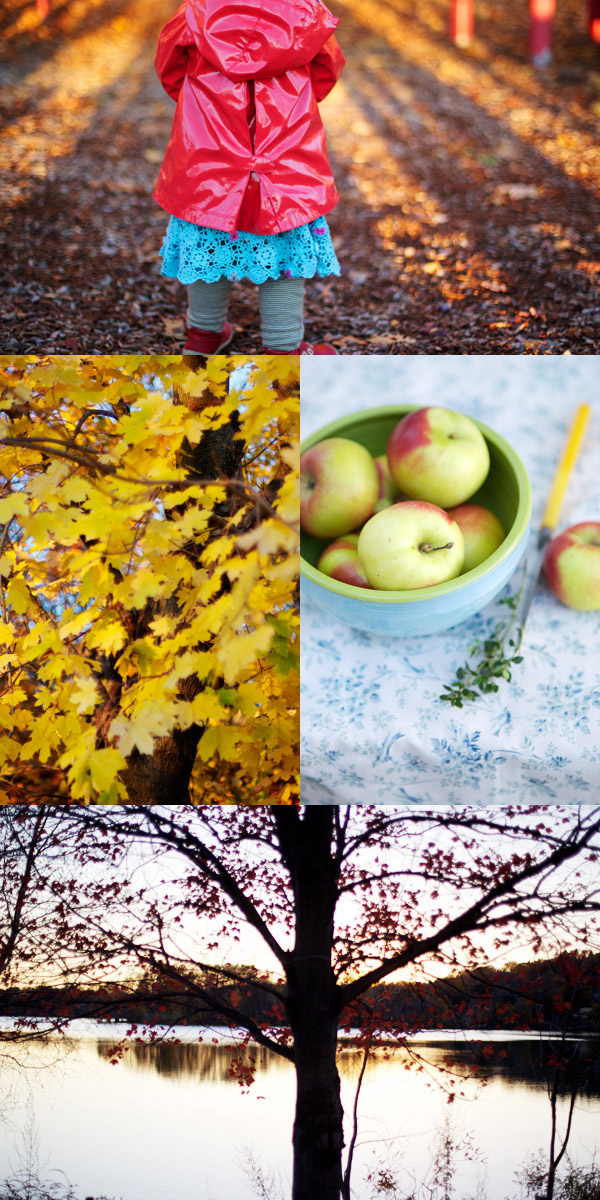 So there we were. This was how I ended up changing our weekend cooking plans.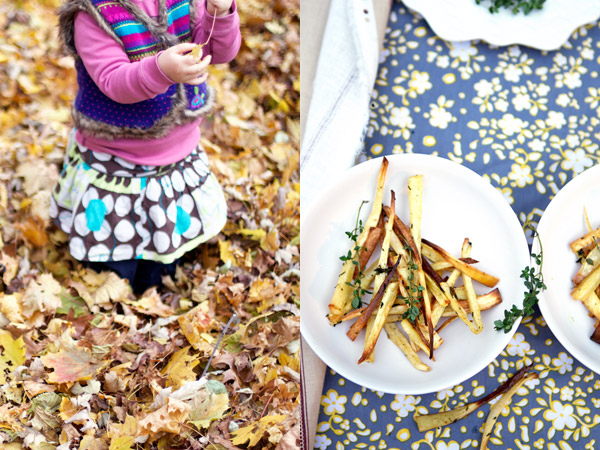 Parsnip fries
Left with my large stock of groceries, I improvised.
I baked the salmon with thyme and olive oil , and decided to serve it with black quinoa and mâche salad on the side. I used the lemongrass and bay scallops bought for another more elaborate recipe and prepared instead a celeriac and sweet potato soup with an exotic flair. I made a coconut milk and root vegetable riz pilaf; I baked parsnip fries and stewed apples to make a crumble in which I added kasha–an ingredient I've been enjoying eating lately. Making P. and me delighted. And Lulu *really* delighted because anything crunchy makes much more sense to her. Just like the word cookies.
Simpler foods, all in all, that allowed us to play at the park, run through stacks of leaves–because we still have plenty of them in the back garden. Long hours outside until it became dark and we had to go in. Reluctantly.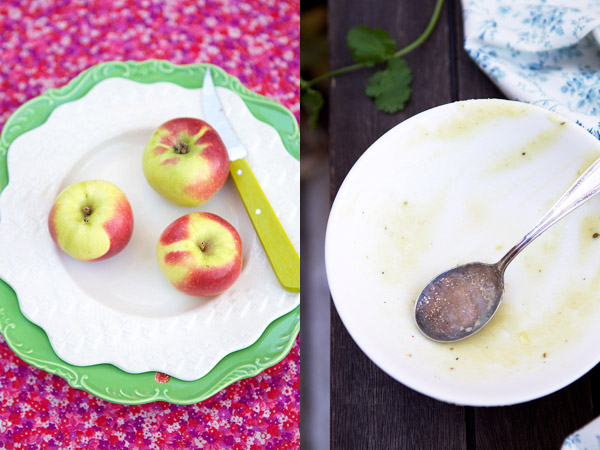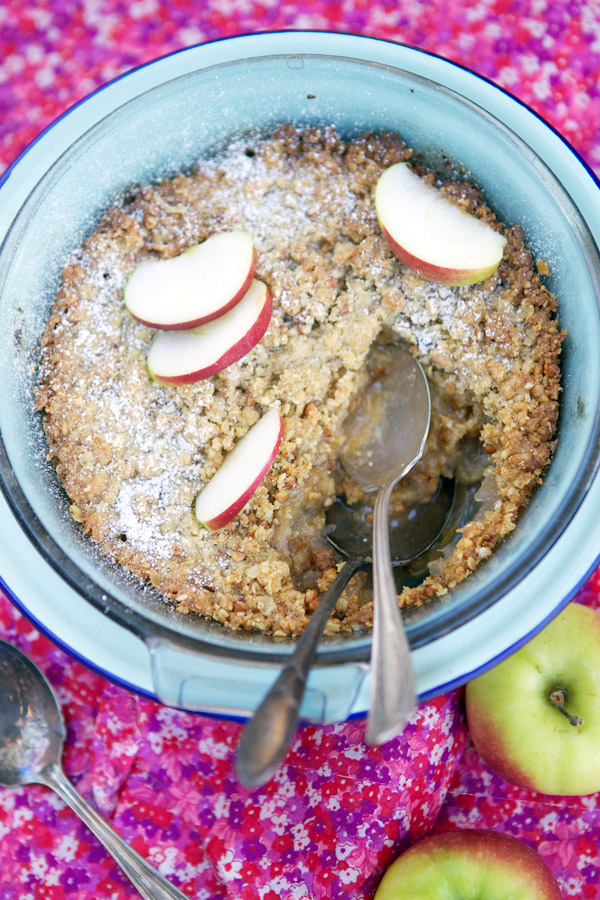 Spiced apple and kasha crumble
And the next day, when I woke up early at sunrise, before everyone else, and the house sounded peaceful and quiet, I ended up baking cookies. P. and Lulu had given me the hint during the week. Cookies. Cookies. C. o.o.k.i.e.s pleaaaaasssseeee!
I got it.
How could I say no?
We tried the cookies at breakfast. Had one each as a mid-morning snack when we drove to our house to clean up before we can move back in (soon, I hope! I am craving for my kitchen and living space now….) And we finished lunch with another cookie. Happy smiles around.
On Lulu and P.'s faces.
And mine.
And the day was not even over.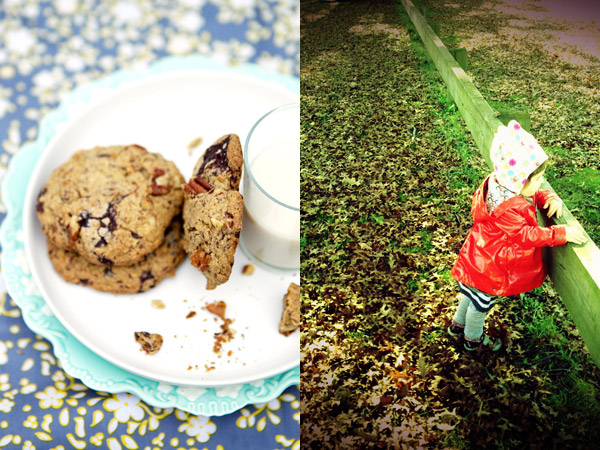 Dark chocolate and pecan cookies
Spice apple and kasha crumble
For 4 to 6 people


For the crumble:
1/2 cup (60 g) millet flour
1/2 cup (60 g) almond meal
1/4 cup (40 g) kasha
1/4 cup (30 g) quick cooking oats
1/4 cup (50 g) lightly packed light Muscovado sugar
1/4 cup (50 g) blond cane sugar
1 teaspoon pure vanilla extract
6 tablespoons (80 g) unsalted butter, cold and diced
Steps:
In the bowl of a food processor, combine the millet flour, almond meal, kasha, oats and two sugars.
Add the butter and pulse until crumbles form. Add the vanilla and pulse again; set aside in the fridge.
For the stewed apples:
2 pounds 3.5 oz (1 kg) apples (I used Macoun), peeled, cored and diced
1 vanilla bean, split open and seeds scraped out
1/4 cup (50 g) blond cane sugar
3 tablespoons water
3 dried pandan leaves
1 kaffir lime leaf
3 cardamom pods
Zest of 1 lime finely grated
Steps:
In a pot, combine all ingredients. Bring to a simmer and cover. Stew the fruit for 15 minutes or so, or until the apples are soft.
Discard the cardamom, pandan leaves, kaffir lime leaf and vanilla bean and seeds.
Preheat the oven to 375 F and butter a 10-inch dish; set aside.
Add the stewed apples and top with the crumble, Bake for 35 minutes, or until the top is golden in color.
Serve lukewarm with plain yogurt or vanilla-flavored custard.
Lemongrass-flavored celeriac, white sweet potato and winter fruit soup

You need:
1 tablespoon unsalted butter
1 tablespoon olive oil
1/2 red onion, peeled and chopped
1 leek, white part only, chopped
5 to 6 twigs of lemon thyme
14 oz (400 g) peeled and diced celeriac
10.5 oz (300 g) peeled white sweet potato
1 Bosc pear, peeled, cored and diced
2 Heirloom apples, peeled, cored and diced
1 lemongrass stick, diced
1 kaffir lime leaf
4 cups cold water
Sea salt and pepper
Steps:
In a pot, melt the butter. Add the olive oil and when warm, add the onion, leek and lemon thyme. Cook, stirring occasionally, until the onion and leek soften (about 4 minutes).
Add the rest of the vegetable, the apples and pear, and cook for 5 more minutes.
Add the water, kaffir lime leaf, lemongrass and season with salt and pepper. Cover and bring to a boil. Simmer for 20 minutes, or until the vegetables and fruit are soft.
Discard the lemongrass, kaffir lime leaf and lemon thyme and transfer the soup to the bowl of a food processor. Purée finely. Serve the soup warm with bay scallops lightly sauteed in olive oil. Decorate with fish roe and fresh herbs.