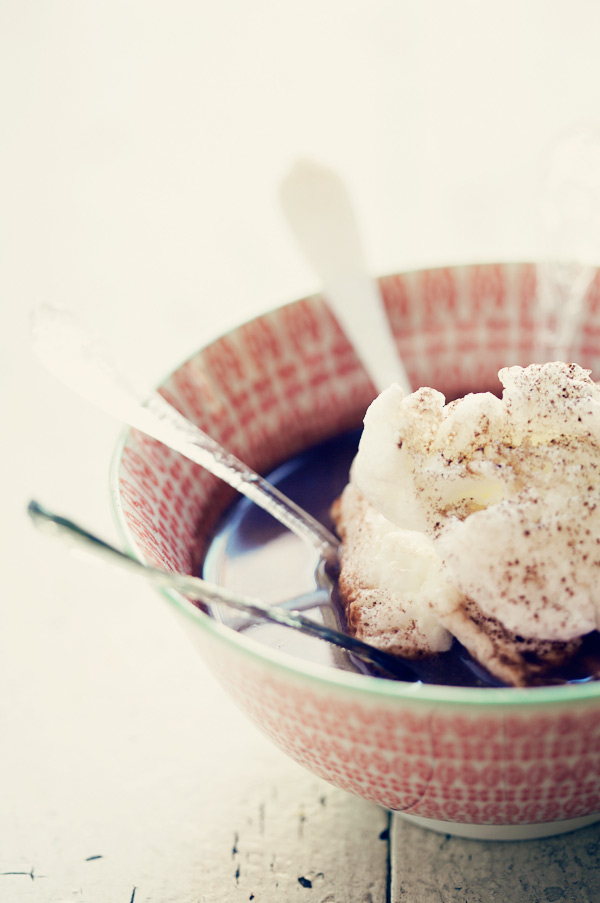 Chocolate snow eggs
"You'll do well! " P. said in a soft voice that sounded reassuring. He was looking at me straight in the eyes. Intensely as if to convince me even more.
I knew that it would be fine. That I would fine. But I was still feeling rather nervous — thrilled and excited! In fact, I couldn't fall easily asleep at night, tossing again and again, thinking about Thursday, Friday and then Saturday, and about the French TV journalist and cameraman who were flying from Paris to meet me.
Thursday, Friday and Saturday happened. It's been magical — and I can sleep again! They walked into our home and for two full busy days, they filmed and interviewed me, in my small kitchen. I am sure you can imagine the scene of me, P. and Lulu behind the camera — oh how much she liked it — and the kind of adrenaline I've been on! I think I still don't realize that it happened.
But I am lucky: they were extremely friendly and made me feel at ease — we had a lot of fun. I'll tell you more about it, I promise: details about the program and when it airs; about what we saw, what I cooked and what we ate.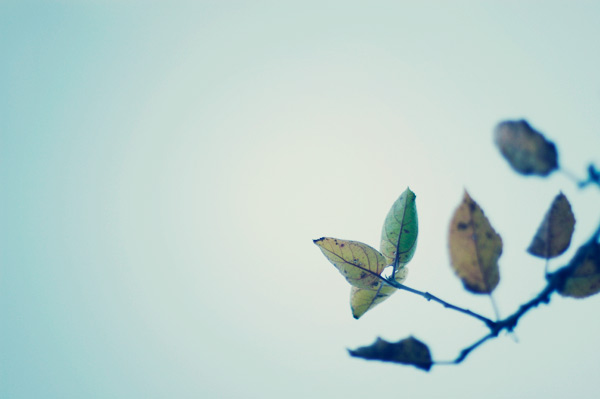 Meanwhile, an overwhelming chocolate craving took me over. A few days ago, we started the day with a pile of chocolate crêpes on the breakfast table — Lulu enjoyed her first one too — then I made chocolate mousse, and the next day, I had a chocolate snow eggs for dessert at lunch. One full serving* just* by myself! Juste pour moi!
It tasted rich and chocolaty, leaving wonderful aromas in my mouth.
It filled me with so much happy energy that after I licked my fingers and the spoon clean, Lulu and I went for a long walk in one of your favorite nature reserves close to the house.
It was still somewhat mild for the season so I decided to lay a blanket on the grass where she and I sat. She looked at me, surprised, and then smiled, clapping her hands and moving her legs and feet swiftly. She was a happy baby, with her hands full of the grass she grabbed.
And me a happy maman to be sitting there with her under the apple tree, with a stomach full of scrumptious chocolate custard.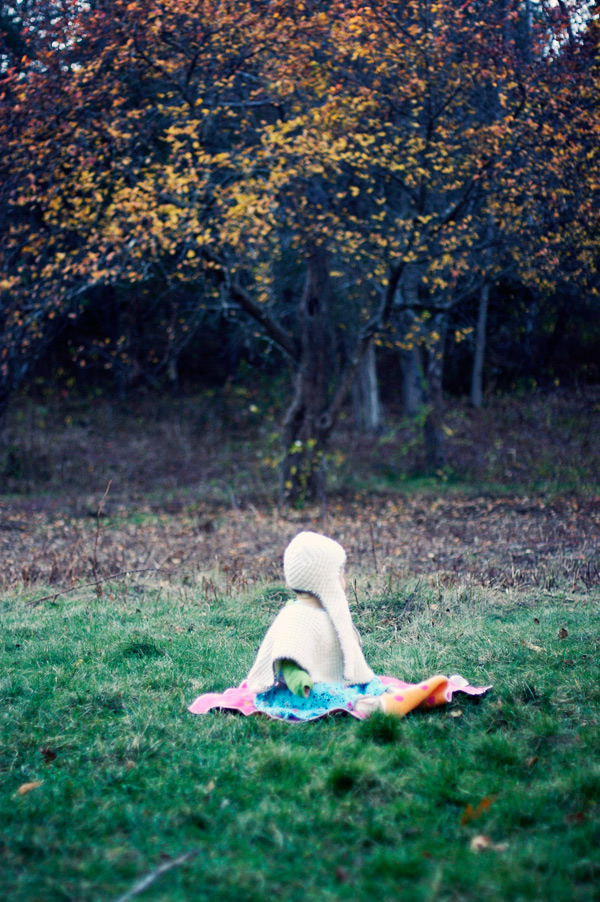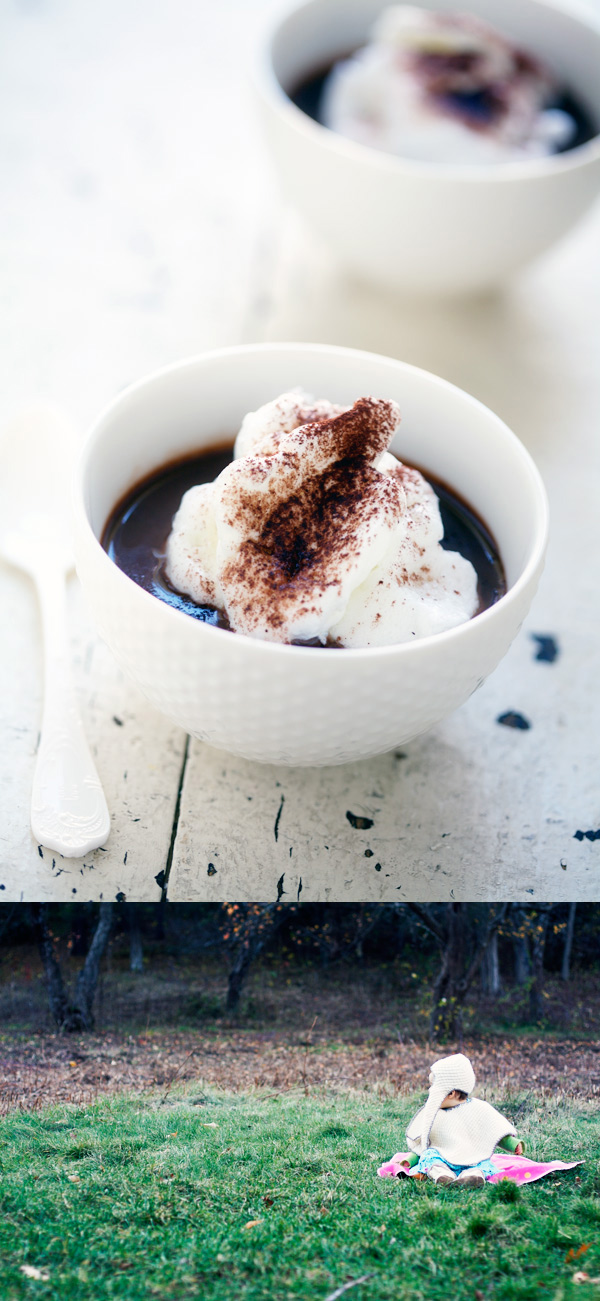 Chocolate snow eggs
(For 6 people)
You need:
2 1/3 cups whole milk
6 eggs, separated
1 vanilla bean, split open and seeds scraped out
3 green cardamom pods, crushed
1/2 cup blond cane sugar
3.5 oz dark chocolate, 64% cocoa, finely grated
2 tablespoons caster sugar
2 teaspoons cornstarch, sifted*
Cocoa powder, to dust

Note: using cornstarch makes the custard thicker. It's not necessary, and I don't always use it.
Steps:
In a pot, combine the milk, vanilla pod and seeds, and cardamom pods and seeds. Bring to a boil and then stop the heat. Cover and let infuse for 30 minutes. Filter the milk and reheat it.
In the bowl of a stand mixer, beat the egg yolks with the sugar until light and pale in color.
Pour the milk slowly while beating.
Stir in the chocolate and mix until the chocolate is melted.
Stir in the cornstarch and cook on low to medium heat, stirring, never leaving the cream boil but until it thickens. Let cool and refrigerate, covered, until ready to use.
In the bowl of your stand mixer, beat the egg whites with a pinch of salt. When they form soft peaks, add the caster sugar gradually while continuing to beat.
In a pot, heat a large volume of water. When it's reaching boiling point, reduce the heat so that the water simmers. Drop a large tablespoon of egg whites in the water and cook for 30 seconds on each side. Remove with a slotted spoon and place on a paper towel. Repeat with the rest of egg whites; set aside.
Serve the egg whites on top of the chocolate custard and dust with cocoa powder.
Le coin français
Oeufs à la neige au chocolat
(Pour 6 personnes)
Ingrédients :
600 ml de lait entier
6 oeufs, les blancs séparés des jaunes
1 gousse de vanille, fendue et grattée
3 capsules de cardamome verte, pilées
100 g de sucre de canne blond
100 g de chocolat noir à 64% de teneur en cacao, râpé
2 càs de sucre en poudre
2 càs de maïzena, tamisée*
Cacao en poudre, pour saupoudrer

Remarque : si vous utilisez de la maïzena, cela rend la crème plus épaisse. Je n'en utilise pas toujours.
Etapes :
Dans une casserole, faites chauffer le lait avec la vanille et la cardamome. Une fois que le lait atteint ébullition, arrêtez le feu. Couvrez et laissez infuser pendant pendant 30 minutes. Filtrez et réchauffez le lait.
Dans le bol de votre robot à pied, battez les jaunes d'oeuf avec le sucre jusqu'à blanchiment.
Versez le lait doucement tout en remuant.
Ajoutez le chocolat et remuez jusquà ce qu'il soit fondu.
Ajoutez la maïzena et faites épaissir cette crème sur feu doux à moyen. Laissez refroidir et mettez au frigo, couvert, jusqu'au moment de servir.
Battez les blancs d'oeuf en neige avec une pincée de sel. Quand ils commencent à devenir fermes, ajoutez progressivement le sucre en poudre.
Dans une casserole, chauffez un large volume d'eau. Quand l'eau frémit, déposez une grosse quenelle de blancs en neige et cuisez pendant 30 secondes de chaque côté. Recommencez jusqu'à épuisement des blancs en neige. Déposez-les sur une feuille de papier absorbant.
Servez la crème au chocolat avec les blancs en neige posés dessus. Saupoudrez de cacao en poudre.