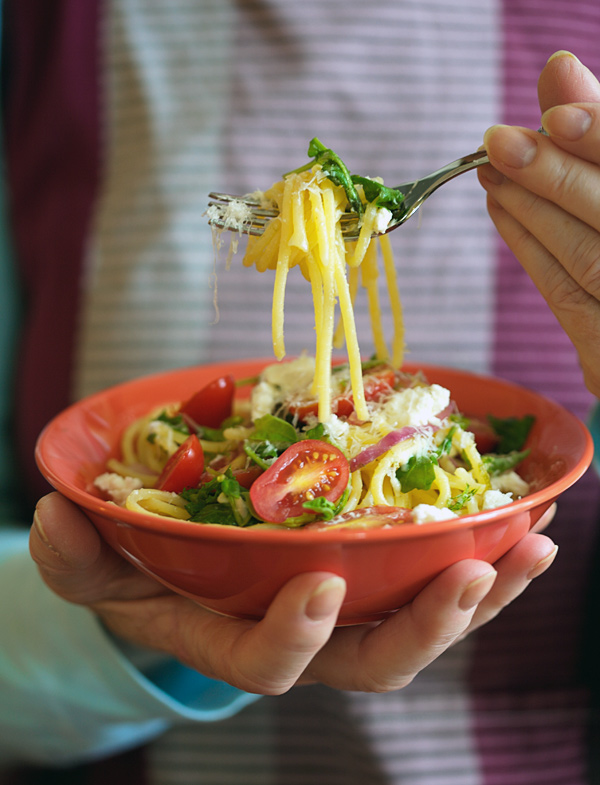 Spaghetti with arugula and cherry tomatoes
I love spaghetti. Don't you? I like that to eat the pasta, I have to skillfully roll it around the fork before I can slip the food inside my mouth. It's an art that my grandfather Eugène playfully taught my brother B. and I to master when we were little — well, I think we particularly loved the mess we used to make with the spaghetti.
When I thought about my next contribution to the Seasons column of the Boston Globe food section, I immediately imagined a refreshing dish matching the season. I wanted food that takes no time to prepare and uses the best of the seasonal ingredients. Words like arugula — with its delicious lemon-peppery flavor and pretty lace-shaped leaves — lime, tasty cherry tomatoes, feta cheese and flavorful aged parmesan popped into my head, and I had a dish and a recipe.
I know that most of you — including me — use arugula in a salad. But have you tried the greens on top of a pizza, a tomato tart or in a dish of pasta? This is how this recipe uses it. Arugula is only added at the end and cooks from the heat of the spaghetti. It's the kind of food that you'll love to improvise at the last minute and share with a bunch of friends when they stop by unexpectedly — a recipe that makes you want to thank and kiss the Italians for bringing spaghetti and arugula to our table.
The recipe can be found here.