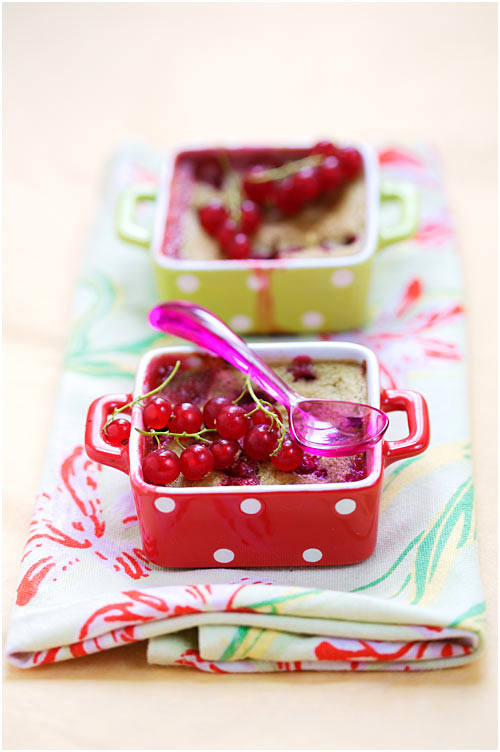 Red Currant & Apricot Clafoutis
Call me addicted. I think I really am. Another clafoutis? Well, yes it is indeed. It's been the clafoutis summer. My clafoutis summer. My friends must grow tired of them.
But I don't. And P. neither. A good thing, and why not?
Well think about it. In my dessert répertoire, clafoutis ranks amongst the easiest desserts to make; it's natural to me, like making cupcakes or macarons is for others. In a clafoutis, you can use all sorts of seasonal fruit, and accommodate your clafoutis according to your mood, and fancy.
And it is so comforting!
La cerise sur le gâteau ? (the cherry on top of the cake?) It brings me back to my lovely beloved country, la France.
That, really, cannot be beaten.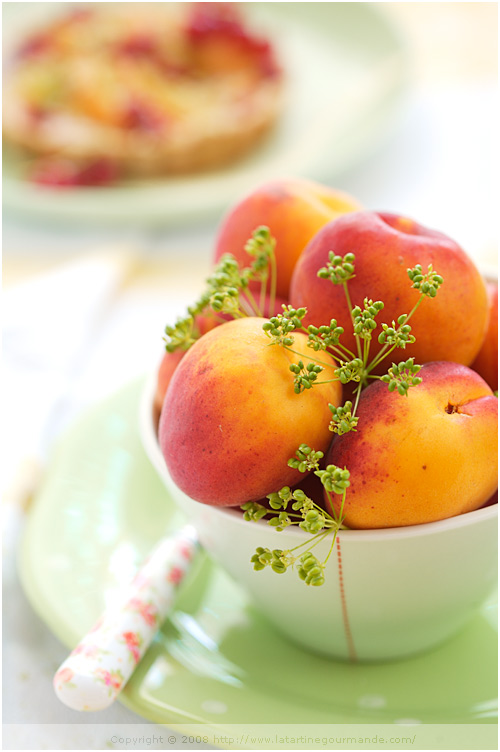 In this clafoutis, I experimented with adding a touch of Matcha tea to the batter, and used coconut milk instead of milk or cream. Then, I mixed gorgeously ripe red currants and small apricots — I am loving the little ones I buy that have a red pigmentation, and which are so juicy and flavorful — et puis, ben voilà ! I also used tiny molds because that made for minuscule cute portions.
A lovely way to finish a meal. Of course, the Matcha tea can totally be omitted. I was just curious to find out about this association of flavors.
Cooking is all about experimenting, non ?
Red Currant & Apricot Clafoutis
(For 4 to 8 small clafoutis, according to size)
You need:
1 egg + 1 egg yolk
1/4 cup blond cane sugar (+ 2 Tbsp for the apricots)
1.5 Tbsp butter
3/4 cup + 1 Tbsp unsweetened coconut milk
1 Tbsp cornstarch
1/4 cup quinoa flour, sifted*
1 tsp Matcha tea, sifted
7 oz red currants
4 apricots, quartered
Confectioner's sugar to sprinkle (optional)
* can be substituted with all-purpose flour
Steps:
In a non-stick pan, melt the butter over medium heat, then add the apricots with 2 Tbsp sugar and cook on all sides for a few minutes — about 3 to 4 minutes; set aside.
Preheat your oven at 350 F. Butter small molds (choose the ones you prefer; mine were really small).
In a bowl, beat the egg and egg yolk with the rest of hte sugar and add the cornstarch, flour and Matcha tea.
Beat in the coconut milk.
Arrange the red currants and apricots at the bottom and divide the batter between the molds (do not fill up too full as it will rise a little).
Bake for about 20 to 25 minutes (or more depending on the size of your molds). The smaller and the shorter time in the oven. Sprinkle with confectioner's sugar if you like. The clafoutis are best eaten lukewarm.
Le coin français
Clafoutis aux groseilles rouges et aux abricots
(Pour 4 à 8 petits clafoutis, selon taille)
Ingrédients :
1 oeuf+ 1 jaune d'oeuf
50 g de sucre (+ 2 càs pour les abricots)
1,5 càs de beurre
200 ml lait de coco non sucré
1 càs de maïzena
30 g de farine de quinoa, tamisée*
1 càc de thé matcha, tamisé
200 g de groseilles rouges
4 abricots, coupés en 4
Sucre glace, pour la décoration (facultatif)
* vous pouvez substituer la farine de quinoa par de la farine blanche type T45.
Etapes :
Dans une poêle anti-adhésive, faites fondre le beurre et faites revenir les abricots avec 2 càs de sucre, sur chaque face, pendant 3 à 4 minutes; mettez de côté.
Préchauffez le four à 180 C et beurrez de petits moules (les miens étaient très petits).
Dans une jatte, battez l'oeuf et le jaune avec le reste de sucre, et ajoutez la maïzena, la farine et le thé matcha.
Ajoutez, sans cesser de battre, le lait de coco.
Arrangez les fruits au fond, et versez la pâte.
Faites cuire environ 20 à 25 minutes (ou un peu plus, selon la taille de vos moules). Saupoudrez de sucre glace, et dégustez de préférence tiède.