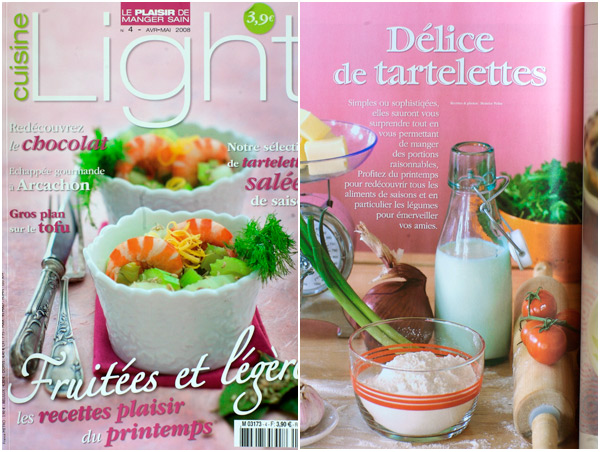 Cuisine Light Magazine Contribution
When the Fedex truck pulled in front of our house this morning and I heard a noise of a package dropped on the floor, I knew that it might be for me: I was expecting mail from France. Excited, I hopped to the door as fast as I could — I should perhaps tell you that I've sprained my left ankle earlier this week, so the speedy running moi has turned into a French snail, un escargot. I opened the door and saw a white envelop lying on the doorstep, with large blue and red Fedex characters printed on it.
Aha! That was it indeed.
I walked in and made myself comfortable on a chair, with my foot lifted. With curiosity winning me over, I tore the envelop open in less than two seconds, and was thrilled to find a copy of the April/May issue of the French magazine Cuisine Light that I've recently contributed to.
Cuisine Light is a French cooking magazine with fresh recipes that focus on healthy eating — and light cooking too. It features recipes easy to make, and gives nutritional advice about the ingredients used.
Since it is one of the first publications I contribute to in France, needless to tell you that I am really happy. Imagine that: my mother leisurely walking to the marchand de journaux to buy a cooking magazine where she can find pieces of my work. This has to be special!
I know well that for you, my dear English speaking readers, it will be somewhat challenging to find a copy of the magazine, should you be interested. But who knows? If you travel to France in the coming months, well then, indulge!
To give you an idea of the contents: to start, you will find a theme on Savory Tartlets — how fun that was for me to design these cuties! Think a Ceviche on filo pastry tartlet, a Slow roasted tomato tatin tartlet, a Bicolor zucchini and carrot tartlet, a Blue potato, red onion and zucchini tartlet and to finish, a Saffron-flavored crab and tomato tartlet! Then, there are also Chocolate treats and the recipe of my Lime Mousse and Stewed Rhubarb and Strawberries as shown before.
Ideas to get inspired by?
Many thanks to the team for including my work in this issue.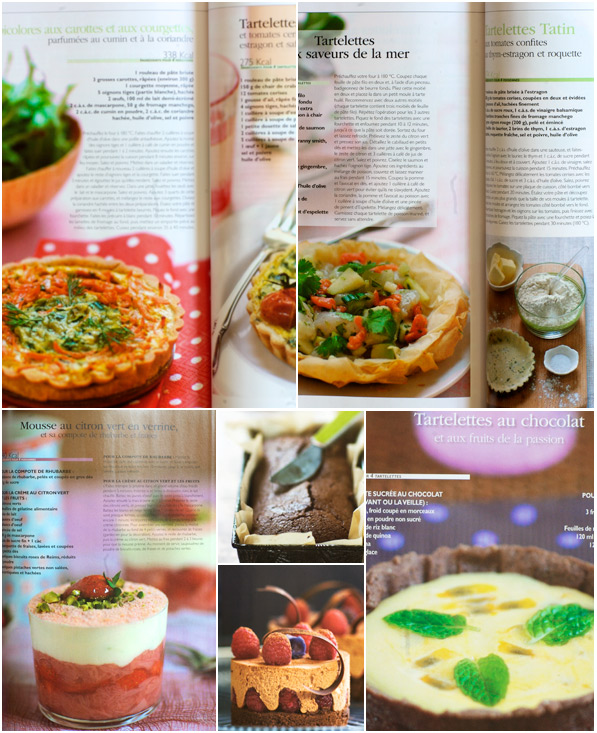 Le coin français
Plutôt contente ! Ce matin, je me lève et en fin de matinée, j'entends le camion Fedex qui s'arrête brusquement devant la maison. Puis j'entends le bruit d'un paquet qui tombe par terre. Je crois que c'est pour moi : j'attends un courrier de
France
. Je me dirige tant bien que mal vers la porte à cloche pied — eh oui, je me suis bêtement (vraiment bêtement!) foulée la cheville en début de semaine — et quand j'ouvre la porte, j'aperçois une enveloppe sur le paillaisson, avec de grandes lettres bleues et rouges dessus.
Aha, je le savais, c'est bien cela.
Je referme la porte et m'installe confortablement sur une chaise, avec mon pied relevé. J'y vais ? La curiosité étant la plus forte, je déchire l'enveloppe en moins de deux secondes pour découvrir une copie du dernier numéro du magazine culinaire Cuisine Light auquel j'ai récemment contribué. Je suis ravie !
Vous le savez peut-être déjà, Cuisine Light est un magazine bourré d'astuces, de recettes et de conseils pour manger sainement et pour manger léger. Les recettes sont fraîches et simples. Ma contribution ? J'ai écrit un dossier sur les tartelettes salées (avec photos): tartelette au crabe et safran, tartelette bicolore courgettes/carottes parfumée à la coriandre et au cumin, tartelette aux vitelottes, oignons rouges et courgettes, tartelette tatin aux tomates confites et enfin, tartelettes aux saveurs de la mer sur pâte filo. Vous y trouverez aussi des recettes au chocolat , et le dessert de ma mousse au citron vert et sa compote de rhubarbe/fraises vue ici.
Inutile presque d'ajouter : c'est un vrai plaisir car c'est une de mes premières contributions à un magazine français, comme un petit peu de moi qui reste en France, même si je vis loin. Alors si vous le pouvez, et si le coeur vous en dit, allez chez le marchand de journaux — comme ma maman — et inspirez-vous de nouvelles recettes printanières. Pourquoi pas ?
Merci à toute l'équipe de sa confiance !