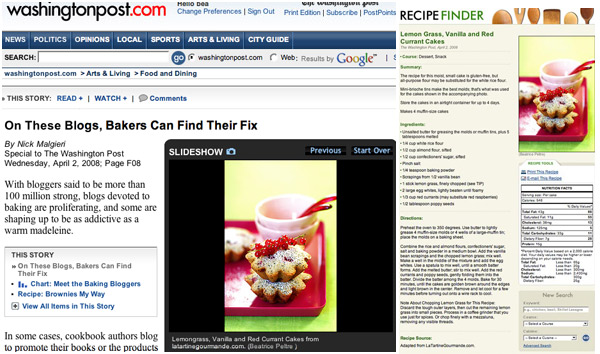 A recipe in the Washington Post
What a treat! Saying that I was surprised when accomplished baker and cookbook author Nick Malgieri asked me if I would like to contribute to an article he was writing for the Washington Post Food section would be mild: I felt really excited. He was asking for a baking recipe published on my blog.
But what recipe to choose?
I knew it would need to be straightforward, easy so that it can be reproduced at home by readers without difficulty.
So I decided to choose my Lemongrass, vanilla and red currant cakes, which to my delight, the kitchen tester liked.
If you like, you can check the full article, On These Blogs, Bakers Can Find Their Fix, and the two featured recipes, Cenk's lovely chocolate brownies and my Lemongrass, vanilla and red currant cakes. There is also a chart of other food blogs mentioned.
Many thanks to Nick and the food editor at the Washington Post for this piece of writing.