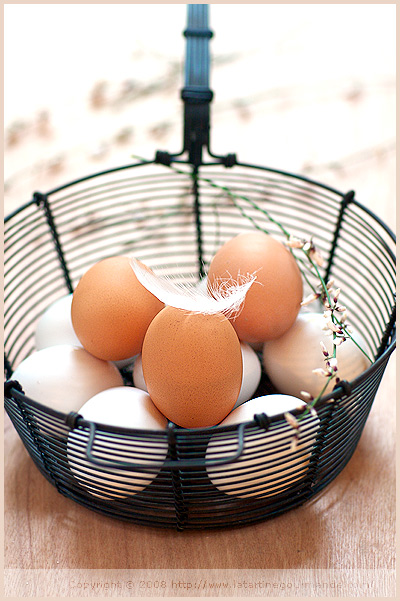 Les oeufs
There are privileges that I wish I could have kept from my happy upbringing in rural France. Take for example eggs. Would you have dreamed of anything better but collect eggs still warm, with feathers — and dirt — stuck to them, from the poulailler (chicken house)?
"Tu les laisses pour moi hein, dis mémé !" (leave them for me grand-ma!) I used to tell my grand-mother before my parents drove us to their farm, a few kilometers away. My brother B. was older and clearly less interested in those farm-like games. So mémé invariably did leave the eggs for me to collect. She and I would then walk to the large garden she kept impeccable at the back of their big house; we would feed the rabbits together and on the way back, we would dig out a salad and some vegetables for dinner. I would carry the basket full of our treasures; staying over for a meal was nearly always happening. A good thing since it meant tasting my grandmother's saucisson, the best I've ever eaten to this day. I loved to be at the farm. And I loved to collect the eggs.
So perhaps like many people, I could worry about my consumption of eggs. Clearly they are a staple ingredient in my cooking. I use them in flans, clafoutis, cakes, omelets, custard, oeufs en cocotte: the possibilities are endless. But in truth, I have never worried about eating too many eggs. And I do not think that I ever will.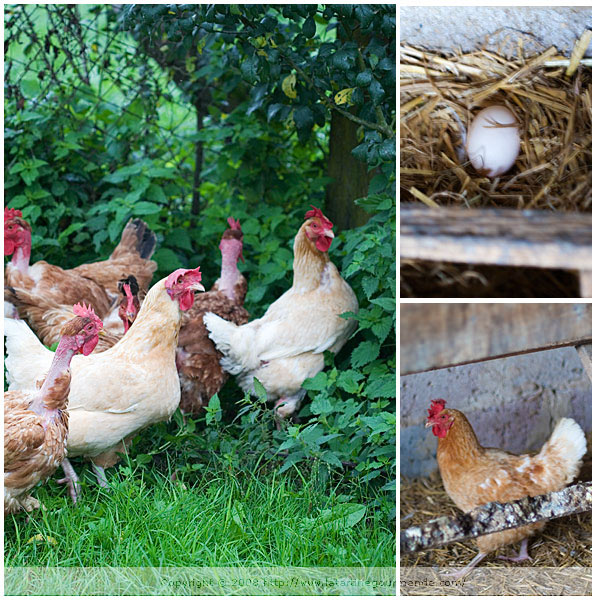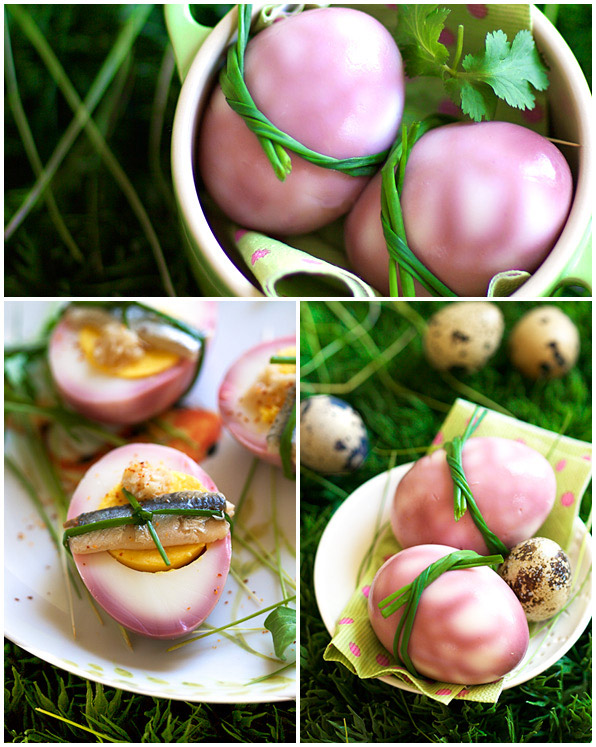 When I am working at home — or when P. and I go hiking or decide to picnic somewhere green and sunny — one of my favorite daily snacks is a hard-boiled egg sprinkled with a dash of fleur de sel, and a touch of preserved horseradish if I have any in the fridge. Aren't they wonderful food?
My dad often tells me that he used to eat hard-boiled eggs as a snack on the farm when he was young. I suspect that he's passed me the gene: in our family, while my mum and brother do not care much for them, my dad and I can make a meal on them.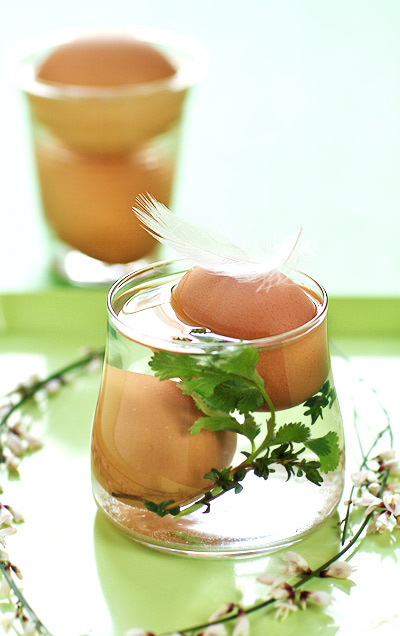 A few weeks ago, with the Easter egg frenzy visible in every magazine I picked to read, I thought about eggs a lot, and feeling easily carried away, I ended up cooking many egg recipes. Amongst them, I came up with the idea of these Dressed up marbled eggs.
Pille — who shares the same love for beets as me — is the one who inspired me to dye hard boiled eggs again. I had not done so in quite a while, so practicing a little again was fun.
The technique is easy: hard-boil your eggs the way you normally do, crack the shells by tapping them gently on a cutting board, for example — which is what gives the pattern to the eggs — and then, place the eggs in dyed water for about 1 hour 30 minutes (the longer you leave them in the infused water, the more colored they become). I dyed mine with beet root juice diluted in water.
Then, create according to your fancy and taste to dress up your hard boiled eggs. I imagined a topping made of fresh anchovies, horseradish, fleur de sel, and a dash of pepper.
With a twig of chive tied around, the eggs looked like small packages of love and goodness easily dropped into the mouth; a recipe easy to prepare, wonderful enjoyed as a light finger food appetizer, or a nutritious snack to fulfill a sudden craving during the day.
Wouldn't you too, like my dad and I, enjoy the bounty mother nature keeps for us in simple food like hard-boiled eggs?
Pourquoi chercher compliqué quand le simple peut être si bon ?
(why look for something complex when something easy can be so delicious?)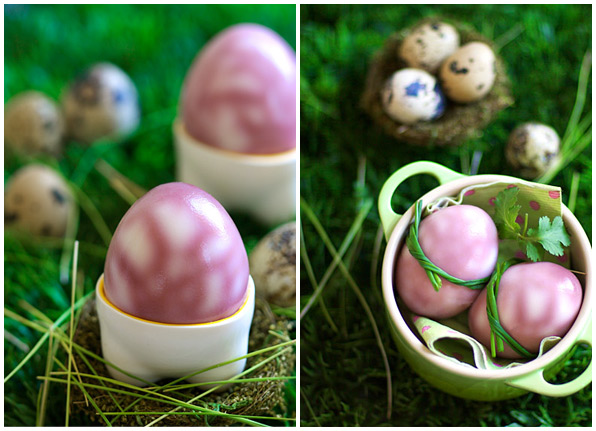 Marbled Eggs
Dressed Up Marbled Eggs
You need:
Hard boiled Eggs
Fresh anchovies marinated in oil
Chives
Horseradish preserved in vinegar (or fresh)
Fleur de sel
Pepper
Steps:
Hard-boil your eggs.
Crack the shells by tapping the eggs gently on a cutting board for example, and place them in a bowl. Cover with water diluted with beet juice. Let the eggs sit like this for about 1 hour 30 minutes. Then remove the shells.
Cut the eggs in halves. Place a fresh anchovy on each, and top with horseradish. Tie with a piece of chive around.
Sprinkle with fleur de sel and pepper.
Le coin français
Oeufs marbrés déguisés
Ingrédients :
Oeufs durs
Anchois frais marinés à l'huile
Ciboulette
Raifort au vinaigre
Fleur de sel
Poivre du moulin
Étapes :
Faites cuire vos oeufs en oeufs durs.
Une fois cuits, tapotez-les légèrement sur une planche à découper pour les fissurer, et mettez-les dans un récipient. Recouvrez de jus de betterave rouge allongé à l'eau froide. Laissez de côté pendant 1 heure 30 minimum. Écalez-les.
Coupez les oeufs en deux. Placez un anchois sur chaque moitié et ajoutez un peu de raifort. Entourez d'un brin de ciboulette que vous nouez autour.
Saupoudrez de fleur de sel et de poivre du moulin.