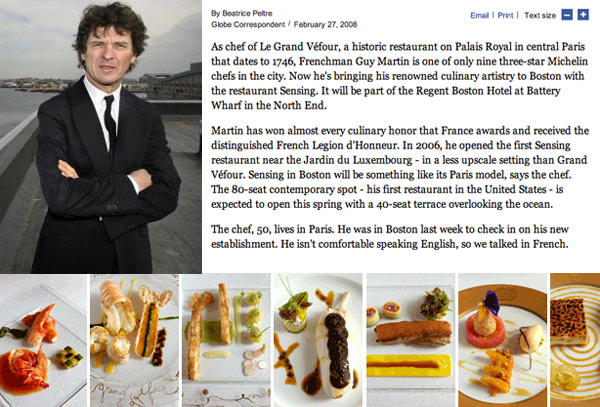 Guy Martin, photo courtesy of Pat Greenhouse from the Boston Globe; food pictures from Le Grand Véfour official website
I am not sure whether I realize yet how lucky I was when two weeks ago, I sat down in an office in the North End in Boston to chat with Guy Martin, three-star michelin chef of historic Le Grand Véfour in Paris, and his charming wife. I obviously have to thank Sheryl Julian, my editor at the Boston Globe, who kindly asked if I would like to interview him.
Guy Martin was in Boston to talk about the opening of his new restaurant, Sensing, a restaurant similar to the one he has in Paris by the same name. The full article, "A top chef from Paris finds Boston to his taste", can be read by following the link here.
We spent a delightful moment. Guy is a culinary artist bubbling with creativity. His love for beautiful and healthy food is obvious and nice to watch. I cannot wait for Sensing restaurant Boston to open.