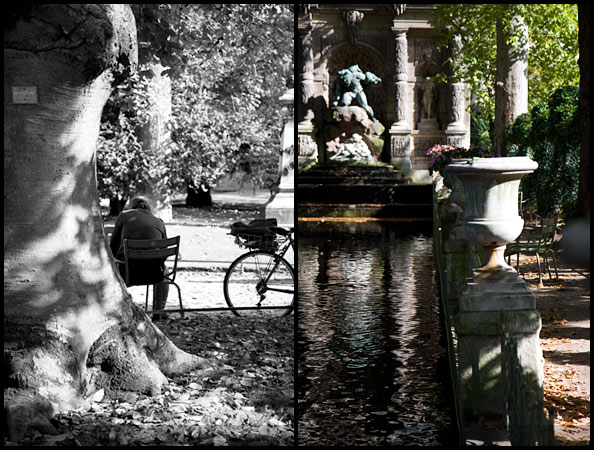 Jardin du Luxembourg
Let's start by the end, shall we? Even if, I am sure, I do not need to narrate beautiful Paris to anyone. Because what else is there actually to say that has not yet been written about this city full of surprises?
I was looking forward to spending time in the French capital before heading back home to Boston, even if I knew well that I would not stay long enough. I never have enough days in Paris to see and do it all. Yet this time, I discovered something that I had not seen there before: Paris and its old and newly born bikes.
"Oh, I want to use one of these," I told myself when I saw silver-grey Vélib' bikes for the first time.
"Why did a city like Paris wait for so long to have its own bike transit system?" I asked my friend A when he and I decided to take a stroll by the quays of Paris on île St Louis.
"We have to wonder."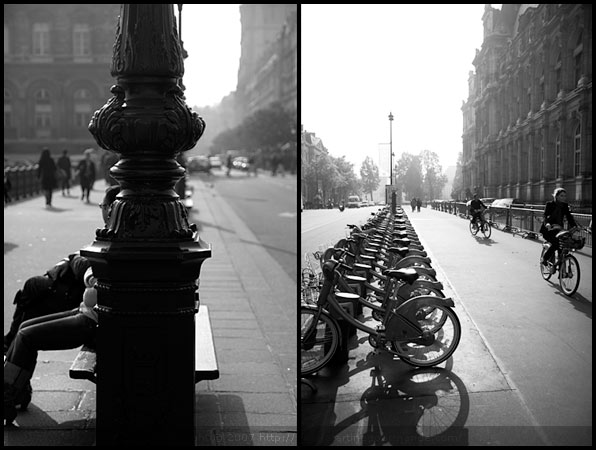 Vélib' in Paris
On July 15th of this year, the city of Paris launched the Vélib' program — which stands for Vélo (Bike) and Liberté (freedom) — a self-service bike transit system offering the ability to anyone, Parisians and tourists, to pick up and drop off bicycles at numerous docking stations scattered throughout the city. By the end of the year, the plan is to have about 20,000 bikes available from at least 1,400 stations.
The effort is geared towards reducing the number of cars in the city with an eco-friendly way of transportation. Already, I love the idea. Its principle is easy: you can take a bike at any location and drop it at another any time of the day, seven days of the week. The bonus? The first thirty minutes are always free. The rest is a question of how often you need a bike. Perhaps you will decide to use a one-day card for one euro, a weekly card for five or an annual card for twenty-nine euros. After the first 30 minutes however, there is an extra cost, to ensure that bikes remain available to everyone at all times.
"Are you sure that Parisians will use them?" I asked A.
"Haven't you noticed? Le vol de vélos, c'est bien commun ici," he responded (stealing bikes is common here), pointing at a lonely wheel hanging at a railing. "So perhaps people will prefer to rent than own a bike."
I promised to try a Vélib' bike when I would return to Paris next year. Because this time, I actually preferred to walk.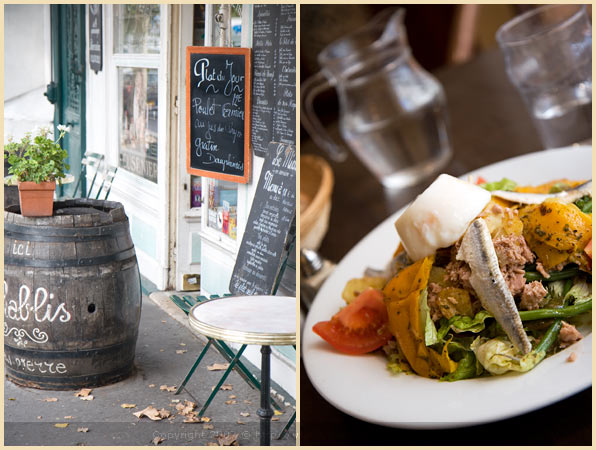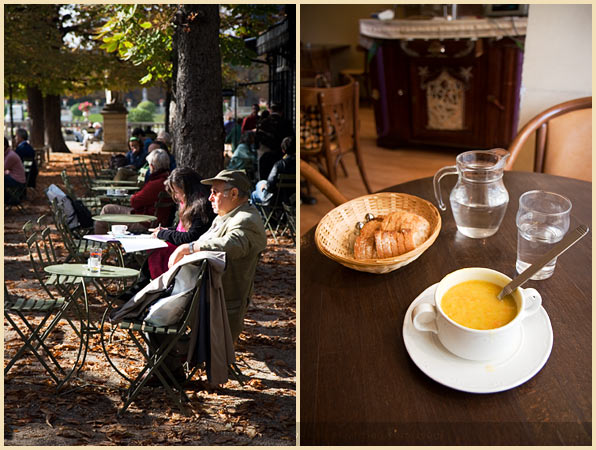 It was sunny and mild in Paris when I arrived, making me feel that Spring was only starting, possibly catching up with a summer that seemed to not have happened.
"Tu as de la chance," my brother told me as soon as I arrived. "On a vraiment eu un été pourri." (You are lucky, we really had shitty weather this summer).
"Really?"
I had a hard time to believe him when all I saw in France during my stay was sun.
So this time, my plan was loose, with the exception of wishing to stay outside as much as I could, to enjoy the air and sun, fill my eyes and senses with the beauty of the place, just happy to walk without a purpose.
I did not feel curious to visit famous Parisian pastry stores, restaurants and cafés, or look for the latest coolest cup to bring home with me — well, I did stop at Habitat and BHV all the same to grab a few new food props and pieces of cloth, but that is passage obligé ! Instead, I walked and walked, until my legs and feet felt sore.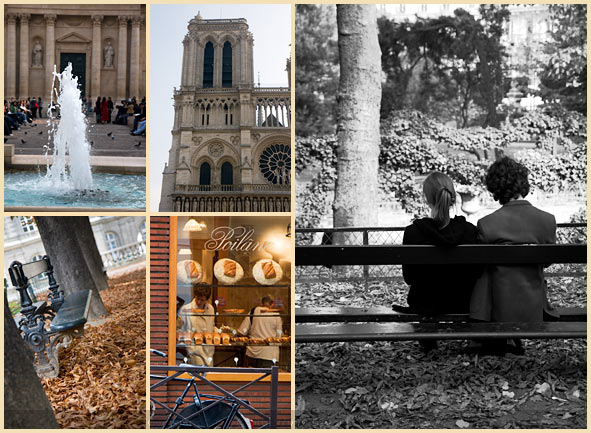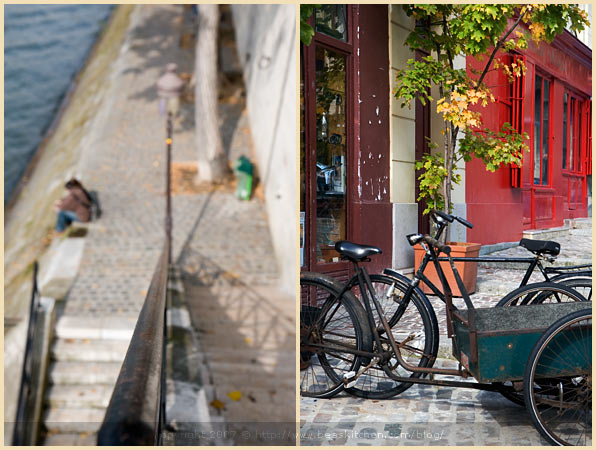 It started with a stroll in the Jardin du Luxembourg where I could not help but catch a glimpse of many passers-by leisurely sitting on benches, happy to soak in the warmth of a generous October sun. Later, when I reached the quais de la Seine, I managed to observe a few fishermen and walkers taking a break in the middle of the day.
"What do you think that they catch here?" I still had to ask my friend A. We could not tell.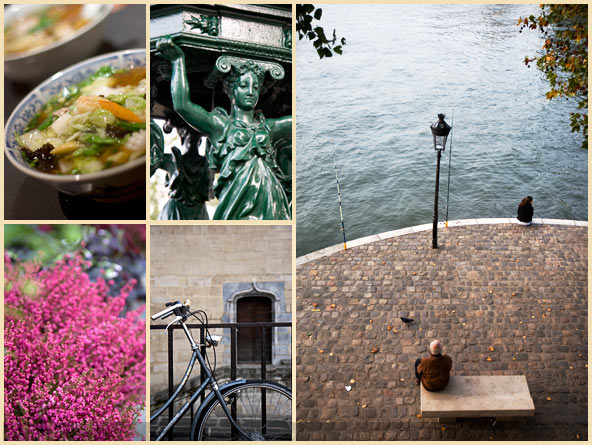 "La vie est riche quand elle est pleine de belles rencontres" (Life is rich when you meet a lot of interesting people)
One morning, I was delighted to meet Akiko for a cup of tea. We had an inspiring time chatting away about life, France, Japan and photography. If you have not yet seen the work of this amazingly talented and accomplished food photographer, you simply have to — I am a true admirer of her photography. With her work published in numerous top magazines and cookbooks, she is a constant source of inspiration, not forgetting to mention that she was just as I had imagined: natural and warm.
Another afternoon, I had yet another restful stroll on l'île St Louis where I decided to stop for lunch and indulge in a simple soupe du jour — a vegetable soup — and a salade niçoise .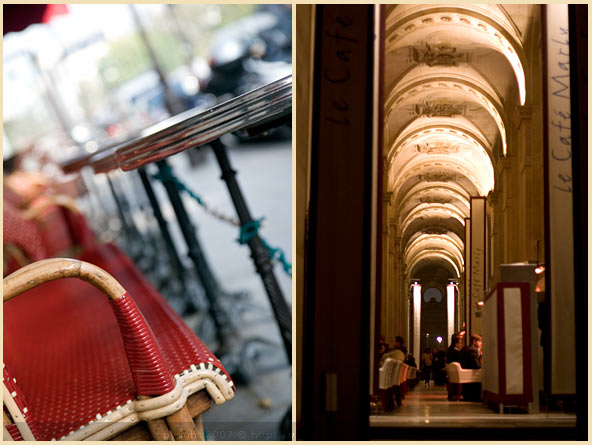 One evening, I had dinner with Pascale at a wonderful restaurant tucked away on rue Malar in the seventh arrondissement. Chez l'Ami Jean is a great place serving southwestern French food. The full thirty-two euro menu we both chose offered creative, tasty dishes which yet remained extremely down-to-earth; it was a fantastic cuisine du terroir revisitée. Imagine a plate of succulent coquilles St Jacques (scallops) served in tiny shells with other goodies I fail to remember, followed then by a cooked-to-perfection bar entier cuit à la plancha au thym (a whole sea bar cooked à la plancha, grilled on a metal plate, with thyme), served with a delicious homemade purée (mashed potatoes). And for dessert? Une verrine de crème de mascarpone légère avec sa compotée d'ananas au citron vert (a light mascarpone cream and its stewed pineapple cooked with lime). Like many restaurants and bistros in Paris, Chez l'Ami Jean is a small place where tables are arranged closely the ones to the others, making it impossible not to overhear what is happening at the table next to yours — all right, I can admit that I personally like this. And so, this is how you end up with stories like this one. I will spare you with the many details of how it happened, but will you believe me if I tell you that, after they overheard Pascale and I talk about food blogging, amongst other things, the friendly couple of Belgians sitting to our left told us the following:
"Je suis l'ex-mari de Sophie qui a le blog culinaire Les Bonheurs de Sophie" ( I am Sophie's ex-husband, from the food blog Les Bonheurs de Sophie).
"Non ! Ce n'est pas possible," I responded to the man whose smiling face showed that, like us, he seemed quite amused and surprised by the whole situation. "Mais je lis le blog de Sophie !" (I read Sophie's blog!)
Now, Paris is a big city! What would be the odds of something like this happening, I will ask you?
The conversation became livelier, even more so when the couple sitting to our right joined in. And so, we might have started our dinner between the two of us, but we ended it between the six of us.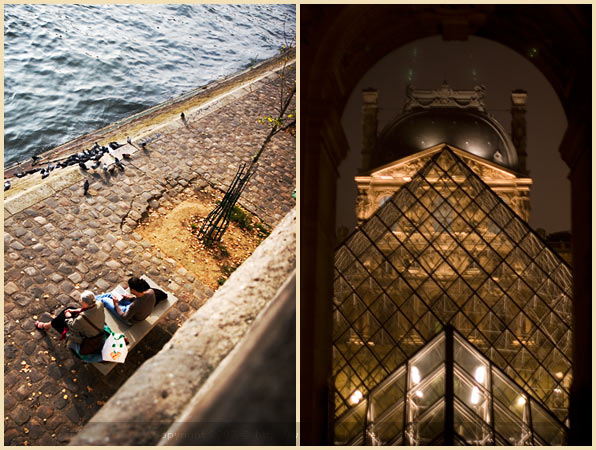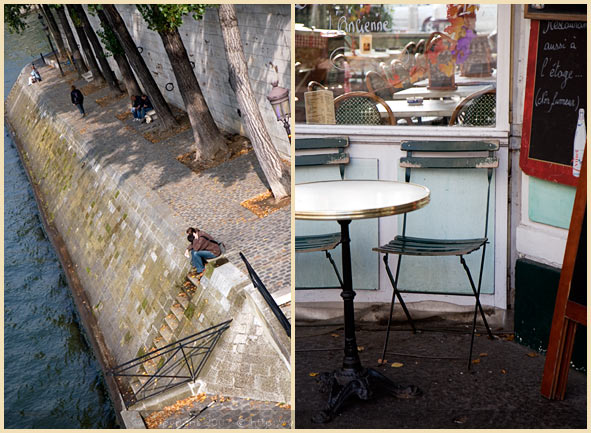 I also had the plan to see Fred and Rachel, but felt sorry to unfortunately be short of time.
Time flew by, as always, bringing me closer to when I had to pack up and prepare to head back across the Atlantic. And, as with every time it occurs, I felt a pinch in my heart at the thought of leaving.
But who wouldn't? I met great people in a great city, leaving Paris, once more, feeling enriched.
Until the next time when I am back, hoping that then, amongst other things, P. will be able to be with me, to meet our friends and enjoy dinner at Chez L'Ami Jean. Because for sure, we will return!
Chez l'Ami Jean
27 rue Malar
75007 Paris
Tel : +33 1 47 05 86 89
Open from Tuesday to Saturday
Reservations highly recommended as it fills up quickly
Technorati Tags: La Tartine Gourmande, Food Photography, Food Styling, Akiko Ida, Vélib', Paris, France, Jardin du Luxembourg