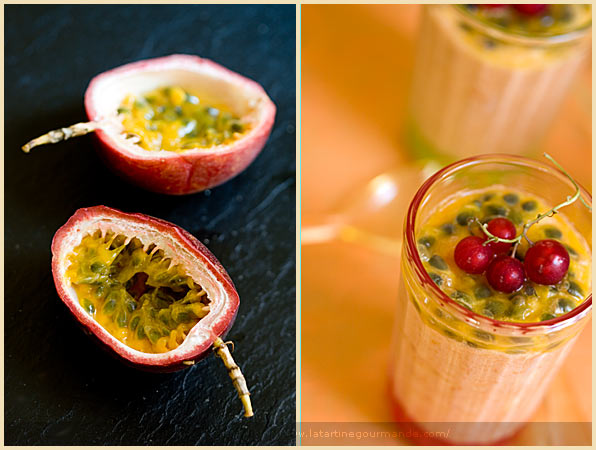 Passion Fruit — Mousse
I always thought that this was a fruit that I would not use, or buy. But when I walked to the store today and saw an engaging display with a few passion fruits (expensive ones nonetheless), I fell for them. Oh yes I was guilty! There was not a chance that I was going to let these beauties go bad before I had time to use them. I rushed home and I quickly whipped together an easy light refreshing summery mousse. I was happy. My plan? Keep the dessert for the following day, leaving me more time to style good pictures.
But then something happened.
Because that evening, we were going out to an event we had been waiting for for a few months. And it was terribly hot outside. We were out to see Morrissey play in Boston — oh yes, I am a big fan, and it started with The Smiths. Twenty minutes or so after the start of the show however, his voice started to sound slightly broken. It was not as clear as I remembered. "A cold", he said. "It was too cold at the David Letterman Late Show last night". I hate AC, sometimes. Thirty minutes later, after he left the stage to change shirts, a man came and said quietly — and quickly — "Ladies and Gentlemen, I have the regret to inform you that Morrissey lost his voice. The show is cancelled."

Oh no!
Back home?
Easy revenge for the disappointment. I ate the dessert.
Two.
Even if they were small.
So you will have to excuse me, but I will have to make another one.
Again.
Technorati Tags: Food Styling, La Tartine Gourmande, Food Photography, Passion Fruit, David Letterman, Late Show, Morrissey