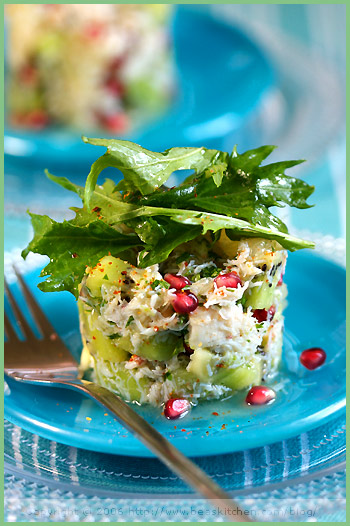 Kiwi, Grapefruit and Crab Salad
P. told me "Mais ce n'est pas l'été" (it is not summer) when I brought the appetizer to the table, to which I had to inquire what he actually meant. "Comment cela ?", I then said. "Well, isn't this appetizer more a dish you would eat in summer?", he responded. "Ah mais alors, il est difficile !" (so he is difficult!) I thought. He quickly changed his mind.
Well yes, maybe the flavors in this appetizer look more on the refreshing side, zesty for sure, but to me, kiwis and grapefruit have always been winter fruit. End of story. I do not know whether it is only constructed in my head, but as a kid, we would always replenish on these fruit when colder days arrived. Every morning, we would eat a kiwi or half of a grapefruit at breakfast, making sure to get the healthy well-needed Vitamin C to fight bad winter viruses. Rare were the times when we bought or ate these fruit during the summer, perhaps also because of the large variety of available seasonal fruit such as berries and plums. So many of them!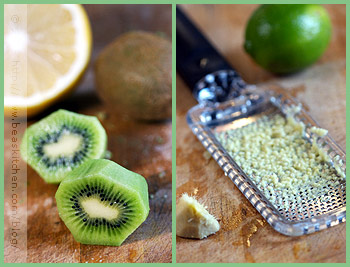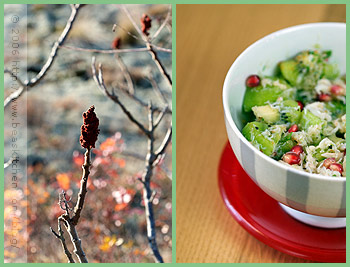 I had this idea to make a refreshing appetizer to savor to start a meal on a light note, and to be one of these foods you eat in order to open your appetite. Any lemony fruity food has this effect on me. In many ways, I also think that this appetizer is pretty festive, of the kind you would serve for meals of the end of year holidays. Besides the kiwis and grapefruit, I added a touch of red with pomegranate — which I must admit I am pretty much in love these days — , fresh crab meat , ginger and lime . I don't know about you, but I rarely resist this type of food combination. And despite P.'s initial reaction, we both agreed that this appetizer was what is needed to cleanse one's palate to start a meal. We always need this type of food, don't you think?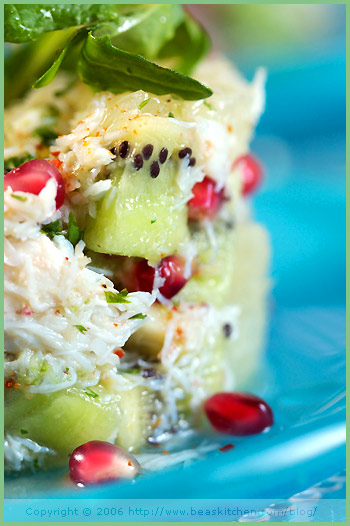 Kiwi, Grapefruit and Crab Salad
(for 4 people)
You need:
4 kiwis
1 large grapefruit
7 oz fresh crab meat
1 inch ginger root, freshly and thinly grated
1 lime zest
Juice of 1 lime
2.5 to 3 Tbsp avocado oil*
1 tsp coriander, chopped
1 dash of piment d'Espelette
1 pomegranate
Salt and pepper
Fresh mesclun salad (tossed in a vinaigrette made of olive oil and white balsamic vinegar in which I infuse thyme and garlic cloves)
* Use another light vegetable oil if you cannot find avocado oil
Steps:
Peel the kiwis and dice them.
Peel the grapefruit and remove any white parts. Dice it as well.
Take the seeds out of the pomegranate and place them in a bowl with the kiwis and grapefruit.
Chop the coriander and mix it in.
Add the crab and mix gently.
Peel the ginger and grate it very thinly. Grate the zest of 1 lime and squeeze the juice of the lime.
In a bowl, mix together salt, pepper, the lime juice and zest, ginger, the Piment d'Espelette and the avocado oil. When you are ready to serve, season the crab preparation with this dressing. You can serve this appetizer as is on plates, or use ring molds to make a more elegant presentation.
Top the appetizers with the seasoned fresh mesclun salad.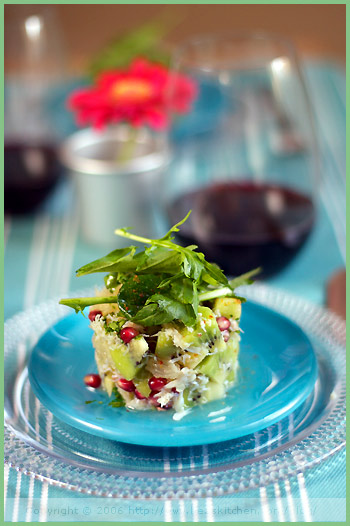 Le coin français
Salade de kiwis, pamplemousse et crabe
(Pour 4 personnes)
Ingrédients :
4 kiwis
1 gros pamplemousse
200 g de chair de crabe frais
2,5 cm de racine de gingembre, très finement râpée
Zeste d'un citron vert, finement râpé
Jus d'1 citron vert
2,5 ou 3 càs d'huile d'avocat*
1 càc de coriandre, hachée
1 soupçon de piment d'Espelette
1 grenade
Sel et poivre
Pousses de salade variée (assaisonnées d'une vinaigrette composée d'huile d'olive et de vinaigre de balsamique blanc dans lesquels ont infusés des gousses d'ail et du thym)
* Utilisez une autre huile végétale si vous ne trouvez pas d'huile d'avocat
Étapes :
Pelez les kiwis et coupes les en petits dés.
Pelez le pamplemousse à vif, en prêtant attention à retirer toute la peau blanche. Coupez les quartiers en petits dés.
Sortez les graines de la grenade et mettez-les dans un bol avec les dés de kiwi et de pamplemousse.
Hachez la coriandre et ajoutez-la.
Ajoutez la chair de crabe et mélangez délicatement.
Pelez le gingembre et rapez-le très finement. Prélevez le zeste d'un citron vert et rapez-le également. Pressez le jus d'1 citron vert.
Dans un bol, mélangez du sel, du poivre, le jus de citron vertet son zeste, le gingembre, le piment d'Espelette et l'huile d'avocat. Assaisonnez le mélange de fruits et de crabe avec cette vinaigrette au moment de servir. Servez cette salade fraîche sur assiette ou utilisez des cercles pour une présentation plus élegante.
Garnissez cette entrée avec les pousses de salade assaisonnées.