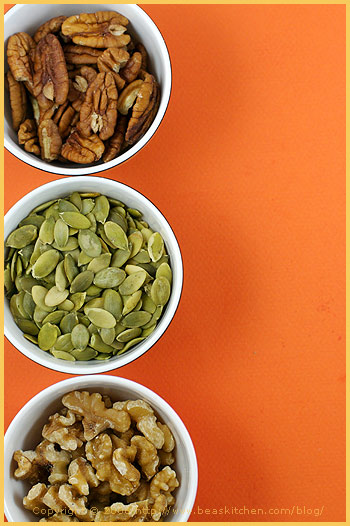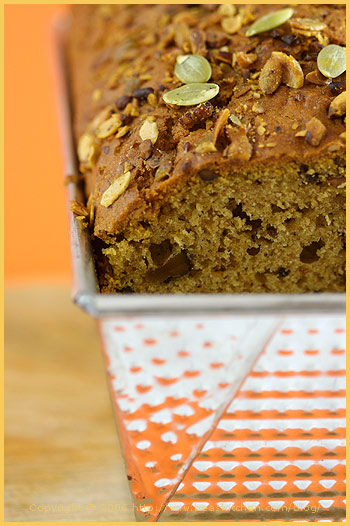 Macrina Bakery Squash Harvest Loaf
Thursday 2 pm.
I can hear the rain fall outside, making some noise as it hits the body of the car parked in front of our house. It is not cold though, and I have the windows and doors open to let the soft breeze come in. Nothing is more enjoyable than seeing my pale yellow-colored sheer curtains float in the air. It is this time of year. September is a month I particularly enjoy. Some people complain about the rain, finding every possible reason to dislike it. They could be right, but as to me, je fais partie des autres, I belong to the others, les autres who actually like the rain. In my brain is ingrained the belief that in the fall, it is supposed to rain. Besides, the rain never lasts more than one day. What is there to dislike about distinct seasons? If it were the same all the time, I know that I would be bored. En automne, I get inspired to bake a lot, especially when I can hear rain falling outside.
Une différence de goût dans les produits de boulangerie — A Difference in Taste for Baked Goods
Do you believe in country labels in regards to food? I do. In baking for example, I find that some flavors are instinctively associated to a country. Those can be called stereotypes, and of course, méfions-nous des stéréotypes !(beware of stereotypes!) Yet, they are indications of differences in food habits. I know that some people imagine croissants or baguette when they think about France. When I think about American baked goods, I think of spices such as cinnamon, ingredients such as squash and pumpkin, liquids like buttermilk rather than milk, using baking soda and baked goods such as sweet seeded loaves. For instance, I had never cooked with baking soda or buttermilk before moving to the US, and meeting P. You will rarely find la ménagère française (the French housewife) buying buttermilk or baking soda, and I bet that most French people do not even know what to do with it. "Et, je fais quoi avec du babeurre ?" (And what do I do with buttermilk?) You learn those quirks once you step outside your comfort zone. I learned to drink karnemelk (buttermilk), for example, while studying in the Netherlands.
The Macrina Bakery and Café Cookbook
bought in Seattle is not even a week old, but it has found a nice place on the overburdened shelf at home, and mainly, it is already in full use. Trying a first recipe from a new cookbook is always exciting. You have no clue whether the recipe will work, if you will understand the steps involved and start loving the book right away, if it will take time for you to master it, or whether you eventually decide that it is too difficult and the explanations are just not right for you. While in Seattle, P. and I adored the squash harvest loaf slices bought at the bakery so much that of course, as soon as I got the book, I checked to see whether it included the recipe. Surprise: it did! Right away, I knew that my first project was going to try the recipe.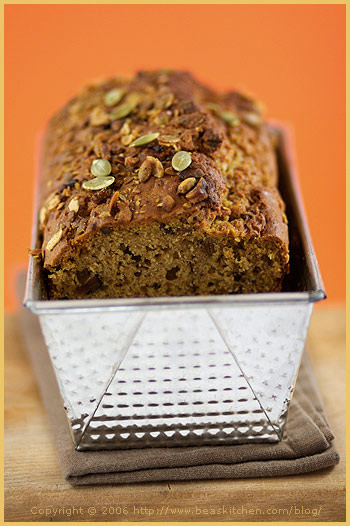 Despite a long list of ingredients, making this bread is fairly easy. It only requires a little time and planning, which are worth when it comes to making something we like.
Griller la courge musquée — Roasting Butternut Squash
Fresh butternut squash versus canned squash? The first step in the recipe involves roasting fresh squash but it is optional if you decide to use canned squash. I am convinced that using the fresh version makes a noticeable difference, so I decided to roast my squash. Because we might not always have enough time to do this step, when you actually have the time, it is wise to do more to keep. Hence I bought two large butternut squashes which I roasted as suggested. I carefully counted how many cups I obtained, kept what I needed before freezing the extra for future uses.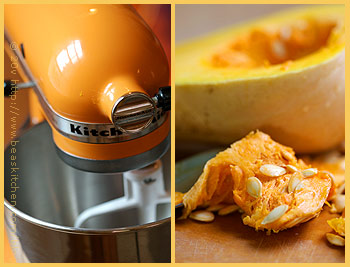 Griller les oléagineux et les graines — Roasting Nuts and Seeds
The Macrina squash loaves use a fair amount of nuts and seeds, between walnut, pecan and pumpkin which, once roasted, really give a great crunchy taste to the bread. I suppose others can be tried as well. I could not help but remember what my dad used to tell me about eating those types of seeds.
Mon père : Les graines de tournesol ? Mais c'est pour les oiseaux, ça !
Moi : Mais non papa, tu peux aussi les manger !
My dad: Sunflower seeds? But this is for birds!
Me: Of course not dad, you can also eat them!
Ah I love my dad so much. We could not be more far apart when it comes to certain food beliefs, but I am so glad that he is who he is to provide cute stories like this.
P. and I loved the outcome of the loaves. They tasted just like the ones we had tried at Macrina Bakery. After a first bite, we looked at each other and said:
— C'est typiquement américain, cela.
— (This is such an American taste.)
And it is. How can we explain? It has all of the spices, color and flavor that I always think of when imagining a typical American baked good. And it stays special. With two loaves, we have many snacks planned for the coming days, avec ou sans pluie (with or without rain).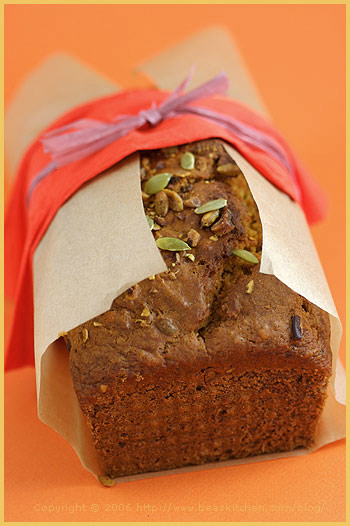 Macrina Bakery Squash Harvest Loaf
(for 2 loaves)
You need:
2 cups roasted butternut squash purée*
1/2 cup walnut halves
1/2 cup pecan halves
1 cup pumpkin seeds
2 tsp baking soda
2 tsp baking powder
3 1/2 cups all-purpose flour
1 1/2 cups light brown sugar
1 1/2 cups granulated sugar
4 eggs
1/2 tsp nutmeg
1 1/2 tsp cinnamon
1 1/2 tsp Kosher salt
1 cup canola oil
3/4 cup buttermilk
*Use about 1 lb 1/2 for 2 cups of roasted butternut squash, a medium-sized squash.
Steps:
Roasting the butternut squash.
Wash and cut the squash in two halves, remove the seeds and place the halves in a rimmed baking sheet, face up, with 1 cup water in the pan. Cook in a preheated oven at 375 F for 1 hour minimum, until the flesh is fork tender.
Remove and let cool down before scooping the squash out.
Place in a food processor and mix smoothly.
Let cool down and use 2 cups for 2 loaves. Keep the rest in the fridge for 3 days max, or freeze it for future times.
Making the loaves
Place the nuts and seeds on a rimmed baking sheet and toast for 15 mns. Remove from the oven and let cool down before grinding them, medium. Keep 1/4 cup on the side, for the decoration.
Turn the oven temperature down to 325 F.
Sift the flour, baking powder, baking soda, cinnamon, nutmeg and salt in a bowl.
Add the seeds, minus 1/4 cup. Mix with a wooden spoon.
In the bowl of a stand mixer, combine the oil and two types of sugar and use the paddle attachment to mix on medium speed, for 4 mns.
Add the roasted butternut squash and continue to mix for 2 mns.
Then, add one egg at a time.
Remove the bowl from the stand mixer and add the flour and the buttermilk alternatively, until the liquid is absorb each time.
Transfer the preparation in 2 oiled loaf pans measuring 9 x 5 x 3″, 2/3 to the top.
Sprinkle with the reserved seeds.
Cook in the oven for 1 hour, or until a skewer comes out dry once inserted in the loaf. Remove and let cool for 20 mns before unmolding on a cooling rack.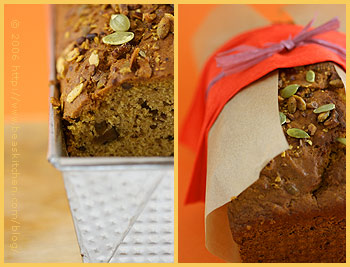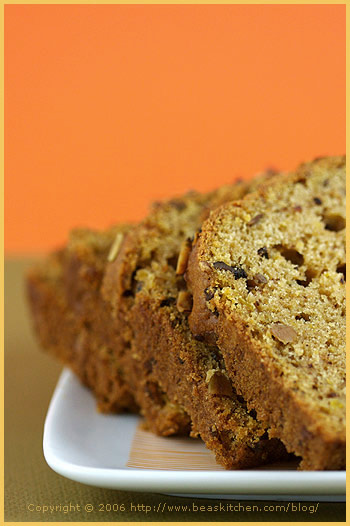 Le coin français
Pain automnal à la courge de la boulangerie Macrina
(pour deux gâteaux)
Vous connaissez la difficulté de connaître tous les noms des cucurbitacéees! L'horreur ! Je vous présente la courge musquée, en anglais, butternut squash.
J'ai utilisé deux courges, mais pour obtenir environ 380 g de purée, il vous faut une courge moyenne, soit 700 g.
Ingrédients :
380 g de purée de courge musquée grillée
50 g de noix de pécan (pacane)
50 g de de cerneaux de noix
150 g de graines de citrouille
2 càc de bicarbonate de soude
2 càc de levure chimique
440 g de farine
200 g de cassonade
300 g de sucre fin
4 oeufs
1/2 càc de noix de muscade
1 1/2 càc de cannelle en poudre
1 1/2 càc de sel cacher
240 ml d'huile de colza
180 ml de babeurre
Étapes :
Griller la courge musquée
Préchauffez votre four à 190 C.
Lavez et coupez les courges en deux. Retirez les graines avec une cuiller et placez-les sur une plaque de cuisson avec rebord, partie bombée vers le bas. Versez un verre et demi d'eau (vous pourrez en rajouter en cours de cuisson) et faites cuire au four pendant 1 heure minimum, jusqu'à ce que la chair soit tendre lorsque vous y enfoncez une fourchette.
Sortez du four et laissez reposer 20 min avant de retirer la chair des courges.
Placez la chair dans un robot électrique, et mixez jusqu'à l'obtention d'une purée homogène. Laissez refroidir à l'air libre. Comptez ce qu'il vous faut et gardez le reste au frigo, pendant 3 jours, ou congelez le reste.
Préparer les pains
Placez les noix et les graines sur une plaque de cuisson, et faites-les griller pendant 15 mns.
Retirez-les du four et laissez refroidir avant de les broyer (texture moyenne) dans un robot.
Gardez environ 30 g du mélange de noix broyées de côté.
Baissez la température du four à 160 C.
Tamisez la farine, la levure, la bicarbonate, la cannelle, la musacde et le sel dans un bol.
Ajoutez les noix et mélangez avec une cuiller en bois.
Dans le bol d'un robot (malaxeur sur pied de Kitchen Aid), mélangez l'huile avec les sucres en utilisant le fouet, sur vitesse moyenne, pendant 4 mns.
Ajoutez la courge musquée et continuez à mélanger pendant 2 mns.
Ajoutez ensuite les oeufs, un après l'autre.
Enlevez le bol du pied et ajoutez la farine et le babeurre en alternance, en vous assurant que tout le liquide est absorbé avant d'ajouter la suite.
Transférez la préparation dans deux moules rectangulaires huilés, mesurant 23 x 13 x 7,5 cm. Remplissez-les aux 2/3.
Saupoudrez avec les noix/graines mises de côté.
Faites cuire au four pendant 1 heure, ou jusqu'à ce que la lame d'un couteau ressorte sèche, une fois enfoncée dans le gâteau. Sortez les pains du four et laissez refroidir pendant 20 mns avant de les démouler sur une grille.