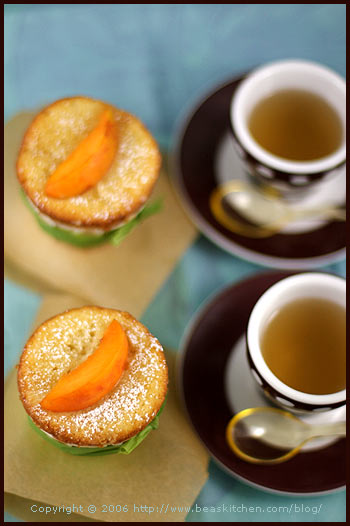 The Dilemna of an Empty Fridge
I sometimes get up in the morning and despite a real desire to cook or bake something, the last thing that I want to do is to go grocery shopping. Too much hassle. Too many people. I just want to stay away from crowds and traffic. Yet the baking craving is here and I desperately look for something to cook. It happened the other day when I had hardly anything in the fridge. Presque vide ! (Almost empty). I had to find a simple recipe that would take nothing to make. It would fulfill the baking crave and the lazy mood I was in.
And then I realized that the days are going by this summer, and I have not yet cooked anything with one of my favorite summer fruit. I could think I like apricots because of their nice rich orange/yellow color, but it also has to do with the fact that I think it is a pretty difficult fruit to get right. If not ripe enough, the flesh of the fruit is hard and lacks sugar, and the taste becomes acidic. Too ripe and it gets very quickly dark and like, well, hard to describe, isn't it? Apricots are like this. To get them exactly perfect in taste is a hard call. Most of the time, if they are bought in regular stores, I find that they are hard, unripe and lacking flavor. Just as if they did not have enough sun and had been picked too early. In fact, buying them from a local market is the way to go. Better even if picked from the trees, but we are not lucky to all have apricot trees growing in our gardens. When I was young, the only jam that I liked was my mum's homemade apricot jam — as I was not fond of jams generally speaking, and don't ask me why! Her jam was just sweet enough, and had plenty of big chunky apricot pieces. The bigger the pieces were and the happier I was.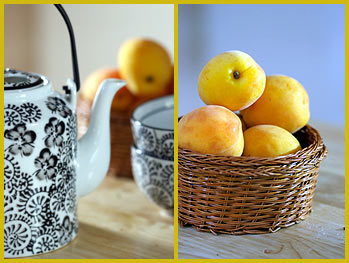 Before trying something too complicated with apricots in view of my lazy mood, I thought of making simple individual apricot cakes, looking like a hybrid between muffins and cupcakes. The apricots inside the cake bring a delicious moist texture that maybe this type of cake might lack at times. All appropriate in summer when I feel like eating fruit tarts and desserts that are not too sweet. While the cakes cook, the apricots "disappear" inside (depending on how deep you push them in!) so that if you forget that they are there, you are quickly reminded when you have a first bite in the cake. Light and delicious.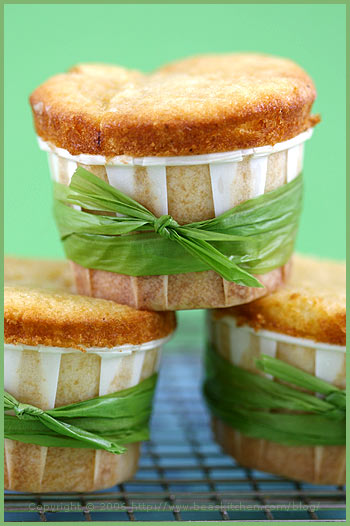 Tea or coffee for anyone?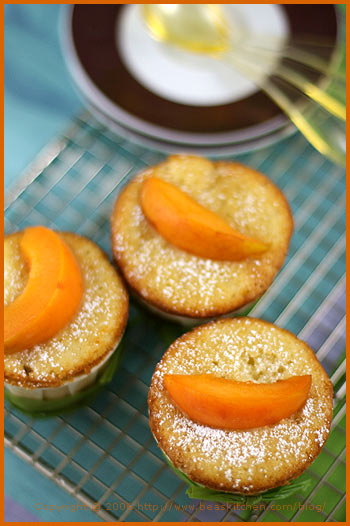 Apricot Teacakes
(for about 10 to 12 mini cakes)
You need:
1 cup flour
100 g butter
1 tsp baking powder
1 tsp vanilla extract
1/4 cup milk
1/2 cup fine sugar
2 large eggs
Fresh apricots (about 4 or so, depending on the size)
Lemon juice and confectioner's sugar
Steps:
Preheat your oven at 350 F.
Mix the soft butter and the sugar together until creamy.
Add one egg at a time and mix well. Sift the flour and baking powder separately.
Add them to your preparation and mix well.
Then add the milk and vanilla extract.
Slice the apricots and squeeze some lemon juice of top.
Take little paper cups and fill up to 2/3 up.
Add a few slices of apricots on top, and press them slightly in.
Place in the oven for about 20 to 25 mns. They are cooked when the blade of a knife comes out dry. Let cool down.
Sprinkle with confectioner's sugar and enjoy!
Tip: I place my paper cups in "stiff" molds sot that they keep a nice shape. I also use a stand mixer with paddle attachment to mix the ingredients.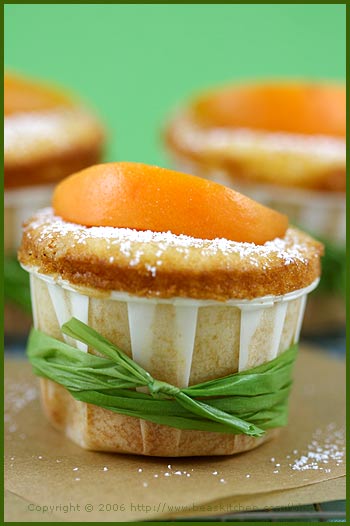 Le coin français
Petits gâteaux à l'abricot
(pour environ 10 à 12 gâteaux)
Ingrédients :
125 g de farine
100 g de beurre
1 càc levure chimique
1 càc d'extrait de vanille
60 ml de lait
100 g de sucre
2 gros oeufs
Abricots (environ 4 selon la taille)
Jus de citron et sucre glace
Étapes :
Préchauffez votre four à 180 C.
Mélangez le beurre pommade avec le sucre jusqu'à l'obtention d'une crème.
Ajoutez un oeuf apres l'autre et mélangez bien à chaque fois. Tamisez la farine et la levure chimique.
Ajoutez-les à votre preparation et mélangez bien.
Ajoutez ensuite le lait et l'extrait de vanille.
Lavez les abricots et coupez-les en tranches. Citronnez-les.
Répartissez votre pâte entre des petits moules en papier que vous remplissez aux 2/3.
Placez quelques tranches d'abricots dans chaque gâteau et enfoncez-les légèrement.
Mettez-les au four pendant 20 mns. Ils sont cuits une fois que la lame d'un couteau ressort sèche des gâteaux.
Saupoudrez-les de sucre glace et dégustez.
Conseil : Je mets mes moules en papier dans des moules rigides pour qu'ils gardent une belle forme.
And what is this one doing here when we speak of Apricots?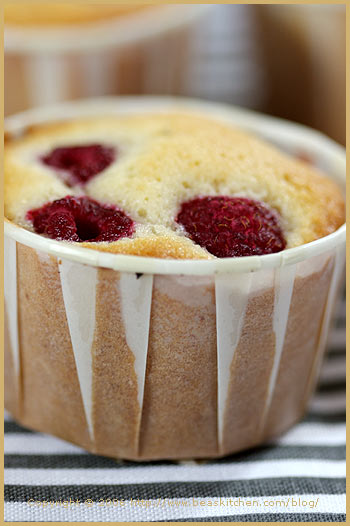 Confession: I had a few raspberries left, so they quickly found a home here.