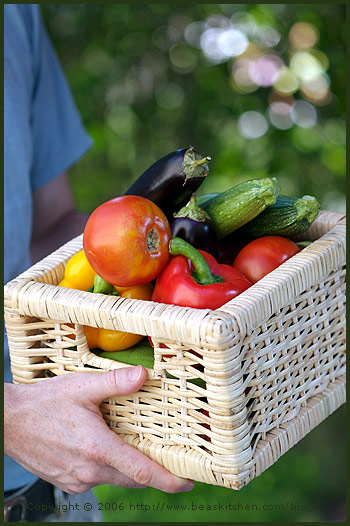 Ratatouille Vegetables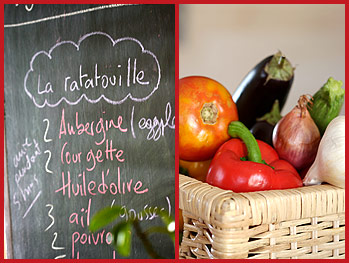 You Must Eat Ratatouille at Least Once in your Lifetime!
At this time of year, farmer's markets are full of delicious summer vegetables. It is interesting to see how we actually change our cooking habits with the seasons. In summer of course, I think that we want lighter meals, cooler in many ways, although I tend to believe that they do not necessarily cool us down. To me, the change also occurs in the colors that you want to put in your plate. Whereas in fall color tones are muted, in summer they are vibrant and shine, just like the sun that we get plenty of! Ratatouille is a true classic of French cooking that I am sure we all have at least one recipe of. Colorwise, I find that it is neither a fully autumn nor a fully summer dish. It is rather in the middle, between the two seasons, as it uses summer vegetables but has muted fall colors. Defined as a vegetable stew, it then comes to no surprise that la ratatouille is a comfy and rustic type of food. The best! For those who do not necessarily know what it is, let me say a few words about it, on how I grew to love this dish for so long disliked when I was a little girl.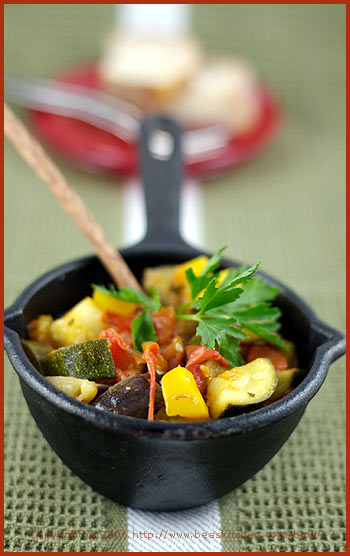 Ratatouille
My story with ratatouille is of the hate/love type. As mentioned already in previous ramblings, I am lucky to have grown up with a mum, grandmothers and aunts who each had huge large vegetable gardens, where you could find any possible and imaginable vegetable. At that time of the year, we had so much that it was hard to know what to do with them, and that is not even counting kind neighbors bringing baskets full of fresh fruit or vegetables.
(Our next-door neighbor speaking to my mum)
Madame M. : "Véronique, je vous ai ramené un panier de courgettes."
Ma mère : Ah merci, c'est gentil ! Dites-moi, qu'est-ce qu'elles sont grosses! Les vôtres sont toujours en avance !"
Mrs M.: "Véronique, I brought you a basket of zucchinis."
My mum: Ah thanks, very kind of youl ! Tell me, they are so big! Yours are always ahead!"
Of course, Madame M. had this kind of secret that we always wondered about. Take this. If Madame M. did not have any salad growing yet, then we always felt fine to see that ours was not showing either. Her garden was the reference. But then, if we saw her zucchinis grow and that ours hardly showed flowers — our garden was just next to hers — we always wondered how she did it! Did she talk to her veggies? What did she feed them with? As of today, I still do not know her secret, but despite the fact that she is probably 80 years old or so, her garden is still impeccable, and mum often gets full baskets of the crop of the moment. Madame M. is an amazing woman.
So because during summer, we always had so many zucchinis and tomatoes, my mum cooked a lot of ratatouille. And I simply used to hate it. Not a small tiny insignificant hate. A big solidly anchored hate. Every time she decided to make ratatouille for lunch, I thought she was trying to punish me. Encore de la ratatouille ! (Ratatouille, again!) This went on for years until one day, when something happened in me. One of those déclics (click) that makes you change your mind drastically. I don't know what it is but from hating ratatouille, I went to loving it dearly. It is one of those paradoxes that I cannot explain rationally because there is not a logic reason behind. As soon as I left home to go and study at university — I was 17 — , my mum always gave me large supplies of tall jars of preserved ratatouille she had prepared during summer, which were the perfect way for me to eat healthy lunches while studying. I loved her for that, even if I felt bad to literally be emptying her winter food stock every season. Mothers are the best!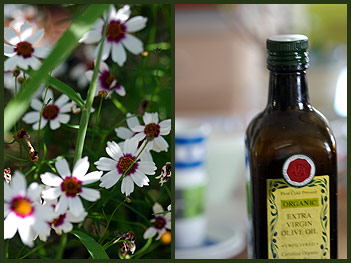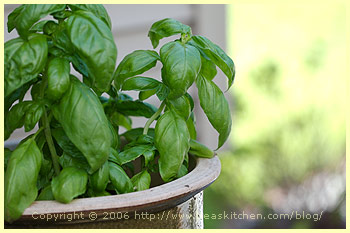 Ratatouille is a traditional dish from Nice in the South of France. Its name comes from two French verbs, tatouiller and ratouiller, both coming from the verb touiller which means to stir up. Because this is what you do when you make ratatouille. You stir the vegetables. Today, many ratatouille variations exist all across Provence and everywhere in France, although we cannot but refer to this coarse vegetable stew as la ratatouille niçoise. In it, you usually find eggplants, zucchinis, peppers, tomatoes, garlic and onions cooked in olive oil. Simple and rustic but really delicious. To me, the key is to simmer this stew for a minimum of an hour, uncovered, so that the flavors develop together. As a matter of fact, the more it cooks, the better it is. Make note of what P. often tells me when I make ratatouille "C'est encore meilleur réchauffé !" (It is even better reheated!)
I like to cook mine with a bay leaf and freshly chopped tarragon because it gives it a herb fragrance I personally like. I also add a pinch of sugar to prevent the tomatoes to provide too much acidity. But then, it is the quality of the tomatoes that drive it and make the difference, which is why it is so important to make this dish at the peak of the season, when tomatoes are ripe and sweet.
How to eat it?
I enjoy eating my ratatouille with a dash of white balsamic vinegar, but not everyone likes to do so. It is delicious on its own, with a nice loaf of pain de campagne (don't you love to dip your croûton in the thick sweet sauce!), or served with rice, meat or fish. The bonus is also that you can eat it warm, or cold, which makes it your perfect friend for summer barbecues. There is no good reason not to love vegetables!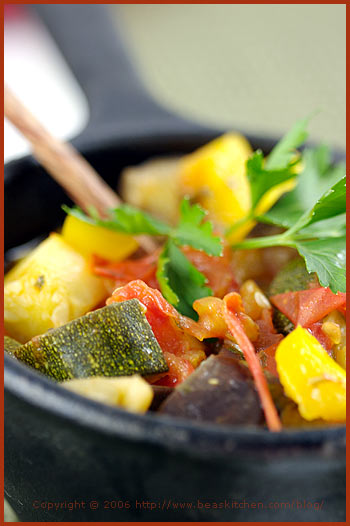 Ratatouille niçoise

You need:
2 medium sized zucchinis (11 oz)
2 small eggplants (11 oz)
2 shallots
3 garlic cloves
1 lb + 2 to 4 oz tomatoes
1/2 yellow pepper
1/2 red pepper
1 Tbsp tarragon, chopped
1 Tbsp parsley, chopped
1 bay leaf
1 tsp fine sugar
Olive oil
Salt and pepper
Steps:
Chop all vegetables in small cubes.
Chop the garlic and shallots thinly.
Heat 2 Tbsp olive oil in a thick-bottomed pot (Le Creuset style).
Add the zucchinis and eggplants and cook for 5 mns until softer. Set aside.
Heat 2 more Tbsp olive oil and then add the garlic, peppers and shallots. Cook for 3 to 4 mns, until softer.
Add the tomatoes and mix well. Cook for 5 mns before adding the zucchinis and eggplants again.
Season with salt and pepper.
Add the chopped herbs, the bay leaf and the tsp of sugar, and cook uncovered on low heat for 1 hour.
Note: I usually sprinkle coarse salt on the eggplants placed in a sieve, and let them on the side like this for 30 mns minimum. It helps with their cooking. In French, this technique is called dégorger les légumes. (légume = vegetable)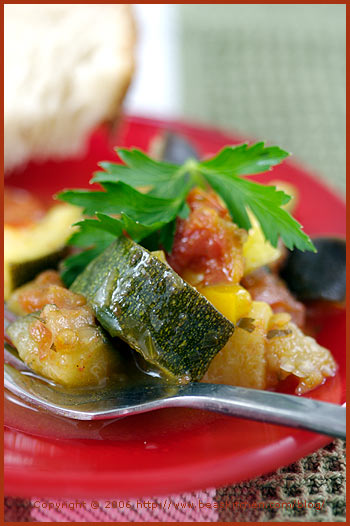 Le coin français
Ratatouille niçoise

Ingrédients :
2 courgettes de taille moyenne (300 g)
2 aubergines (300 g)
2 échalotes
3 gousses d'ail
500 à 600 g de tomates
1/2 poivron jaune
1/2 poivron rouge
1 càs d'estragon haché
1 càs de persil haché
1 feuille de laurier
1 càc de sucre fin
Huile d'olive
Sel et poivre
Étapes :
Coupez tous les légumes en petits cubes.
Hachez les gousses d'ail et les échalotes.
Faites chauffer 2 càs d'huile d'olive dans une casserole à fond épais (type Le Creuset).
Ajoutez les courgettes et les aubergines et cuisez pendant 5 mns jusqu'à ce qu'elles soient tendres. Mettez de côté.
Dans la même casserole, faites chauffer 2 autres càs d'huile d'olive et faites-y revenir l'ail et les échalotes avec les poivrons. Cuisez pendant 3 à 4 mns, jusqu'à ce que les légumes soient translucides.
Ajoutez les tomates et mélangez. Cuisez pendant 5 mns avant d'ajoutez le mélange courgette/aubergine.
Assaisonnez avec du sel et du poivre.
Ajoutez les herbes, la feuille de laurier, la càc de sucre et faites cuire à feux doux pendant 1 heure, à découvert.
Remarque : Je fais en général dégorger les aubergines 30 mns minimum, avec du gros sel, pour faciliter la cuisson.