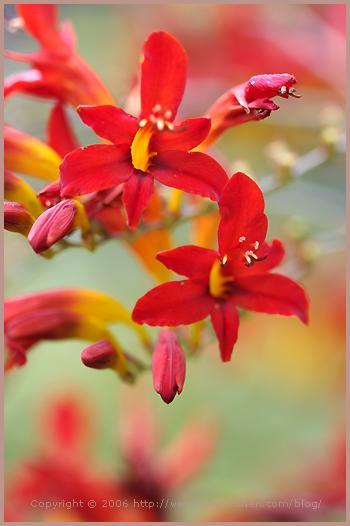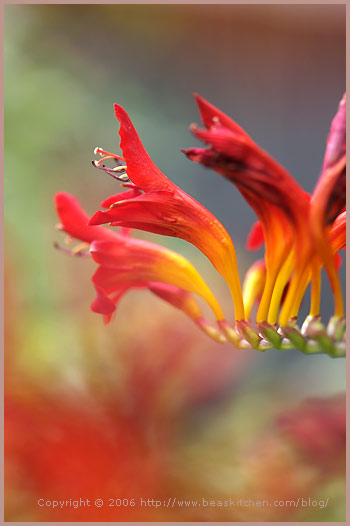 Je suis venue vous offrir des fleurs.

I came to give you flowers.
Sounds cliché, doesn't it?
As a kid, when asked by les grands (literally the tall ones, but meaning the adults) "Et qu'est-ce que tu voudrais faire quand tu seras plus grande ?" (What do you want to do when you are older?), one of the jobs I wanted to have, — because as a child, how many jobs are there that you want to have –, was devenir fleuriste. Yes, to become a florist. One activity I enjoyed particularly in Spring and Summer was to go with friends to pick wild flowers in fields. Des bouquets de fleurs sauvages cueillies dans les champs. When I was 5, I came home one day with a bunch of geraniums in my hands and a large happy smile on my face. I held them to my mum.
Ma mère : " — Pour l'amour du ciel, où est-ce que tu as trouvé cela ?
Moi : — Ben, dans les champs."
My mum: " — Where on earth did you find those ?
Me: — Well, in the fields."
The planters from the neighbor on the street next to ours had been totally emptied. It shows you how much I like flowers.
Anyway. I am not a florist and I don't think I know enough about flowers and plants to come even close to becoming one one day. Who knows, though? En Amérique, tout est possible ! (and I mean it!)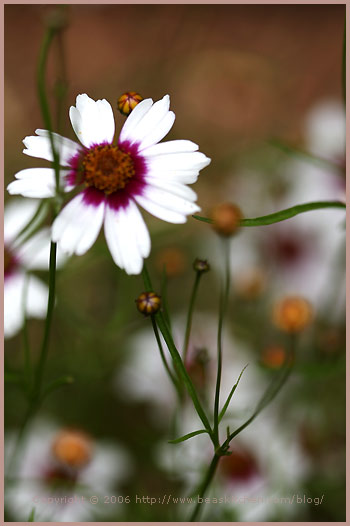 So instead of arranging flowers, I decided to play with tomatoes, and pretend I was creating flowers. Not perfect but I enjoyed the play and the cherry on top of the cake is that I could eat my flowers.
Mes tartelettes fleurs, façon tatin
My Flower Tartlets, Tatin fashion
Orange, yellow, red, black, there are so many colors and varieties of tomatoes. Pick them fresh, homegrown if you can, in the summer they are great. The small ones are cute, the big fat ones are juicy. Then try different herbs with them. Thyme and fennel seeds for me in this recipe, but why not play with coriander seeds? We all love basil with them. The point is that you should please yourself.
And in case you wonder, the real flowers on the pictures are from my garden, despite the heat. Some at least survived!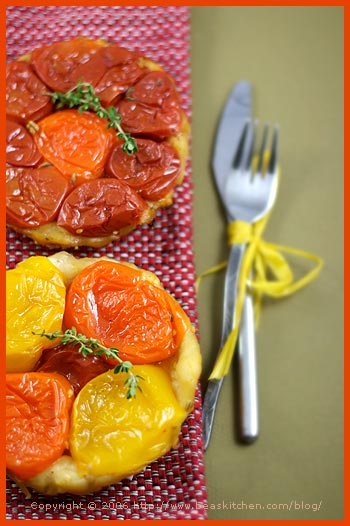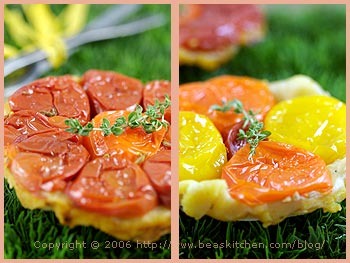 Tomato Tatin Tart

You need:
Thyme Basic Crust
9 oz flour
5 Tbsp water
1 egg yolk
3.5 oz salted butter
1 tsp thyme, crumbled

Tomato Topping with Fennel Seeds
Strawberry tomatoes of different colors
Fennel seeds
Olive oil
Salt and pepper
Grated parmesan
Steps:
Wash your tomatoes and cor them. Cut them in halves.
Place them in an oiled oven dish, face down. Season with salt and pepper.
Add a splash of olive oil and the fennel seeds. Cook for 20 mns in a preheated oven at 400 C. Take them out and let them cool for at least 2 hours.
To make the dough, mix together the flour and butter (cold if using a food processor, or at room temperature if making the dough by hand).
When the preparation is similar to crumbles, add the egg yolk and the thyme.
Continue to mix and add the water. The dough should detach and form a ball.
Don't work the dough too long. Cover it and place it in the fridge for a minimum of 1 hour before using it.
Roll the dough.
Take small individual molds. Brush them with oil.
Arrange your tomatoes on top as you like, face up.
Sprinkle with grated parmesan and cover with a circle of dough, slighlty bigger than the mold. Tuck the dough in.
Make little holes with a fork on top and cook in the oven for 40 mns, at 400 F.
Remove from the oven and unmold carefully on plates.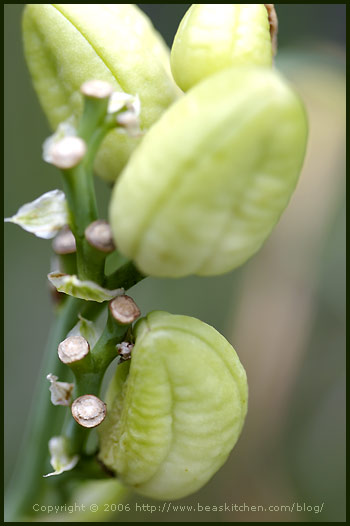 Le coin français
Tarte tatin aux tomates colorées

Ingrédients :
Pâte brisée au thym
250g de farine
5 càs d'eau
1 jaune d'oeuf
100 g de beurre salé
1 càc de thym émietté

Garniture de tomates aux graines de fenouil
Tomates "fraises" de diverses couleurs
Graines de fenouil
Huile d'olive
Sel et poivre
Parmesan râpé
Étapes :
Lavez les tomates et enlevez leur pédoncule. Coupez-les en deux.
Mettez-les sur une plaque de cuisson huilée, partie bombée orientée vers le haut. Salez et poivrez-les.
Arrosez-les d'un filet d'huile d'olive et des graines de fenouil. Faites-les cuire pendant 20 mns dans un four préchauffé à 200 C. Sortez-les et laissez-les reposer pendant au moins 2 heures.
Pour faire la pâte, mélangez la farine avec le beurre (froid au robot, à température ambiante à la main).
Quand vous obtenez un mélange granuleux, ajoutez l'oeuf et le thym.
Continuez à mélanger et ajoutez l'eau. La pâte doit se détacher et former une boule.
Ne la travaillez pas de trop. Couvrez-la et mettez-la au frais pendant au moins 1 heure, avant de l'utiliser.
Étalez votre pâte.
Prenez de petits moules individuels. Huilez-les.
Arrangez vos tomates selon votre fantaisie, partie bombée posée sur le moule. Serrez-les.
Parsemez de parmesan râpé et recouvrez-les d'un cercle de pâte un peu plus grand que chaque moule.
Piquez la pâte et mettez au four pendant 40 mns, à 200 C.
Retirez du four et démoulez délicatement sur des assiettes.