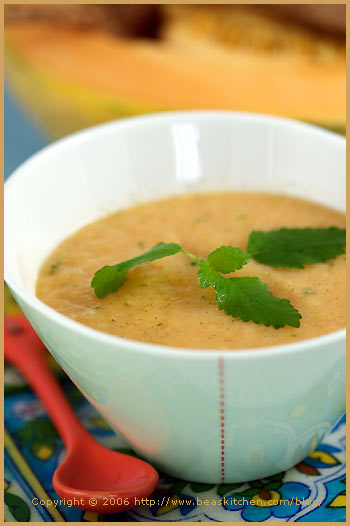 Vanilla Melon Soup
When I was in Paris in last May, I did one thing that I love doing, but do rarely. Let's face it! Once you are married or live as a couple, it is more likely that you go to restaurants accompanied than alone. But P. had already returned to Boston and I was to stay longer with my family in Lorraine first, then with my friend Nathalie by the canal St Martin in Paris. So during that time, it were as if I had become single again. And that felt strange strange and strange good. Inhabituel ! (Unusual!) I am not an expert of Paris because I have never lived in the city, but after years of returning to stay with Nathalie in her apartment by the canal St Martin, I have developed habits of going back to favorite places, like a local would. Paris has become a lieu de passage, a place through which we transit while travelling from one country to another. By the canal St Martin, our usual places include the bakery across the bridge from my friend's house –I am always so disappointed when I get there, expecting my favorite pain à l'ancienne, and it is la fermeture annuelle (annual closing, which is a foreign concept to people in the US, right?) –, the café Chez Prune one street next to the bakery, and the restaurant Marine by the canal. Over the years, I have seen cafés open in the whole area like mushrooms grow, and have always wondered: "How do they all survive as there are so many of them?" "Comment ils s'en sortent ?" I would often ask my friend Nath (how do they manage?), to which she responds "Béa, la seule chose qui marche quand rien d'autre ne va, c'est la bouffe !" (the only thing that works when the rest doesn't is grub!) Well be it then!
French people like la bouffe! (note that the verb bouffer is a different meaning since it more or less equals "to stuff one's face", and we don't do that sort of thing, do we ?
And so during one full day, I walked the Parisian streets alone, back and forth, from the 5th, 6th to the 7th arrondissements, and I did something that every girl would do in Paris if left alone, I shopped. This part of our Parisian trips always worries P. somewhat, but he should not feel this way. I am full of self-control! Crois moi ! (believe me!) Right, for every credit card holder like we are, the people living in the US, it is agreed that Paris becomes a dangerous place. Shops, shops, and more when you think it is over! So many, so much variety! Faced with much to do, I however did not lose my North (Je n'ai pas perdu le Nord), which in real English translates like "I did not forget the essential things". By 2 pm, I was hungry and decided to stop for lunch at the terrace of a great looking bistro I had spotted earlier on, in rue de Seine. Shops there might be, but grabbing a sandwich to have it on the go was out of the question. I would sit down and have lunch, by myself, in a bistro.
As you all know, chosing a restaurant in Paris can become a real casse-tête chinois, a big headache indeed. Although located on what is known as a busy street, the bistro I stopped at still felt a very quiet place to have lunch, and I was just happy to sit outside, looking at people go by.

Bistro Pères et filles on rue de Seine.
I really liked their menu. The food looked original, and extremely French. A high quality for the ingredients used was obvious. Everything turned out to be a nice surprise, fresh and seasonal. I decided to go for two delicious appetizers, amongst which was a vanilla melon soup. Its colour, taste, and texture made it into a fully satisfying and light entrée (appetizer). "Mmmmm, je me demande bien ce qu'il y a dans cette soupe !" (I wonder what is in this soup!) I asked the waiting staff, but was giving the Ah-mais-c'est-le-secret-de-la-maison type of answer (house secret). Ah bon? Well, then I would still try to make my own! My version is simple, sweet and refreshing. You can serve it as a mise en bouche, or an small appetizer! And it will be good enough until I return to Bistro Pères et filles.
Bistro Pères et Filles
81, rue de Seine,
Paris, 5ème arrondissement
Tél : 01.43.25.00.28.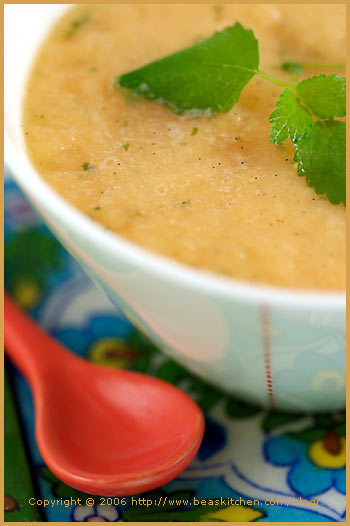 Vanilla Melon Soup
(for 4 servings)
You need:
1 lb + 5 oz ripe Tuscan melon
4 oz plain yogurt *
1 vanilla pod
2 Tbsp Muscat wine**
6 fresh mint leaves
*I would avoid fat-free plain yogurt, or yogurt too tart in taste. Here in the US, the brand I like to use a lot for this dish is the Canadian brand, Liberty.
**Muscat wine is a dessert wine.
Steps :
Peel the melon and remove the seeds. Cut it in big chunks.
Place them in a mixer, or blender and add the yogurt. Mix well.
Open the vanilla pod with a knife, and scrape out the seeds.
Add the vanilla seeds with the mint to the melon purée, and mix.
Add the Muscat wine and mix.
Place in the fridge for a few hours and serve very fresh.
It does not get easier than that.
I also made a variant adding two freshly squeezed oranges to it.
Le coin français
Soupe de melon vanillée

(pour 4 portions)
Ingrédients :
600 g de melon bien mûr
1 yaourt nature Velouté
1 gousse de vanille
2 càs de muscat
6 feuilles de menthe fraîche

Étapes :
Épépinez le melon et coupez-le en gros dés.
Mettez-les dans un mixeur avec le yaourt.
Fendez la gousse de vanille en deux et retirez les graines en raclant l'intérieur de la gousse.
Ajoutez au mélange précédent avec la menthe, et mixez.
Ajoutez le muscat et mélangez.
Mettez au frigo pendant quelques heures avant de servir très frais!
J'ai également réalisé une variante, en ajoutant deux oranges fraîchement pressées.