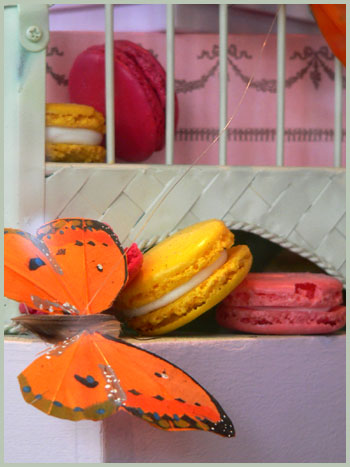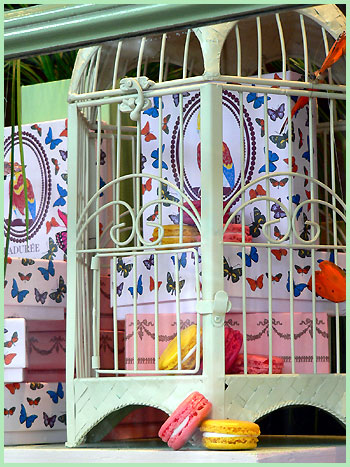 Who Makes The Best Parisian Macarons?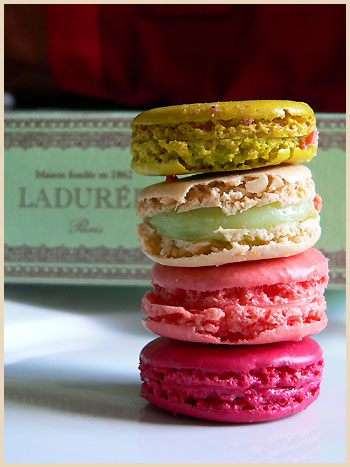 You know what is good about getting bad weather in June in Paris? You can eat more to keep you warm. In other words, I cannot say that it is the French weather that I will remember from my trip this time. But I am not complaining: I was able to eat many more Parisian macarons that I would usually have should the weather have been warm. Clever thinking!
I came to Paris with the desire to finally meet those cute little mini-hamburgers filled with Que du plaisir (only pleasure), and I have not been disappointed. I surely ate many more than I would have under other circumstances, keeping the hope that I will not spoil the desire to have more next time. I had no choice as I really wanted to answer a few questions about macarons. The good news is that I am leaving Paris with a sense of accomplishment: no pounds gained (I am a lucky one indeed!) and I have eaten plenty of Parisian macarons. I have an opinion about them by now.
So…
If you followed me in my Parisian Pastry tour, you will remember that Anne from Station Gourmande showed me some nice sweet wonders. After the Hermé's macarons, Anne took me to visit the Ladurée's boutique on rue Royale in the 8ème arrondissement, to taste the classics from this known pastry house. As soon as we got closer to the store window, right away the girl in me got distracted and attracted by the beauty in display. I could discern a scene picturing a bird cage with butterflies (you guessed they were not real I hope!, and nicely arranged boxes with a few colourful macarons. Spring in display.The Ladurée's store on rue Royale was definitely a change from the more modern look of the small Hermé's store rue Bonarparte. I immediately liked the history I could feel from the building. There, if we had wanted to, we could have sat and eat all the nice goodies we ended up buying. We didn't however since we had other places to visit. But what did we do then?
I bought a box of 9 macarons nicely arranged, in the way that reminded me of the Hermé's box. This is surely a fashion. Ladurée classical look versus Hermé's modern look. Many of you might know that after all, after working with Lenôtre and Fauchon, Hermé worked in the Ladurée boutique rue Bonaparte before opening a first boutique in Tokyo, then in Paris. No wonder then that the macarons from both houses look like brother and sister, or mother and daughter, well you guessed, they look similar. I however noticed a few differences.
The Ladurée's macarons were slightly smaller, with more traditional flavors and less filling. A less buttery filling is something I would be tempted to add as well. They left in my mouth and memory a very satisfying taste of the ingredients used for each. After eating a Bitter chocolate one as an example, I could really taste the quality of the chocolate used. To me, they also felt less sweet. Illusion? Or as lovely Liza from French Toast noticed, it could simply be an indication that you can indulge in eating more Ladurée's macarons in one go than Hermé's? They were soft and smooth in the middle, crispy in the outside. I tasted Bitter chocolate, Vanilla, Coffee, Hazelnut praline, Rose petal, Pistachio, Raspberry, Salted butter Caramel and Red fruits.
With this box came almost the end of my macarons quest. Worth noticing that Ladurée is of course more things than just about macarons. To all the fancy-looking pastries fans, in a Ladurée boutique, there are many good reasons to give in to sweet temptations.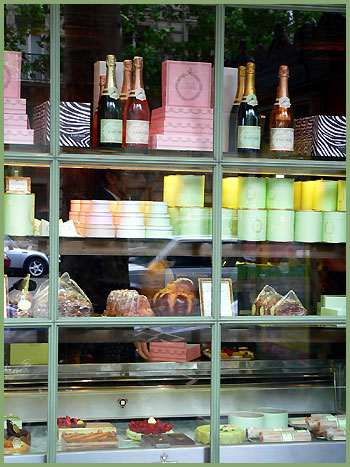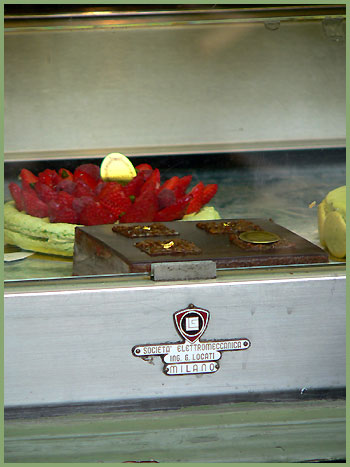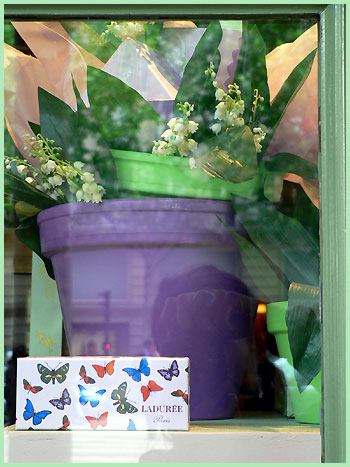 If you look closely, you can see me in the window! Comme l'arroseur arrosé.

Morale de l'histoire (Moral Story)
To the question:
"Les macarons de Paris, tu les connais ?"
"Ah mais oui, bien sûr!"
"Do you know the Parisian Macarons?"
"Of course I do!"
So which ones do I prefer?
Tempted to say Hermé's if I only want a little and be more surprised by taste.
Tempted to say Ladurée's for an overall very nice satisfying taste.
And again, I could definitely eat more macarons of Ladurée in one go than Hermé's.
I think I want to try the Ladurée's religieuse next time! The sooner the better. As my time in France comes to an end, I think I should make another stop in Paris for that purpose before I return to the States. Pourquoi pas?

Fin de l'histoire (End of The Story)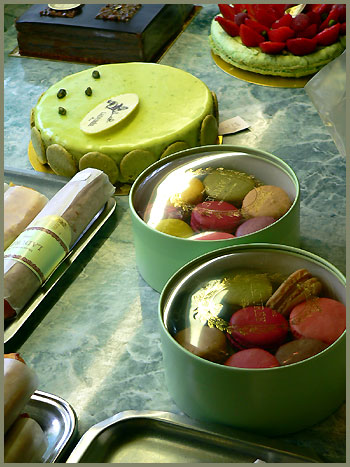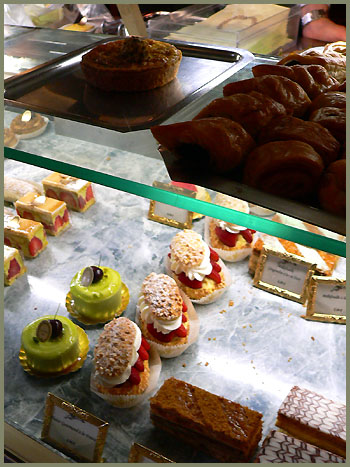 Ladurée Royale
16, rue Royale – 75008 Paris
Tél : 01 42 60 21 79 – Fax : 01 49 27 01 95

Parkings Malherbes – Anjou Métro Concorde
Open Monday to Saturday, 8.30am to 7pm & Sunday, 10am to 7pm