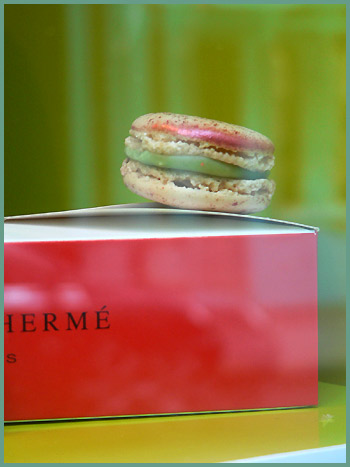 Here we are! I arrived in Paris after 3 hours on the train between Metz and Paris and as expected each time I come, there is so much to see, and so many friends to meet! And as always, so little time. Paris is always une course contre la montre (a race against the clock!)
But we are lucky! Every time! P. and I are able to enjoy the best of Paris staying in the empty apartment of our lovely friend M. on Boulevard St Germain, in the 6ème arrondissement. The last time I was here in December 2005, I had hardly started my blog and was surely not aware of the food world that prevails out here. Don't get me wrong. Of course I know about good places to eat in Paris and already have favorites to come back to, but as to the macaroons….I had no idea that I would one day come across beautiful round-shaped colourful macaroons, that looked like mini hamburgers! I had grown up with the typical macaroons from Nancy that are nothing like these gorgeous looking Parisian macaroons. So my next step was to start tasting them and it happened today with a first stop on my Macaroon Quest: Pierre Hermé on rue Bonaparte.
I had heard about these macaroons for so long that my hopes were high and I was very excited to finally place my first macaroon order at Pierre Hermé's.
Vendeur : -Et vous en prendrez combien ?
Moi : -Euh, 7 s'il vous plait!
Shop assistant: -And how many would you like?
Me: -Hmmm, 7 please!
Come on, before dinner, at 6pm, 7 is already not a very reasonable number for 2 people, don't you think?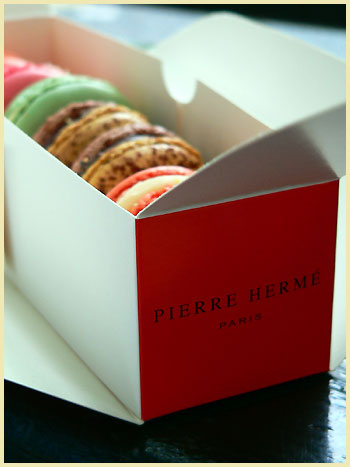 We decided to pick a box containing 7 of them with the following flavours :
Arabesque: Apricot and Pistachio, that is a Pistachio Macaroon with an Apricot filling
Mogador: Macaroon with a Passion Fruit ganache and Milk chocolate
Americano Pamplemousse: Macaroon with a Campari and Grapefruit ganache
Plénitude: Chocolate and Caramel, Chocolate Macaroon, with a Caramel Chocolate ganache with Fleur de sel
Rose: Pink Macaroon with a Rose Petal ganache
Outcome? How did we eat them?
We quickly ran out of the store with our little box.
Found a bench.
A quick set of pictures as best and as fast as I could (And I do not want to know what people must have thought as they must have seen me squat down in front of the green bench where I had placed my treasured box full of macaroons, in the middle of a busy square at rush hour.)
Ate one each at first.
Savoured.
Looked at each other.
Yes.
Liked them.
First test passed.
Tomorrow is Ladurée's macaroons amongst other things. I am lucky to discover those with a lovely Parisian food blogger. Cannot wait. I will tell you more about it soon!