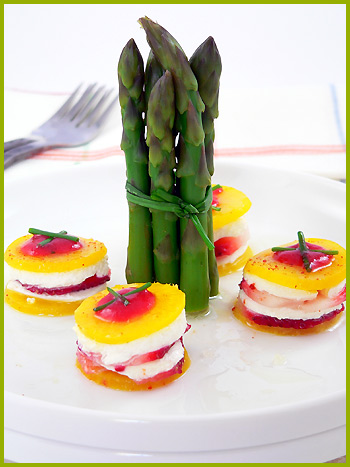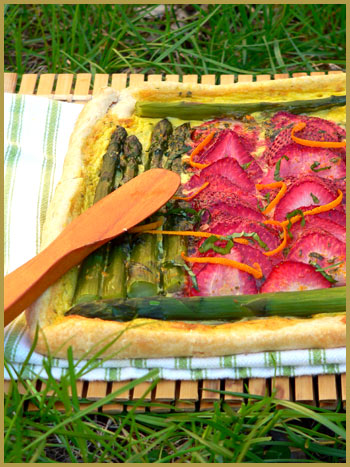 Qui a dit qu'il était interdit de jouer avec la nourriture? Petit ou grand, le plaisir des papilles passe par le plaisir des yeux et du jeu. Après tout, pourquoi ne pas s'amuser en cuisinant en composant des assiettes ludiques! Couleur, fraîcheur et saveur!
A vous!
Pour participer à Blog Appétit Asperges et Fraises, je me suis amusée à réaliser des mini-millefeuilles à la betterave et aux fraises, avec un sirop de fraise et des asperges simplement composées en petit fagot! Plus une tarte salée faite avec une pâte feuilletée, un mélange de fraises et d'asperges, et une crème parfumée à l'orange.
Et voilà. Sauf que là, même si ca me plait à l'oeil, je me dois de vous faire un aveu: je ne suis pas super fan du mélange asperges/fraises. Vraiment! C'est comme cela, et c'est bien une des premières fois que je présente deux recettes pour lesquelles j'émets de la réserve! Aie aie! Les goûts et les couleurs, n'est-ce pas? (La deuxième recette est en anglais uniquement par faute de temps). N'hésitez pas à me faire savoir si vous la voulez en français!
La liste des participants, c'est par ici.

English Corner
This is my participation to an event on the French foodosphere: make a dish using strawberries and asparagus. It can be fun to play with food to make nice-looking plates. I did play the game and came up with 2 recipes, expect that for the first time, I have a confession to make. Although I loved the whole idea and the visual outcome of the recipes, I am not keen on the strawberry-asparagus association. Really! I guess it happens. And if you want to know for yourself, you just have to try! The first recipe is only in French and the second in English, from a lack of time to translate. Let me know if you are interested in getting the first one in English though. You might love strawberries and asparagus together. I didn't!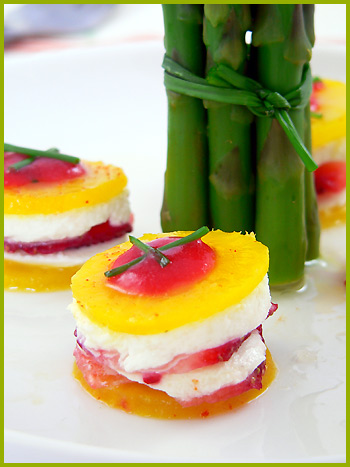 Mini-millefeuilles à la betterave et aux fraises et fagot d'asperges – Yellow Beetroot Strawberry Millefeuilles and Asparagus
Ingrédients :
1 botte d'asperges vertes
1 betterave jaune
1 boule de mozzarela
Fraises
Sirop de cane
Ciboulette
Poivre
Fleur de sel
Huile d'amande
Vinaigre de balsamique blanc
Étapes:
Blanchir les pointes d'asperges quelques minutes dans de l'eau bouillante. Dès la cuisson terminée (5 mns pas plus), plongez-les directement dans de l'eau glacée pour arrêter la cuisson.
Faites cuire la betterave au four chaud pendant 45 à 1 heure (selon la taille de la betterave).
Arrosez d'1 filet d'huile d'olive et d'une pincée de sel et de poivre.
Une fois refroidie, pelez-la et découpez de belles tranches, et calibrez-les pour les mini-millefeuilles, en utilisant un petit emporte-pièce.
Avec le meme emporte-pièce, faites de belles tranches dans la mozzarella, ainsi que dans les fraises.
Faites cuire 1 bonne poignée de fraises dans une casserole avec le sirop à la vanille.
Une fois reduit et en purée, mixez.
Mélangez au vinaigre et à l'huile d'amande et passez au chinois.
Lavez la ciboulette et prenez les bouts des asperges.
Emballez-les comme si vous faisiez un petit paquet.
Placez-les au centre des assiettes.
Montez vos mini millefeuilles 4 par assiette.
Commencez par une tranche de betterave, une tranche de fraise, mozzarella, fraise puis betterave.
Placez une goutte de sirop de fraise dessus et décorez de ciboulette ciselée.
Faites votre vinaigrette légère composée de 2 càs de vinaigre et de 3 càs d'huile.
Arrosez les betteraves et les asperges et saupoudrez de fleur de sel et de poivre du moulin.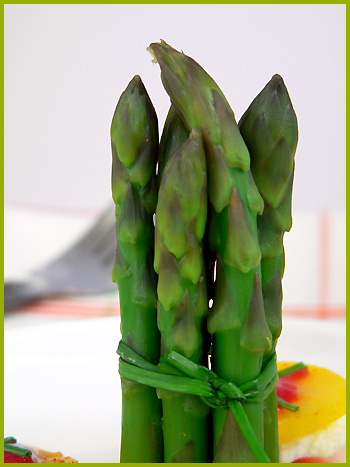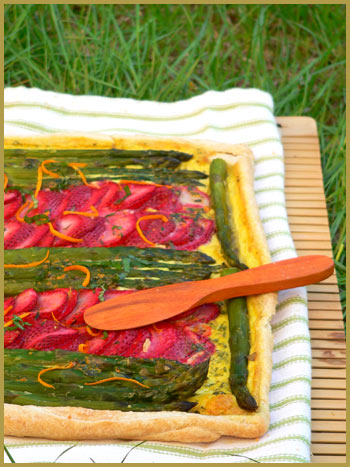 Tarte fraises-asperges champêtre – Strawberry Asparagus Country Tart
You need:
Puff pastry (1 lb, 500 g for a rectangular tart 25 x 50 cm)
Strawberries
Asparagus
4 Tbsp crème fraîche
1 orange (zest and 1 Tbsp)
Bunch of basil
Olive oil
Steps:
Precook for 10 mns on oven at 420 F (210C)
Prick holes at the bottom.
Blanch the asparagus for 5 mns in boiling salted water and place them in iced water right after, until they are cold.
Chop the basil (1 Tbsp).
Wash the orange and take the zest (thinly).
Mix together 1 egg, the creme fraiche, the basil, the orange zest and 1 Tbsp orange juice.
Season with salt and pepper.
Arrange the strawberries and asparagus on the tart, and pour the cream over.
Place in the oven for about 35 mn or so, until the cream preparation is well cooked and the pastry is nice golden.