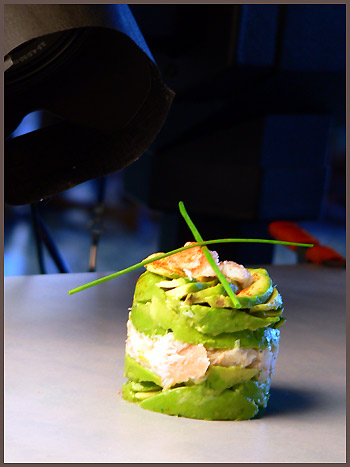 What would you say if I took you on a tour in a professional photography studio?
Of course, I will not be the photographer. But a week ago, I was lucky to spend a full day in a professional photography studio to work with a team of great people. I drove up to Portland in Maine to meet Stretch and his team at Synergy2. Everyone was friendly and welcoming, and I already knew my day was going to be very interesting: I was going to prepare two dishes and style them while Stretch was going to take the food shots. What better way is there to understand the required steps involved in a food shot session than actively participate in it? From the making of the food, the styling, to the shooting, all aspects were covered. No need to say that my day was extremely rewarding. I came home wrecked and happy. Until next time!
My Food Photography Session at Stretch Studio
A food session involves different steps: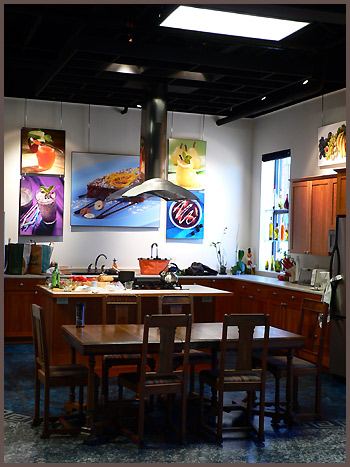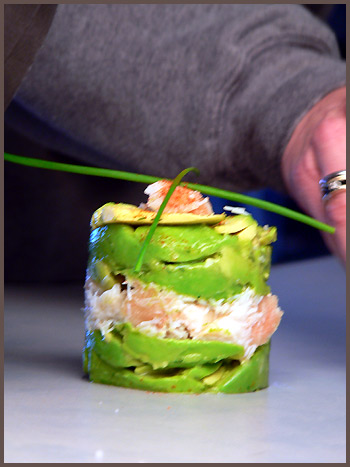 –Food obviously, which the food stylist prepares and arranges (me in this case). While a lot can be done ahead of time, all the finishing steps are done on site. The kitchen in the studio is very nice and well equipped.

The kitchen area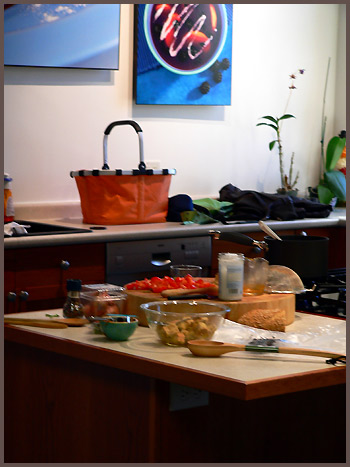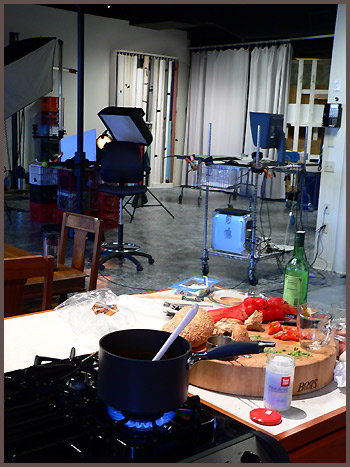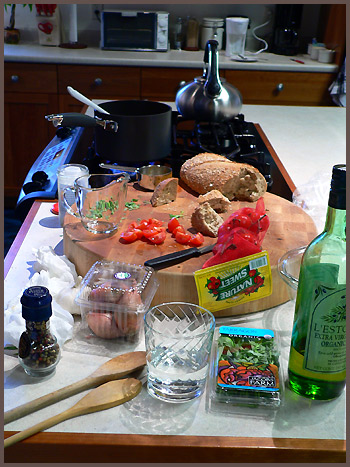 I prepared two dishes:
*my Avocado Crab appetizer
*my Tarragon Tomato soup.
I had brought with me all the needed ingredients, oils, herbs and spices, along with props that I thought we could use (although as you will see below, there is no shortage of props in a food photography studio.) In other words, I had my kit with me.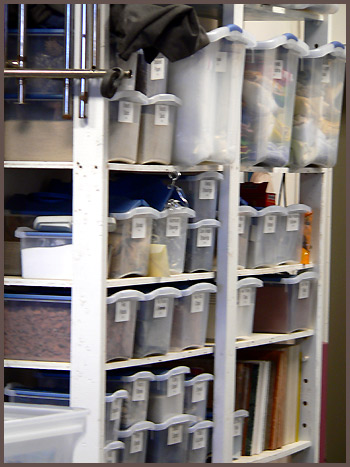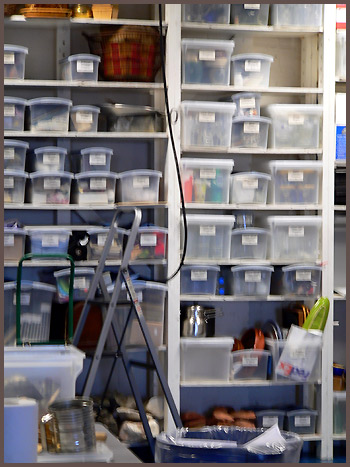 Two walls of tidily arranged and labeled boxes full of props of all kinds: fabrics, table sets, napkins, backgrounds, kitchen utensils, stones, sand, things to make snow, every possible thing you can imagine. A real craft store. I wish I could have carried some home!
-Discussing with the food photographer (Stretch) the vision in mind as to how the food will be presented. This involves what props will be required, what type of atmosphere to give to the shot, what colours will dominate and match the food (hence the choice of surface and background are closely linked to those), and what photo frame will be priviliged (the full bowl of soup will be shown? Will we show a plate? A knife? A piece of extra bread?) I had brought a few things with me in case we wanted to use them, and we eventually did (see the small turquoise bowl for the soup). As you will see on some pics, the food we shot was tiny small. But as Stretch mentioned to me when I asked him, there are no rules. Sometimes the food will be displayed on a big plate, sometimes on a small one. It all depends on the dish and the presentation idea. Since we preferred to shoot from a very close-up point of view, to have a small bowl was a better choice.
-Setting up the photo environment. Stretch's massive (and expensive!) camera is connected directly to a computer, with a big monitor. The editing program (one Pro) used for the photos is launched so that you can instantly see the photos that are shot.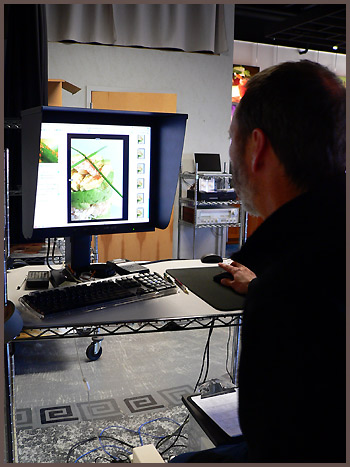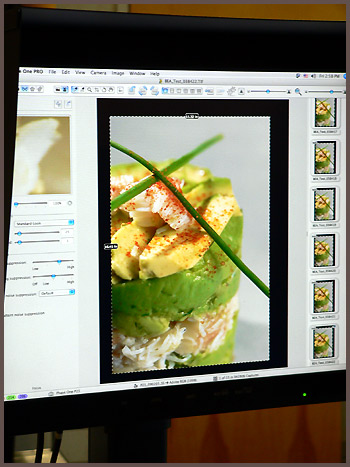 Wouldn't you want to be able to hook up your camera to a computer like this, as you shoot, so that you can see the result on screen right away? Stretch could even shoot by simply hitting the return key on his keyboard. It really helped us assess the picture, see the light and determine whether we were to continue or not. The more experienced you are, the better you can determine when you have the right picture.
With the setting up, the first step is to choose the initial camera and light settings in accordance to the frame chosen for the shot, and record them. In the case of the soup for example, Stretch started by taking the bowl we would use to serve the soup; he placed it with some paper in it (as if it were the soup) on the surface where we were going to shoot in order to choose the framing, and with the help of the studio assistant, record necessary measurements as to light, speed and distances (you actually really measure where the bowl is so that you can place it back at that same spot). You are walking around with a tape measurer like a carpenter.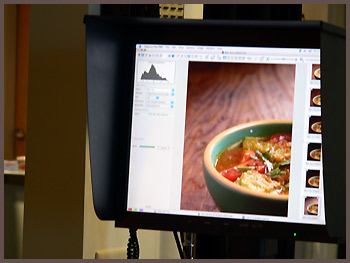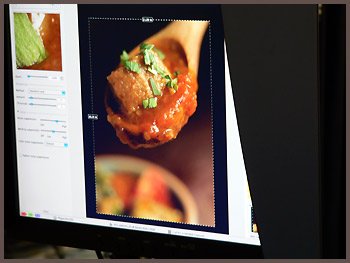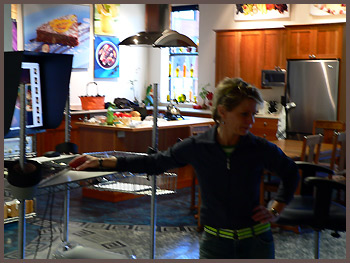 -Once we were happy with the setting selections, I started to cook the food and styled it. I was very careful as to how I was going to present my dishes. In the case of the soup for example, I did not pour the broth in the bowl before bringing it to the working table, but only once the bowl was not to be moved again. By doing so, the line made by the soup inside the bowl came out very clean. Details like this matter. As mentioned by Stretch and Sue his assistant, a food stylist works with different types of tweezers to arrange the food and change details if need be. Long or small tweezers are great. In other words, it is a very detailed-oriented work which requires a good bunch of good manual and technical skills. A misplaced piece of crab and it is all you can see in the picture.
Things to be careful about:
*make sure there is no dust as it shows right away on the picture, even if you cannot see it while shooting (using an air blower to remove the dust or crumbs is helpful)
*clean properly the pieces of dinnerware you choose
*take your time to arrange the food, so that it is neat and clean
*think about decorating pieces such as leaves of fresh herbs, different coloured salts, spices that can bring colour and enhance the contrasts in the picture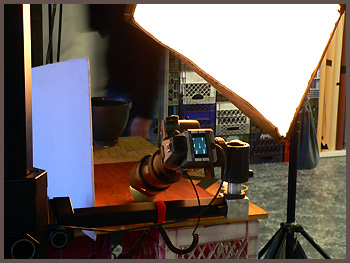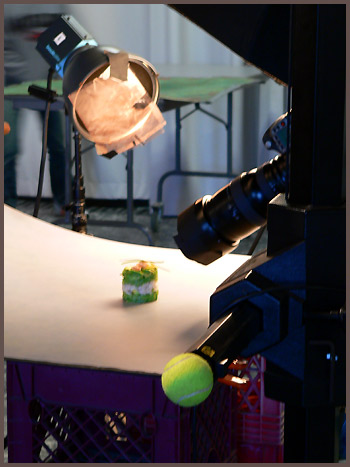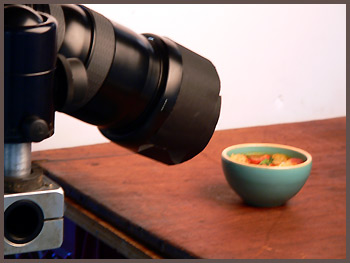 –Camera equipment (I felt shy taking pictures with my camera when I saw Stretch's equipment. Worth more than I can imagine spending on a camera for sure!) I even forget the brand name to tell you the truth aside that the company is Swiss Swedish but should you be interested, I can find the information. Note added: after asking Stretch, here is the info: Hasselblad H1 medium format camera with a PhaseOne P25- 22 megapixel camera back attached.
–Light is key (and we spent a lot of time working with different sources of light, looking at how the light was going to be reflected on the food, and what reflecting pieces (such a piece of white board placed on left side of the dish) to use. The resources are endless and you can be very creative. All it takes is practice and understanding how light reflects on the subject.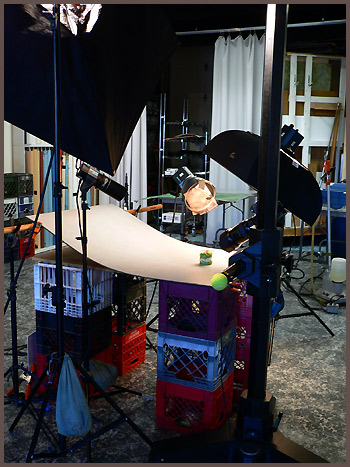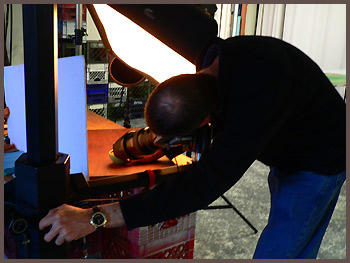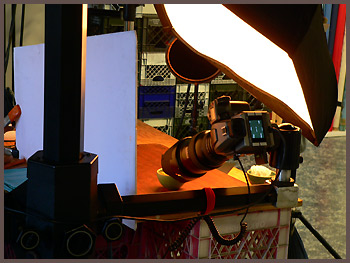 -Be prepared to accept that your first styling idea might turn out to be the wrong one. Work with it as the food shot goes on.
–Special effects can be needed. In the case of my soup, by the time we might have been ready for a final shot (and you never know when that is until you continue shooting and everyone is happy with the shot), the soup was obviously cold. No more steaming soup. I reheated it but since we were shooting from so close, it was hard to see the steam. So we worked for at least half an hour trying to figure out how to create steam (you become a real handyman). We used a steamer (yes very similar to the one used to remove wall paper), and small tubes to diffuse steam better behind the soup. In short, you need to be resourceful.
–Retouching the pictures: once the shots are done, the final editing piece occurs. We did not have time to do this part (Jenny at Stretch Studio is the Photoshop expert) but I will be able to show you the pictures post production once Jenny processes them. In the meantime, here are the 3 shots we accomplished in the day, pre-production: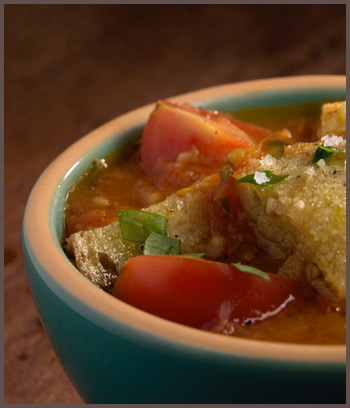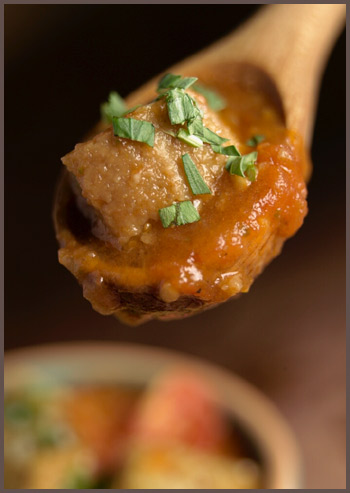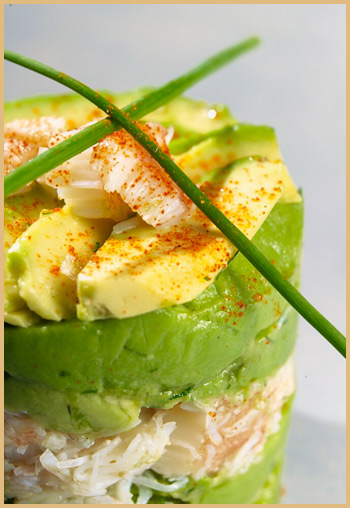 Photos by Stretch Tuemmler, Food Styling by myself
So this was my day during a food photo shoot. I would like to extend many thanks to Stretch and his team for having made this day possible. I learned a great deal and enjoyed every bit of it, including sharing the food afterwards. Ben quand même! When you do food photography, it is essential to be well fed, otherwise I call that food torture.