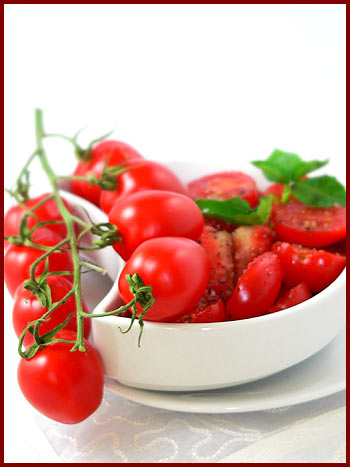 Strawberries and Tomatoes together. Are you surprised?
Little Details Make a Difference
A few weeks ago, I was going through my never-stopping-to-increase pile of cooking magazines and I stopped at the view of a picture, very similar to the one you see above. I paused and thought "Ca, c'est trop mignon!" (It is too cute). For a second, I wondered what attracted me to the cover of one of my Elle à table magazines more than to others. The colour of course, as red is really eye-catching, but then with the colour came the design: the tomatoes on a branch, which to me meant freshness, market, field, garden, summer. In less than a millisecond, I must have thought unconsciously about all of those things. And those details talked to me right away. This branch was a tiny little touch, yet it made the difference in the design of the featured recipe. In short, presentation was definitely what sold me on the idea of the recipe that I immediately decided I was going to make. As a coincidence, a week after I had made the dish, I caught a glimpse of a lovely photo posted by Nicky and Oliver at Delicious Days, and you might all remember it here. In this, I see pure beauty in a few tomatoes. Magical, don't you think! You get a dream of gorgeous-looking tiny tomatoes. How can you not love tomatoes then?

The recipe itself
When fruit and vegetable are together in one dish, what shall we call it? Appetizer? Dessert? In the realm of gastronomy, there are some food associations that are considered weird or unexpected. Even more so these days, when looking at every single chef trying to be more innovative and creating what they think has not been done before (and since this planet is quite old we shall say, I think it requires some skills and talent for those big names in the chef profession to reach uniquenes). My taste is generally not in favour of sweet and savoury flavours together. I am not saying it is bad, but I am just not too fond of it. For example, I would never order a pizza with pineapple, or a pineapple fried rice. Maybe because pineapple is very sweet, thus I find the contrast too extreme. Yet I love to eat a canard à l'orange (duck with orange sauce) or cailles aux raisins (quails with grapes). Donc pourquoi je raconte tout cela? (why am I saying all this?) Il n'y a pas de règle (there is no rule). Taste is a personal affair. But wait, maybe tomatoes are not vegetables.

Is Tomato a Fruit or a Vegetable?
This is a long debate but in short:
"The confusion about 'fruit' and 'vegetable' arises because of the differences in usage between scientists and cooks. Scientifically speaking, a tomato is definitely a fruit. True fruits are developed from the ovary in the base of the flower, and contain the seeds of the plant (though cultivated forms may be seedless). Blueberries, raspberries, and oranges are true fruits, and so are many kinds of nut. Some plants have a soft part which supports the seeds and is also called a 'fruit', though it is not developed from the ovary: the strawberry is an example. As far as cooking is concerned, some things which are strictly fruits may be called 'vegetables' because they are used in savoury rather than sweet cooking. The tomato, though technically a fruit, is often used as a vegetable, and a bean pod is also technically a fruit. The term 'vegetable' is more generally used of other edible parts of plants, such as cabbage leaves, celery stalks, and potato tubers, which are not strictly the fruit of the plant from which they come. Occasionally the term 'fruit' may be used to refer to a part of a plant which is not a fruit, but which is used in sweet cooking: rhubarb, for example. So a tomato is the fruit of the tomato plant, but can be used as a vegetable in cooking."
Source: Oxford dictionary
Which serves as a purpose to clear the confusion. No matter what they are, you can decide what you want to do with them. After a check on the ingredients required in my chosen recipe, I looked at what I had and wanted to change. Seule maîtresse à bord (literally, the only mistress on board = alone to decide) I substituted cane sugar for vanilla sugar , balsamic vinegar for white balsamic vinegar, and olive oil for almond oil. This also shows you how open a recipe can be. The rest of the ingredients stayed pretty much the same. I forgot about my prejudice on sweet/savoury associations and set myself to work. As you will see, not much work was required, et je dis, c'est tant mieux! (I like it this way).
And did I like it?

-I did. Don't you just want a bite of this juicy tomato?

Dessert? Appetizer?

-Since a tomato is a fruit, technically it is a dessert, don't you think?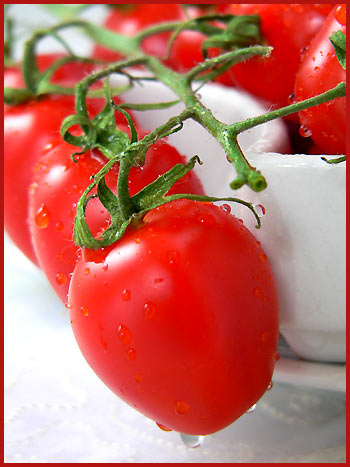 Tomato Strawberry Salad
(for 4 people)

You need:
1 lb + 2 oz cherry tomatoes
1 lb + 2 oz small strawberries
5 Tbsp almond oil
3 Tbsp white balsamic vinegar
1 Tbsp vanilla syrup
Fleur de sel and pepper
12 basil leaves
Steps:
Wash the fruit, basil and tomatoes. Dry them.
Mix the vinegar with the syrup.
Slice the strawberries and tomatoes (in halves). Mix them.
Pour over a dash of almond oil, then the vinegar/syrup.
Serve immediately with basil leaves, fleur de sel and ground pepper.
Le coin français
Salade de tomates et de fraises
(pour 4 personnes)

Ingrédients :
500 g tomates cerises
500 g fraises (petites)
5 càs d'huile d'amande
3 càs de vinaigre balsamique blanc
1 càs sirop de vanille
Fleur de sel et poivre du moulin
12 feuilles de basilic
Étapes :
Lavez les fruits et légumes, et les feuilles de basilic.
Mélangez le vinaigre au sirop.
Coupez les fraises et les tomates en 2. Mélangez-les.
Arrosez d'huile d'amande, puis du mélange vinaigre sucré.
Servez aussitôt accompagné de feuilles de basilic, de fleur de sel, et de poivre du moulin.
Adapted from a recipe from Elle à table