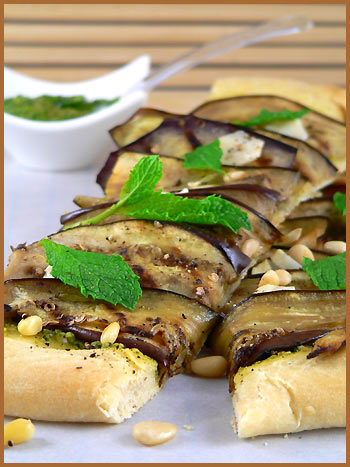 We all have favorite pizza stories. For me these days, living in the United States and not getting to eating or making my own pizza is just impossible. But my love and attraction for pizza started many years before I came to live in the US, when I was still a *baby*. At 17, I went to Salo in Italy (Lago di Garda) to work as a cook assistant. I remember the hot Italian days spent peeling endless vegetables of all sorts (and wishing them to Hell as they were keeping us away from pleasurable times spent on the beach), chopping onions and parsley for the pastachuta (correct spelling?), setting up the tables for the 4 meals of the day, cleaning the dishes, washing the floors, AND I remember especially the time when our daily duties would end and we would run as fast as we could to get to the village around 10 or 11 pm, and sit at la pizzeria's to enjoy our 5ème (cinquième), that is the 5th meal of the day.
Le cinquième
Let's count: breakfast is 1, lunch is 2, 4 O'clock – le goûter -is 3, dinner is 4 and le 5eme is 5. Any person who has worked summers – in France at least-, as a camp counsellor would know this expression, le 5ème. You are referring to the 5ème when you talk about the meal you have after all the kids are in bed, when the adult life starts. And le 5ème in Italy was really la crème de la crème. Thinking about it, I wonder how we managed to swallow down all the food we ate, but then when you are 17, you are always hungry and you can eat without ever knowing when you have had enough. Just like a well with no bottom. Those 5èmes were made of daily intakes of pizzas of all sorts, and the flavour changed every day. Heaven for us at that time. We loved Italy and Italian pizzas.
The pizzas in the US are very different I would say, but have a charm attached to them. But again, don't you agree that nothing beats a homemade pizza? You find thick crust in Chicago, thin crust in Boston, and many more I am sure. I personally always make my pizzas because not only do I think that pizza should not always have cheese, but I also think that tomatos are not necessary, and often I get disappointed when I have it out in a restaurant. Hence I never have pizza out. It is all the more ironic as pizza is one of the most commonly known take-out food that people seem to talk about. Which makes me think I am fussy about it. Not a snob! But fussy about pizza. As a matter of fact, you might totally disagree with me but one of my favorite pizzas would neither have cheese or tomatoes, as in the recipe that follows: homemade basil pesto, grilled eggplants, pine nuts and fresh mint. It is simply delicious. Am I starting a war here?
Bon appétit!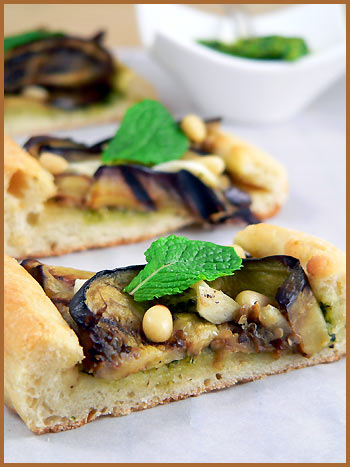 Eggplant Pizza with Fresh Pesto and Pine Nuts
You need:
Pesto
1/2 cup pine nuts (50 g)
1/2 cup olive oil (10 cl)
A nice bunch of fresh basil
1 garlic clove
50 g parmesan freshly grated
Pizza
Pizza dough (500 g, 17.5 oz) (see below for my recipe/proportions) + extra flour to roll the dough
2 large eggplants (about 500 g as well)
3 garlic cloves
1 tbsp pine nuts
A bunch of fresh mint leaves
Olive oil to brush the eggplant and the dough
Salt for the eggplants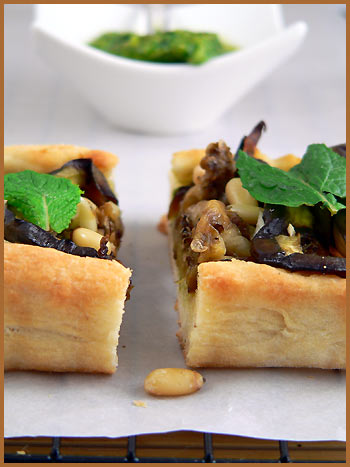 Steps:
Making the pesto
Start by chopping your garlic clove.
Add the pine nuts and crush together.
Then add the basil leaves washed and dried, the olive oil and parmesan. Mix well and set aside.

Making the topping and the pizza
Take about 500 g eggplants (2 large ones).
Wash and slice them (about 0.5 cm or 1/4 inch thick).
Brush them with olive oil on both sides, sprinkle with salt and then cook them on a gril (or broil), (4 mns on each side, or more if needed, check regularly), and set them aside.
Preheat your oven at 420 F (210 C).
Roll your dough into the shape you like and prick it making small holes with a fork.
Place it on the heated pizza stone if using one, or on a baking sheet.
Brush with olive oil and precook it for 15 mns.
Take out and then spread the pesto on top.
Layer the eggplants on top.
Add slices of garlic between the egglant slices and top with pine nuts.
Place in the oven for 5 more mns.
Serve with mint leaves and extra pine nuts.
I would be curious to know what your favorite pizzas are.
My Pizza Dough
In the bread machine
My pizza dough is a combination of 3 1/2 cups of all purpose flour, 1 1/3 cups water, 1/4 cup olive oil, 1 tbsp sugar, 2 tsp SAF yeast, 1 1/2 tsp salt. After combining all ingredients, the dough rises in the machine for about 1 hour. I remove it and work it again for a few mns, then let is rise again covered under a damp towel for 30 mns or so, until it doubles in size. Love the crustiness of this dough.
By hand
1 package active dry yeast or fresh yeast, 1 tsp honey, 1 cup warm water, 3 cups all purpose flour, 1 tsp salt, 1 tbsp olive oil (1 cup flour = 120 g flour, 1 cup water = 225 ml). Dissolve the yeast and honey in 1/4 cup warm water. With a mixer fitted with a dough hook, combine the flour and the salt. Add the oil and the dissolved yeast, then add the 3/4 cup remaining water. Mix on low speed for 5 mns or so, until the dough detaches from the bowl (or use a food processor as well). Take the dough out and work for 2 to 3 extra mns. Then cover with a clean, damp towel, and let rise for 30 mns to 1 hour. You can divide your dough in 4 balls, and work them again for a few mns. Then shape your balls and place them covered again, and let rise for 15 to 20 mns. You can then wrap the ones you do not need and place them in the fridge (or freeze them), and use what you need for the size pizza you are making. (Wolfang Puck's recipe)
I cook the pizza on a pizza stone heated in the oven before using. I sprinkle corn flour on the stone before putting the dough on it. The pizza stone is a plus for the crustiness of my dough.
Note: Reheating a Pizza Tip
Take a frying pan and add fresh or dried twigs of rosemary. Heat the pan, no oil, and place the slices of pizza in it. Cover and reduce the heat and warm up for about 5 to 7 mns. The spice is going to infuse the pizza crust and you will also get a nice crust that remains crusty. Bye bye soggy or dry reheated pizza, from spending too much time in the oven or the microwave.