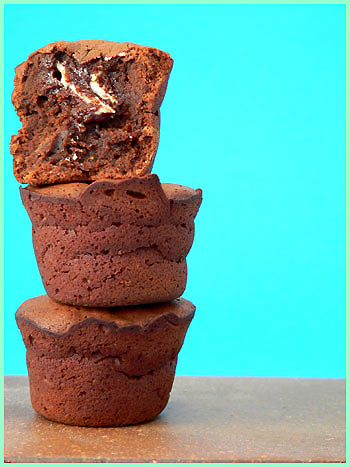 A Dream in Chocoland
I had mentioned earlier that this week would be the week of chocolate (still eating some eggs and need to make more), and that I was cooking a surprise – namely tomorrow.
My dream is not over.
Come back tomorrow then!
Molten Chocolate Cakes
(for 6 cakes)
You need:
150 g dark chocolate, 70 % cocoa
12 pieces of chocolate
4 eggs
80 g salted butter
90 g blond cane sugar
2 Tbsp cornstarch
Steps:
Preheat your oven at 475 F.
Melt the chocolate with the butter using the bain-marie technique.
Beat the eggs with the sugar using an electric mixer and until white in color.
Add the cornstarch. Fold in then add the chocolate/butter preparation.
Place in buttered individual molds (I used a popover pan).
Add the extra pieces of chocolate (2 per cake) and push them slightly in the preparation.
Place in the oven for 10 min. Take out and let rest for 5 min before unmolding.
Serve with berries and enjoy!