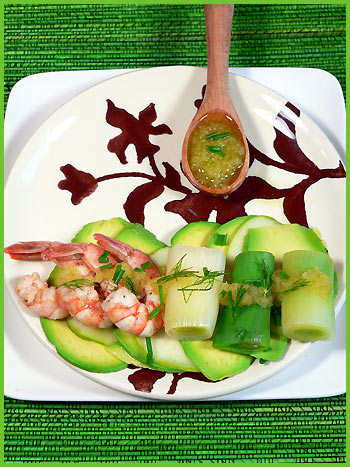 Leeks are not boring!
I know well that I am following a trend called green. And I do not feel bad about it because it really cheers me up to look at green things. Some people do not get affected by colours, that is ok. I personally find a lot of comfort in looking at things I like. This is probably why I have so many little vases, and "things" at home to look at. A few years ago, I remember a friend of mine telling me after she slept overnight on our futon:"What is so nice here is to wake up with so many little objects to look at". Of course, they are alive!
And so today, I just wanted to play a little more and tried both the recipe and the design of a recipe found in an old copy of Elle à table.
Want to see what my lunch was all about?
Today I played with apples, avocados, shrimps and leeks. The apples were special to me since I used Granny Smith which I absolutely never buy. I wondered why and then quickly remembered that when I was in boarding school, this was the only apple we would get at the cantine, and I remembered them bitter, probably from the pesticides on them. Time to change that belief and there you go, I had a test to run. Rediscovering food I never use is nice. Just like learning a new skill or trick.
This appetizer (or lunch depending on what your appetite is like) is very simple to make and refreshing. I however do not advise it to those who like foods that have simmered for hours. The leeks I cooked had to stay on the undercooked side. Not melting in the mouth like caramelized leeks (those are good, aren't they?) . With the apple acidity and the smooth texture of the avocado, I felt the combination worked quite well. I particularly enjoyed the sauce: green apple grated with tabasco and olive oil. As simple as that. How you present the dish is really open to your own creativity. Why not treat your lunch if you have more time in front of you. I had fun doing this: green, green, green. Better like green!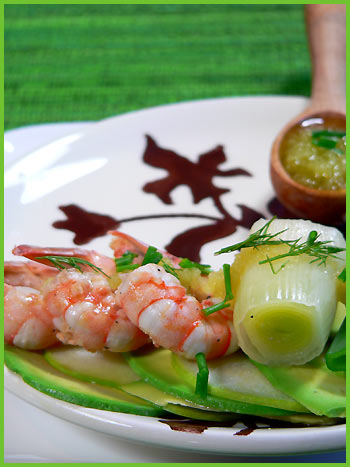 Leek and Green Apples
(for 4 people)
You need:
4 leeks (8 small)
1 green apple
4 tbsp olive oil
12 shrimps
1 avocados
6 peppercorns
10 coriander seeds
2 lemons
1 tsp chopped chives
1 tsp chopped dill
Steps:
Crush the coriander seeds and peppercorns.
Add the juice of 1 lemon.
Mix together and place the shrimps in the marinade, for 20 mns in the fridge.
Clean the leeks well under running water.
Boil salted water in a pot.
Cut your leeks in 1 inch pieces and cook them for 5 mns then refresh under cold water to stop the cooking time.
Peel the avocado and make nice slices.
Add drops of lemon to prevent the avocado to darken.
Wash the apple and cut in 2 halves.
Grate one half of the apple (thin, like a purée) and mix with 3 tbp olive oil and a dash of tabasco. Add salt and pepper.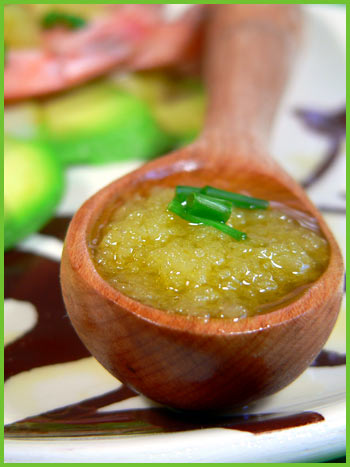 Slice the other half of the apple and sprinkle with a few drops of lemon.
Remove the shells from your shrimps, leaving the tails intact.
Heat 1 tbsp of olive oil and cook the shrimps on high heat for 5 mns or so.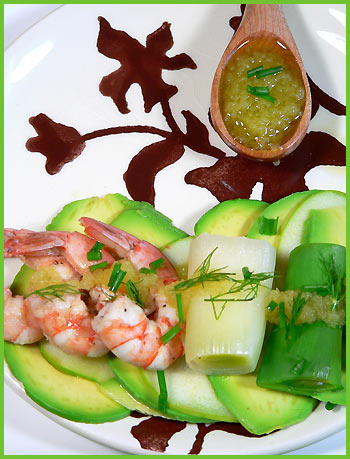 Start by making your plates. Alternate a slice of avocado, a slice of apple, avocado, apple and so.
Then on top, place the pieces of leeks and the shrimps.
Pour some vinaigrette on top and chopped dill and chives.