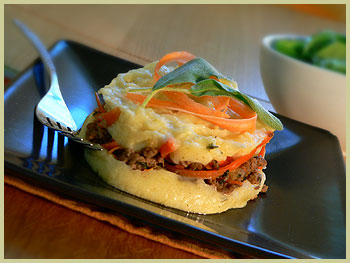 Oh my darling, oh my darling,
Oh my darling Clementine Potato,
You are lost and gone forever,
Dreadful sorry Clementine
Potato!

The story of hachis parmentier
I am married with an Irish man, you know this by now. And guess what, when I cook one particular ingredient, it does not matter under what form, he likes it. Irish? Have a guess. Les bonnes pommes de terre (Good old potatoes)!
I can admit that I fully agree with him and share the same love for this special ingredient. After all, it was a staple product for many many years throughout Europe. In France of course, we are known to eat a lot of potatoes, French fries as odd as it seems, although we the French tend to believe that the country that mostly eats French fries is Belgium. Nos amis les belges! (our friends the Belgians) with Des frites, une fois! We like to tease them with this. Des frites, une fois! One of the most common dish remains "steak, frites, salade" (Steak, French fries and salad) which is still my dad's favorite meal above all. But there are many more to potatoes than fries, thank God!
I grew up with hachis parmentier as a traditional meal and remember being in total joy when my mum would tell us that she had made one for lunch or dinner.
What is it?
Mashed potatoes, ground meat (beef) and its juice, arranged in layers in a dish with cheese on top, cooked in the oven to be gratiné (au gratin).
This dish is a great idea to keep in mind because it allows you to recycle any beef stew type leftovers (but any meat to your liking can do the trick). If you do not have beef leftovers, then just use ground beef that you cook as if to make a sauce to accompany pasta. This is precisely what I did for the dish that follows. I used the main idea of hachis parmentier but I changed a lot the ingredients and the cooking methods.

What happened though in the course of its preparation
I tried to take shortcuts, be smarter and faster and I paid the price for it.
I did not use my presse-purée to make the mashed celery/potato (and that is a real killer for the outcome of the mashed vegetables, la purée!) This is a big No No! Using a food processor to make the mashed potatoes is a big mistake.


My milk was not warm and again, bad mistake.
I tried to be lazy. Mauvaise idée! (bad idea!) There are reasons why you have to do things a certain way. However, experimenting was not a bad thing after all as it made me aware of things I will simply do differently next time. In the end, the taste was nice (which is what matters! ah!). It could just have looked nicer, which matters too!
A bit of history
Word
Hachis parmentier is the name given to this very traditional French dish. Hachis in French means ground beef, and for this particular dish, usually comes from leftovers of pot-au-feu (beef stew) or boeuf à la mode (beef with carrots), and Parmentier (proper noun) comes from Antoine Parmentier (1737 –1813) who was a strong advocate and promoter of the cultivation of the potato as a food source in Europe in those days (including France). Incidentally, if you were to shop at a French butcher's for beef ground meat as an example, you would simply ask: "Je voudrais du hachis [a∫i] de boeuf, s'il vous plaît!" French is easy!
There exist a lot of recipes and variations for this dish. The original Hachis parmentier uses meat but it is very possible now to find a lot of different appetizing versions, some with fish as an example. Pascale for example suggests this fish version here, which I think is a great idea.
Celery Root Mashed with Sage Ground Beef
(for 4 people)
You need:
The meat
250 g ground beef
1 yellow onion
2 garlic cloves
5 fresh sage leaves
1 tbsp chopped parsley
A dash of dry white wine (I added perhaps 1 tbsp)
1 julienned carrot
1 celery branch
Celery root- Potato mashed
4 -5 potatoes
Half medium-sized celery root
1/2 tbsp lemon juice (more or less, it depends on your preference)
Milk (1/2 cup), adjust according to consistency
Salt and pepper
Steps
Start with the mashed potato-celery.
Peel the potatoes and celery. Cook in water with salt for about 20 mns.
Drain and mix (with a presse-purée!)
Add the heated milk and lemon. Season with pepper.
The meat
Chop the onion and garlic thinly.
Julienne your carrot and chop the celery branch in small pieces.
Heat the olive oil in a saute pan and add the onion and garlic.
Cool for a few mns before adding the julienned carrot and the celery.
Cook for 4 mns and add the ground meat.
Continue cooking on medium heat for a few mns and then add a dash of white wine.
Add the sage, parsley, and season with salt and pepper.
Simmer covered for about 20 mns.

To make your layered cakes
Take a round mold and place a layer of mashed potato/celery. (note: you can decide to make a large dish, in which case take an greased oven dish and place the layers in the same way ; it is also easier)
On top, place a layer of cooked meat and finish with a layer of mashed celery/potato.
You can add some grated cheese (gruyère or any flavored cheese) on top before placing in the preheated oven 425 F (220 C) for about 20 mns, until the top is golden (I had not added cheese).
Decorate with a piece of carrot peel and fresh sage. Serve with a fresh green salad.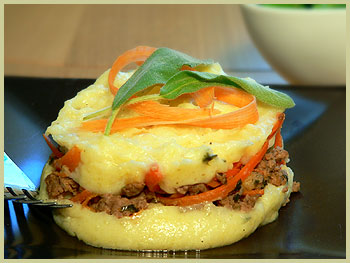 I cannot wait to try it again (and eat it mainly), but next time, I will not be skipping essential steps in the process. Never caught twice!