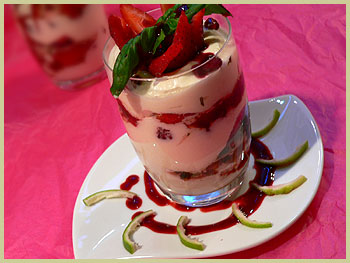 Pomegranate and Strawberry Faux Tiramisu and its blackberry coulis
I know of many people who would raise their arms in the air and cry out "Sacrilège! Comment peux-tu manger des fraises en hiver? Quelle honte!" (How can you eat strawberries in the depth of winter, shame on you!) Aren't we supposed to eat what the soil produces and follow the pace of the seasons? We should, but once in a while, not a bad idea in winter to indulge in fresh sparkling inviting strawberries. This is the global age after all and no one is perfect, and certainly not me.
So let's make it light and colourful to start the year. I wanted to share and present a dessert that will become a best friend after a meal bien arrosé et bien garni! (ie you are content!) This dessert will leave you happy, without this heavy feeling left to your stomach, the "I cannot have more but I will still take that amazing chocolate crème brûlée, too bad to leave the place without something like this." It will be like une lettre à la poste .
While in France in October on my month travelling, I made this dessert for my entire family (I could not just go there and be the guest every night without lifting a single finger. It was extended vacation time true, but quand même!) Well well, everyone loved it. I was all the happier when both my mum and my sister-in-law asked for the recipe, almost at the same time! Did they consult each other? Yeah! "They must have really liked it" I thought! So I wrote down the recipe and here it is:

Pomegranate and Strawberry Faux Tiramisu
For 4 people
For the fruit and mascarpone preparation
250 g mascarpone cheese
3 eggs
3 tbsp light maple syrup or honey (or evaporated cane sugar)
2 limes
8 tbsp liqueur de framboise (Raspberry liqueur)
2 tbsp fresh chopped basil
1 cup pomegranate seeds
400 g fresh strawberries
For the coulis and decoration
150 g fresh blackberries
2 tbsp water
1/2 lime juice
3 tbsp light maple syrup or 30 g confectioner sugar
A few lime peels cut in julienne
A few strawberries
A few pomegranate seeds
A few basil leaves
Steps:
For the fruit and the mascarpone, start by separating your egg yolks from the whites.
Mix the egg yolks with the mascarpone cheese.
Add to it the maple syrup or sugar and set aside.
Add a pinch of salt to the egg whites and beat them until firm.
Mix carefully with the mascarpone preparation making sure to not break the whites (do wrapping movements). Set aside in the fridge.
Wash the strawberries and cut each strawberry in slices.
Remove the seeds from the pomegranate and set them aside.
Chop the basil.
Take the lime zest of your 2 limes (with a fine grater) and squeeze the juice of your 2 limes.
Mix together the raspberry liqueur, the basil, the lime zest and juice, and mix with the fruits.
For the coulis, mix the blackberries. Take a chinois and pour the mixed fruits in it so that you remove the seeds.
When done, add the maple syrup, 2 tbsp of water and 1/2 lime juice to the seedless mixed fruit. Set aside.
Take see-through glasses and start by placing a layer of mascarpone preparation at the bottom of each glass.
Add a layer of fruit.
Repeat a layer of mascarpone, fruit and finish with mascarpone.
To decorate, cut a strawberry open, place a few pomegranate seeds in the middle and place the strawberry on top of the last layer. Decorate the strawberry with a leave of basil and add some coulis.
Finish with decorating the plate with more coulis and the lime julienned peels.
Note 1 : Serve sans attendre (without waiting)! Since this dessert contains raw uncooked eggs, you should not keep it longer than a day. And remember, your eggs need to be extra fresh. Same principle as if eating a carpaccio. Uncooked and raw = extra fresh!
Note 2 : Pay close attention when getting raspberry liqueur, some are just *horrible*, sweet, tasteless, usually cheap! I once bought liqueur from a pretty small liqueur store in the suburbs of Chicago, and My, what a disappointment that was!
The key as always is in the quality of the ingredients. With this in mind, the rest then just falls naturally.
Eat and relax. It is as if it were summer. …(soon for us in New Zealand, yeah!)