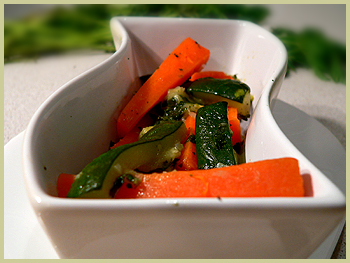 The Irish flag! Green, white, orange! St Patrick's day! Ah no, sorry, wrong day.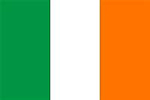 I reassure you, no I am not Irish, but I like Irish colours, and oh yes, my husband is Irish, and so are his zillions of cousins, the friends of the cuzs, and the sister and the mother and father, not to mention the aunts and the uncles, like uncle Neville who proudly reminds me each time I see him that he "makes the best jam!"
So here we are. I like zucchinis, carrots and I like to mix them together because not only do they look good, but they taste great, just melting in your mouth. Why? The secret is in the cooking and in the pot!
Ready to move on?
My secret lies in my favourite Le Creuset Ovel Dutch Oven -I always wondered why it is called Dutch?- A classic but so useful in so many things you can make. Soups, simmered foods on low heat, vegetable méli-mélo like this one.
You need:
4 zucchinis
4 large carrots (choose all the vegetables organic)
1 celery branch
3-4 shallots
3 garlic cloves
1/2 tsp fennel seeds (or ground cumin)
Fresh coriander
Fresh parsley
Olive oil
Salt and pepper
Steps:
-1– Start by washing all vegetables and peeling the carrots (or just use a knife to remove the first skin).
-2– Cut the carrots and zucchinis into 1.5 inch long sticks.
-3– Chop thinly the shallots, the celery branch and garlic.
-4– Chop the herbs.
-5– Take your thick-bottomed pot (Le Creuset if you have one, or any pot with lid you usually use for such dishes. Heat 2 tbsp olive oil.
-6– Add the garlic, shallots and celery and let cook on medium heat for a few mns, until softer.
-7– Add the fennel seeds and let cook for 1-2 mns.
-8– First add the carrots and let cook for 1-2 mns.
-9– Repeat with the zucchinis.
-10– After this time, add the herbs and salt and pepper, and reduce your heat to let simmer, with lid on for about 30mns, until all vegetables are soft-do not overcook them though.
It is ready. Serve this vegetable dish with a grain like quinoa or rice, and of course, the do-not-forget-me salad.
Bon appétit!