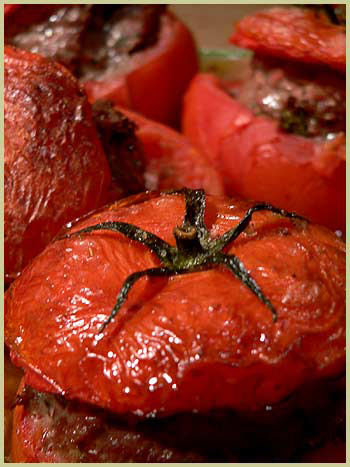 There are those simple dishes that you want to make because you need comfort food, and because it reminds you of what your mum used to make when you were a child. Stuffed tomatoes are that kind of food for me. When I make them, I remember every detail of those family meals with les tomates farcies. Like things that are passed from generation to generation, I like the idea of trying to reproduce my mum's simple recipe, which I have only slightly modified because both Philip and I like herbs more than my dad does. It is a recipe that is fully customizable (ah, I should not use this word, it reminds me of my technology job!), so be free to change herbs, spices, and meat kind (veal for example)
Stuffed tomatoes
(for 6 people)
You need:
6 juicy large tomatoes
1 lb ground beef
1 large yellow onion (or shallots)
3 garlic cloves
Fresh parsley
Fresh coriander
1 egg
Olive oil
Salt and pepper
Steps:
Start by washing the tomatoes and then cutting the top of each. It will become le chapeau.
Remove the seeds and scoop out the flesh with a spoon.
Sprinkle with salt and turn them upside down so that the excess water comes out.
In the meantime, mix together all the other ingredients (by hand or food processor)
Preheat your oven temperature 400 F
Place the stuffing in each tomato, cover with the cut tomato slice (le chapeau-the hat) and add a drop of olive oil on top, salt and pepper.
Cook for about 45 min.
I use the seeds and flesh to make a tomato sauce (and because I hate to toss food!). I sautee shallots and garlic in olive oil, add a chopped celery branch, then add a zucchini cut in julienne. After a few mns cooking, I add the tomato seeds and flesh, herbs (thyme or whatever you have), salt and pepper. I let simmer for about 25mns, and 5mns before this time, I add a tbsp of brown sugar (to remove the acidity of the tomatoes)… and then I am almost ready to eat.
I love this dish with steamed jasmine rice and a green salad with hazelnut oil and white balsamic vinegar (preferrably a nice lettuce).
Of course, this dish is a much better bet in the summer, when tomatoes are ripe and full of flavour, but we need a bit of colour during winter, don't we? You can only imagine it could be summer, close your eyes and you are almost there.
Check other comfort food resources from the beautiful food blog Frais and practice your French! 😉