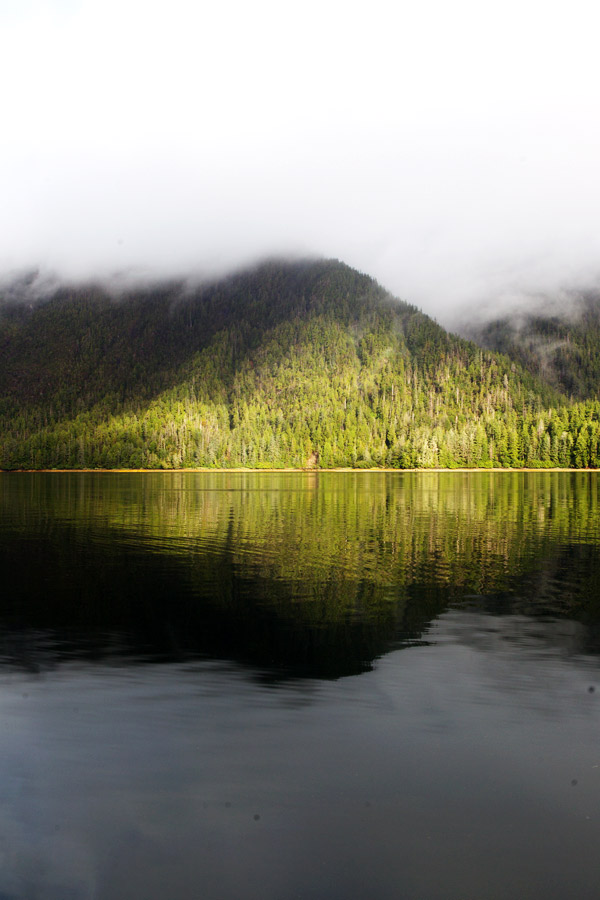 Sitka Lake
When you are invited by the Alaskan Seafood Marketing Institute (ASMI) to participate in a Seafood Culinary Retreat during which you will go fishing to learn about Alaska's wild and sustainable fishing industry, you'll sample amazingly fresh wild Alaskan seafood and stay on a private island, it's hard to say no. The people who invited me didn't know it, but Alaska had always been a place I was dreaming to visit one day.
Of course, I was tempted.
So I said yes-and I traveled to Alaska.
And was amazed by what I learned and discovered.
Reminded of the power and natural beauty found in Nature.
This post is divided into seven pages, so make sure to click on the page numbers at the bottom of each page to read the complete story. I'm hoping this will make it easier to enjoy long posts like this one.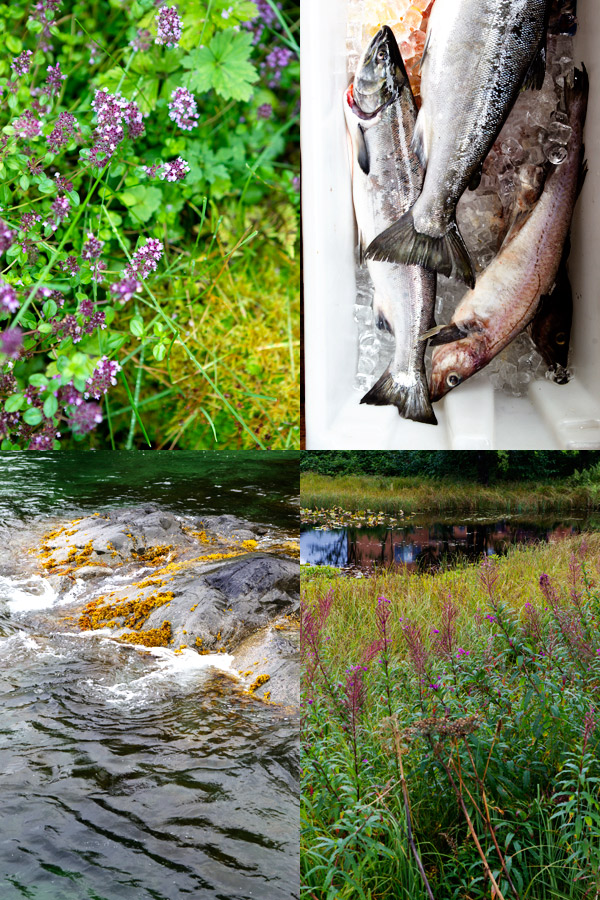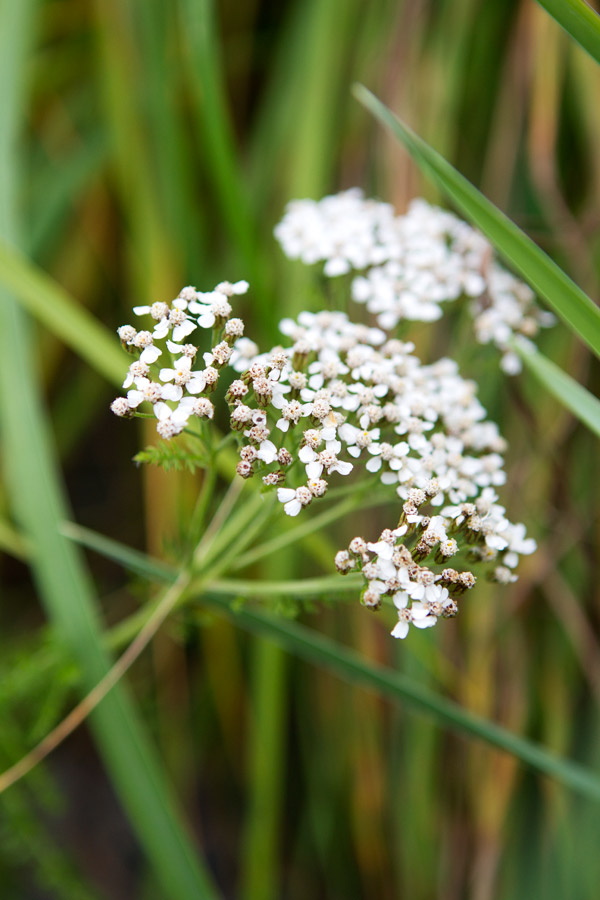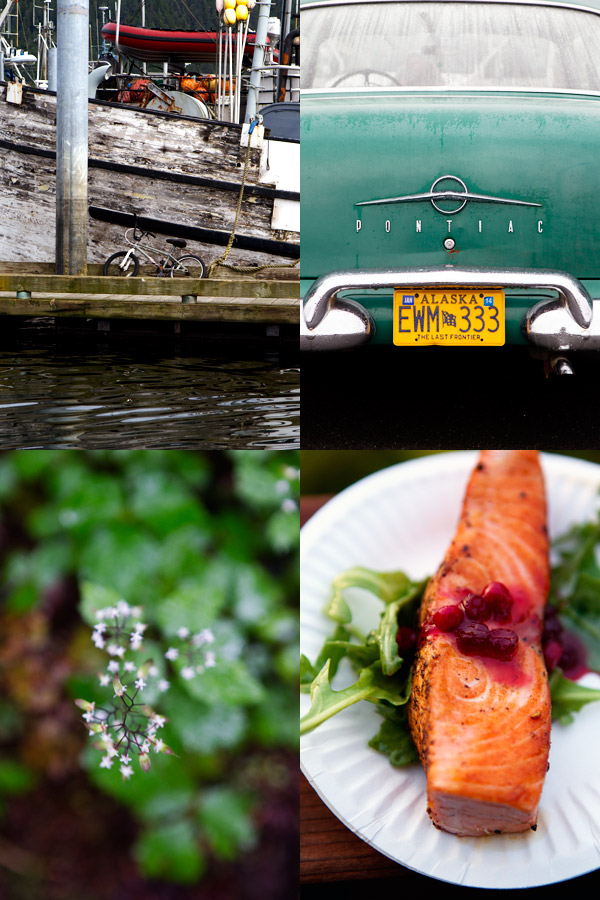 Alaska
I had always imagined that in Alaska, I would find atmospheric landscapes, with snow-capped mountains hiding behind thick layers of fog; glaciers that take us back to ancient times; forests where ever green trees stretch high up in the sky; infinite bodies of water; abundance of fish, and authentic faces that witness of the connection to the earth.
They were all there, surrounding us.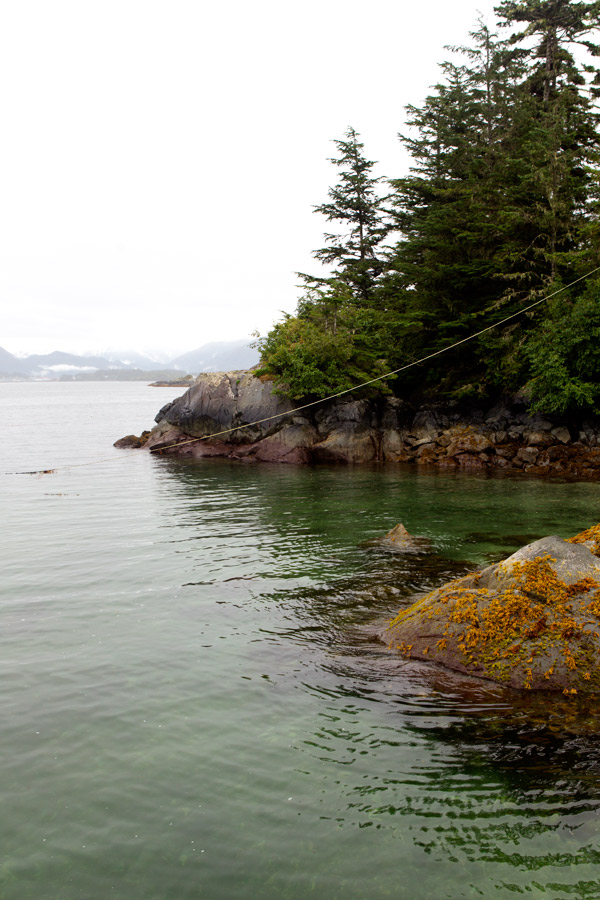 The last time I fished happened in France with my school friend Patricia, when she and I caught une truite (trout) in the small étang (pond) near the village. I was ten years of age then, and remember how proud I had felt walking home with my catch in hand.
Needless to say that I felt pretty lucky to be part of this new fishing adventure! And in Alaska nonetheless!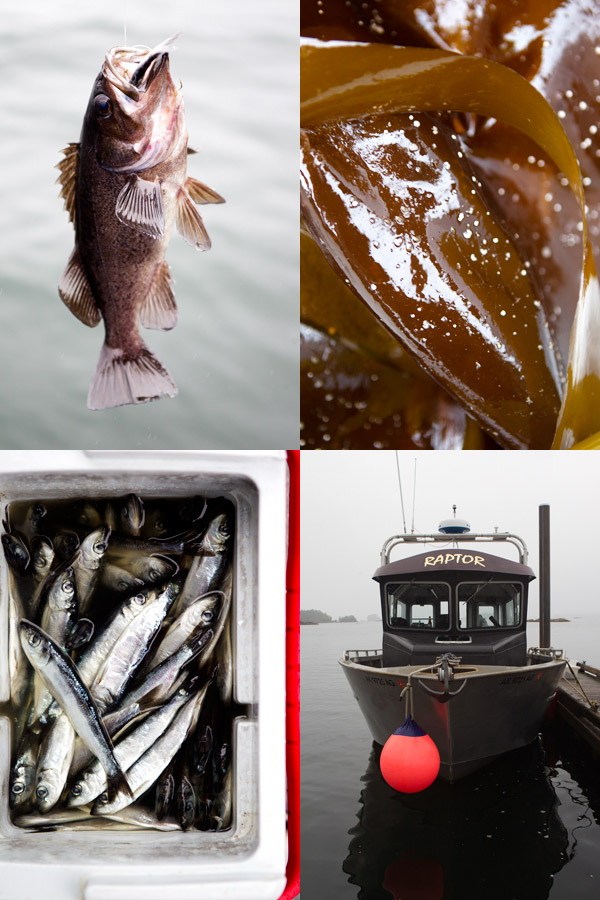 Located at the northwest tip of the North American continent, Alaska is the largest state in the United States. In 1867, Americans buy the land from Russia. In 1959, Alaska becomes the 49th American state with its own constitution.
I learned that Alaska is the only state in the nation with a constitutional mandate that requires sustainability of its fish and wildlife resources.
Which means that, fishing is highly regulated–to be able to fish, you need to obtain a fishing license; each person has a quota determining how many fish can be caught each day.
In return, this ensures that resources will never be depleted; there will always be more fish to catch in the future.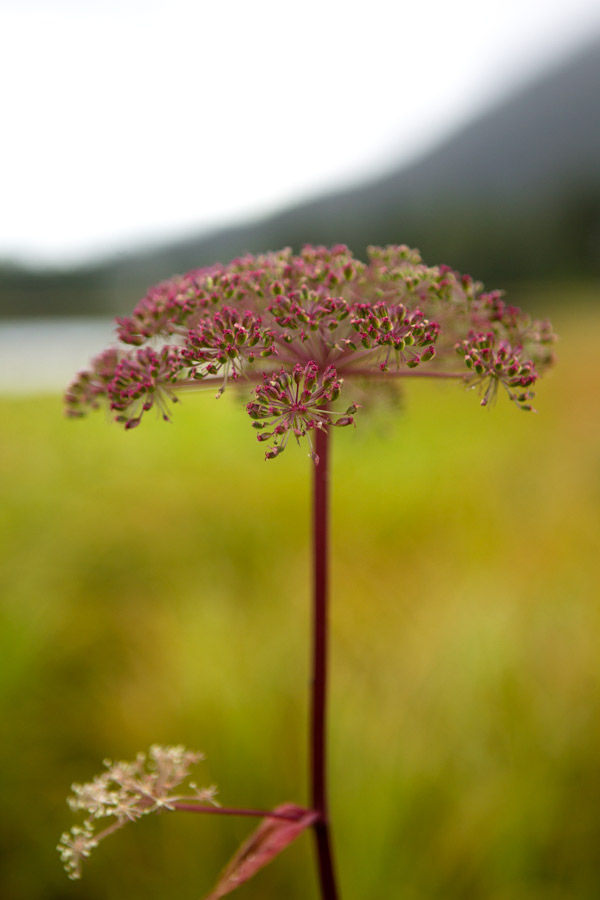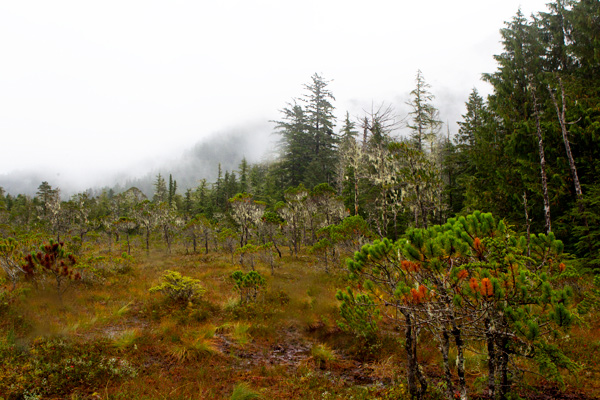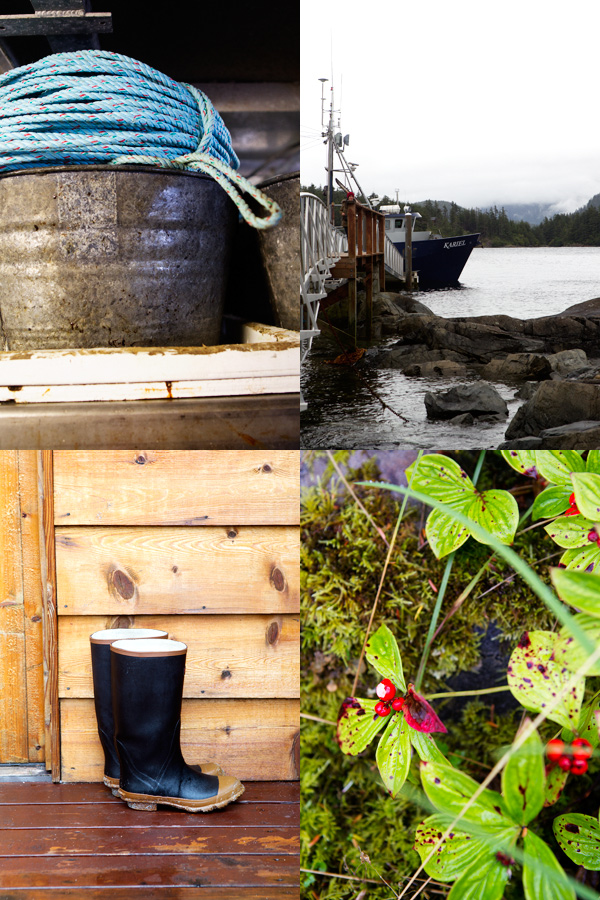 We were eight curious guests and two chefs, a jolly group who flew to Sitka before being taken by boat to Talon Lodge and Spa where we were generously welcomed and treated!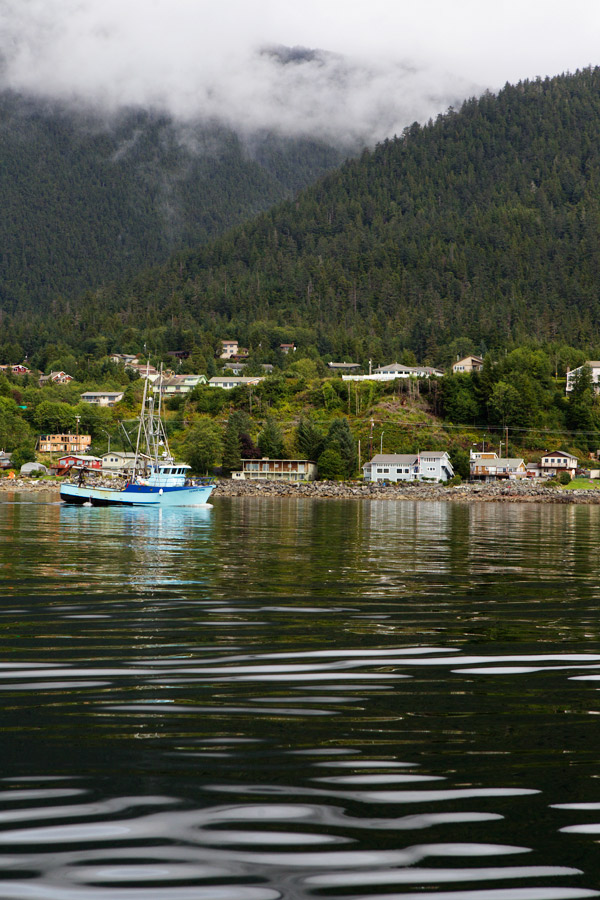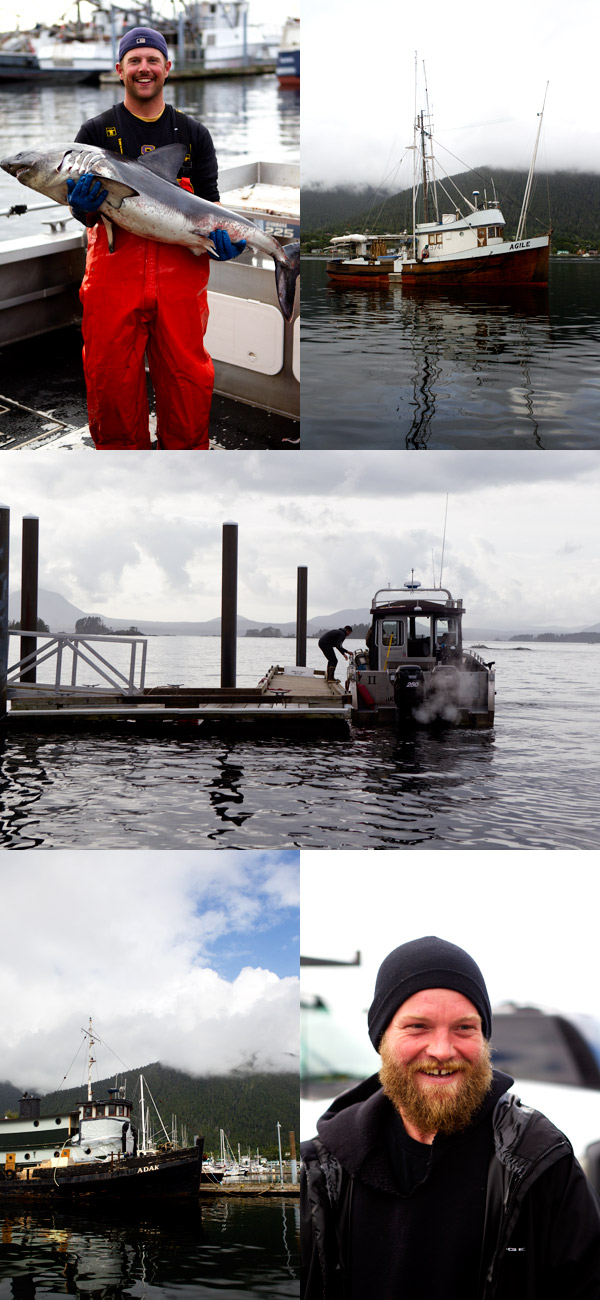 Salmon Shark–Fishermen
Naturally, I came back with many images and memories of this unique experience.
And these twenty-two reflections…..
I learned that:
#1 Wellington Boots are a must. I told you P., a girl always needs her Wellies! I was so glad for the pair I brought with flowers on them. We joked that they were going to attract more fish, or star fish (beautiful ones too), depending on who is holding the pole—John, you were a pro at it!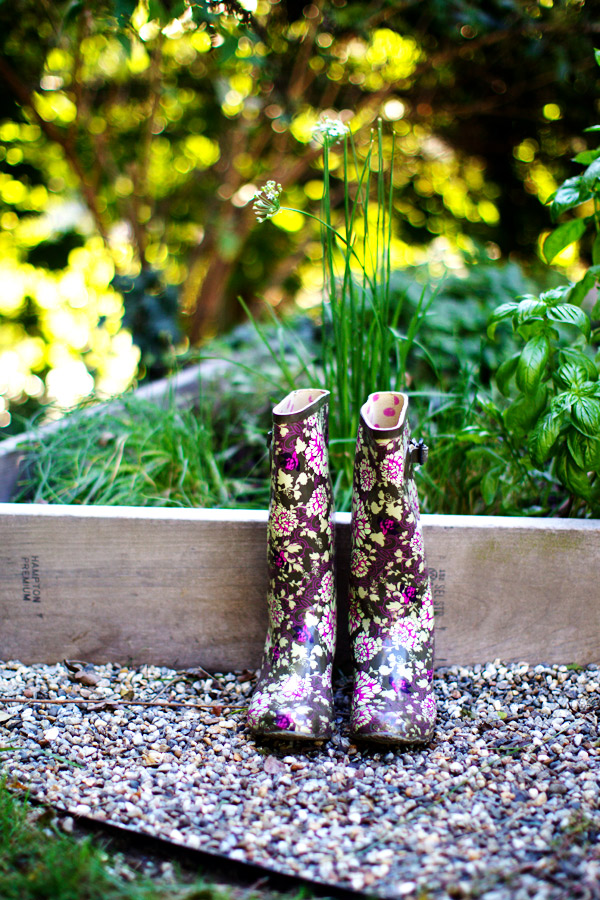 #2 Weather is all relative when you travel to Alaska: I learned that the key is to wear layers and have a raincoat handy at all times. With hats and scarves. Fishing in Alaska is the real thing!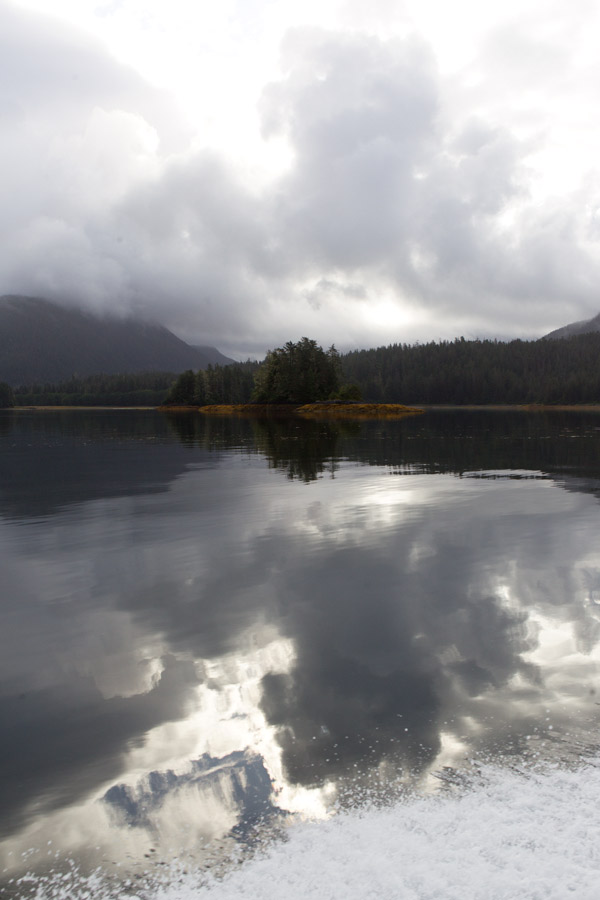 #3 The thought of that cup of flavorful butternut squash soup, which we enjoyed for lunch when we were at sea, is still making my mouth water.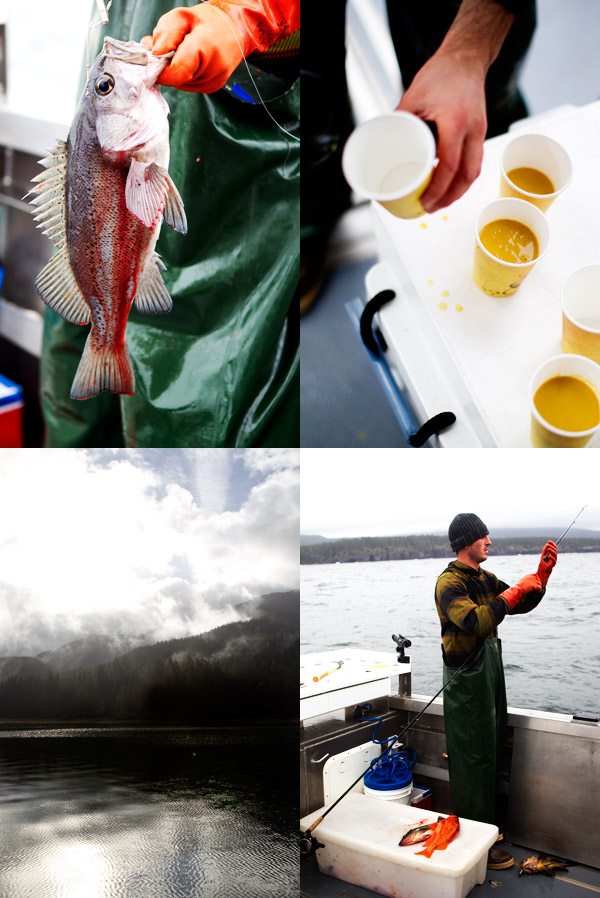 #4 No matter how much I enjoy eating fish, every time we caught one, I felt a pinch in my heart.
#5 Deep sea fishing is not meant for the light hearted. The ocean can be (it really is!) rough; the weather is Scottish too–yet, someone out there must have been watching for us since it didn't pour, and we were even able to catch sight of gorgeous spells of sunshine. They looked beautiful as they danced onto the water.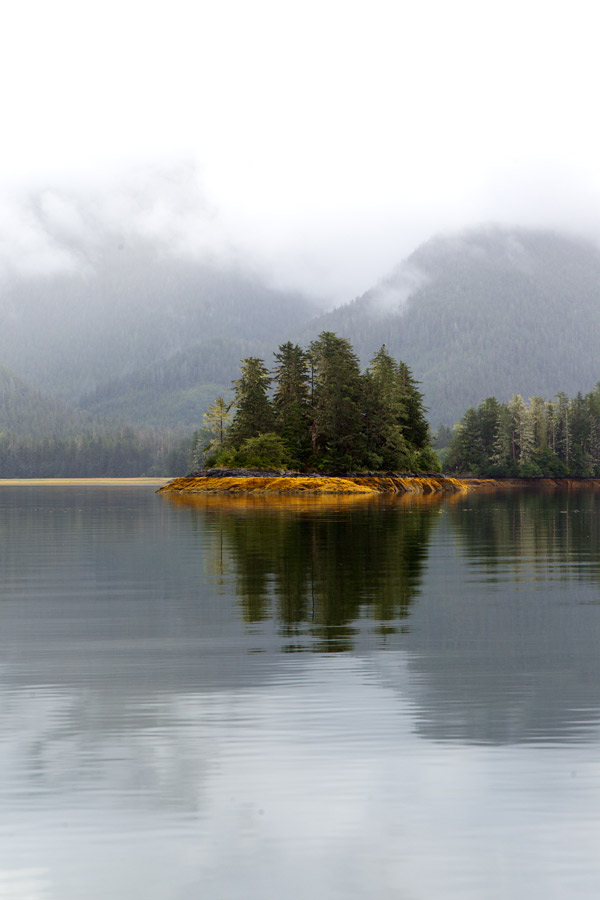 #6 There are five species of Alaskan salmon: King; Sockeye; Coho; Keta, and Pink. They are abundant throughout the temperate zones of the Northern and Southern hemispheres. Alaskan salmon are anadromous, which means that they spawn in fresh water with the young migrating to the sea where they will eventually mature. Later in the cycle, the adults return to their natal stream to lay eggs and die.
This cycle of life is just amazing to watch.
#7 I had forgotten how much I love to eat a piece of black cod.
#8 You better be an early riser. Fishing starts early in the morning.
#9 A region where it rains a lot translates into incredibly lush and green vegetation–reminding me of parts of New Zealand where I hiked. The morning hike we took one day along the Indian Reserve River unfolded it all for us majestically.
#10 Staring at infinite deep blue bodies of water made me feel incredible peaceful inside.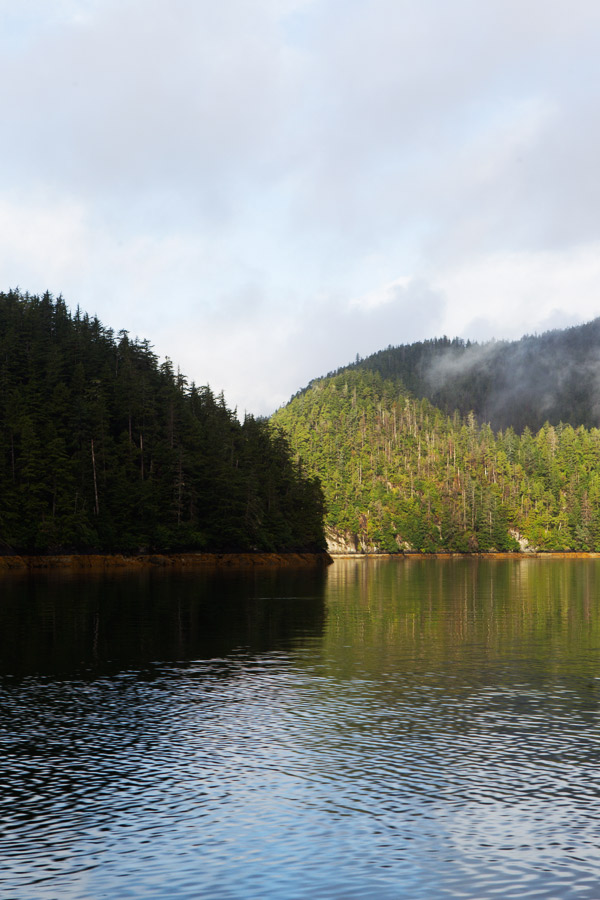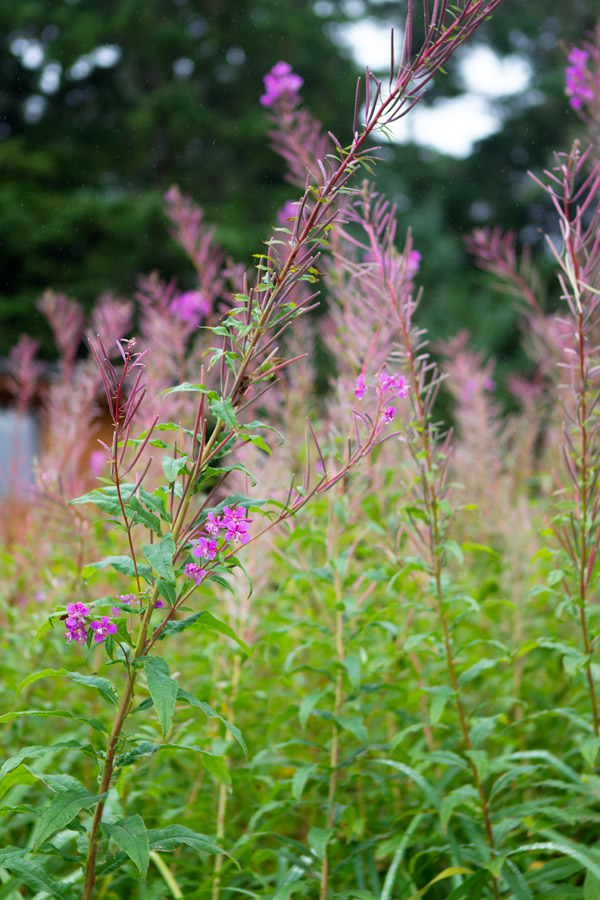 Fireweed
#11 I am such a girl! I could not help but fall for the pretty Alaskan wildflowers we could find everywhere.
#12 While on the water, I could have taken shots of those same peaks surrounded by water, fog, and clouds over and over, without ever thinking it was the same scene.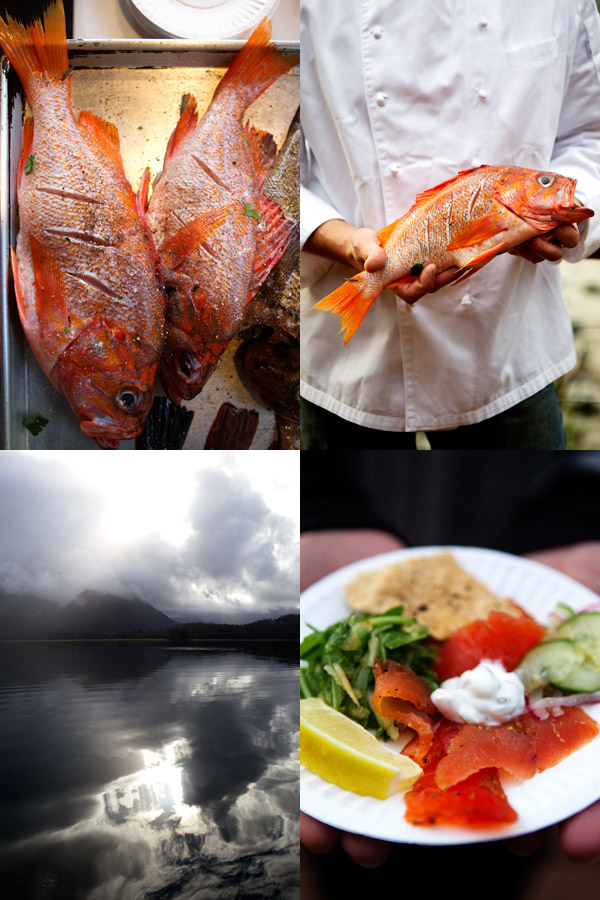 #13 Inviting two chefs (especially when they are so entertaining!) along is an excellent idea because this means that, all in one place, you are able to learn how to fillet a fish, make gravlax, smoke fish, while you eat scrumptious foods, and have fun cooking together (I know Dan and Patrick, we all ended up watching more than cooking. For once, what P. my husband often tells me made sense "Why would I do it if you do it better than me?"
#14 I knew Alaska would look a bit surreal. It really is.
#15 I don't know why I don't make my own gravlax more often.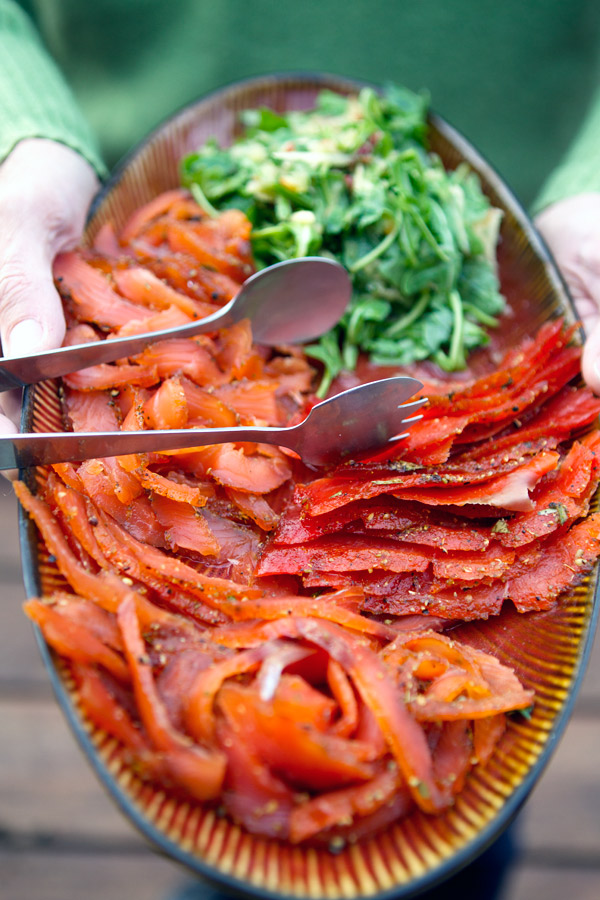 Gravlax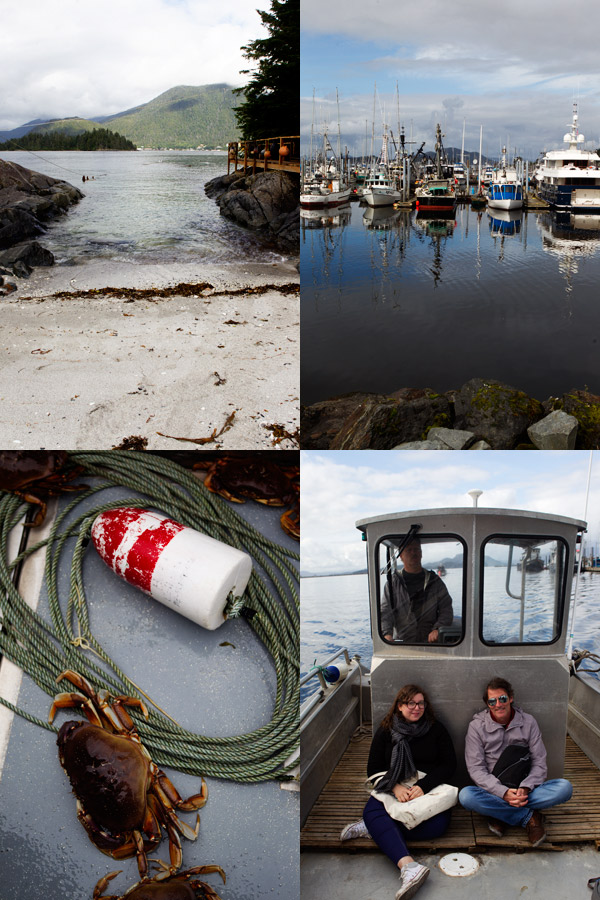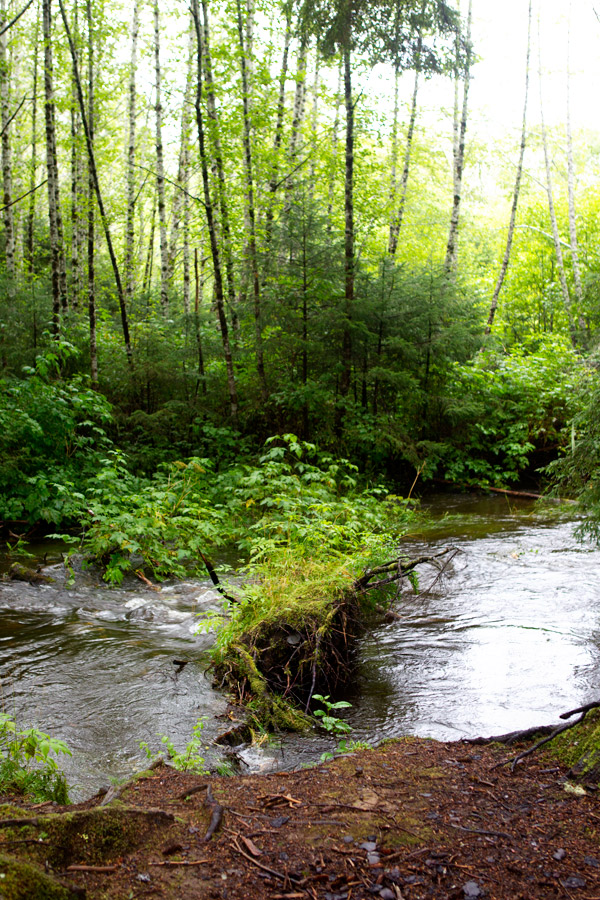 A Walk in the Forest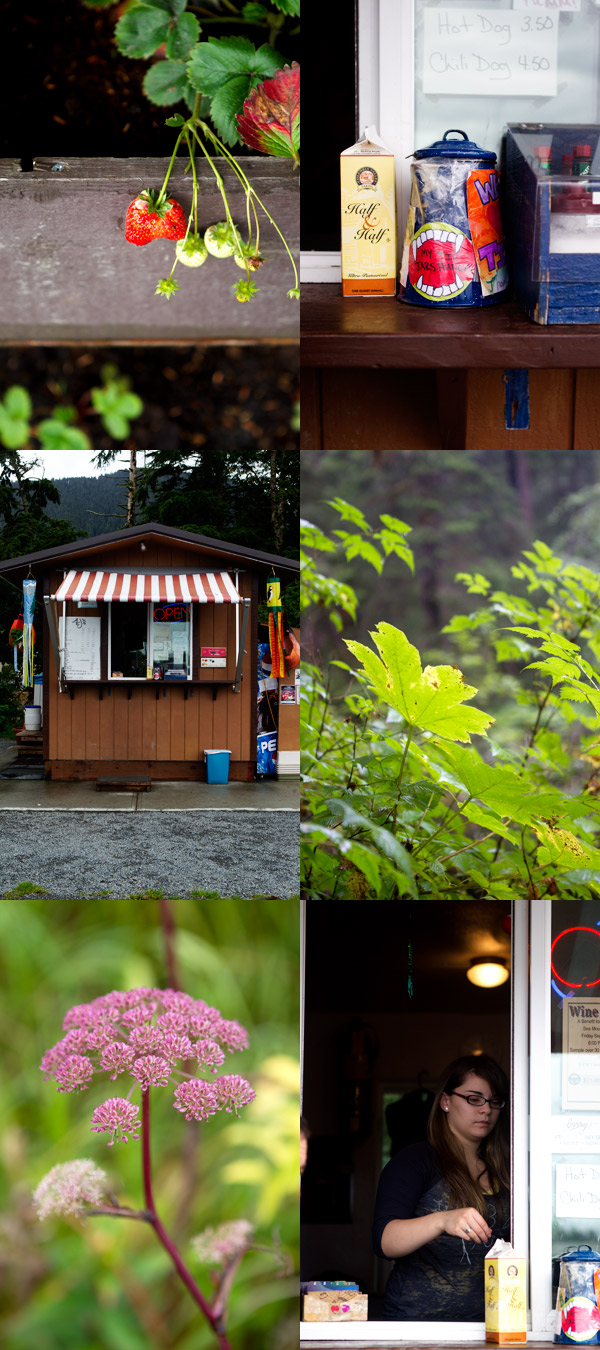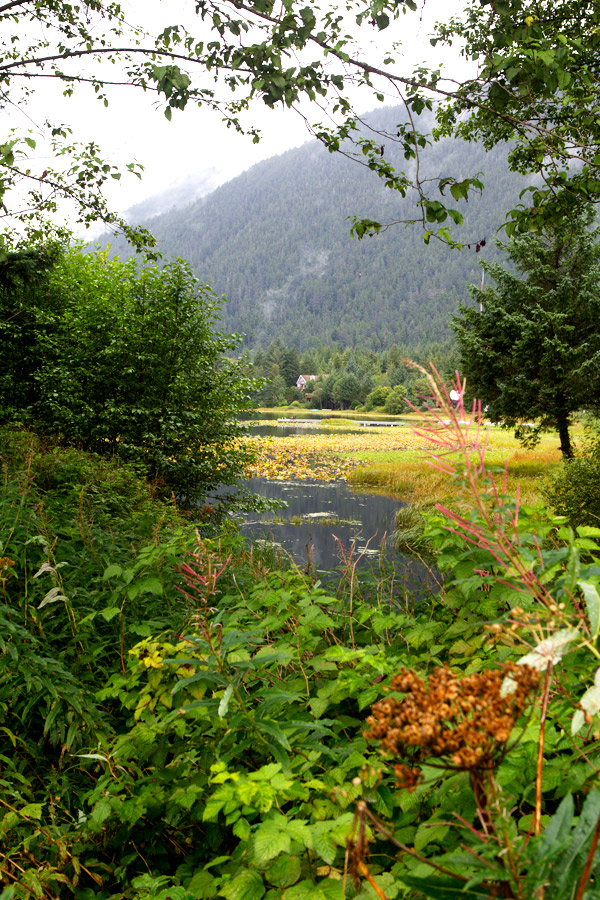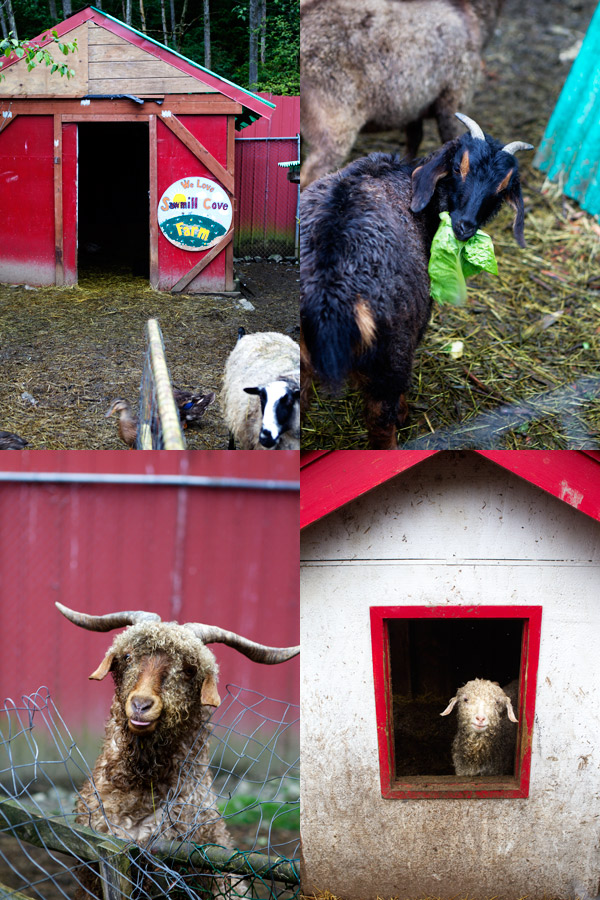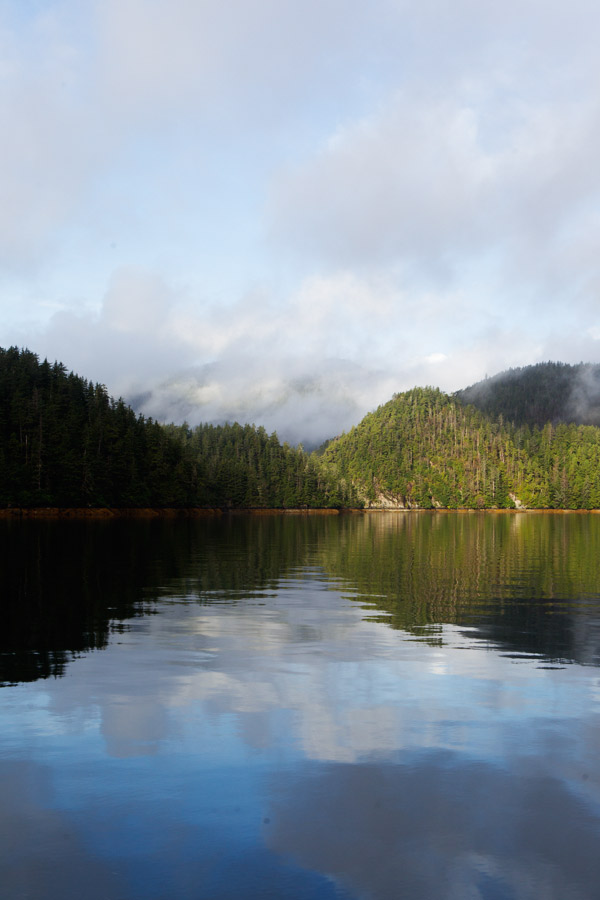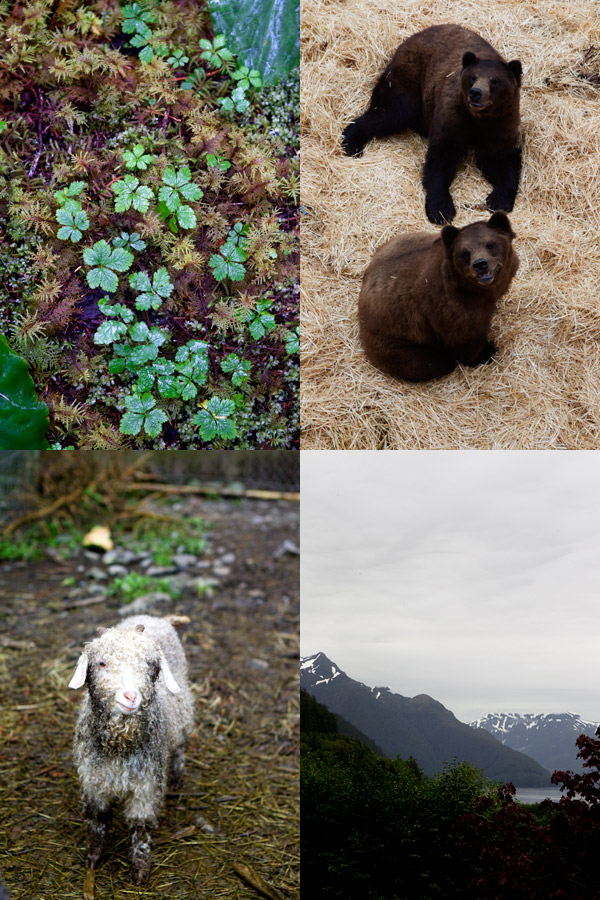 Rescued Bear Cubs–Pet Farm near Sitka
#16 Cooking outside is the best feeling ever–we did this every night, and it feels energizing!
#17 No matter where I travel, I am always giddy with excitement if we are able to stop for a visit at a farm. You cannot take the French country girl out of me!
#18 My opinion about crab remains untouched: King crab is still my favorite.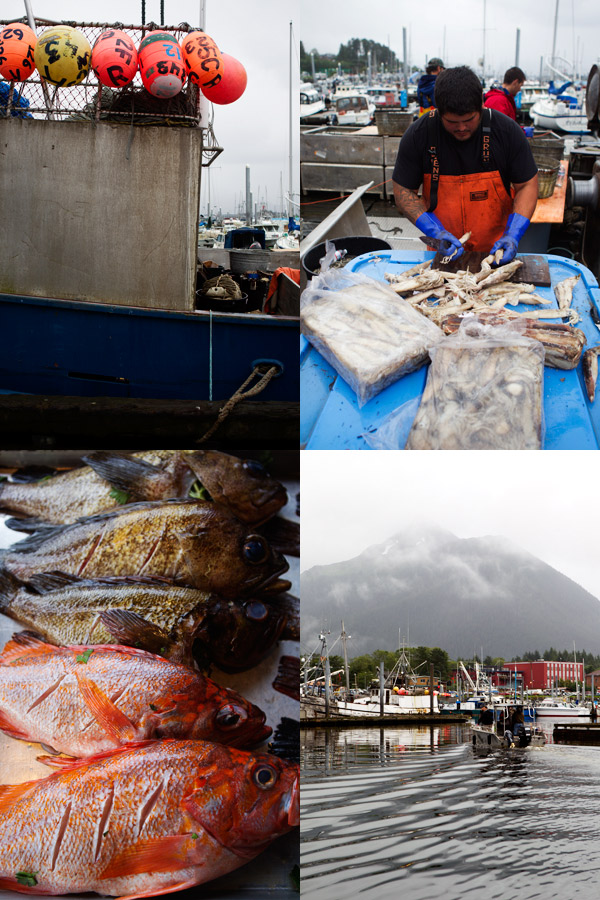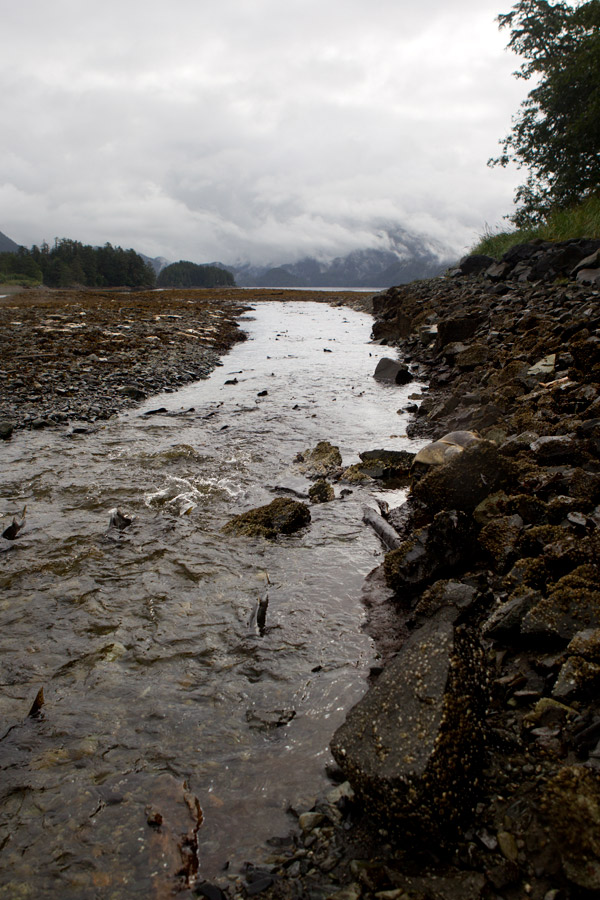 Salmon Swimming Up the River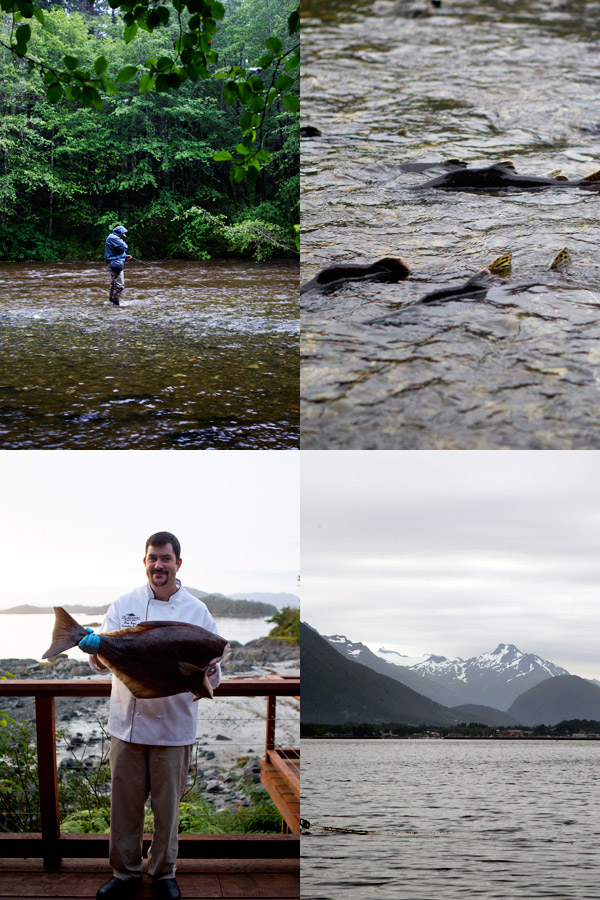 Dan is proudly holding a halibut
#19 Grilling fish bellies is the best idea ever! These were absolutely delicious!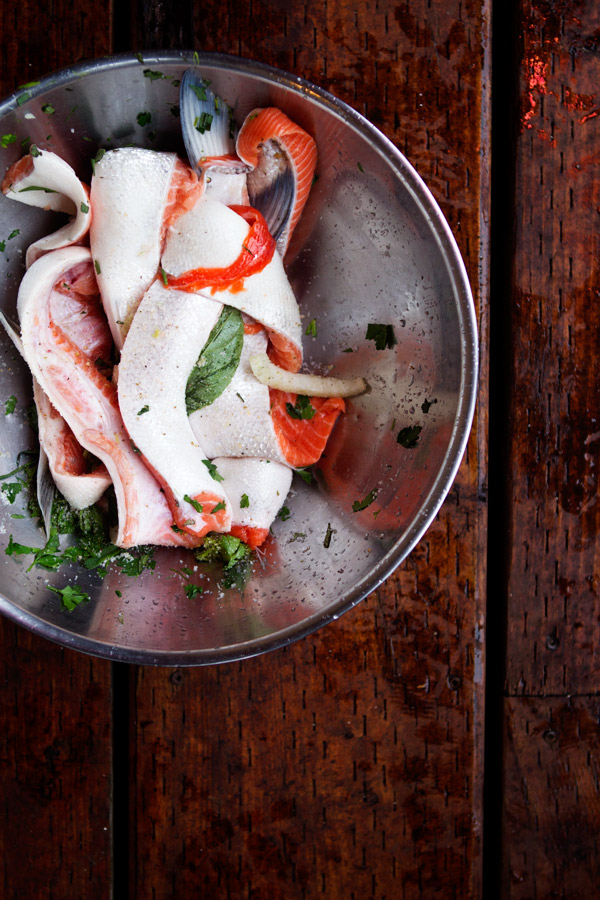 Fish Bellies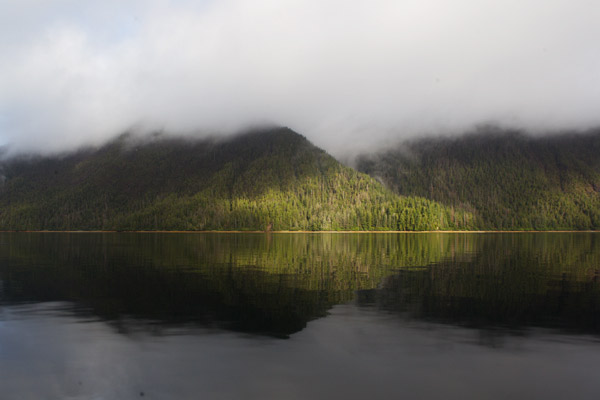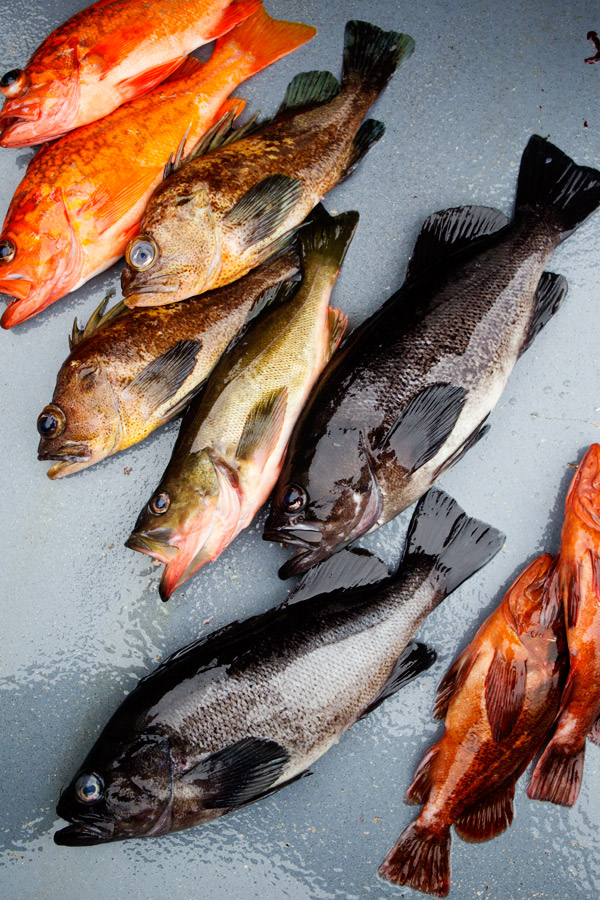 Our Catch of the Day–
Canary Rockfish, Yellow Eye Rockfish, and Black RockFish
#20 Bringing massage therapists in a remote lodge for the after fishing of the day is the cherry on top of the cake. Especially when they give massages literally almost outside. Combined to the soft sound of the water breaking onto the beach, the result was that I fell sound asleep.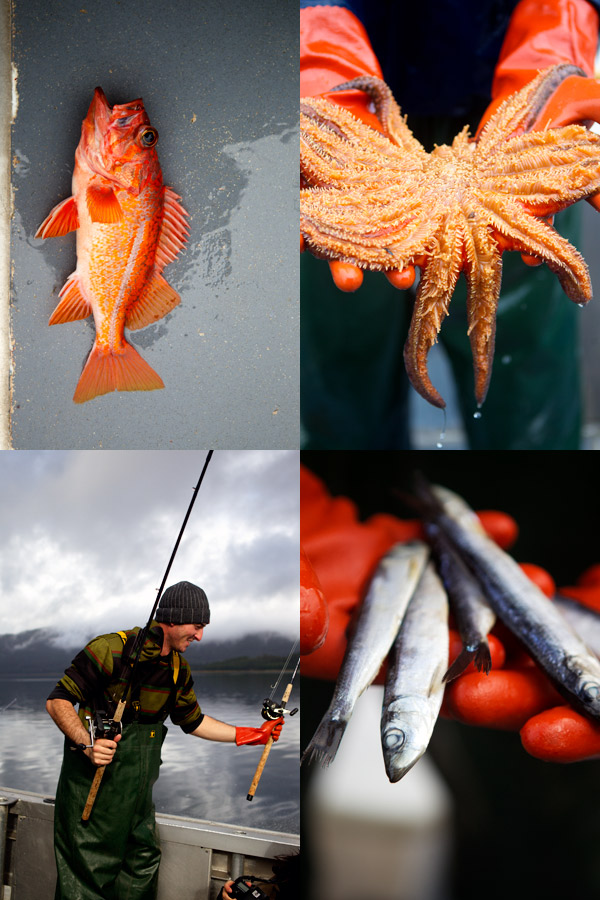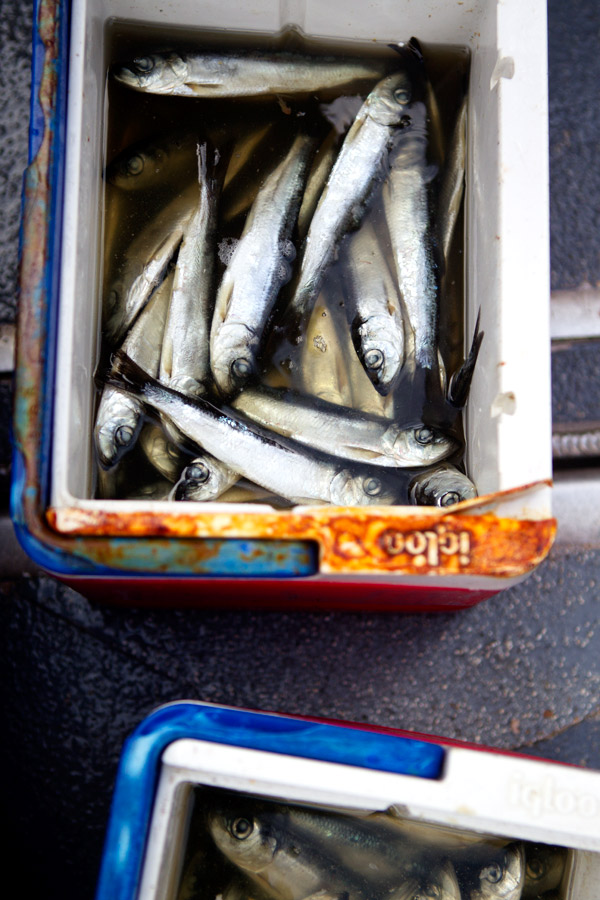 Bait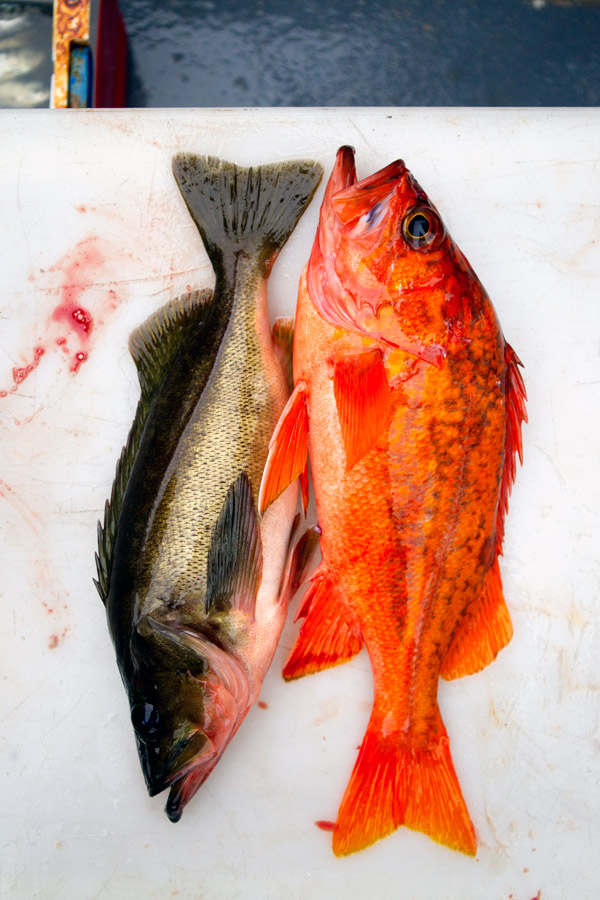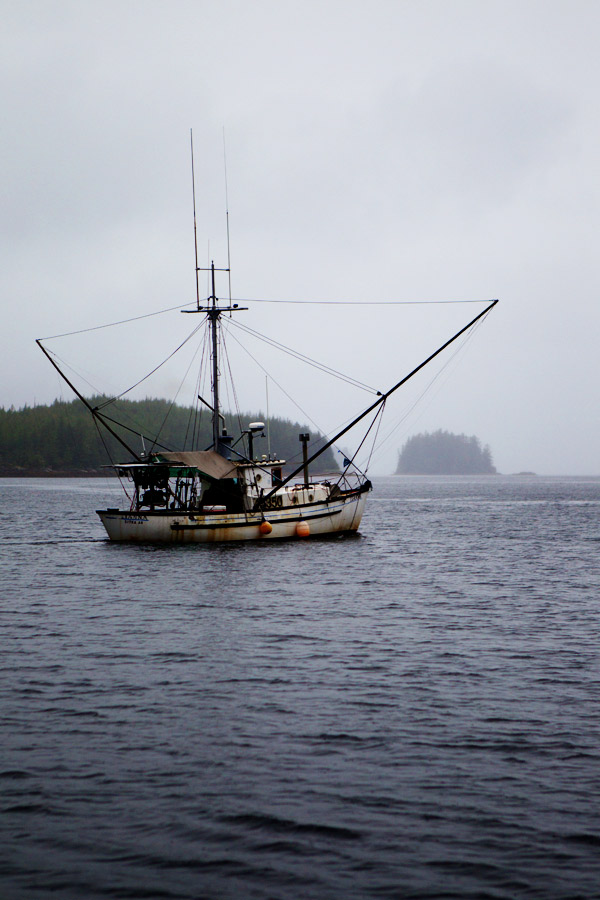 Commercial Fishing Boat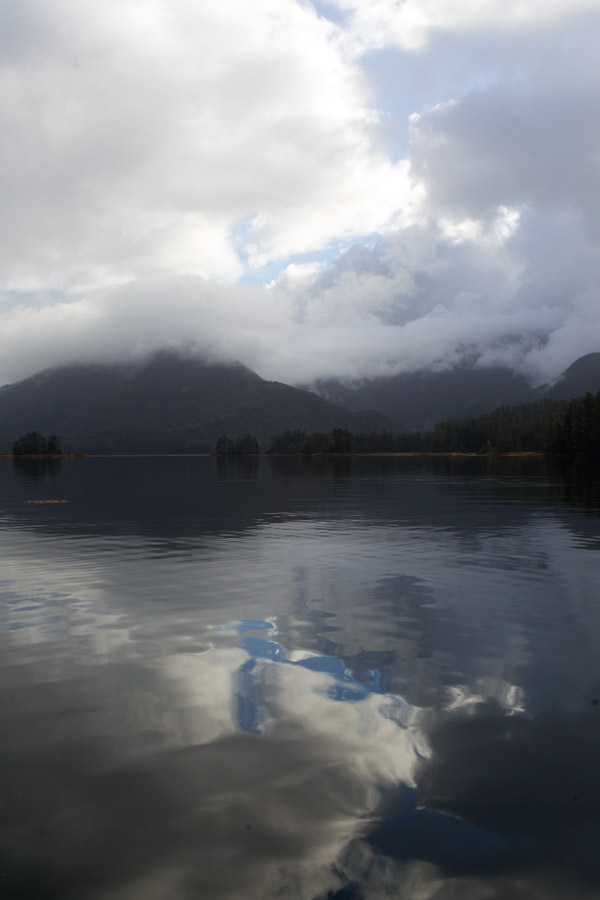 #21 I understand why people keep wanting to return to Alaska.
#22 I am still unsure when it will happen, but I know that next time, I will take Lulu and P. with me to embrace the beauty found in Alaska.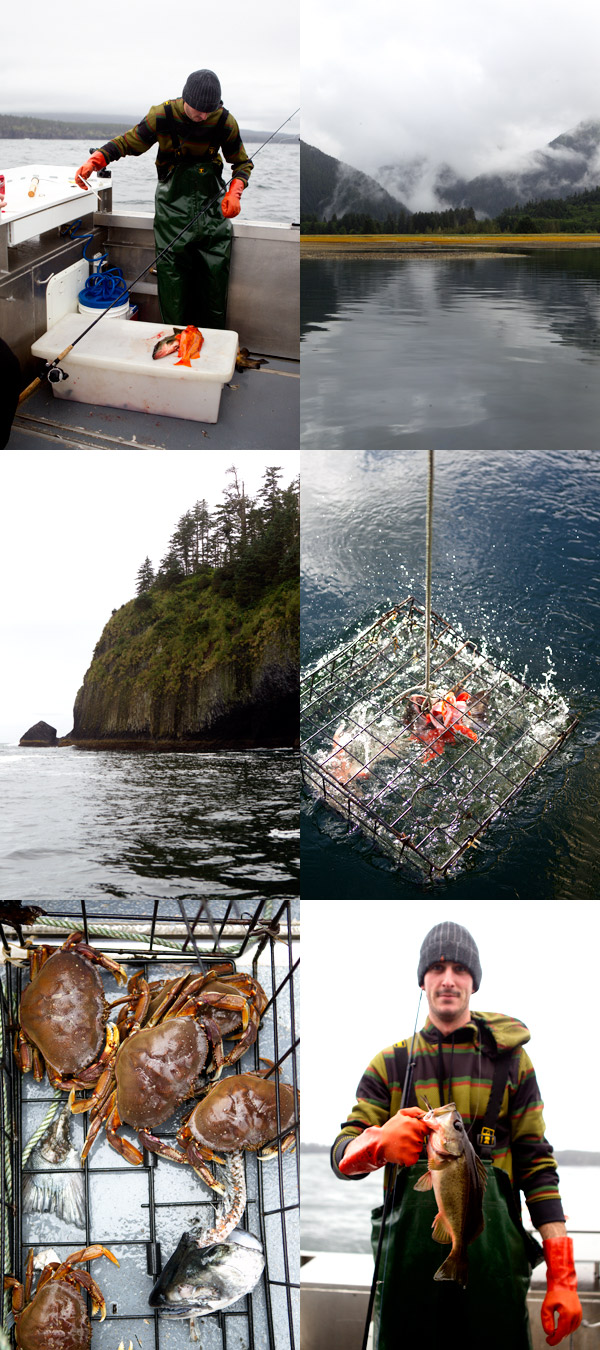 Lulu will ask about bears and their cubs (and Russian dolls, I know, I could not resist bringing her a few!)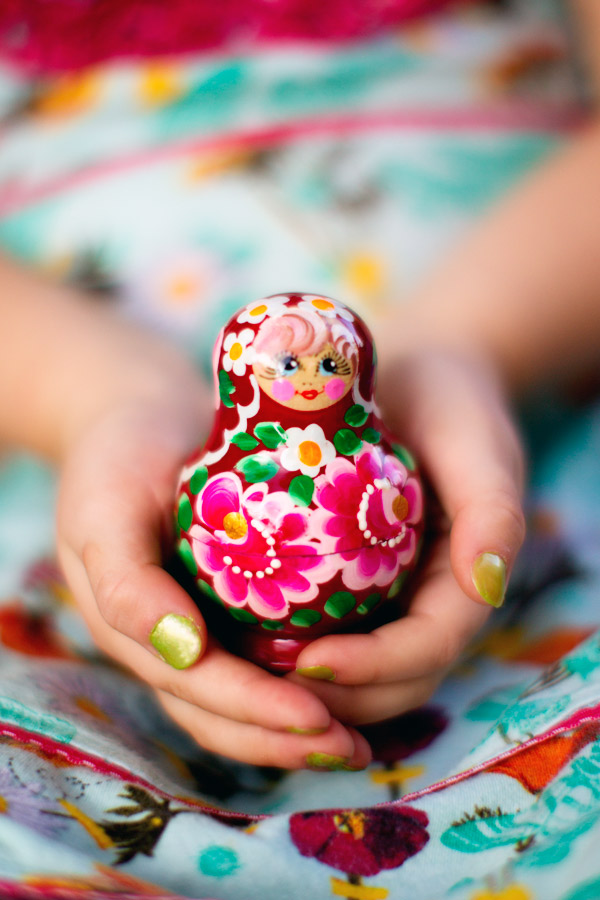 While P. will look for a peaceful spot to sit by the water to observe salmons swim up the stream–he can do that for hours!
I will be happy with everything else that I will find there.
Especially berries I can pick; edible plants we can forage; and wild Alaskan seafood to cook with and sample.
This is a Red Snapper by the way.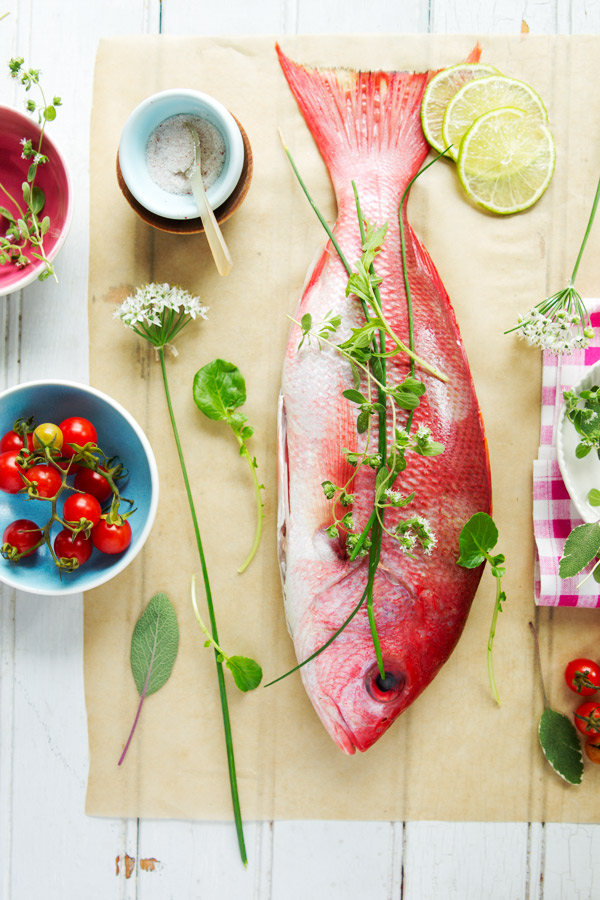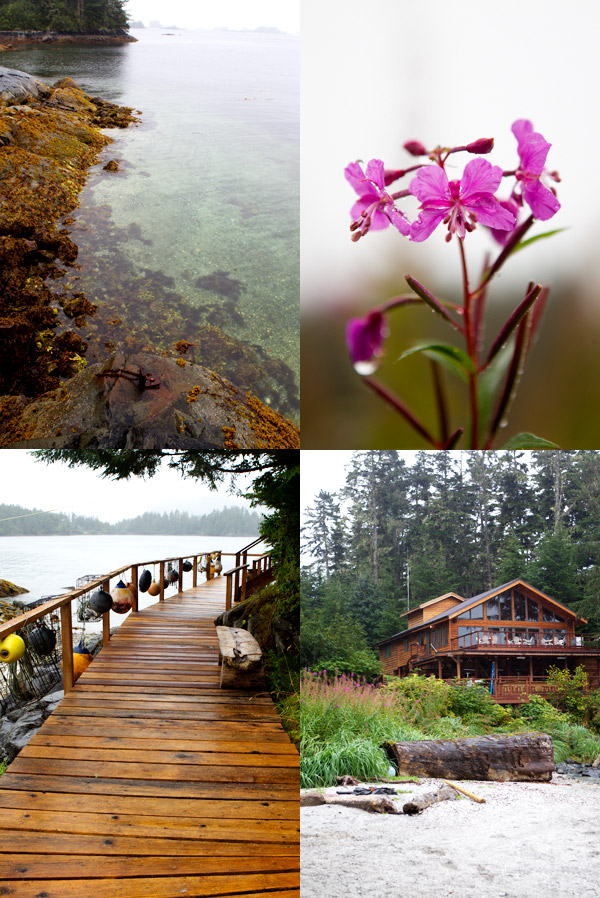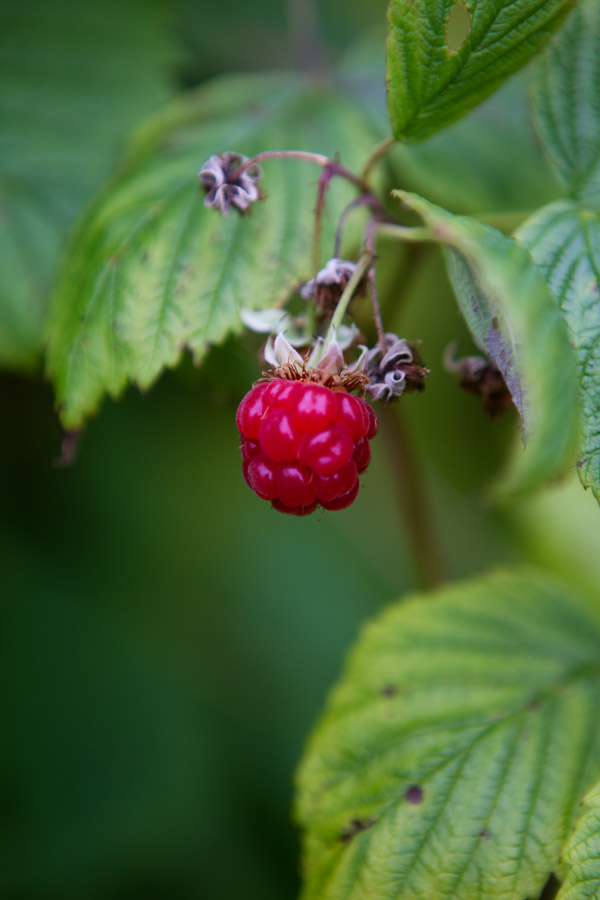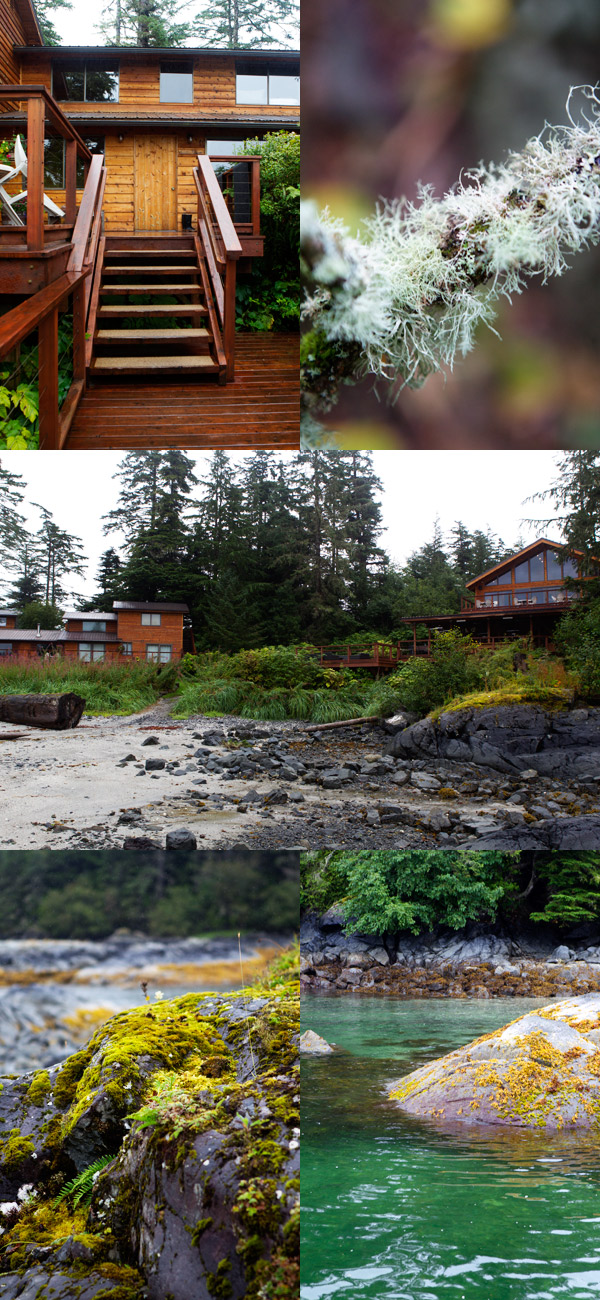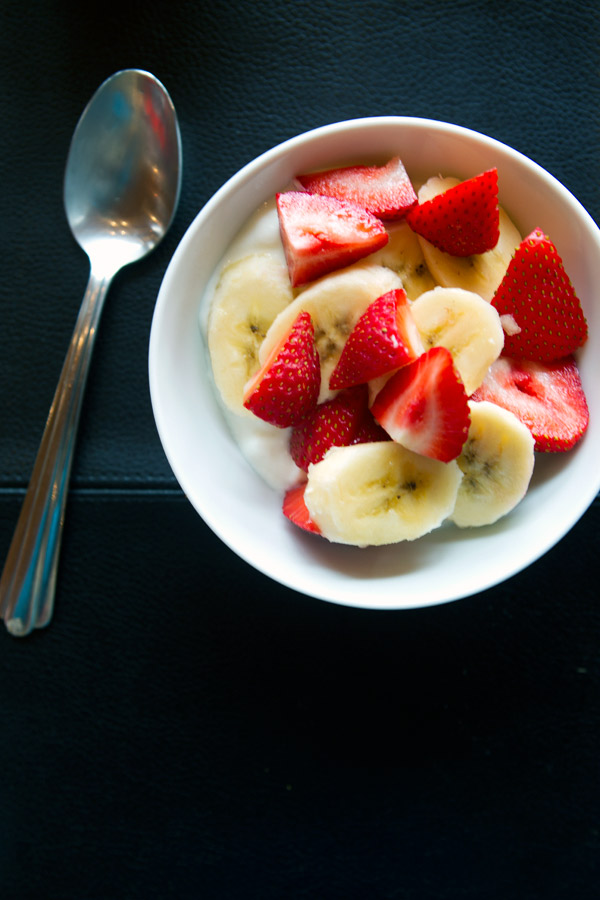 Breakfast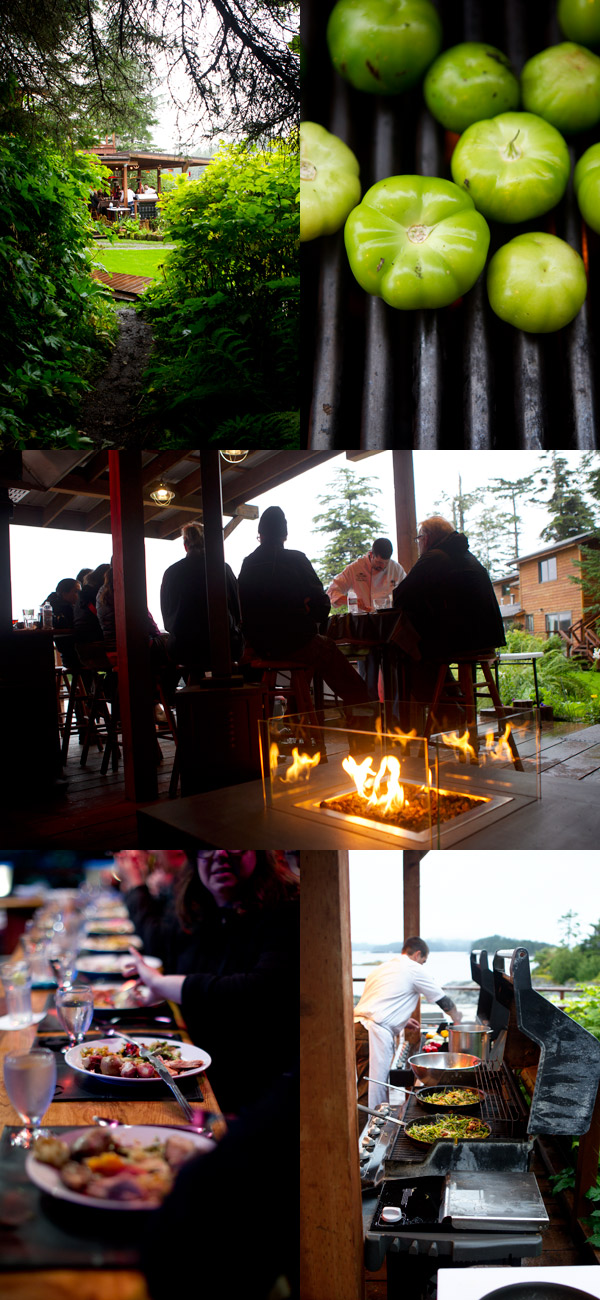 Talon Lodge, Sitka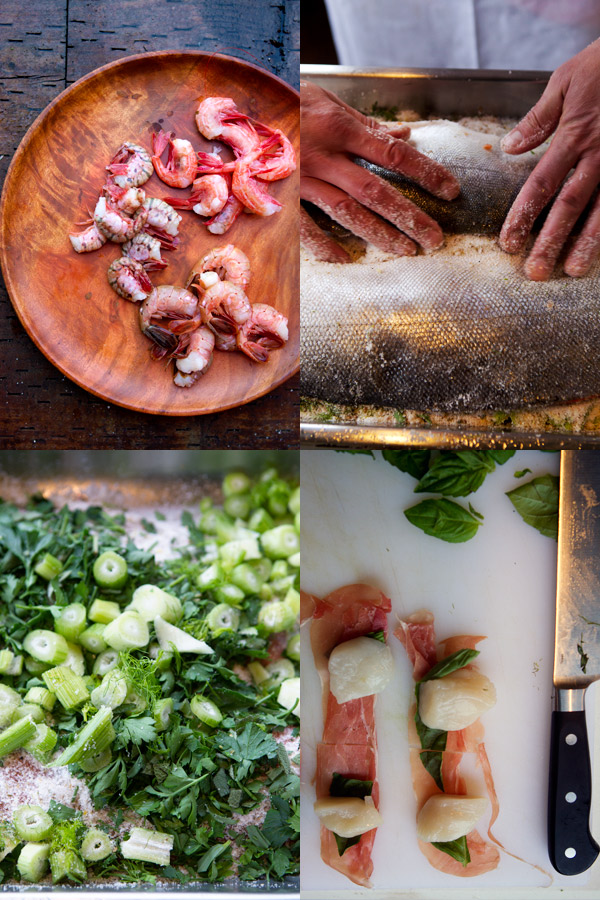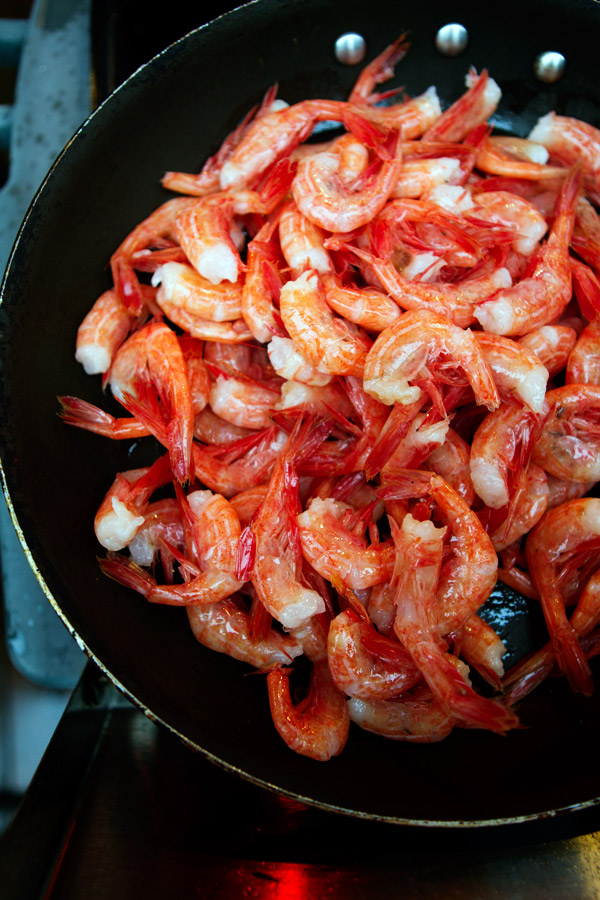 Different Varieties of Shrimp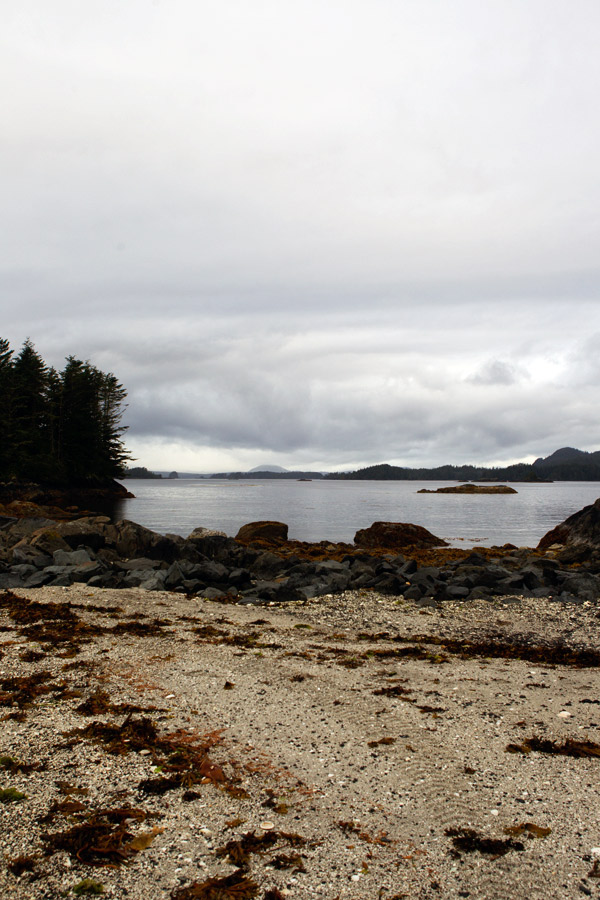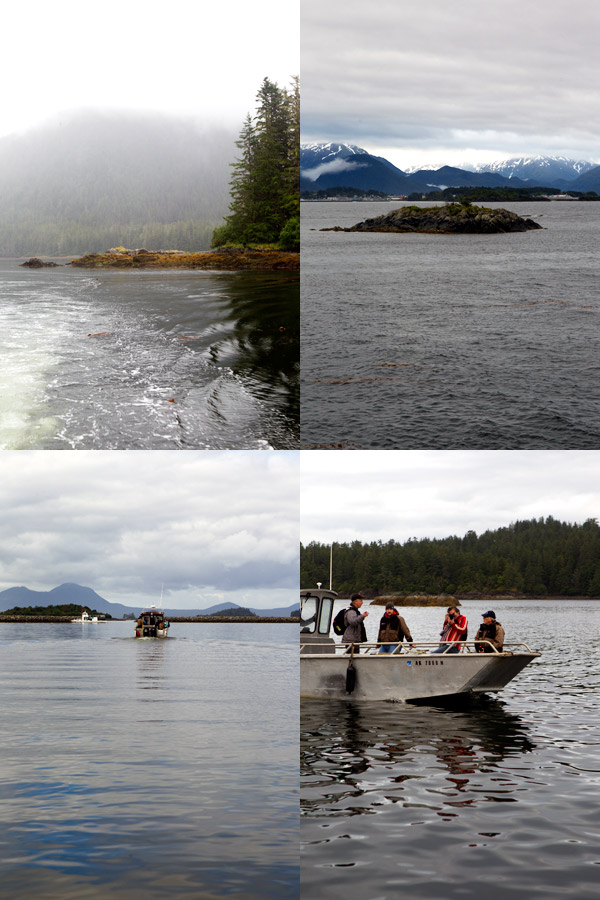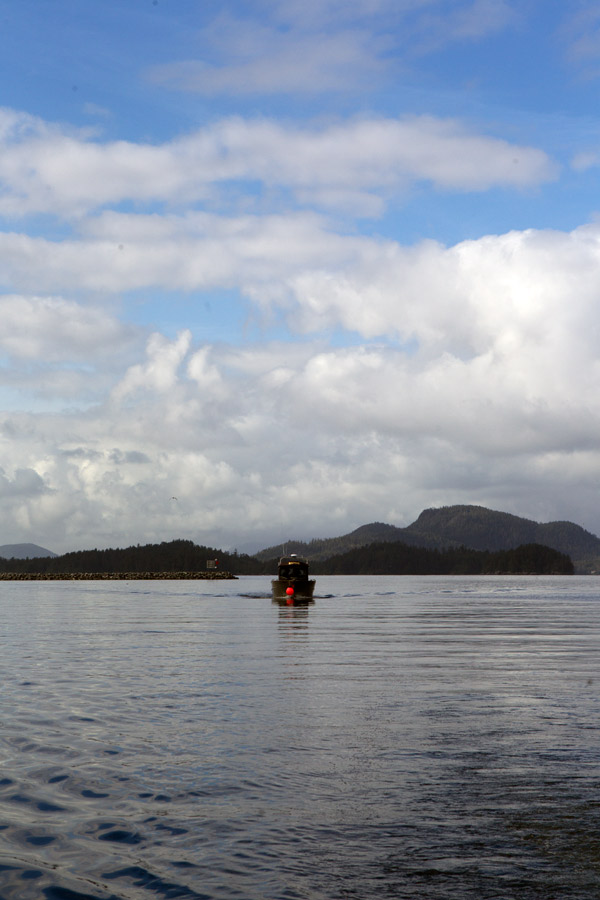 One of our Fishing Boats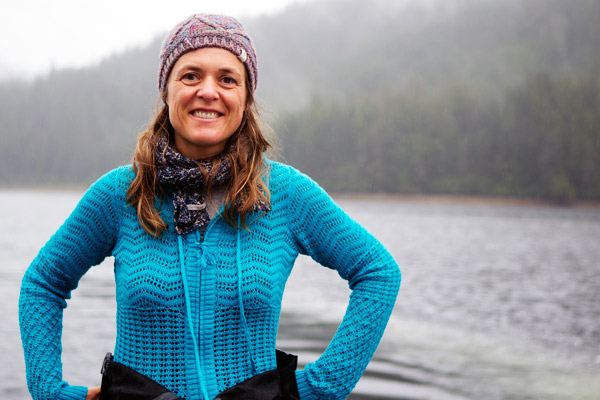 Thank you Marla for snapping this picture for me!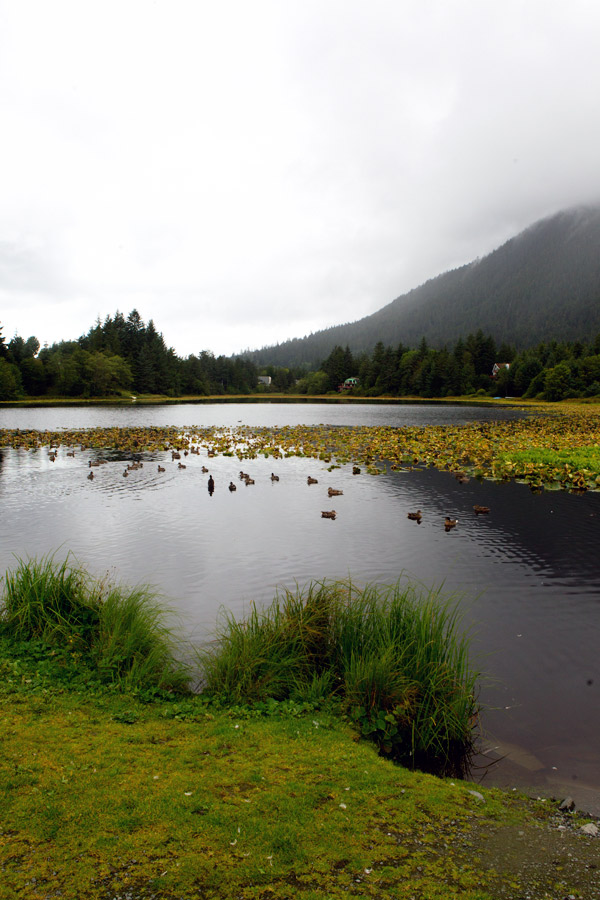 Thank you Larry and Bertram for inviting me on this journey. We were quite a group!
And I really had a terrific time!
Disclosure: The Alaska Seafood Marketing Institute (ASMI) hosted me on this Seafood Culinary Retreat. However, this post only reflects my personal thoughts and opinion.