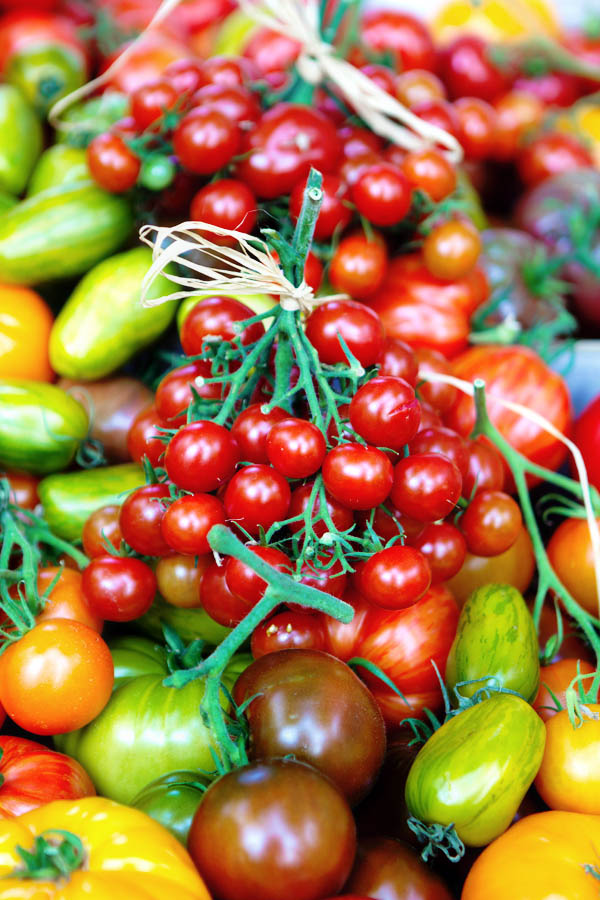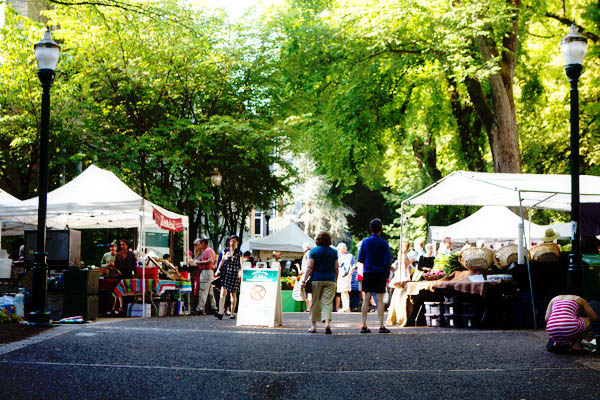 Portland's Farmer's Market
On the third and last day of our stay in Portland, we are promised a visit to the Saturday farmer's market. I am glowing with excitement. I've heard a great deal about the markets of the West Coast, and after seeing Seattle's and San Francisco's, I'm impatient to see a new one for myself that morning.
When I wake up, the sunlight cracking past my bedroom blinds assures that the day will be gorgeous. I can't believe how lucky we are with the weather. It's Oregon, people!
Holly who works for Travel Oregon is meeting us in the breakfast room. Her smile is warm, and the tone of her voice full of energy. I like her right away.
A few taxis line up in front of our hotel, and we joyfully hop inside, like children going on a field trip.

I know it'll be special, I keep thinking while holding my heavy camera on my lap.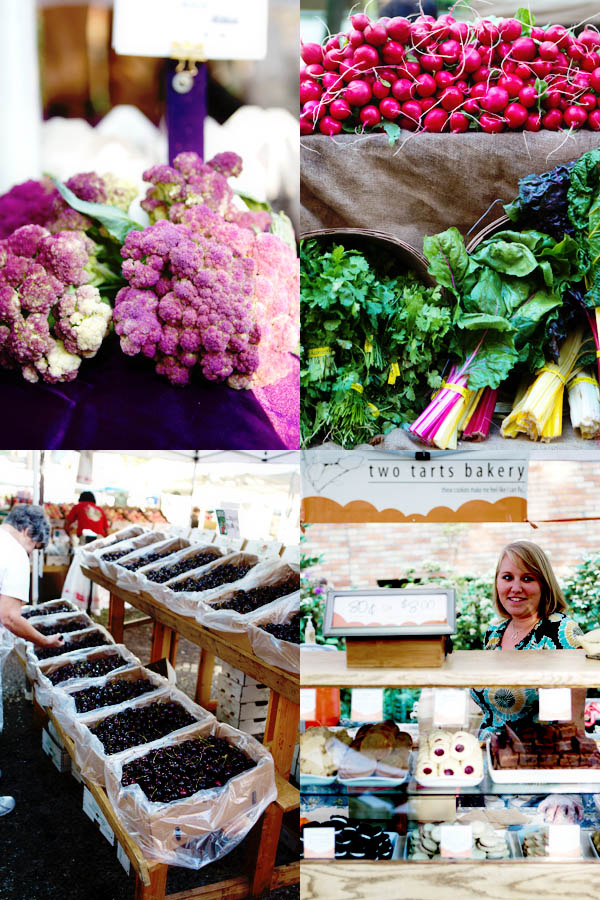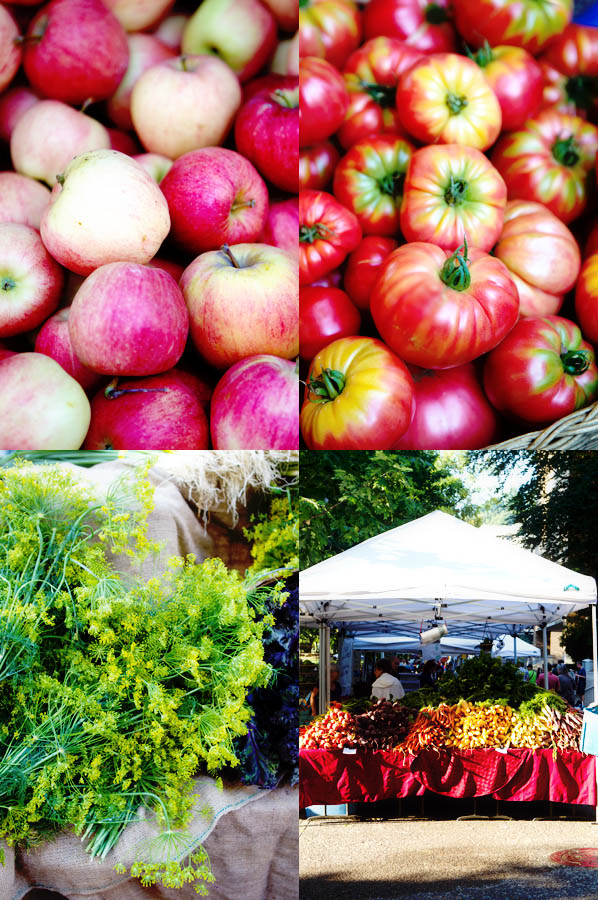 I'm thankful for our early start since, when we arrive at the market, the displays are full. They are gorgeous with fruit and vegetables and local produce–beyond everything I have imagined in my mind.
Vegetables and fruit, cakes and flowers are creatively arranged. They look like a rainbow of cheerful colors that make me wish I could bathe amongst them. It's bound to put anyone in a good mood, I cannot help thinking. I am surprised to find so much abundance and diversity, in fact.
"September for us is what August is for many," Holly says with an inviting smile. She and I chit chat in French, which relaxes my body even more, and then she tells me about how much she loved to move to Portland a few years back.
"I would have too," I respond. "Just for the market!"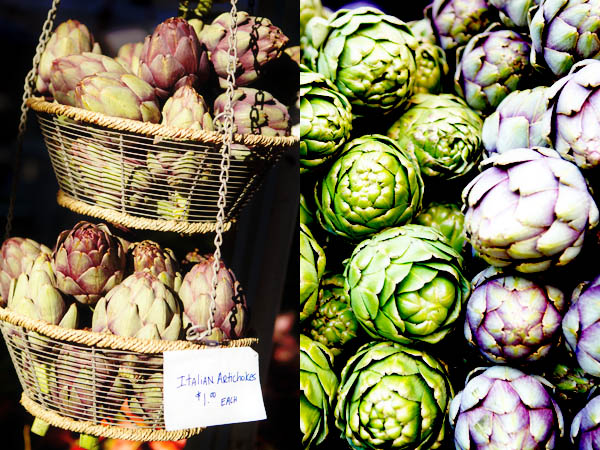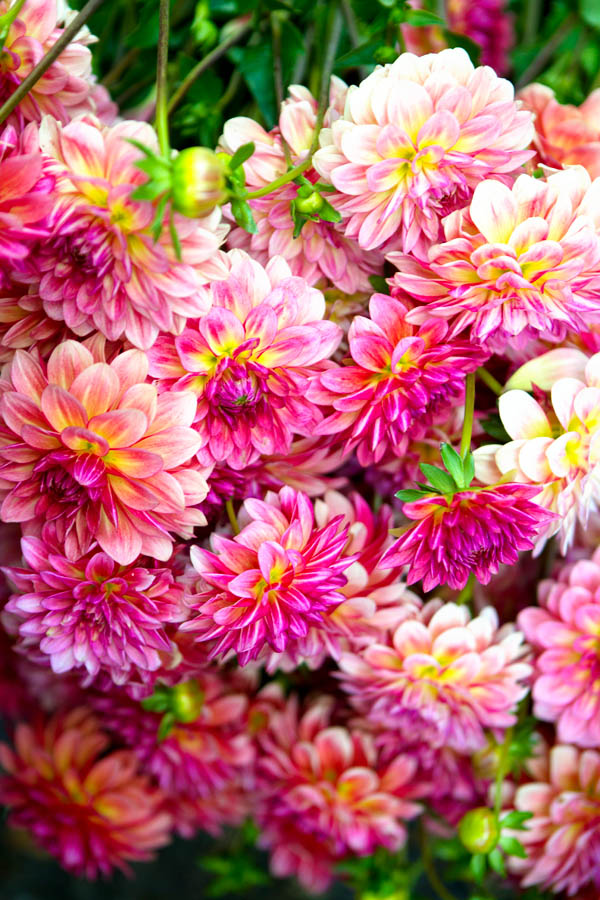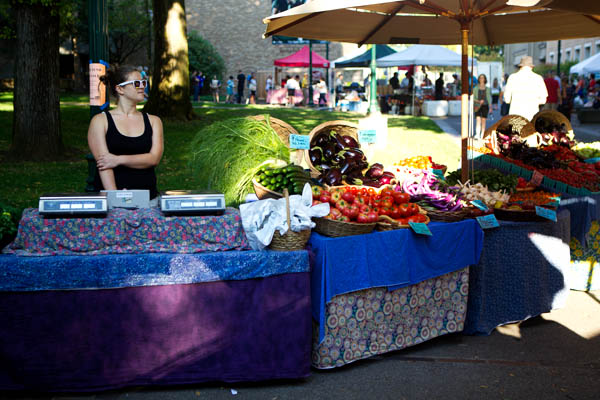 As we continue to explore the market, a young father holding a little boy stops me and asks: "What is going on?" He is staring at our group that looks like a bunch of paparazzi hovering near a famous movie star. "Who are you?" he then adds. His question amuses me. "Just a bunch of food writers!"
I am overwhelmed by the abundance of local produce, each one prettier than the other, and I feel compelled to buy everything. Except for the fact that I know I can't since neither the tomatoes, apples, artichokes nor the flowers I spot on the way will hold during my journey back.
For the market alone, I later email to P., I would move to Portland in a heart beat. Portland has the best quality driven farmer's market I've seen in the US so far.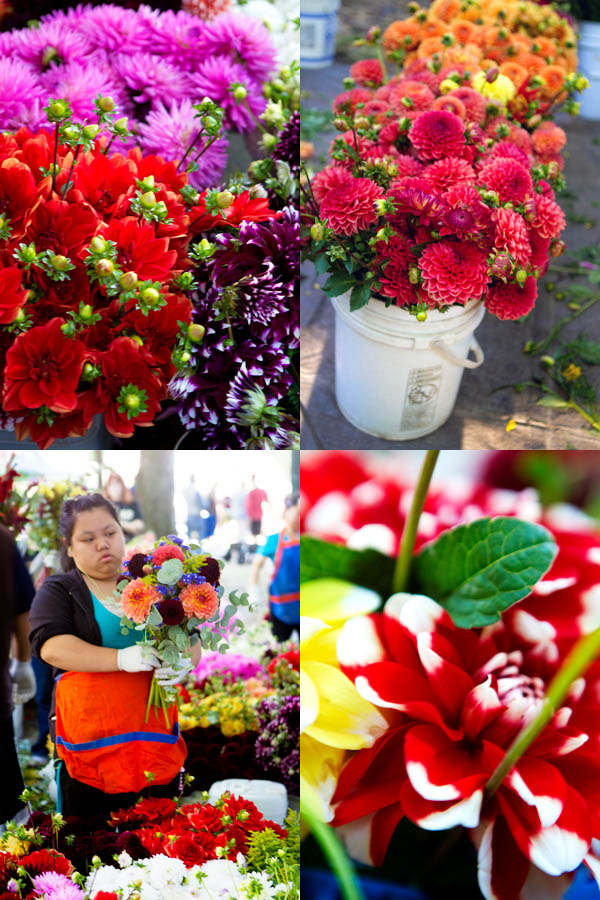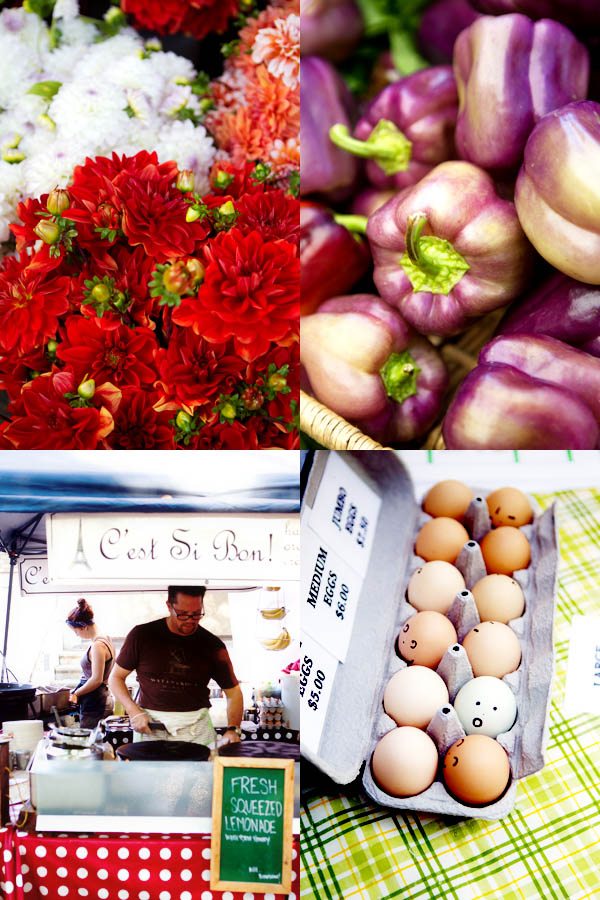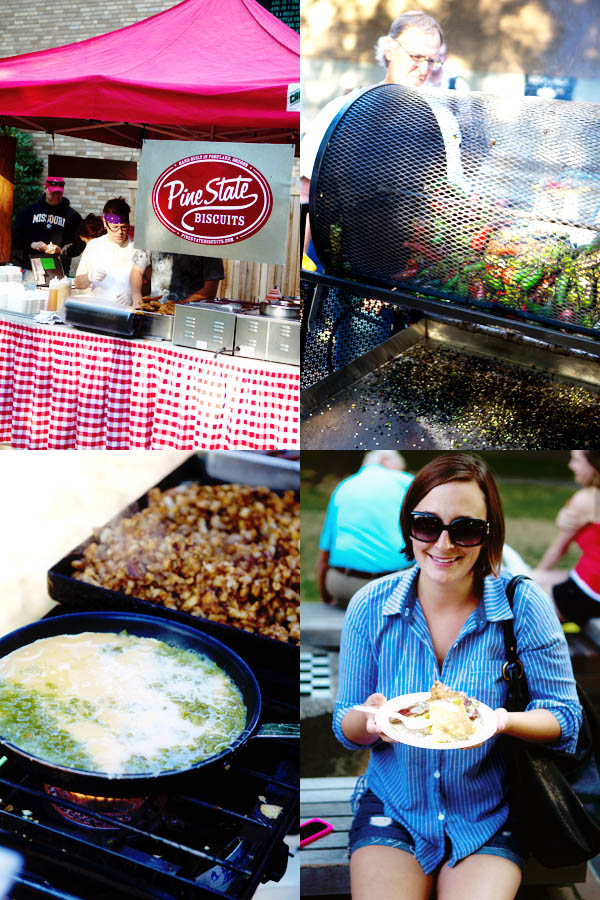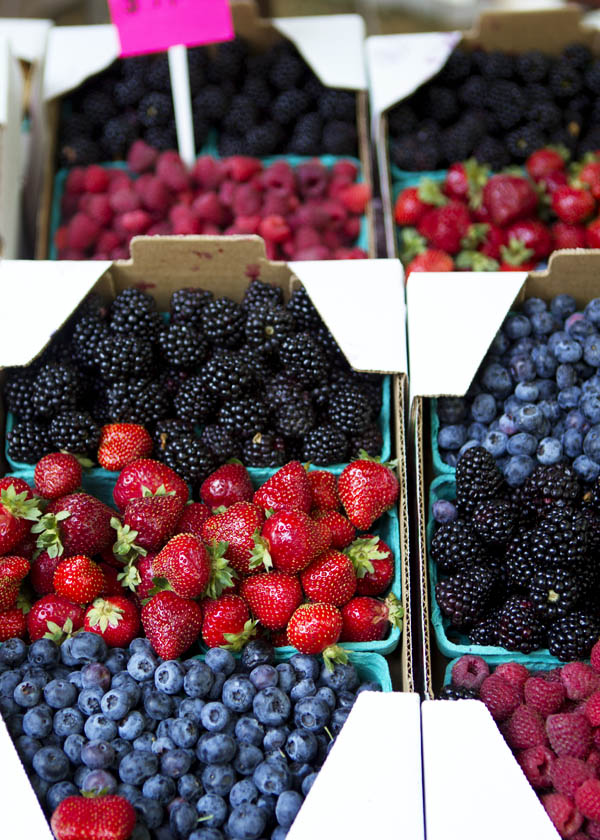 Portland's Farmer's Market
Near a flower stall, Erin from Sassafras Southern Kitchen is waiting for our group. She's come to finish her shopping for the preserving and canning class that she will teach to our group later that morning. We have a hard time leaving the market but eventually hop on the tram that takes us to another part of town where we are welcomed inside KitchenCru, a shared use community kitchen and culinary incubator.
"You will be doing a tomato relish," Erin adds. Which right away pumps renewed energy inside me.
The kitchen is spacious and extremely well-equipped. While some of us are busy chopping onions and spices, others chop scrumptious-looking Heirloom tomatoes picked at the market. They are red and yellow and orange and look like juicy beads that I refrain from not popping inside my mouth. Erin and Jennifer talk about cooking temperatures and show us each step involved in the canning process, and after a few hours, we are able to sample their signature tomato dish. A perfect balance of flavors that celebrates summer.
"I hope I will still find beautiful looking tomatoes like these to make the relish at home," I whisper to Helene who is sitting next to me. We are speaking French and it feels good again to relax my mind into it.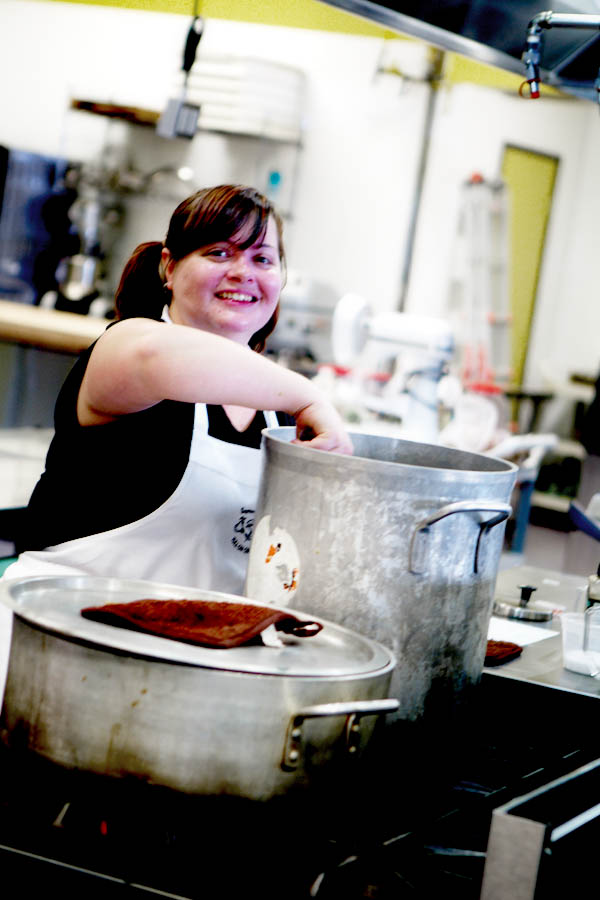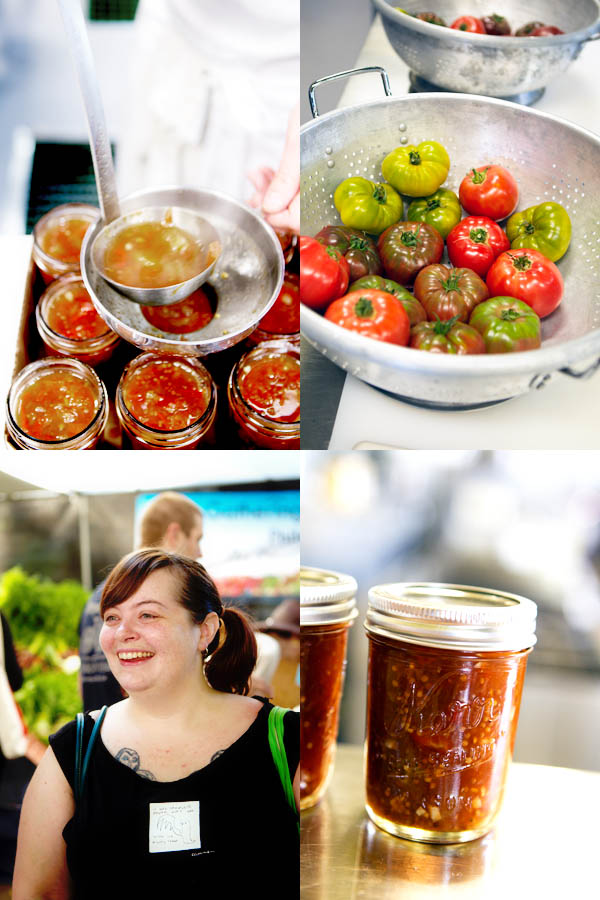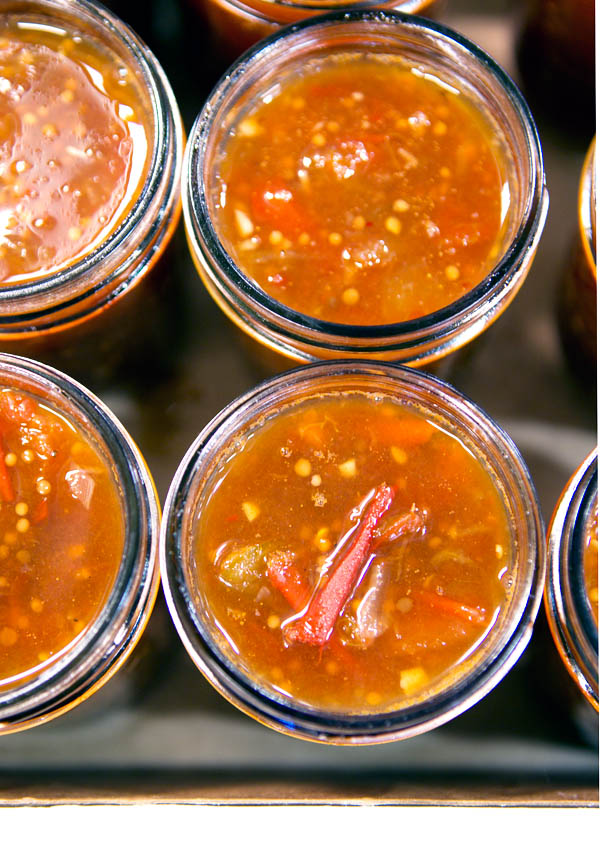 Sassafras Southern Kitchen, Portland
When the rest of our group returns from sampling teas and chocolates, another amazing lunch is served. Local chefs and winemakers have come to bring to us dishes with pairing wines that use the best local seasonal produce. A salad with freekeh and cherries adorned with edible flowers brings ooh and aah to our dining table. We eat octopus and grilled trout with summer squash. We sample chocolates and eat vanilla-flavored ice cream with salted caramel.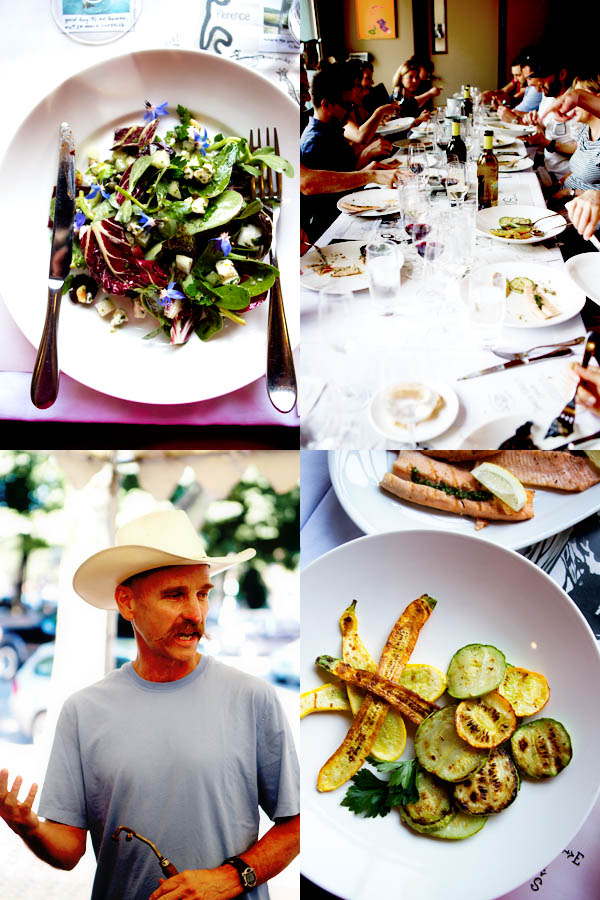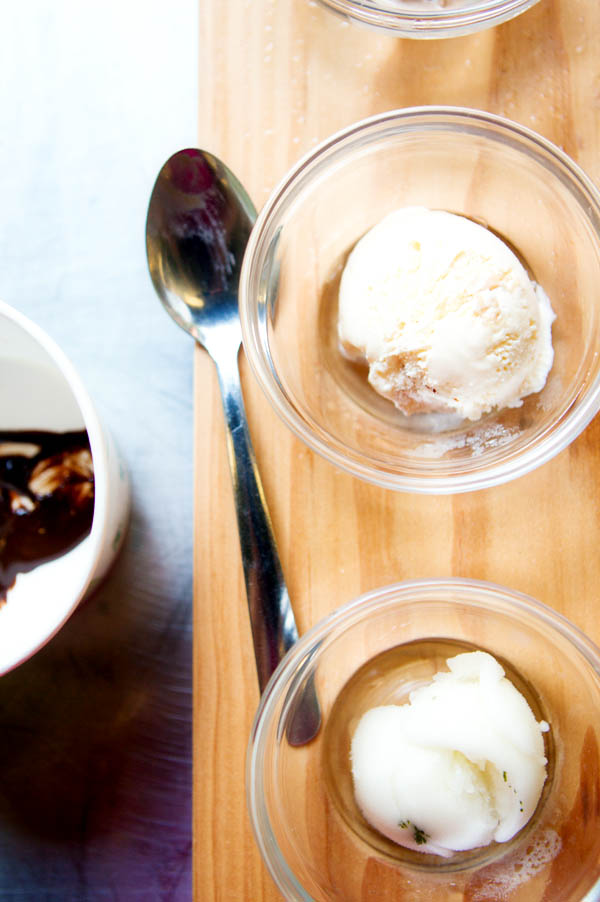 Cousins Kim and Tyler Malek run Salt & Straw, a "farm to cone" ice cream company that celebrates a family effort. Their success business story is inspiring.
They've come to talk about their methodology and have us try our hand at it too. When Tyler stands in front of our group and explains the method he uses to refine a flavor, his words showcase his passion for what he does.
"No eggs?" I ask intrigued after eating a spoon of salted caramel and vanilla ice cream. It feels light in the mouth.
"No, no eggs."
"We only use cream," he goes on.
During our session, we sample different flavors, among them strawberry ice cream with coriander, lemon sorbet with basil and melon ice cream with coppa. Each ice cream leaves a unique impression. Each has an original story to tell.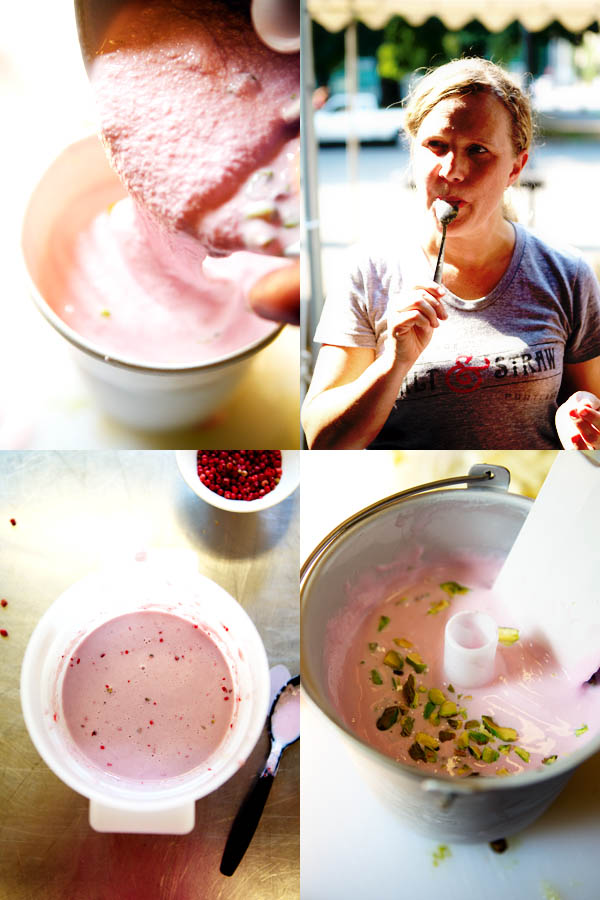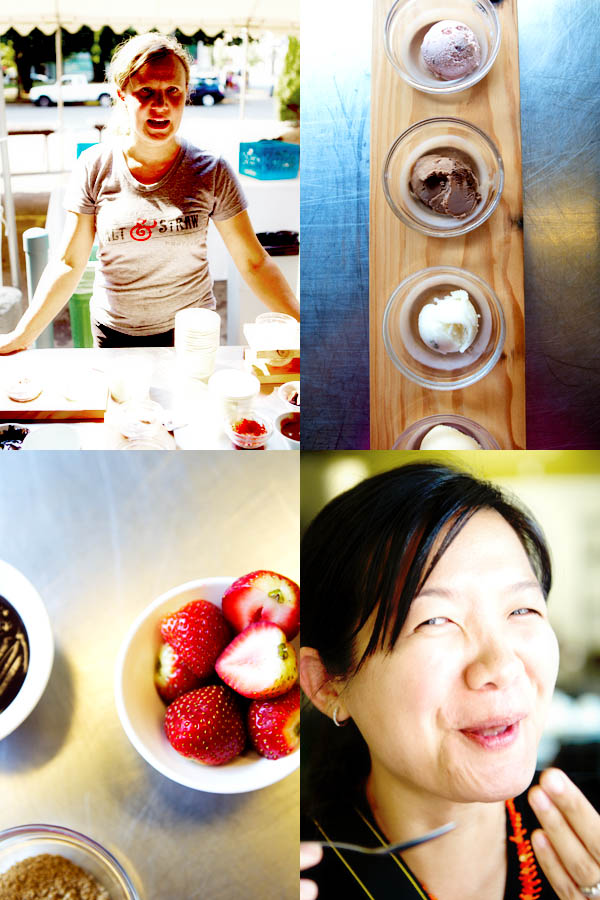 Salt & Straw, Portland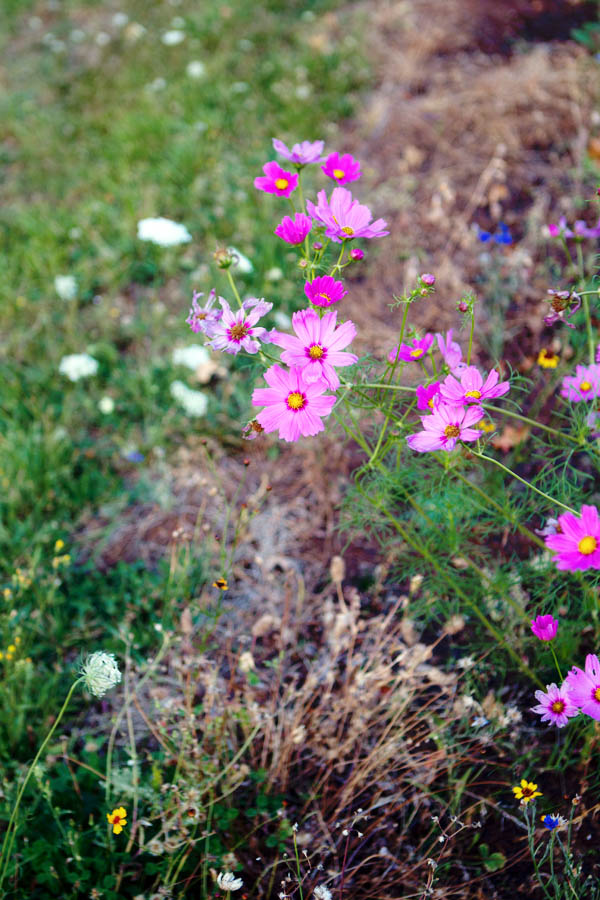 By five, I am exhausted. We are done with the activities of the day. But not the weekend.
After a short stop by our hotel to rest, another bus is waiting for us outside. But this time, we are heading to Willamette Valley wine country for the final reception dinner to seal our weekend visit in Portland.
The drive outside the city follows winding roads that reveals rolling hills with orchards, vineyards and gorgeous trees that I want to photograph. I wish that our bus driver stops but I know that it's just not possible.
I'll have to come back I note to myself with my eyes staring outside the window.
Inside the bus, the atmosphere is loud and joyful, which contrasts with the peacefulness we find an hour later, when we finally arrive at Penner-Ash Wine Cellars.
It's a beautiful evening. In an exceptional setting.
Despite bellies full from the samplings of the day, I am hungry. And dinner is scrumptious.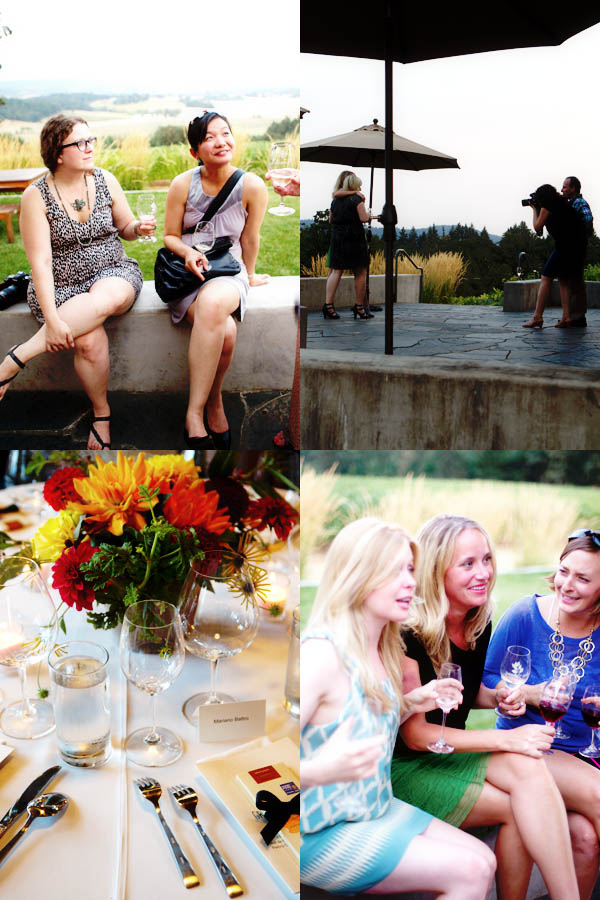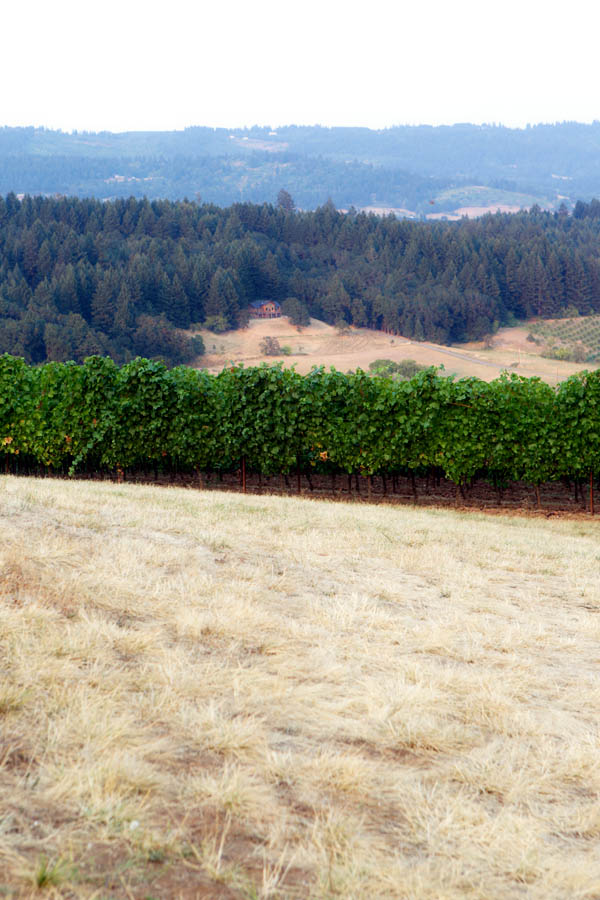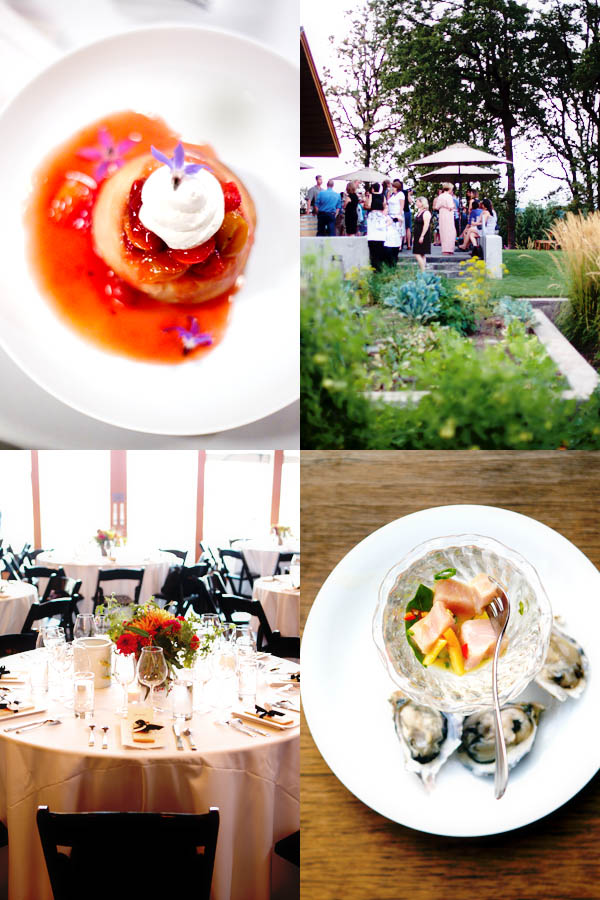 "It's going to be hard to be back home and cook," I tell Danielle who sits at my table. The expression I read on her pretty face tells me she feels the same way.
How could we feel differently? During three days, we've been so welcomed.
But in a way, I should have guessed since even before arriving, I am already convinced that I will love Portland and Oregon.
I am not disappointed.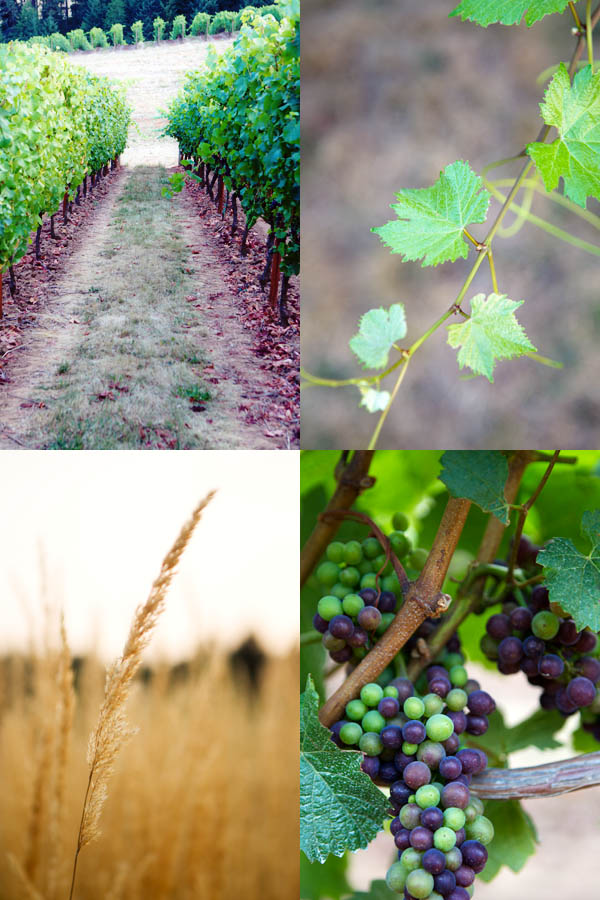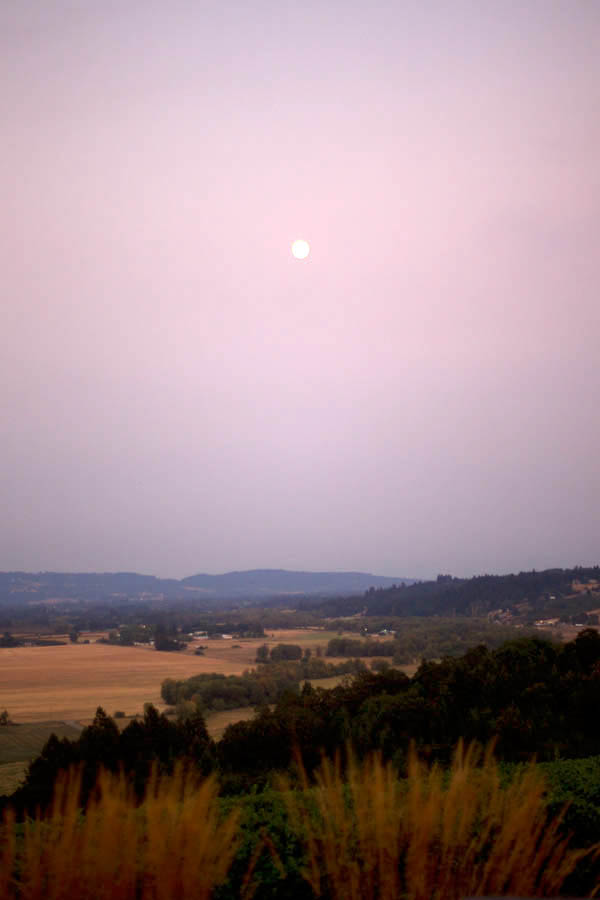 During three days, I've met amazingly talented and fun people. They are food or travel writers, artisans and organizers. They come from all across the country and Oregon. Between all of us, we may only have one thing in common: food.
But it works its magic. During three days, it brings us together. Then it leaves us with a story to tell. And memories to preciously keep.
Thank you Travel Oregon for making such an amazing culinary experience possible.
I will surely come back to indulge in the Oregonian culture more.