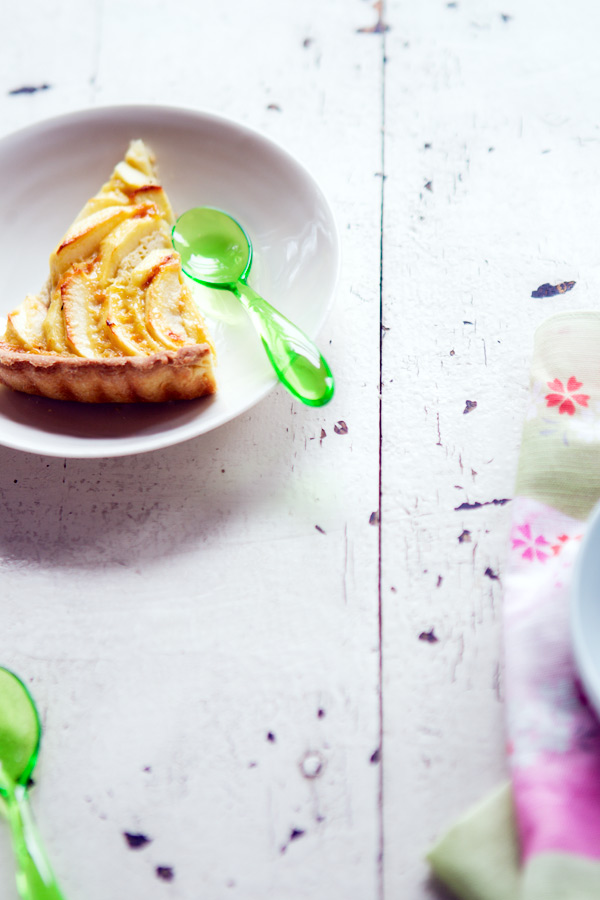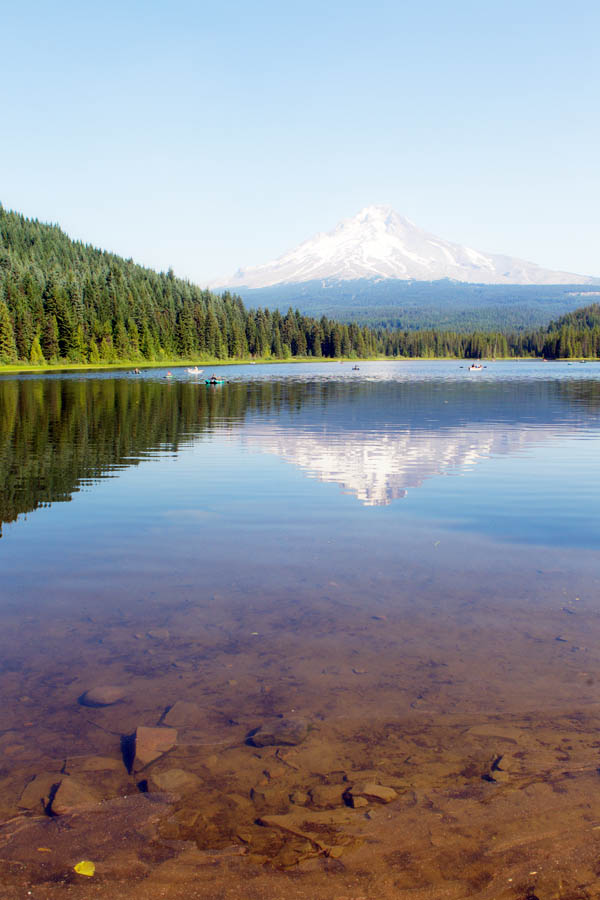 When I get up on Friday morning, I know the day will be busy. I am excited because that morning, we are meant to go foraging, have lunch at Timberline lodge near Mt Hood National Forest, after which a visit of a distillery with its fruit orchard is planned. I feel impatient about every piece because it means that we'll spend our time discovering the natural scenery and outdoors near Portland.
I always wanted to come to Oregon just for that.
I don't think for too long about what to wear, and eventually decide to go for a light summer dress layered over a t-shirt that goes with my pair of gray sneakers. But minutes later, when a dark-skinned man with a shovel and a spray bottle attached to his backpack walks in the room where we all sit for breakfast, suddenly a doubt about my choice for clothes fills my mind.
Wearing his outfit, he stands out amongst us. At first, I don't know neither his name nor who he is. But between the noise of the voices and giggles coming from the small groups gathered joyfully at each table, I hear someone exclaim: "He must be one leading an activity this morning!"
Oh oh…that's looking really serious! I hear myself utter louder than I'd like.
We quickly understand that he is going to be our edible plant guide. And immediately, I know I am not alone to suddenly feel completely ill dressed for our outing.
John is wearing serious-looking hiking boots, a vest and a pair of jeans. His entire head is buried behind dark sunglasses and a large beige hat, the type explorers like to have, that makes it hard to discern the expression on his face.
But we can see that he is happy to be there. He is smiling.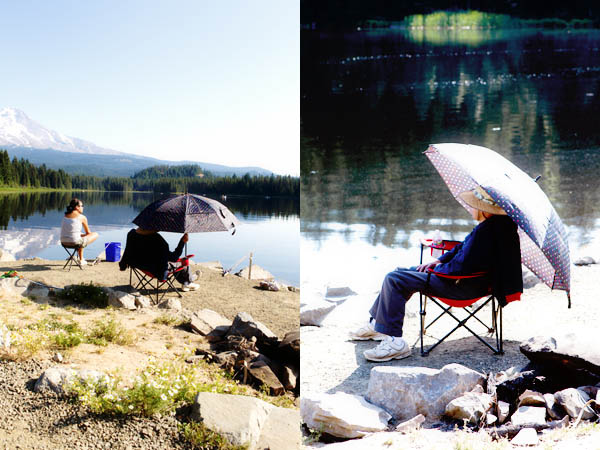 When we walk outside of the hotel, a small bus is waiting for our small group. Everyone is in a happy mood. It's sunny. The air feels healthy. It's going to be a nice day.
"It's like going to camp," someone exclaims once we are settled inside the bus. In a charming sort of ordered way.
Our first destination that morning is Trillium Lake.
With Mt Hood reflecting onto the lake in the distance, the place feels serene and magnificent, and I am sorry we don't have hours to spend exploring the area.
John is friendly and knowledgeable. As he walks ahead of our group, he shows and explains which plants are edible and which aren't. And while we understand that this time of year is not the prime for foraging edibles (Spring is the best time), we still manage to taste leaves and berries that surprise by their unique flavor. That's the first time I eat wild ginger.
"You will have some of these in some of your dishes for lunch," one of the chefs from Timberline lodge tells us as he and another chef accompany us on our walk. Right away, my curiosity is piqued. And I wonder what they will do with what we find along the way.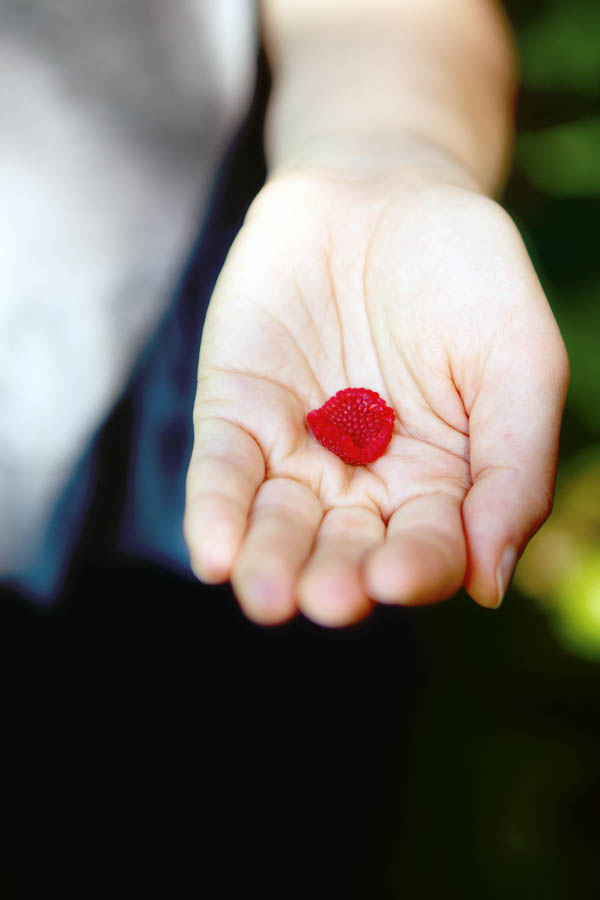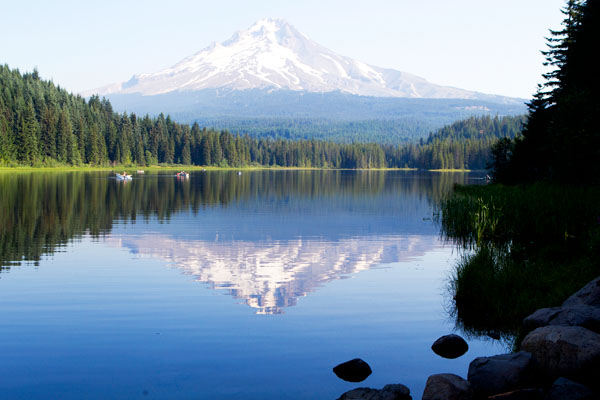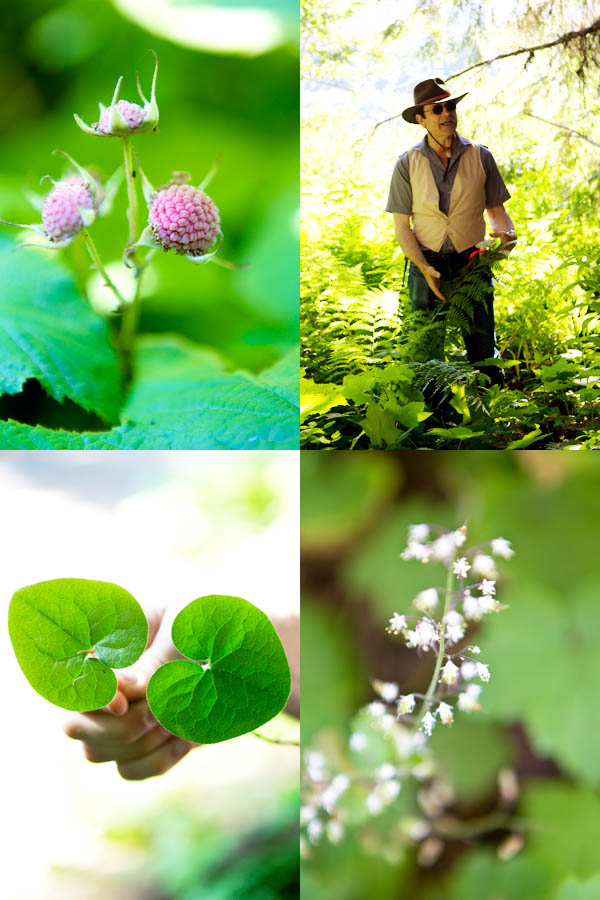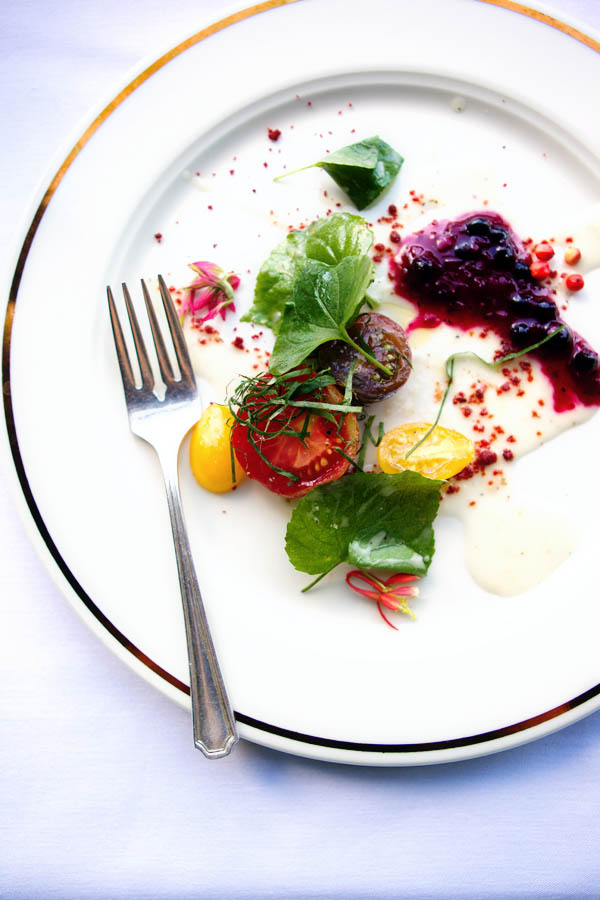 And rightly so, lunch at Timberline Lodge is outstandingly delicious.
Used as an Alpine ski lodge in winter, Timberline Lodge is an integral part of American heritage. Built at the bottom of Mt Hood, the building gives a feeling reminiscent of the past.
"The road leading to the lodge was the one filmed in the opening of The Shining," our driver tells us a few minutes before we arrive. Who would have thought? I cannot help but think, looking at the winding road ahead outside my window.
Each dish we are served is so appetizing that, while our five-course menu looks like a lot of food, I keep eating, hungry for more. By looking at everyone's face while eating, I guess I am not alone to really enjoy the food and wine that keeps being poured with each dish.
Robert Morus from Phelps Creek Vineyards is sitting at the table with us. He is also wearing a hat, I notice, amused. His upper cheeks are red and round and, with every smile, his eyes become minuscule in the middle of his friendly face. He, too, looks like he is pleased to spend time with us. I know why. He is telling us his passion for wine.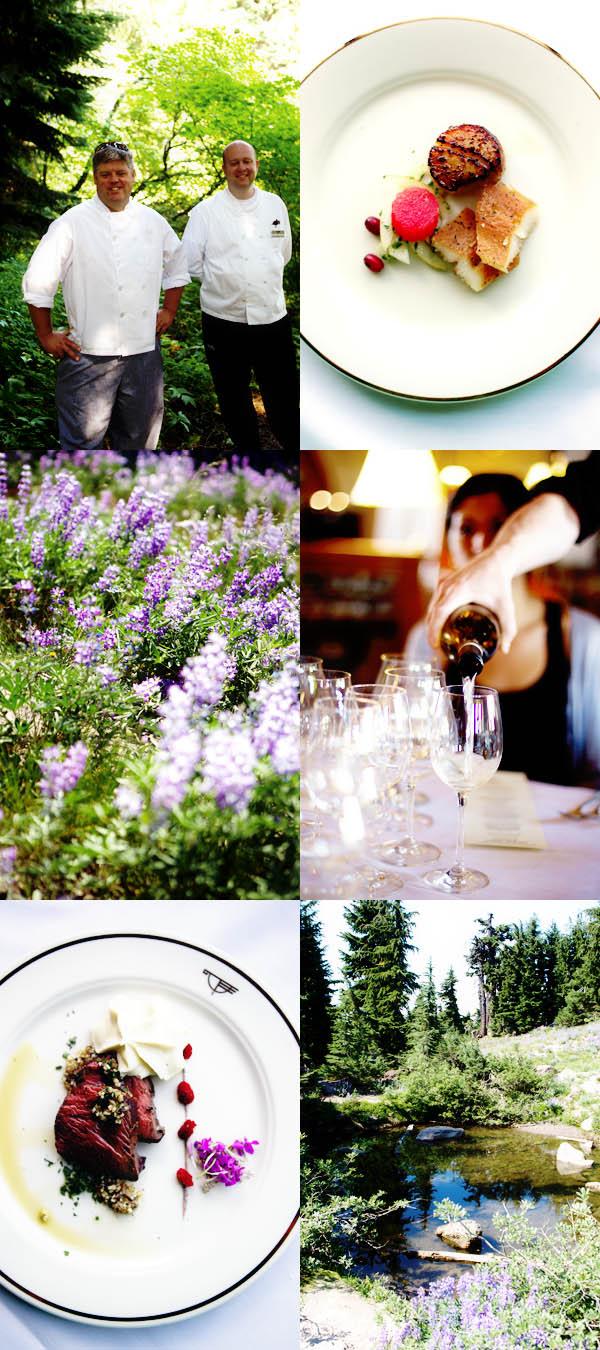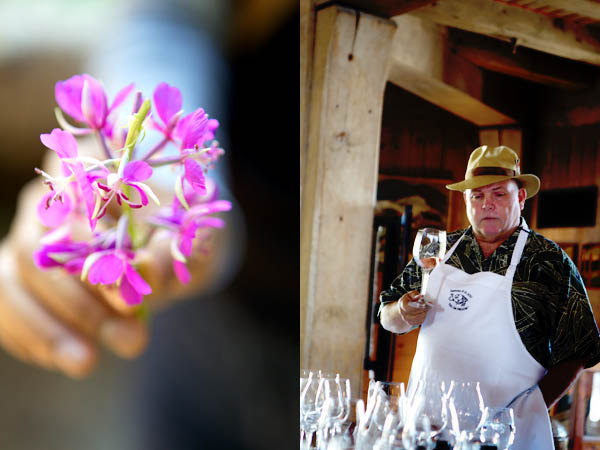 As we leave the table, I feel ready for a nap.
"Look behind," I tell Sean sitting next to me on the bus. We are amused. Almost everyone is actually asleep, including John who is sitting next to our driver.
I am convinced that not a single piece of food or drink will be able to fit inside my body. But as our visit takes us to Clear Creek distillery where I catch sight of the orchard behind the small apple stand, I know that our drive through the countryside is worth every minute we spend in the bus. It's as if I am hungry again. For fruit.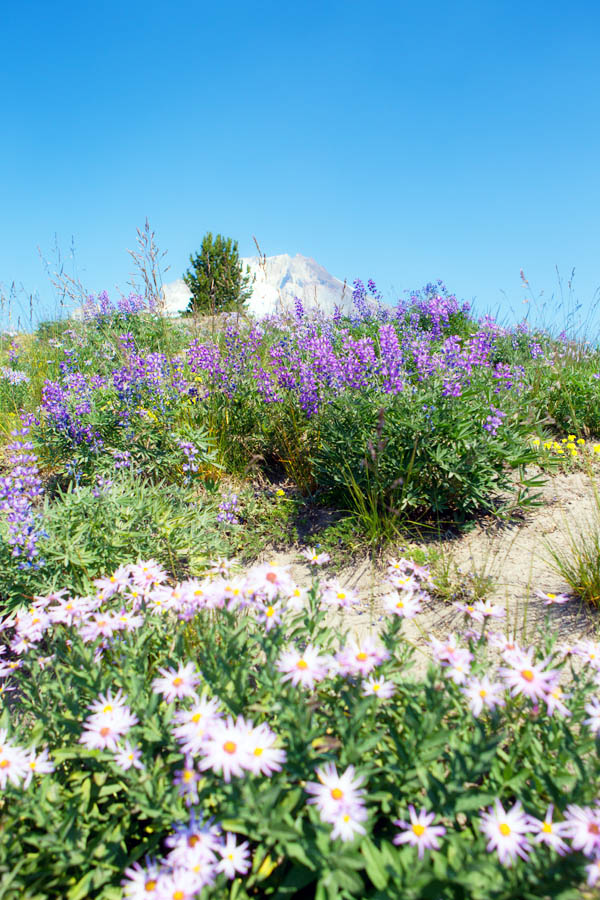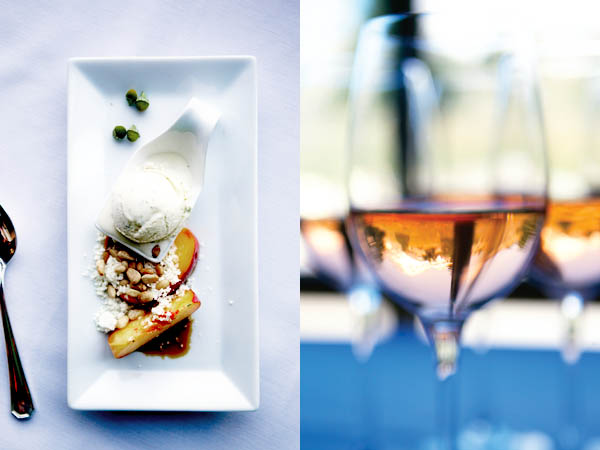 Steve McCarthy started Clear Creek Distillery twenty-six years ago because he wanted to find the best way to use the fruit from his family's orchard. During his travels throughout Europe, he became exposed to a number of traditional European spirits– among them, an eau de vie made from Williams Pear. An inspiration and an idea were born. Clear Creek Distillery followed naturally.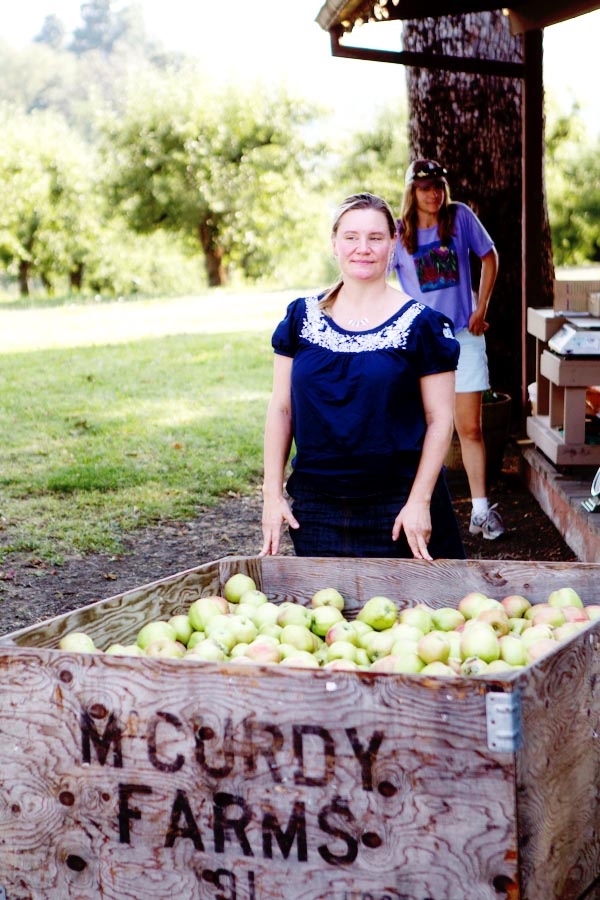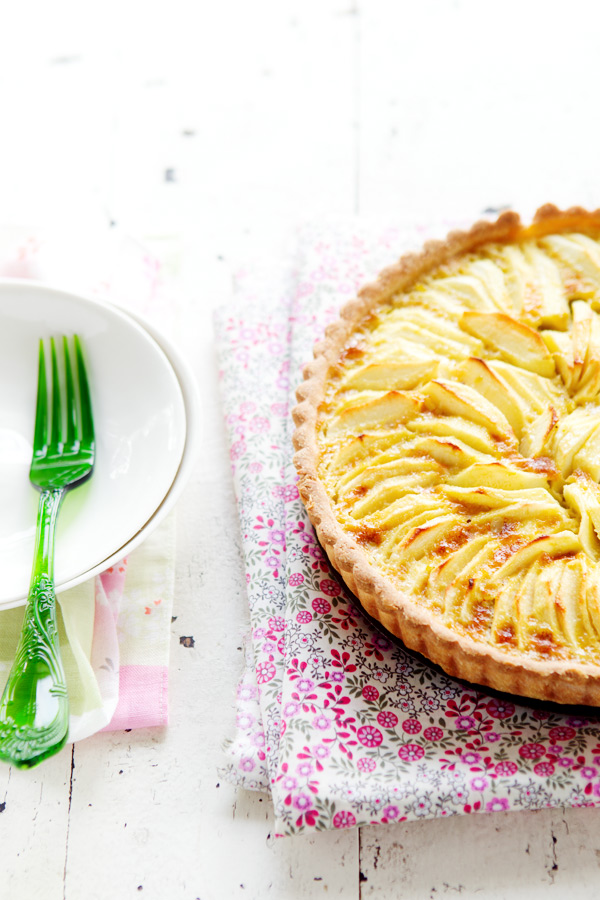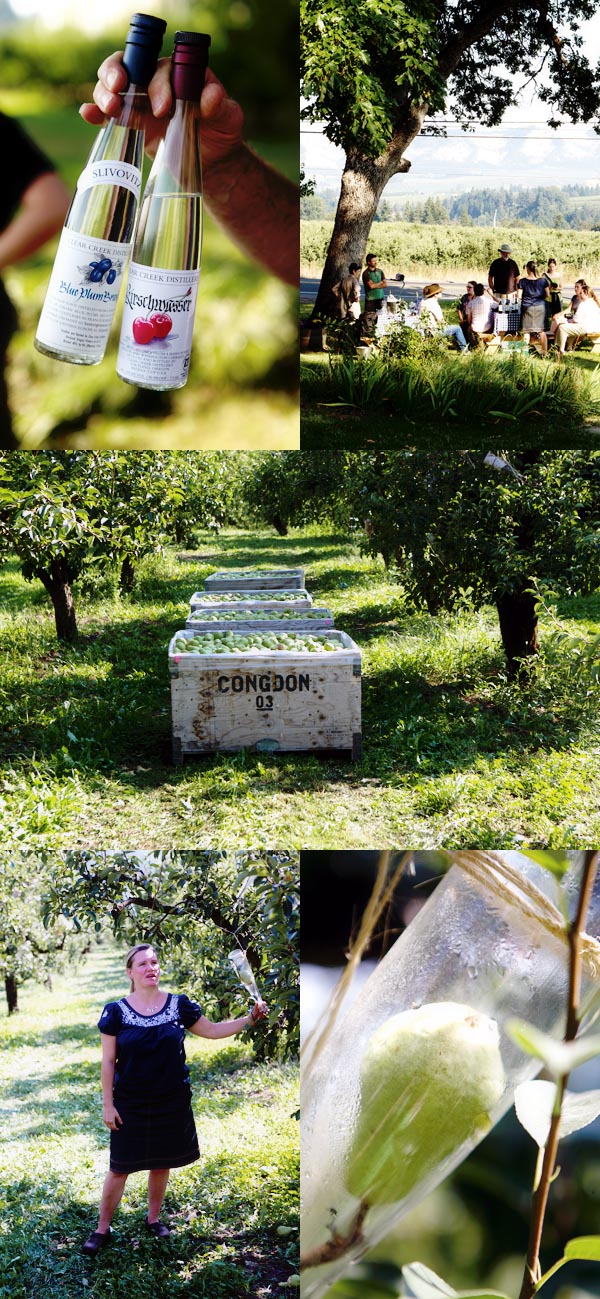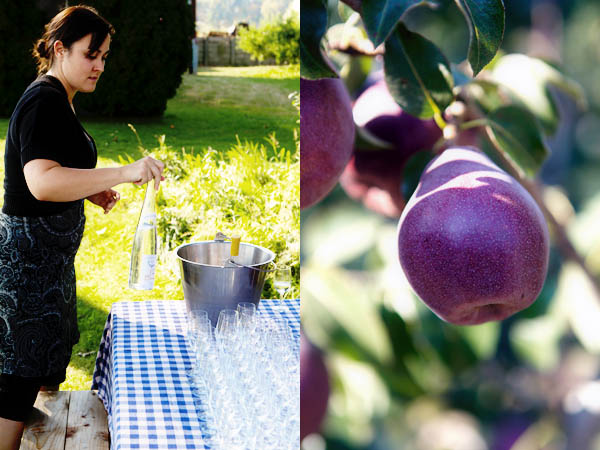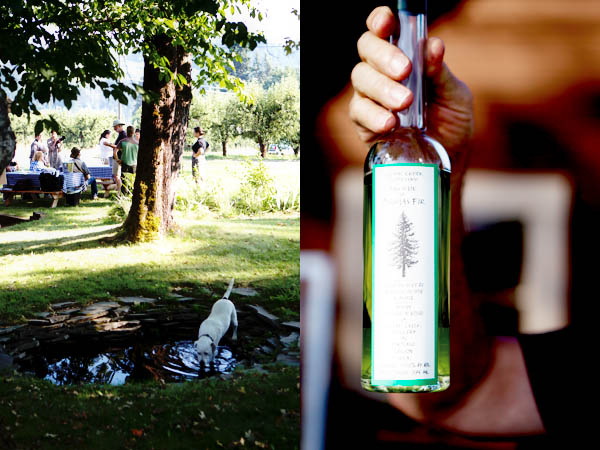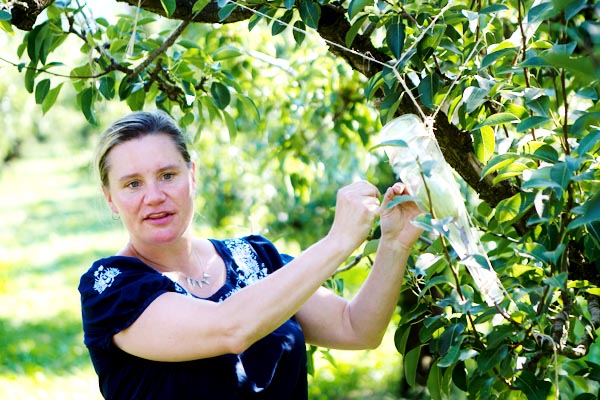 I am not typically someone known to drink spirits but I know I will go with the flow.
We taste grappa and pear brandy and cranberry liquor–and probably more than I can remember. When I hear the word mirabelle, I am curious and ask the dark-haired girl working at the distillery where they grow them. "In an another orchard nearby," she says. The thought of lines of mirabelliers and quetschiers trees brings a smile to my face as I think of my father and his parents on their farm making their own mirabelle and quetsche liqueurs.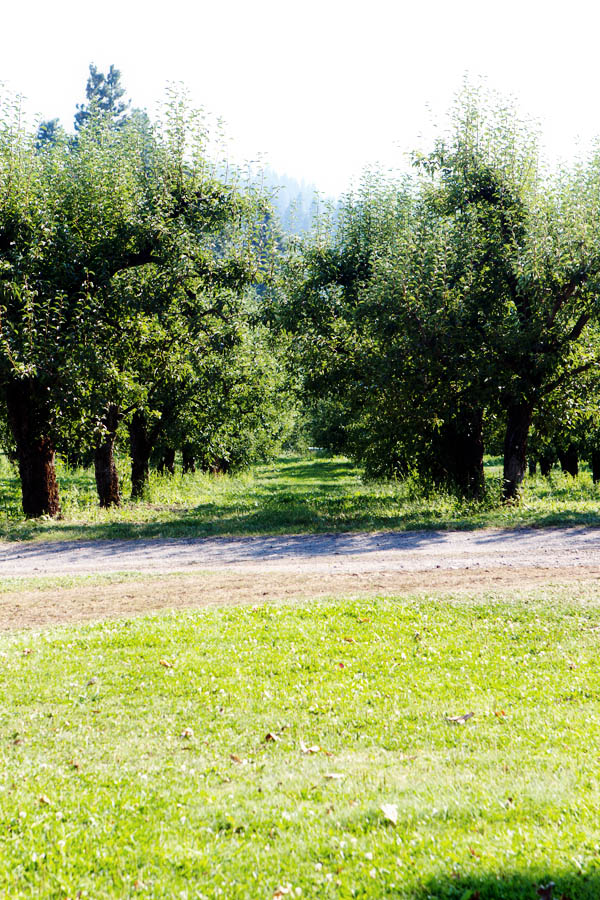 While everyone is still gathered around the picnic table, busy drinking and chatting away, I decide to take a short walk through the orchard. As I wander through the apple and pear trees, and I notice the aroma of sugar and fruit that I am so familiar with, I think about my grandparents' and brother's orchards. I know this taste so well. I've always loved everything about it.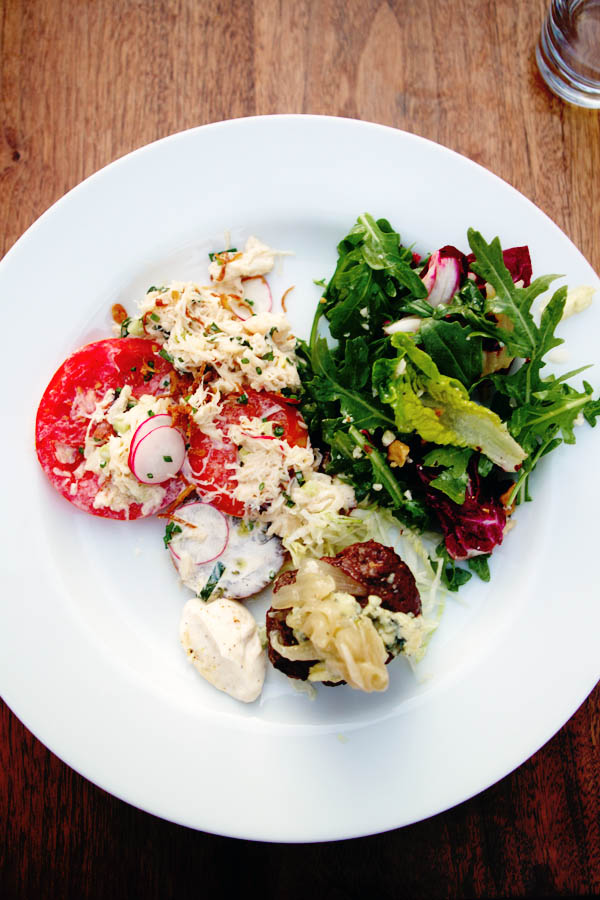 Later that night, a reception on top of the sixth floor of a building downtown welcomes us to a wide open view of Portland. Chefs from Metrovino and the Gilt Club have come to serve us tasty hamburgers prepared with unusual elk and lamb flavors. We drink beer. The evening feels like the kind sealing a perfect day outside.
Casual as we like it. Full of the good energy of being in the outdoors.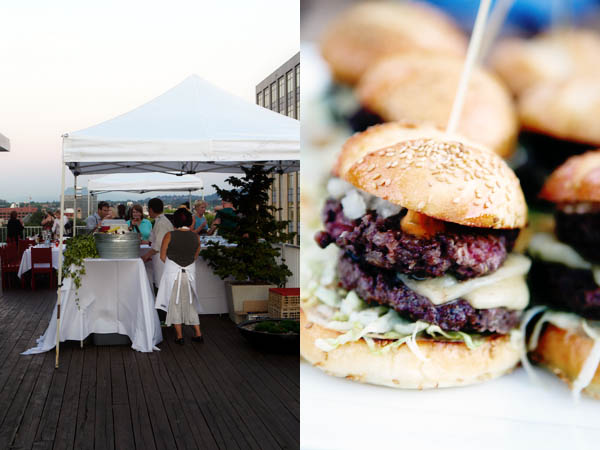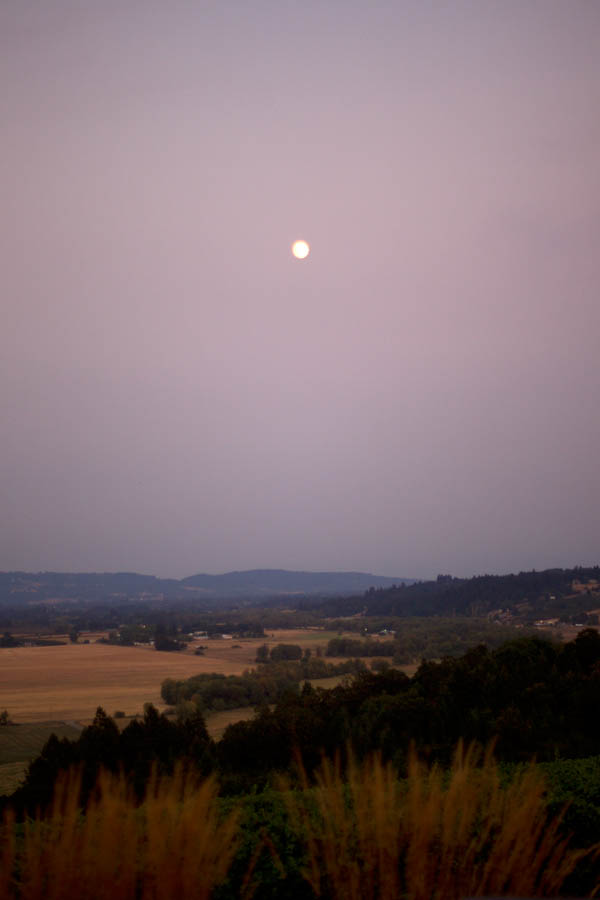 Back to my room, my mind wanders back to the thought of the apples though. It's what feels familiar and right. I think about the orchard and the time we've just spent outdoors. In a lovely part of Oregon I want to visit more in depth. I think about fall and how much I am impatient to go apple picking once I am back home.
It just happens like that.
And I know that I will be baking an apple tart.
Une tarte rustique au bon goût de pommes.
Because a fruit tart is always the first dessert I am inspired to bake after I visit an apple orchard.
Disclosure: My trip to Oregon was sponsored and fully paid by Travel Oregon. I was neither asked nor received any compensation to write about my experience. I am doing it because I want to share and I enjoyed what I did and saw.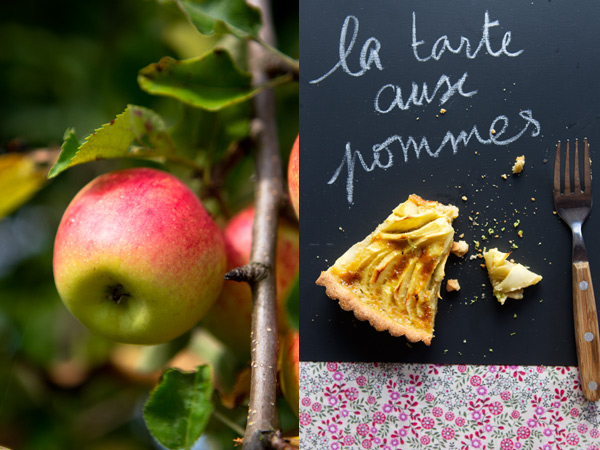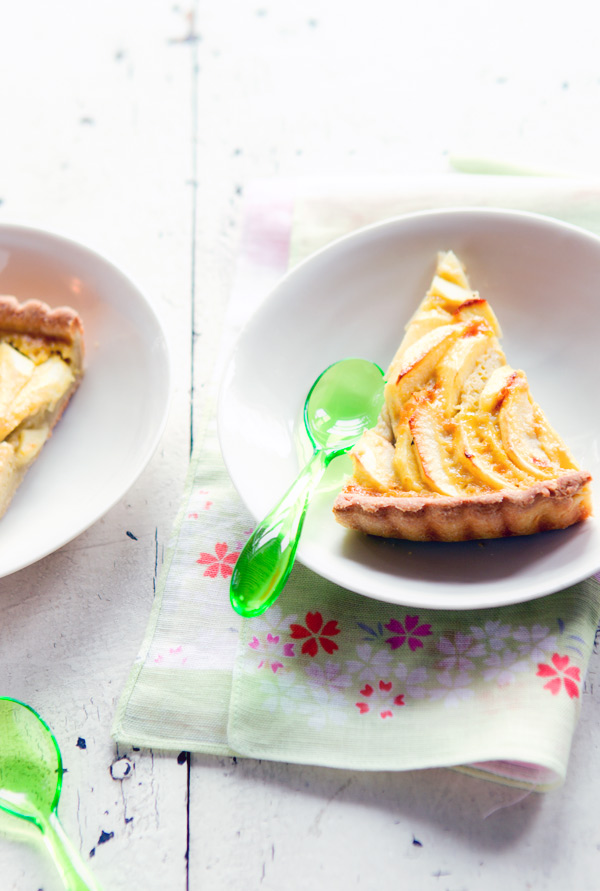 Apple tart recipe (gluten free) with coconut milk and lime
For a 9.5 inch tart
For the crust:
1/2 cup quinoa flour
1/2 cup millet flour
1/2 cup brown rice flour
1 3/4 teaspoons xantham gum
Pinch of sea salt
100 g unsalted butter, cold and diced
1 large egg
2 to 3 tablespoons cold water

Note: You will have leftovers of crust for 2 tartlets. If you prefer, make a large tart too.
For the topping:
5 to 6 organic apples, peeled, cored and sliced
2 large eggs, beaten with a fork
1/2 cup unsweetened coconut milk
1/4 cup Turbinado sugar
1 tablespoon honey
Zest of 1 lime finely grated
Steps:

To make the crust: Combine the flours, xantham and salt in the bowl of a food processor. Add the butter and pulse into crumbles.
Add the egg and continue to pulse.
Add the water, 1 tablespoon at a time and work the dough until it detaches from the bowl. Wrap in plastic wrap and refrigerate for 1 to 2 hours, or more.
When ready to use, take out of the fridge for 30 minutes and roll into the shape of a circle. Garnish the mold and make small holes at the bottom.
To make the rest of the tart: Preheat the oven to 375 F.
In a small bowl, beat the eggs with the sugar, lemon zest and coconut milk.
Arrange the slices of apple on top of the crust and add the egg batter.
Bake the tart for 30 minutes, or until the crust is light brown, and the flan is set. Leave to cool for 30 minutes before eating.