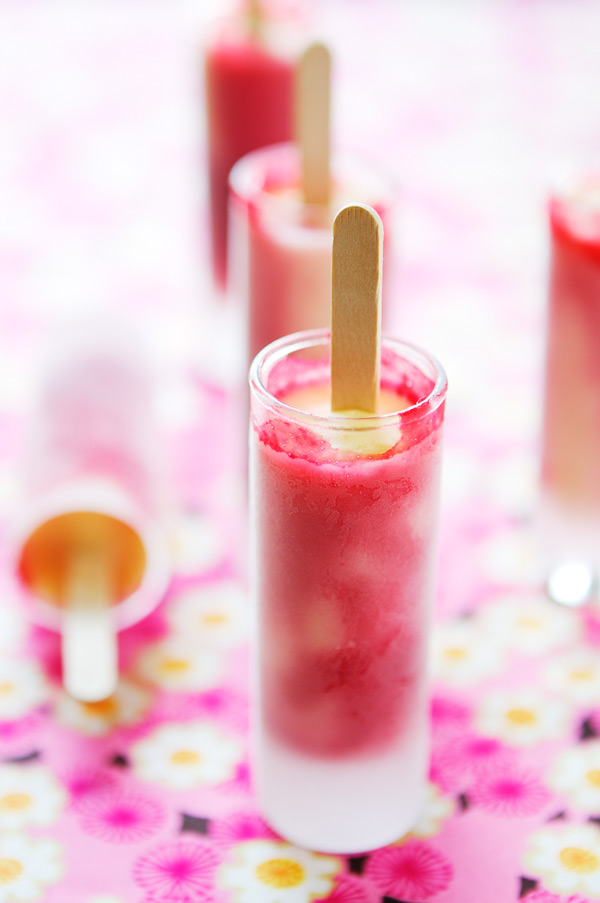 Raspberry and Peach Popsicles
We've been eating cold-to-refresh-your-entire-body popsicles. Tons of them. Some made with raspberries; others with strawberries and apple juice, with or without yogurt.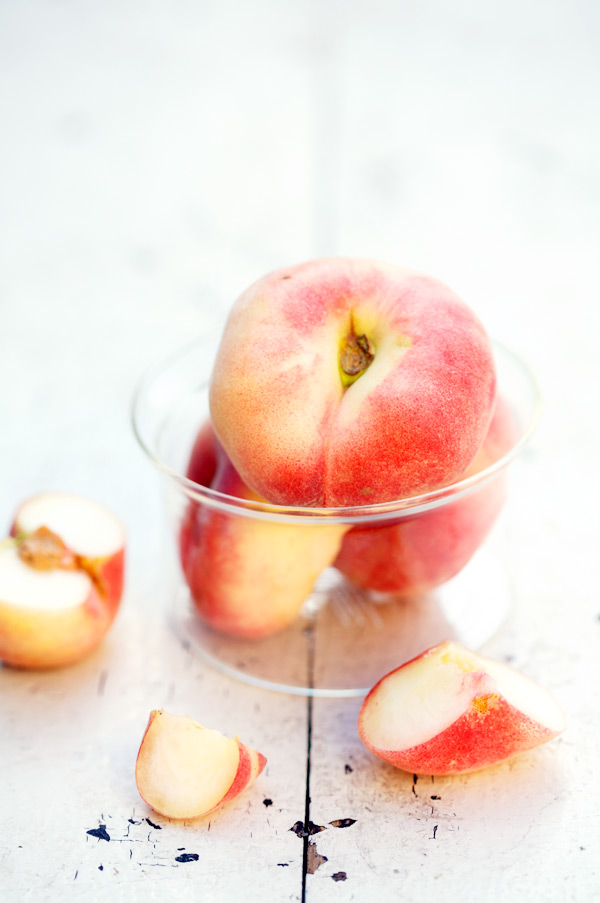 And then there were these. Made with irresistible juicy raspberries and peaches that Lulu and I bought when we walked to the farmer's market this past Wednesday.
The fruit was spectacular. And so were the popsicles.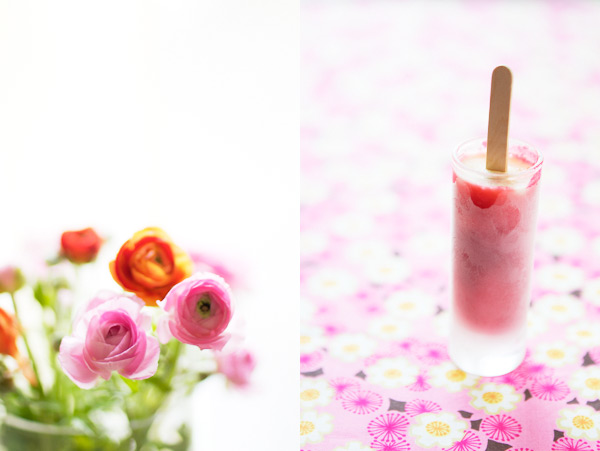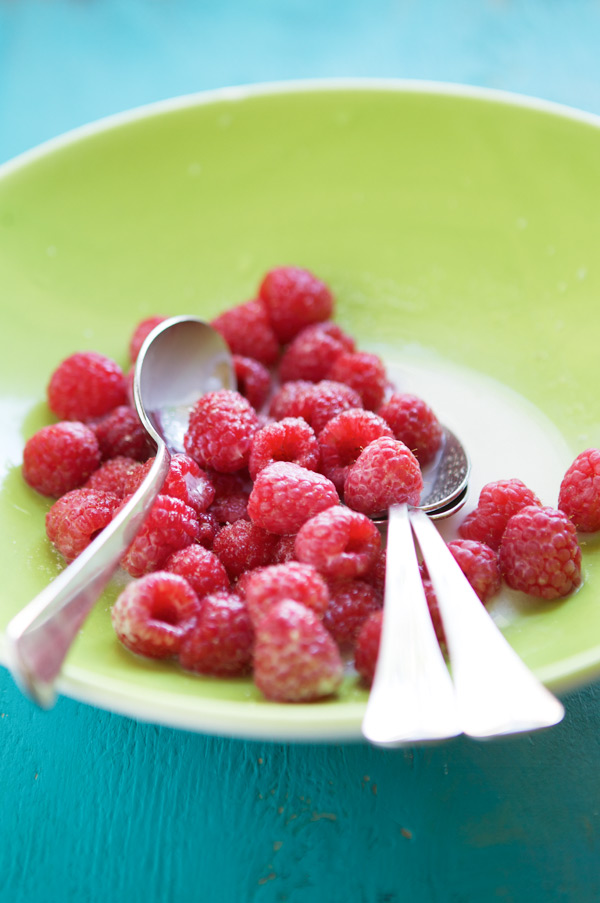 Before last week, Lulu had never eaten a popsicle. And oh the immense pleasure for me to watch her discover the food. Her first popsicle, ever! I was really curious to see what she would do with it.
Can you remember the last time you discovered a food for the first time? Wondering what it was? Whether you could actually eat it? And how? I find the feeling magical each time it happens.
And I must say, Lulu was pretty amazing. At first, she started to eat the popsicle by the wrong end. But shortly afterward, she figured out that she had to turn it in order to get to the interesting part. The ice.
Ouah !, (Wow !) she exclaimed with her lips and mouth touching the ice. She wasn't sure whether she should bite. Or lick. But she decided to bite. Instinctively.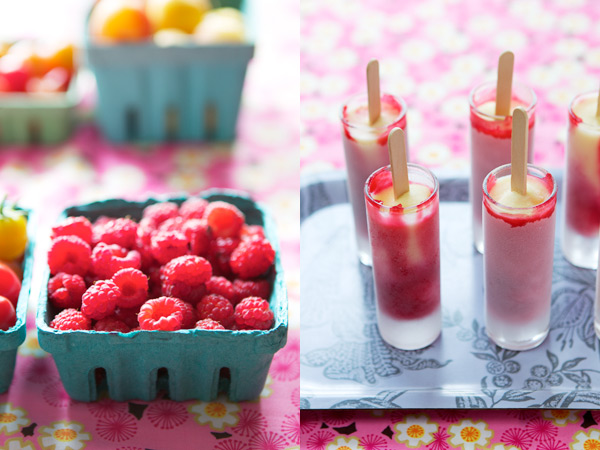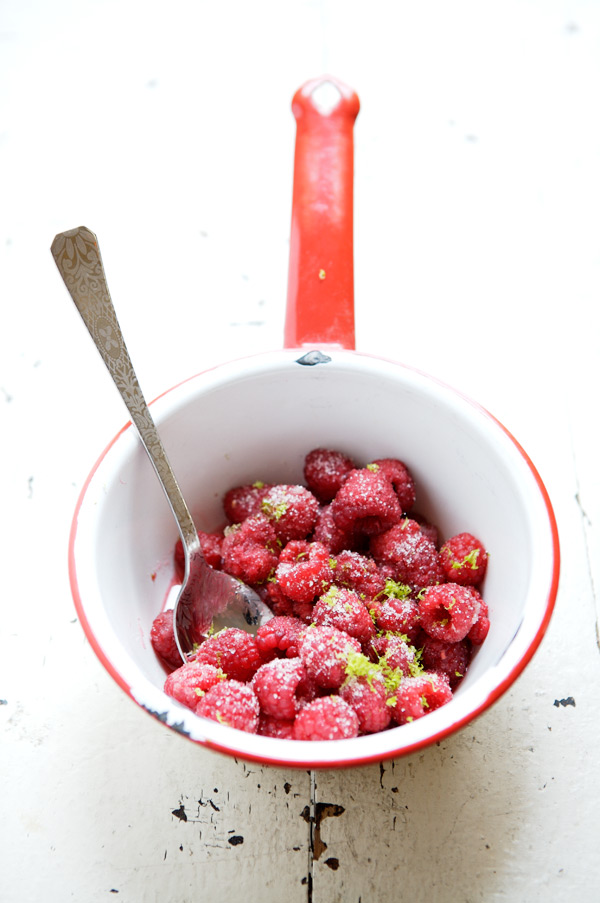 That's what my grandfather E. would have done too. Bite into the ice. I always loved that about him. And I'll always remember that about him too.
"Je préfère mordre dans la glace," (I prefer to bite into ice cream) he used to tell my brother B. and me with an amused expression on his face as he was biting into a cone of vanilla ice cream coated with chocolate, his favorite by far. It's silly but that scene used to give us the giggles.
And inevitably, the three of us would end up sitting on the couch in my grandparents' small dining room, with each of us biting into an ice cream cone while watching something on TV.
It was special.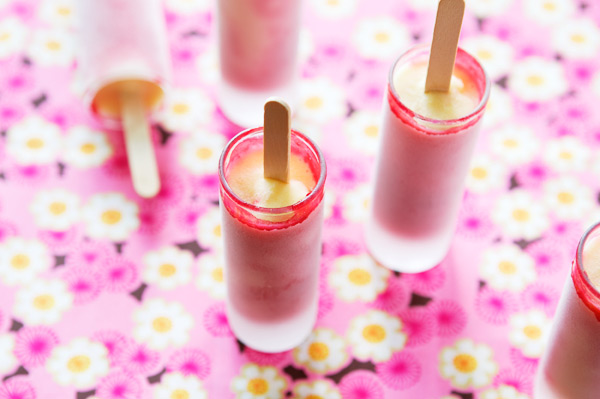 Raspberry and peach popsicles
For 6 yogurt popsicles (small shot glasses or 6 small popsicle molds)
You need:
The raspberry coulis:
1 cup raspberries
3 tablespoons blond cane sugar
1 tablespoon lime juice
The peach and yogurt purée:
1 1/2 cups plain whole milk yogurt
2 large peaches, peeled and diced (6.5 oz once cleaned)
1/4 cup blond cane sugar
2 tablespoons apple juice
1/2 tablespoon lime juice
Steps:
Place your shot glasses in the freezer.
To make the raspberry coulis: In a pot, combine the raspberries with the sugar and heat until the raspberries are soft. Transfer to the bowl of a food processor and purée finely. Strain to remove the seeds. Stir in the lime juice and let cool.
Pour the coulis in the glasses along the edges to describe a pattern and place in the freezer again.
To prepare the fruit purée: In a pot, combine the apple juice and sugar, and heat until the sugar is dissolved; let cool. In the bowl of a food processor, combine the yogurt, peaches, lime juice and apple juice. Purée to a fine texture; let cool.
Pour in the shot glasses. Place in the freezer again for about 30 minutes.
While the popsicles are still soft, insert the wooden sticks.
Place them in the freezer until they are fully set.
To serve, run the glass quickly under warm water to loosen the popsicle, then twist the wooden stick to release the popsicle from the glass.
Le coin français
Sucettes au yaourt glacé de pêches et framboises
Pour 6 sucettes (petits verres à liqueur ou 6 petits moules)
Ingrédients :
Pour le coulis aux framboises :
125 g de framboises
3 càs de sucre de cane blond
1 càs de jus de citron vert
Pour la purée de pêches au yaourt :
375 g de yaourt nature au lait entier
2 grosses pêches, pelées et coupées en gros dés (180 g nettoyées)
50 g de sucre de cane blond
2 càs de jus de pomme
1/2 càs de jus de citron vert
Etapes :
Mettez les verres dans le congélateur.
Pour faire le coulis aux framboises: Dans une petite casserole, mélangez les framboises et le sucre, et faites chauffer jusqu'à ce que les framboises compotent. Transférez dans le bol de votre mixeur et réduisez en purée fine. Passez au chinois pour enlever les pépins et ajoutez ensuite le jus de citron vert. Laissez refroidir.
Sortez les verres du congélateur et versez le coulis à l'intérieur des verres, en prenant soin de bien répartir le coulis sur les bords intérieurs. Remettez les verres au congélateur pendant 15 minutes.
Pour préparer la purée de pêches :Dans une casserole, mélangez le jus de pomme avec le sucre. Faites chauffer jusqu'à ce que le sucre soit dissout. Dans le bol de votre mixeur, mélangez le yaourt et les pêches avec le sirop. Réduisez en purée fine. Ajoutez le jus de citron vert et laissez refroidir au frigo.
Versez cette purée dans le verres et remettez au congélateur pendant 30 minutes.
Insérez les bâtonnets en bois.
Remettez au congélateur jusqu'à ce que les sucettes soient prises.
Pour servir, faites rapidement couler un petit filet d'eau chaude autour de chaque verre. Tournez doucement le bâtonnet de manière à ce que la sucette se détache du verre.