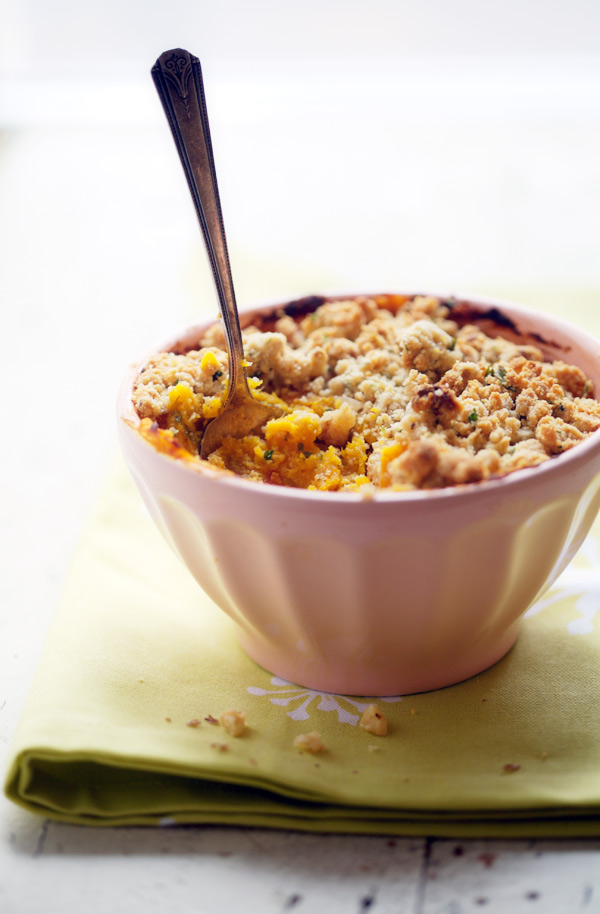 Butternut squash crumble for the Boston Globe
Fall is definitely my favorite season in New England. Beside the beautiful colorful foliage that cheers up the country and city parks, there are winter squashes. Butternut, acorn, red kuri, pumpkin. Oh, there are so many of them, in so many original shapes and attractive colors! I am always waiting for this time of year to bring them to our dinner table–at least twice a week, most likely more. Lulu, too, approves.
This recipe is a good example. It's a savory crumble that I created for the Boston Globe Food section. It's absolutely gorgeous.
Take a sweet crumble and replace the sugar with cheese, spice and herbs, and the fruit with vegetables and more cheese. Variants are endless, and this one is only one of the many savory crumbles that I enjoy to prepare.
Think about it as a side dish for your Thanksgiving dinner. Something new and distinctive to bring to the table to surprise your guests.
Follow the link here for the recipe.