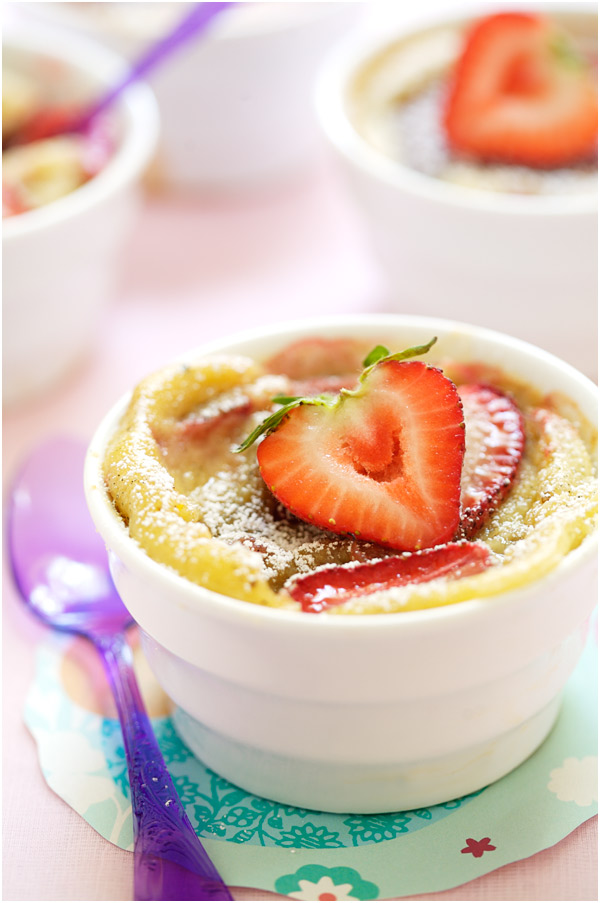 Orange-flavored Strawberry and Rhubarb Clafoutis
Not long ago, P. asked me whether the verb clafoutir existed in French. I smiled. I found the question so sweet that just for a day, or two, I pretended that it did indeed.
It would have read like this:
"je clafoutis, tu clafoutis, il clafoutis, nous clafoutissons, vous clafoutissez , ils clafoutissent."
Imagine that, so funny!
Wouldn't it make sense, though? English as a language always seems to be much more flexible than stubborn old French? Words come and go so much more easily.
Anyway, I know what you're going to say. Yet another clafoutis!
Well, I'll have to apologize. But then, it's really all we're having for dessert at the moment. It serves the purpose just fine. And we are quite all right with it. In fact, it's pretty good this way. In view of our life right now, that we're still able to enjoy a dessert that brings the sweet touch, you know, what we want after dinner, what we need after dinner after too many hours hunched over the computer, busy finishing up the cookbook. I am getting there!
I made this clafoutis a few times over the last few weeks, varying the fruit. In this one, I liked to combine fresh strawberries and rhubarb stewed with orange zest. It's seasonal, and always a winning association. Then, I mixed eggs with sugar, milk and coconut milk, almond flour and cornstarch. Baked for 25 minutes and ate them lukewarm dusted with confectioner's sugar.
A lovely every day dessert, simple and straightforward.
Lulu will have to love clafoutis as much as her papa and her maman. Sinon! (or else) But right now, she's only all about carrots and sweet potatoes. It has to start somewhere!

On another note, I'll be speaking this coming Sunday, at the Food Styling and Photography Conference happening at Boston University. I hope that I'll be able to meet some of you, and that I'll be all right! Oh boy! Wish me luck!
Orange-flavored Strawberry and Rhubarb Clafoutis
For 4 servings
You need:
For the batter:
Butter, for the ramekins
3 eggs
1/3 cup blond cane sugar
1/4 cup whole milk
1/4 cup cornstarch
1/2 vanilla bean, seeds scraped out
Zest finely grated of 1 orange
1/2 cup almond flour
1/4 cup coconut milk
Confectioner's sugar, to serve

For the fruit:


Rhubarb compote (you'll have leftovers, just lovely in plain yogurt)

14 oz young rhubarb sticks, diced
1/2 cup blond cane sugar
Zest of 1 orange finely grated

Steps:
To make the rhubarb compote, combine all the ingredients in a pot and bring to a boil. Reduce the heat, cover and simmer until the rhubarb is soft. Let cool.
Cut the strawberries into 4 pieces each; set aside.
Preheat the oven at 350 F. Butter four 1-cup ramekins; set aside.
In a bowl, dissolve the cornstarch in some of the milk. Whisk until homogeneous and set aside.
In another bowl, combine the eggs with the sugar, and beat for 1 to 2 minutes. Add the vanilla seeds, orange zest and almond flour. Mix well and then add the milk/cornstarch and coconut milk.
Divide the batter between the ramekins.
Drop 2 tablespoons of rhubarb compote in each ramekin and add slices of strawberries.
Bake for 25 minutes. Let the clafoutis cool at room temperate and serve them lukewarm, dusted with confectioner's sugar and extra pieces of strawberries.