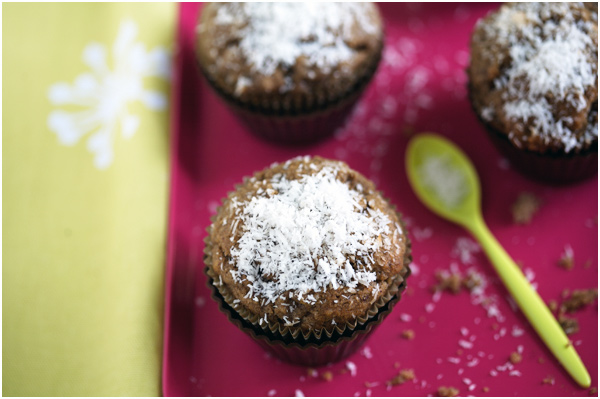 Coconut and banana muffins
I could hear the rain pat against the window pane. I was sitting at my desk, finishing an article I had been working on, and then I looked at the clock. 5:45. Déjà! I thought. Not much time before I feed and put Lulu to bed and start to think about dinner.
Patricia, my mother-in-law, was playing with her downstairs. I could hear them laugh; they were obviously having fun. Probably much more than moi and my article upstairs. I smiled, thinking about Lulu playing hide and seek with her grand-ma.
Well, June has just been a crazy month. But Patricia has been a doll with me. She's come to stay with us for a few weeks, to help so that I could write and, yes, hear it, it's happening, finish my manuscript. I am handing it to my editor on Wednesday and then I'll wait for feedback. Oh I just cannot wait for this to happen.
I was starting to feel tired. Maybe hungry.
I need a nibble! I thought.
I walked downstairs to get a bowl of pecan nuts and a glass of water. When she saw me, Lulu's face lit up with a smile so wide that I could see her bottom teeth; they are the cutest thing! She dropped the white bunny she was holding in one hand and started to flap her arms. "She is in good form," I told Patricia.
We laughed.
"Do you mind making dinner?" I went on . "I have a pound of veal for stew in the fridge."
"Of course!"
It's been a treat to have her in my kitchen, playing with my foods and testing some of my recipes too. On my end, I've enjoyed having her taste recipes I cooked for the book, and others randomly made. Like these muffins.
They happened quite by accident, as a matter of fact. The truth is that I had a bunch of organic bananas that were so ripe that they needed to find a home.
"I have to bake something with these bananas," I said to Patricia, holding a bunch of dark-looking ones. "I'd hate to toss them." It happens, you know, when I am too busy and leave them, unattended. Am I alone to do that?
So I thought about muffins. In fact, I was in the mood for something combining coconut with bananas.
I didn't have a recipe, but let my imagination lead me. And this is how these muffins arrived on our table.
They use quinoa, hazelnut and buckwheat flours; eggs; coconut oil; coconut milk, bananas and brown sugar. They bake in 25 minutes, are really simple to prepare and completely irresistible. And I don't mean to be bragging. They might not be the cutest muffins you've seen but they are extremely moist, not too sweet, and have the texture I love in a muffin.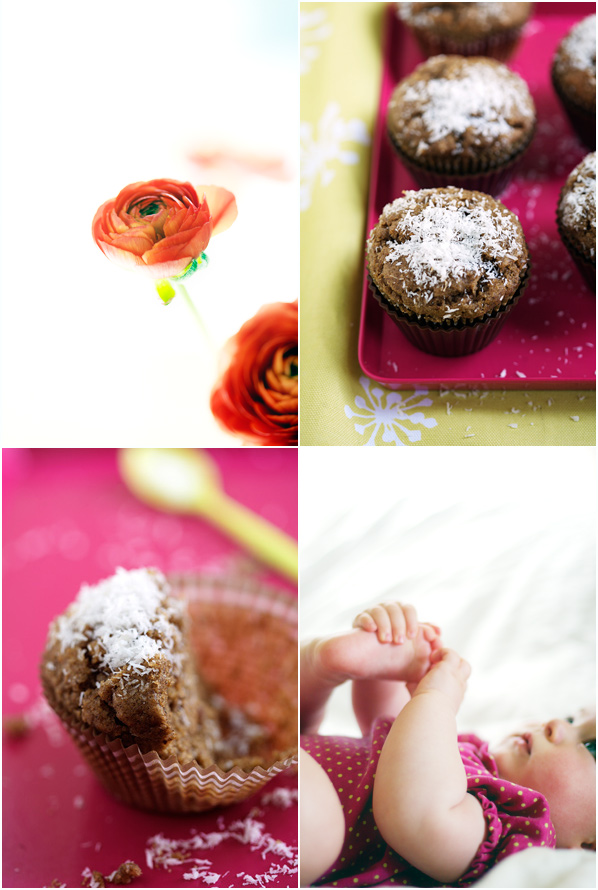 "Do you like them?" I asked Patricia when I handed her a plate with a muffin still warm from the oven. We were finished with dinner and were having a cup of tea, watching the Michael Jackson news on TV.
"They are divine!" she exclaimed.
I was happy.
I ate one for my mid-morning snack, one for breakfast, Philip took one to work. Then a friend stopped by and we ate a few with him, and I gave more to Patricia when she left yesterday. So in the end, ours are gone. Partis ! Pouf ! Disparus !
In only a matter of one day.
So I had to share the recipe with you. Hopefully, you'll like them just as much as we did.
A few notes. First of all, thanks so much for your patience! I am going to be able to have more time again, and this is just making me **really** happy! Secondly, the conference went well! It was really lovely to meet some of you. Third, I still haven't responded to some of your emails, and I apologize. I will hopefully be able to catch up with life in the coming months.
Starting on July 1st! Oh the prospect of the word v.a.c.a.t.i.o.n! Can you tell I am excited?
Banana and Coconut Muffins

For 10 muffins
You need:

3 ripe bananas
2 eggs
2/3 cup packed (100 g) dark Muscovado sugar
1/3 cup unsweetened grated coconut + more for topping
1 cup quinoa flour
1/2 cup hazelnut flour
1/2 cup buckwheat flour
1/2 cup coconut oil*
1/4 cup unsweetened coconut milk
1 teaspoon baking powder
1/2 teaspoon baking soda
Pinch of salt
*In a pot, heat the coconut oil on low to medium heat until melted. Measure then.
Steps:
In a bowl, mash the bananas with a fork; set aside. Preheat the oven at 350 F. Fill a muffin mold with paper cases; set aside.
In the bowl of a stand mixer, beat the eggs with the sugar until light and fluffy.
Add the oil and mix well. Add the coconut milk and mix.
In a bowl, combine the flours, grated coconut, baking powder, baking soda and salt.
Add the dry ingredients to the wet ones and mix until just combined.
Add the bananas and mix gently.
Fill the muffins cases. Sprinkle with more grated coconut and bake for 25 minutes.
Le coin français
Muffins aux bananes et à la noix de coco

Pour 10 muffins
Ingrédients :

3 bananes bien mûres
2 oeufs
100 g de sucre roux Muscovado
1/3 tasse noix de coco râpée + pour finition
100 g de farine de quinoa
1/2 tasse de farine de noisettes
1/2 tasse de farine de sarrasin
120 ml d'huile de noix de coco*
1/4 tasse de lait de coco non sucré
1 càc de poudre à lever
1/2 càc de bicarbonate de soude
Pincée de sel
*faites chauffer l'huile de coco sur feu doux pour qu'elle se liquéfie. Mesurez ensuite.
Etapes :
Dans un bol, écrasez les bananes avec une fourchette. Préchauffez le four à 180 C. Remplissez un moule à muffins de caissettes en papier, mettez de côté.
Dans le bol de votre robot, battez les oeufs avec le sucre jusqu'à ce que la préparation soit légère et claire de couleur.
Ajoutez l'huile, et le lait de coco et mélangez.
Dans une jatte, mélangez les farines, la poudre à lever, la bicarbonate de soude et le sel.
Ajoutez les ingrédients sec à la préparation liquide. Mélangez.
Ajoutez les bananes et mélangez à nouveau.
Remplissez les caissettes en papier. Saupoudrez de noix de coco râpée et enfournez pendant 25 minutes.