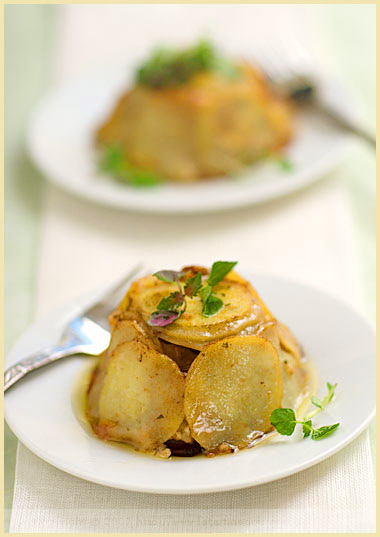 Potato, apple and Camembert Timbale, for the Boston Globe
Is it really already time to pack again? I am sure that I am not alone to sometimes feel that it would be super chouette to simply close your eyes, and imagine that you are already where you are supposed to go. Sorry for leaving you again without a recipe today. But wait! Pas complètement !
I was delighted to publish my third article today in the Boston Globe's Food Section: The Shape of Simple Elegance. Check it out! There is even a recipe (with a Potato, apple and Camembert Timbale), so I am not leaving you with nothing.
This time I am going to the west coast, to Los Angeles more precisely (that is if I manage to get up tomorrow morning to hop on my flight). I hope to come back with lots of interesting things to share with you. I will give you a clue: it has to do with food and styling. Stay tuned, and be well!

A bientôt !