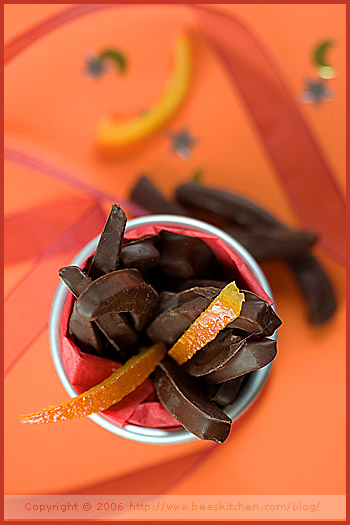 Orangettes
I am late, I know.
Although I miserably failed to be ready on time to prepare many of the sweet Christmas treats I usually like to bake, I yet managed to squeeze in a few of the many delicacies that are always on my to-do Christmas list. This little hiccup actually triggered the following thought. There is not a logic valid reason for me to think that I can only make orangettes and chocolate mendiants at Christmas. As long as oranges are seasonal and I can find them organic — I am glad it is easy here — and in view of the many nut containers in my pantry, these sweet treats are appropriate and can be prepared any time! I should not forget to mention that they make great gifts. I have not yet met anyone who thinks that gifts of that type are only good around Christmas. Come on, if you think the opposite, you must be lying!
I am not usually the one in my family to make orangettes. My sister-in-law is, turning herself into an orangette maker every Christmas. This year however, it did not help me much to know that she repeated the tradition since she lives in my home village in France, thousands of miles away from where I am. If I wanted to eat orangettes, I had to make my own. As we spent Christmas with P's Irish family, I decided to bring some French tradition to the Christmas table. They would serve plum pudding and do "ah, oh, ah" when flambeing the dessert, I would quietly nibble on my orangettes and chocolate mendiants.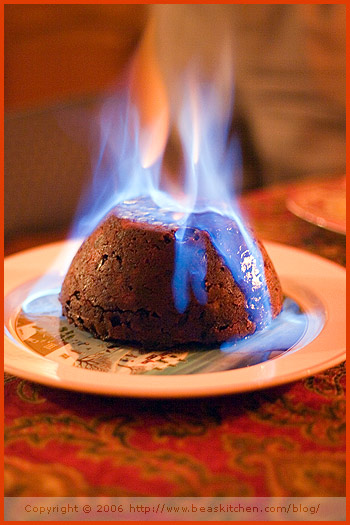 Plum Pudding on Christmas Day
Orangettes are nothing more complicated than candied orange peels dipped in dark chocolate. Not a bad match when you think that orange and chocolate are two flavors matching perfectly together. Since the orange peel is eaten, it is important to use organic oranges as much as it is to use a quality chocolate — I like my cocoa percentage at 70%. I made a few orangettes batches and kept a few candied orange peels intact to be used in creating mendiants.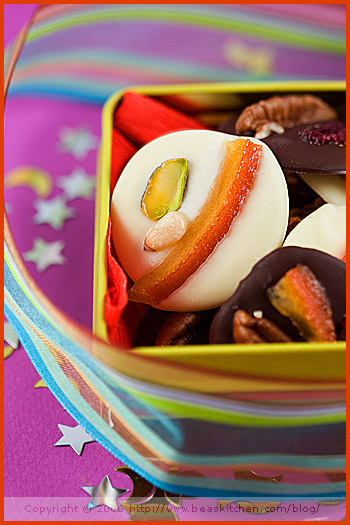 Originally, mendiants are a specialty from the South of France, as one of the thirteen desserts found on Christmas Eve tables in Provence. The set of dried fruit includes almonds, figs, hazelnuts and raisins. It was believed that the color of each dried fruit symbolized the different robes which monks from the Order of the Mendiants used to wear, hence the name of this sweet food. Nowadays, Mendiants are commonly made with Chocolate, presented in small chocolate rounds topped with dried fruit and nuts.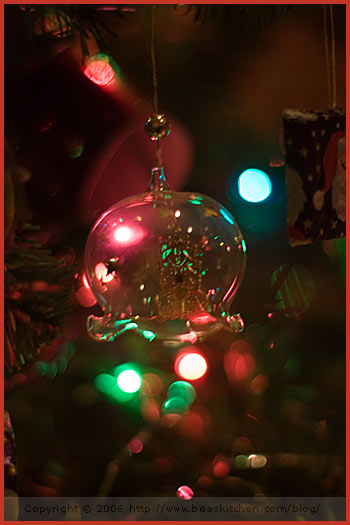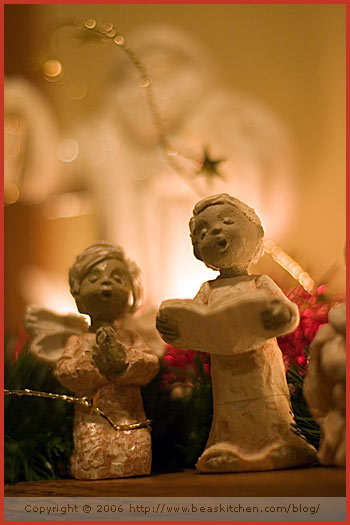 At the thought of spending a typical Irish Christmas dinner, I knew well that plum pudding would be the unavoidable dessert and quickly realized: "Béa is going to miss chocolate terribly!" It did not fail. Probably very traditional — I just like chocolate that much — and not in need to think further, I knew that the gifts bags I wanted to bring with me would contain chocolate. One for him, one for her, one for them, one for….and one pour moi. Bien sûr, I added some extras bags. Well planned, I thought. Except one thing: I had simply forgotten that my mother-in-law only eats milk chocolate — and would you guess what brand on top? — and my gifts contained none. How clever was that? I suspect that my unconscious forced me to forget that important detail. She might not have eaten a single one, but did it matter really? We ate them all.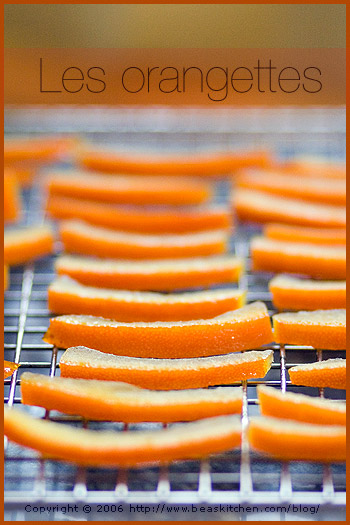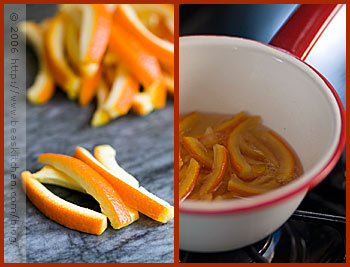 Orangettes
You need:
Orange peels
Sugar, same weight as the orange peels
Water, same weight as the orange peels
Dark chocolate, 70 % cocoa
Steps:
Peel the oranges and cut the peels in sticks, 0.2″wide.
Blanch them 3 times in boiling water, for 3 mns each time (change the water each time).
In a small pot, mix the sugar and water to make a syrup, and bring to a small boil. Add the orange peels and simmer on low heat for 30 mns.
Strain and place them on a cooling rack to dry (overnight).
Melt the chocolate in a double boiler and dip the orange peels in it, using a fork.
Strain them and place them on a Silpat or special chocolate sheet (acetate sheet) to cool. Store in a metallic box.


Note: Blanching the orange peels helps for the candying process as the orange peels soak more sugar in.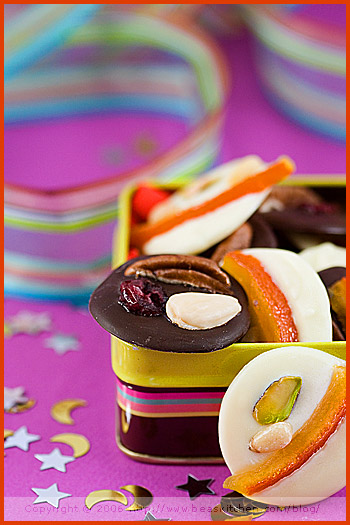 Dark and White Chocolate Mendiants
You need:
White chocolate
Dark Chocolate 70% cocoa
Nuts of all sorts such as walnuts, pecans, pistachios, pine nuts
Dried fruit such candied orange peels, dried apricots and cranberries sliced
Steps:
Melt the chocolate using a double-boiler.
Take a small spoon and form small rounds of chocolate on a silpat. When still warm, top with dried fruits and nuts, as you like.
Let cool and detach from the silpat when hard.
Le coin francais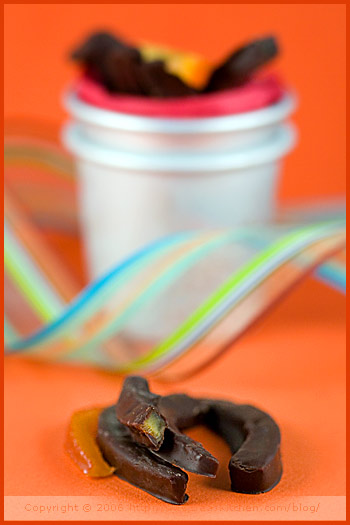 Orangettes
Ingrédients :
Pelures d'oranges
Sucre fin, même poids que les pelures d'orange
Eau, même poids que les pelures d'orange
Étapes :
Pelez les oranges et coupez la peau en bâtonnets de 0,5 cm de large.
Blanchissez-les 3 fois dans de l'eau bouillante, pendant 3 mns à chaque fois (changez l'eau).
Mélangez le sucre et l'eau pour réaliser un sirop. Portez à ébullition et ajoutez alors les bâtonnets d'orange. Faites cuire sur feux doux pendant 30 mns.
Égouttez et placez les bâtonnets sur une grille pour qu'ils sèchent (24 heures).
Faites fondre le chocolat au bain-marie et trempez les orangettes dans le chocolat à l'aide d'une fourchette, pour les enrober.
Égouttez et placez sur une feuille guitare ou un Silpat.
Laissez sècher à l'air libre et conservez ensuite dans une boîte métallique pendant quelques jours.

Remarque : blanchir les pelures d'orange permet aux oranges de mieux confire.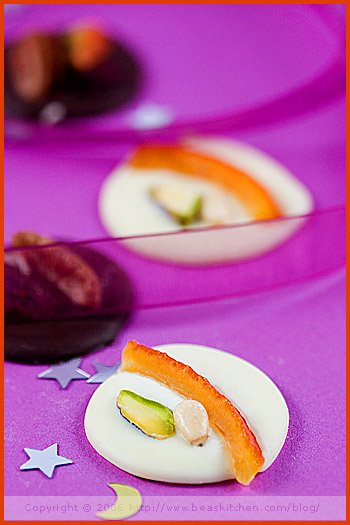 Mendiants au chocolat noir et blanc
Ingrédients :
Chocolat blanc
Chocolat noir à 70% de cacao
Noix de toutes sortes telles des noix, pécanes, pistaches et pignons de pin
Fruits secs tels que des oranges confites, abricots secs et cranneberges, coupées finement
Étapes :
Faites fondre le chocolat au bain-marie.
A l'aide d'une petite cuiller, formez de petits ronds sur un Silpat ou une feuille guitare et placez des bouts de noix et de fruits secs dessus. Laissez sècher.
Décollez-les une fois durcis et dégustez.