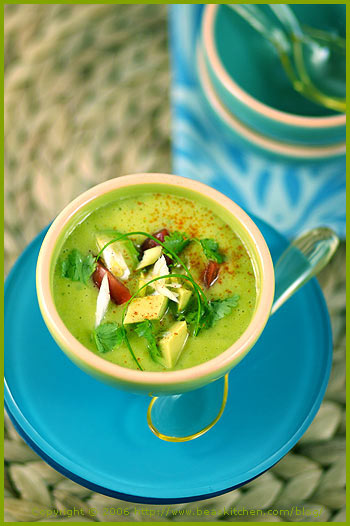 Il fait trop chaud pour travailler !
(It is too hot to work!)

Pulco pulco pulco citrooooooooon !
How can I forget this famous sentence played over and over in a Pulco publicité. According to my mum, when I was little, I used to know by heart every one of the TV ads! Only a few seconds were needed for me to "jump" in and sing the words at full volume. And how much fun is there to remember some famous lines, once in a while. I was not even a TV kid, but I just had une mémoire d'éléphant (an elephant memory)!
So yes, it is too hot to work or think straigth. It happens here, it happens elsewhere. If you were reading the French news, this is the word you would see everywhere:
L a C A N I C U L E ! (dog days)
Record de chaleur pour le mois de juillet. (Heat record for the month of July). It is a terrible thing everywhere, but more particularly in countries where there are hardly any facilities to deal with it. You would think that France knows how to cope with the issue, wouldn't you?

Le paradoxe de la France
I still cannot believe that every single time I call my parents and ask whether they finally decided to buy a decent fan, they respond "Oh ça va, on essaye de ne pas trop bouger, c'est tout !" (it's ok, we try not to move too much, that's all) Quoi ? Mais pourquoi ? (What? But why?) Fair enough, I know that because houses in France are made with concrete or bricks, it is easier to keep the heat outside. Since every house also has shutters, you fight against the heat by closing them. But no fans! Why mum? Why dad? I am not even talking about apartments, public places where you are also lucky if you find AC or a fan, or taking the métro in big cities. L'horreur ! Un désert souterrain (An underground desert). As I was pondering on the topic, I found out what David thought on the subject as well. Go and see his experience of la canicule à Paris.
So, only one word, it is HOT.
I guess I am realizing how much the weather can affect us people in everything we do. Et franchement, c'est pas la joie ! (To be honest, it is not fun!). After 8 years of fighting over AC and such (yes the French can be weird like this), I finally sleep with AC and I am asking for more. Last night, P. was telling me: "I don't even know WHY I waited for 8 years until you agreed on this. I should have forced you!" Tough to change some habits, isn't it?
Well, so much for cooking. What do we do in times like this though? What do you cook?
Me?
It really looks as if this were going to be my trend of the summer. I move between making many sorbets and cold soups, of all sorts. I just have a a hard time thinking about cooking dishes that involve a lot of steps and the use of pots and pans. In fact, the simpler, the better, because even the mere act of eating creates more heat and sweat! What is wrong with our planet Earth? Al Gore is definitely right. (If you saw the Inconvenient Truth, did you get as freaked as I did?)
A 3 Step Soup, with No Heat Involved
This cold soup is easy to make. Do you believe me if I tell you it is only a 3-step soup? Vraiment ! Wash, cut, and blend. Ni plus, ni moins. (neither more nor less) And it is refreshing. You find fish sauce, orange and lime juices, scallions and avocado to name a few ingredients.
It really suits my needs these days….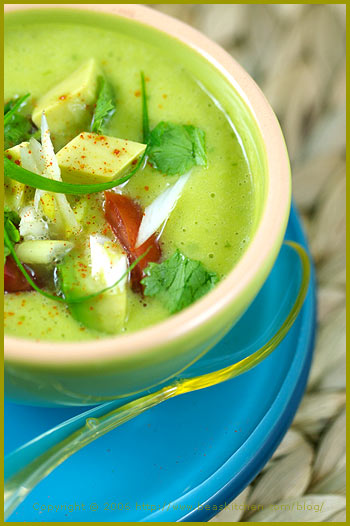 Cold Avocado, Orange and Lime Soup
You need:
(for 4 people)
For the soup:
1 + 1/2 cup water
1 avocado
1 cup orange juice
3 to 4 Tbsp fish sauce
1/4 cup lime juice
Pepper to season
1 scallion (white part)
2 Tbsp coriander
1 Tbsp brown sugar (optional)
For the garnish:
1/2 avocado
Coriander
cherry tomatoes
Scallions
Steps:
Put all ingredients in a blender and mix until smooth. Place in the fridge until ready to use.
Chop the garnish ingredients in tiny pieces.
When ready to serve, pour a ladleful of soup in a bowl and add the garnish.
Serve very fresh!
We need this these days.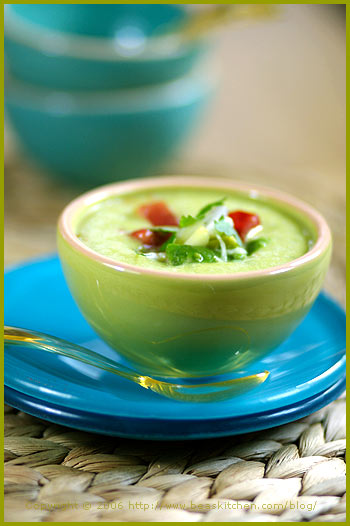 Le coin français
Soupe froide à l'avocat, orange et citron vert
You need:
(Pour 4 personnes)
Pour la soupe
350 ml d'eau
1 avocat
240 ml de jus d'orange frais
3 à 4 càs nuoc-mâm
60 ml de jus de citron vert
Poivre
1 oignon tige (partie blanche)
2 càs de coriandre
1 càs de sucre roux (facultatif)
Pour la garniture :
1/2 avocat
Coriandre
Tomates cerises
Oignons tige
Étapes :
Mettez tous les ingrédients de la soupe dans un mixeur et mixez pour obtenir une préparation homogène. Mettez au frigo jusqu'au moment de servir.
Coupez les ingrédients de la garniture en petits dés.
Quand vous êtes prêt à servir, mettez une louche de soupe dans un bol et ajoutez de la garniture.
Servez très frais !
On a besoin de cela ces jours-ci !