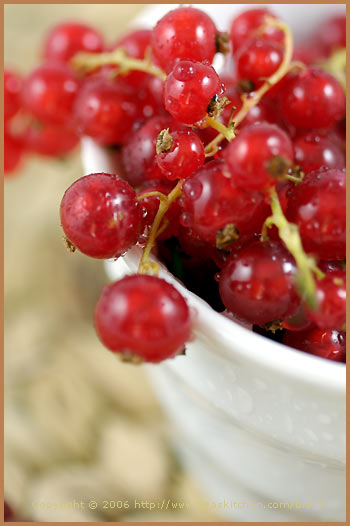 Groseilles rouges — Red currants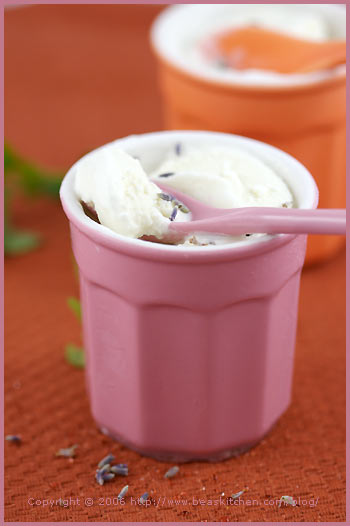 Glace à la lavande — Lavender Ice cream
We all know and experience feelings of Deprivation at times. In French, called le manque or la privation.
Sometimes it can be small and sometimes it feels huge like a mountain!
I recently had a conversation with a friend who told me an interesting story. Although he enjoys camping a lot, every time he returns from a camping trip where he has been 'deprived' of what a comfortable civilized life provides, he has an urge to buy stuff. And he is not even of the consumer-type.
Où nous mène le manque ? (Where does the feeling of deprivation take us to?)
This is exactly how I feel when I go to vegetable markets — amongst other things — , and find vegetables or fruit I have been waiting for, for quite a while. Back from one of my local markets last week, I found myself filling that deprivation feeling, and bought so many fresh berries that it meant that I would be cooking comme une folle (like a mad woman) for days! You see, back in May, I had already called them to ask whether they carried des groseilles, red currants.

"Not before June. Call us back then!" is what they told me then.
So, the month of June came, and with it, I had almost forgotten about my groseilles. Until my trip to visit the market last week. Not only did they have my precious red currants, but they also had white currants (des groseilles blanches) and yellow raspberries (des framboises jaunes). Fruit of that kind don't keep for long, we all know this. I had to think about recipes fast.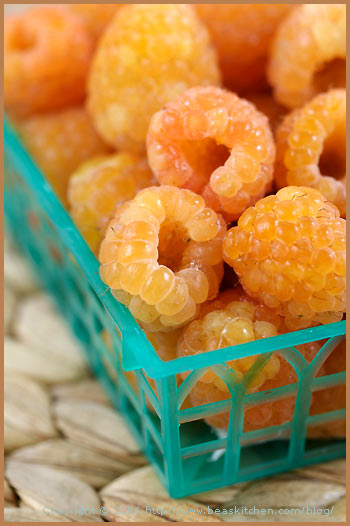 Framboises jaunes — Yellow Raspberries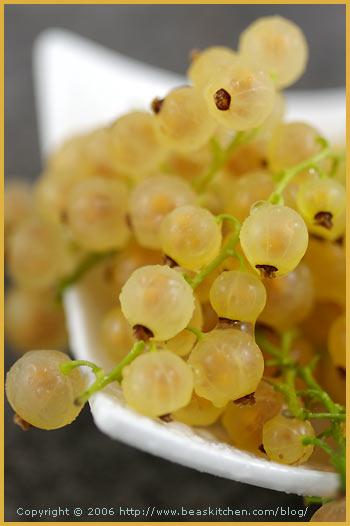 Groseilles blanches — White currants
I actually did not feel like baking, or making jams. It is just way too hot here these days. Instead, I set my mind for simple desserts that involved a lot of fresh fruit salads infused in syrup, fruit soups, and a homemade lavender icecream. I will be talking about all of those in my coming posts, so let's start with recipe #1 in the series of How To Use Fresh Currants.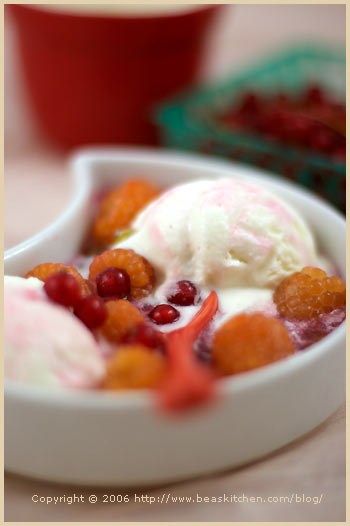 La glace à la lavande et sa salade de fruits
(Lavender Icecream and its Fruit Salad)
When you do not live in Provence, there are still ways to feel as if you lived close to those beautiful purple-looking fields full of this fragrant flower, la lavande. I often wish that I could travel through le Lubéron, in Provence, whenever I want! Two years ago, my parents, P and I had decided to meet in le Lubéron instead of my home village. We rented an adorable house in St Martin de Castillon, a small village provençal.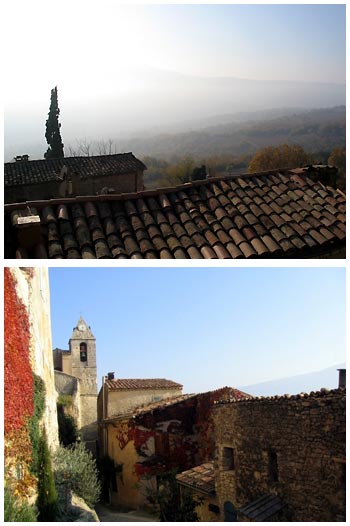 St Martin de Castillon, Lubéron
For a week, we enjoyed visits to local fresh produce markets, walks in the area — including the Canyon du Lubéron and its Colorado provençal (yes the French want to think they have a Grand Canyon too, but to tell the truth, since I already hiked the American Grand Canyon, all I can say is that the French is way much smaller!),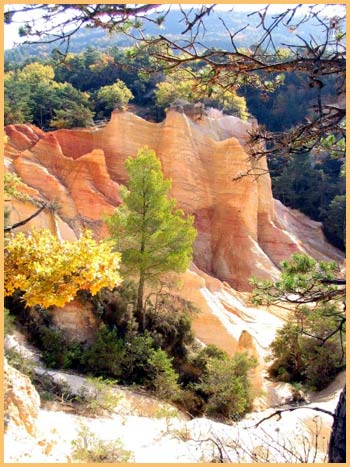 Canyon du Lubéron, Colorado provençal
— a visit to the beautiful city of Avignon, and the crème de la crème for the cook in me, the purchase of lavender flowers that I managed to sneak in my bag, with the hope that the customs sniffing dogs would not come close to it, to show that I was a culprit. Snif snif, here, snif snif…the dog stopping and sitting down looking at me….she has something! Master, look! Since then, I have actually found out that I can purchase lavender seeds here in the US. In Boston as an example, I bought mine at Formaggio, a great place to find all sorts of imported foods.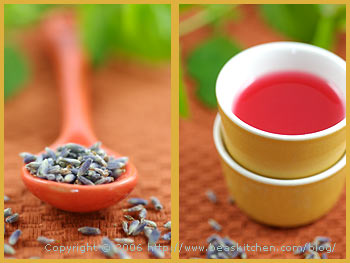 Fleurs de lavande et sirop aux groseilles — Lavender Flowers and Red Currant Syrup
Using culinary lavender is fairly easy. For the ice cream, I decided to infuse the milk with lavender flowers, and it worked as a charm. I used the same method to make the lavender-flavored syrup, with the addition of red currant purée. I particularly liked that I did not use egg yolks for the ice cream. Maybe I could try variants next time. I did a few batches and also tried different types of sugar. The first one I used was a fine blond sugar while the second one was darker and more granular. Both gave satisfying results. Once the ice cream is made, the ideas on how to serve it abound. Nature (plain), or with fruits, such as in the recipe that follows.
Both P. and I enjoyed it a lot, and I am not even too much of an ice cream person. Suffice to say that it did not replace a trip to the Lubéron, but we were pretty happy all the same. Little things can make us content.
Note: for more ideas on how to use all kinds of seasonal and unusual berries, along with lavender, check out some of my favorite food bloggers' ideas here with L, and here with Anita. They are on my to-try-list.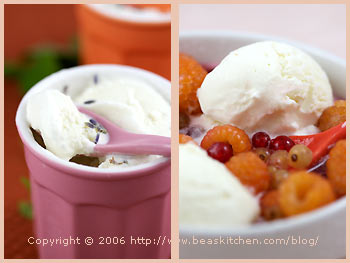 Lavender Ice Cream
You need:
2 Tbsp lavender flowers
4 + 1/4 cups milk*
1 + 1/8 cups heavy cream
10.5 oz fine sugar
*I used 2% milk

Steps:
Mix together the sugar and the milk in a pot, and bring to boil.
Remove from the heat and add the lavender flowers.
Let infuse covered for a min. of 8 hours, overnight if you can.
Filter the milk.
Whip your cream firm, into chantilly, and add it carefully to the lavender milk.
Place in your ice cream maker and use according to the manufacturer's instructions.
Place in the freezer until ready to use.
For the fruit salad and its syrup
You need:
1/2 cup water
2 oz + 1 Tbsp fine sugar
7 oz red currants
1 tsp lavender flowers
Yellow raspberries and red currants (3 oz per person, or according to your taste)
1/2 lemon for its juice
2 to 3 Tbsp confectioner's sugar
Steps:
To make the syrup with red currants, mix together the water and sugar, and bring to a boil.
Remove from the heat and add 1 tsp lavender flowers.
Let infuse and cool down.
Filter.
Mix the red currants into a purée, and use a sieve or a chinois to remove the seeds.
Add this purée to the cool syrup, and mix well.
Wash your fruit.
Mix with the lemon and sugar.
Add the fruit to the syrup.
Serve this fruit salad with a few lavender icecream scoops.
Le coin français
Glace à la lavande
Ingrédients :
2 càs de fleurs de lavande (les graines)
1 l de lait
250 ml de crème liquide
300 g de sucre en poudre

Étapes :
Mélangez le sucre et le lait dans une casserole, et faites bouillir.
Retirez-la du feu, et ajoutez les fleurs de lavande.
Laissez infuser la lavande dans le lait, à couvert, pendant au moins 8 heures, ou mieux, toute la nuit.
Filtrez le lait.
Montez la crème en chantilly, et ajoutez-la au lait parfume a la lavande.
Faites prendre en sorbetière, en suivant les instructions du fabricant.
Mettez au congélateur, jusqu'au moment de servir.
Pour la salade de fruits et le sirop
Ingrédients :
125 cl d'eau
60 g de sucre
200 g de groseilles rouges
1 càc de fleurs de lavande
Framboises jaunes et groseilles (80 g par personne, ou selon votre goût)
1/2 citron pour son jus
2 ou 3 càs de sucre glace
Étapes :
Pour faire le sirop aux groseilles rouges, faites bouillir 125 cl d'eau avec 60 g de sucre.
Retirez du feu et ajoutez 1 càc de fleurs de lavande.
Laissez infuser et refroidir.
Filtrez.
Mixez 200 g de groseilles rouges en purée, et passez cette purée au tamis, pour retirer les pépins.
Ajoutez la purée au sirop refroidi, et mélangez bien.
Lavez vos fruits rouges (framboises jaunes et groseilles).
Citronnez et saupoudrez-les de sucre glace.
Mélangez les fruits avec le sirop.
Servez cette salade de fruits avec quelques boules de glace à la lavande.