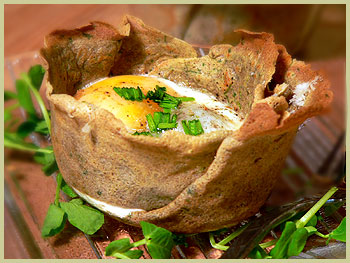 Egg Baked in Herb Crêpes
Sam's and I read:
What?
Pancake day? When? T.O.D.A.Y? Are you sure? Nobody told me!!!
I pulled another window and surfed to another blog by a fellow foodie, Jam Faced and I read:
Again!
Did I miss something? What planet do I live on?
This past vacation really made me forget about the essential things of this world, what month it is, what day it is, what I am supposed to celebrate! Of course sacré bleu, how could I forget this time of year, from la chandeleur to Mardi Gras, when in France and other places we make crêpes, crêpes, more crêpes (and beignets (doughnuts))! But of course, I get it now. I know what happened! I was simply not here, so I am thankful to see I am just not as of yet losing it fully.
At the discovery of the news however, I had to sit down. Yes so early in the day. I was having a memory moment! Filled was my head with the memory of my childhood, when my mum would prepare a whole stack of crêpes for dinner – at that point, I think my brother and I must have begged her with it for days "Maman, c'est quand qu'on mange des crêpes ?" (Mum, when are we eating crêpes?) She was a patient woman but would give up in the end. Those times were just heaven on earth-and I mean not our nagging but les crêpes-, the perfect idea of a dinner for a young French girl and her brother: crêpes with sugar and lemon juice. We would roll them as cigarettes (kids playing and acting like they are adults, you know) and gulp them down so quickly that I wonder now why our stomach was not exploding! And don't ask me why, my brother and I also had a tradition: with crêpes, we would drink Geyer lemonade (made 5 kms away from my home village, today called Lorina and sold in delicacies places (épiceries fines ) or at Whole Foods even – I knew that back then, I should have invested my pocket money in their business!)
So yesterday, despite that true love I have for crêpes – I don't call it addiction yet-, I just did not think I was going to be able to make up for that lost event and make crêpes. I had no milk at home and did not feel like going to the store. More importantly, I had a date with my friend Pato and quite understandably, had no time or any desire to do errands such as buying milk. I know what you are thinking, getting a bottle of milk is no rocket science, but I was simply not in the mood to be grocery-shopping, even for a simple bottle of milk. I have days like this!
I was a lucky girl though I thought. I knew immediately that my obsessive organizational skill whatever-you-call-that-thing would become handy on such days like yesterday. I was indeed remembering the topic of a post written before I left, with a recipe for crêpes.
If you are French and you do not know how to make crêpes, it is like you are…well, what is it exactly, can you tell me? Could it be like I do not know where the Eiffel Tower is. Just kidding! In any case, there is one sure thing. I am French and I love crêpes. Nothing beats the experience to travel to Paris and as a street snack, eat a crêpe sucre – citron (sugar and lemon juice) rolled in paper. The process by which I eat my crêpe in the street is quite messy (I end up with sugar in unexpected places) but it is just too good to mind what people might think of the scene: an adult with sugar all around her mouth and face. Only P. seems to mind, or at least is honest enough to tell me. Others might just smile and walk away.
You can eat crêpes sweet (I have a recipe here with vanilla) or savoury. In such cases, crêpes are no longer called crêpes but galettes. We like to make things difficult for all those poor foreigners learning French (and let me tell you, I have had a lot of those kinds of questions when I taught French). For galettes however, the flour used is different, such as in the recipe that follows:
Egg Baked in Herb Crêpes
(for 4 people)

You need:
For the crêpe/galette batter
2 large eggs
1 cup milk
1/3 cup water
1/2 cup buckwheat flour
1/2 cup white flour
2 spring onions thinly chopped
1 tbsp chopped coriander
1 tbsp chopped parsley
2 tbsp melted butter
Pinch of salt
For the filling
1/2 cup chopped mushrooms (I used dried cèpes)
4 slices pancetta
1/2 cup grated gruyère
4 eggs
2 spring onions or shallots
Fresh chives
Fresh sage or tarragon
Salt and pepper
Cream (optional)

Steps:
Place all ingredients for the batter in a food processor, starting with the eggs, milk, water and adding the solid ingredients. Mix well together and place in a bowl.
Cover and place in the fridge for a minimum of an hour before using.
Take a frying pan (a special crêpe pan if you have one) and melt a dash of butter. When done, pour some batter in the pan and make a circular movement to coat all of the pan.
Cook for a few mns, until browner and then flip your crêpe on the other side. The key thing is this: the second side will not be as brown as the first and this is normal. Cook as many crêpes as you have batter. Set aside.
Preheat the oven 325 F ( 160 C).
Grease 4 small molds with oil and place a crêpe in each mold, make little pleats.
Soak your mushrooms as suggested on package if you are using dried mushrooms like I did. But fresh are better.
Mix together the chopped mushrooms, the sage or tarragon, the chopped pancetta and shallots. Divide this preparation between each crêpe and break one egg on top, with a dash of salt and pepper. You can add some cream if you want.
Finish with the parmesan cheese and then place in the oven for a minimum of 15 mns (sometimes it can take up to 20 mns), so check regularly.
Take out of the oven. Let cool for a min or so and then unmold your crêpe.
Place on a plate and decorate with some salad greens, alfalfa or arugula.
It is an excellent idea for meals like an appetizer, a brunch dish or a light meal/snack.
Another variation I have done with the same concept: mix together an egg with some ricotta cheese. Add chopped cherry tomatoes, a chopped shallot, fresh herbs and grated gruyère. Pour the preparation in the crêpe and bake in the oven (same temperature and time). Place chives on top when you take out of the oven.
Note: You will probably be left with more batter for more galettes!
Adapted from Crêpes, Sweet and Savory Recipes for the Home Cook