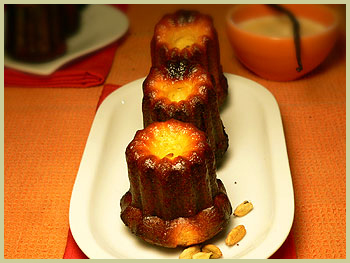 There are many good reasons why I love winter.
First, I come from a cold area in France, so I am used to it. J'suis une fille du Nord!
Then I love snow. Yes I said it, to the horror of my friend Pato (Quack !Quack!) from Argentina. Let me tell you how much she hates snow!
And I love winter sports, skiing and snow shoeing, and surely enough, living in New England gives you plenty of that.
In winter, Nature reveals a beauty that makes me feel very alive. Cold helps too , it is a fact. You cannot avoid feeling the cold in New England winters. It can be just in your face.
While in the French Alps over the Christmas break, I took those shots on one of our walks. It was beautiful that day, bitterly cold too.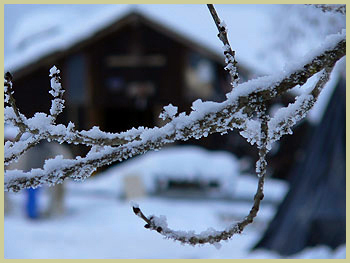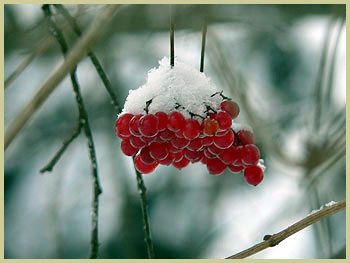 This is defining the winter context for the topic of today.
Like many things, there is always a reason why we people like one particular thing and not another. If I like winter and cold so much, it is because I like the after time, the time after the harshness, the time after the cold, the time to replenish with great warm drinks and comfort food. And there are many things that can define that, the ideal comfort food. Fred from the beautiful blog Frais reveals her comfort food secrets, with a nice Tarte tatin à l'oignon et au chèvre, (Tarte tatin with goat cheese and onions). Just looking at her tart picture warms me up!
On a cold day in the mountains (or in New England, as all New Englanders know, we do get snow just around here!), my comfort food after a nice walk out could just be as simple as sipping a hot chocolate, like this appetizing one shown by Viv at Seattle Bon Vivant, or a nice hot lemon/honey/ginger drink. But I would be a little bit too reasonable if I did not add that with this, there cannot not be food involved. But for this topic, the options are plentiful. You just have to look at those beautiful apples from Nicky and Oliver at Delicious Days to understand the vital side of comfort food! It feels just so good and right.
In the South-West of France, there is a star , call it a gem, that I like. In Bordeaux, this gem has a place of recognition. This star has a name, and for those who do not know them yet, let me introduce you to les canelés.
Canelés
I am not from Bordeaux but I love canelés. How to describe the eating experience of a canelé? Chewy, a touch of caramel flavour for the crust, feeling fragrant fresh vanilla with a beautiful touch of rum, and so moist inside. This is just the kind of pastry I love. In many ways, it reminds me a lot of one of my favorites of all, le clafoutis aux cerises (cherry flan is the closest translation I find) (or my plum version here). Oddily enough, I discovered canelés in New Zealand and not while living in France. I lived in Wellington where there was (probably still there?) a French bakery called Bordeaux. As the name indicates, the baker working there is from Bordeaux, and while living miles away from the nest, he took with him the required skills to bake his little canelés. That surely made me happy! And so, because I was a good customer of the bakery, I also became a canelé addict.
While living in the US, finding the right molds to make those little treats was a bit of a challenge. I could have ordered them on line, (Mauviel Copper Canele Mold is a good choice) , I decided to take a shortcut and ordered them directly from a bakery in Bordeaux. I first started with small silicone ones but it is really not the same as using copper molds, which I strongly recommend. When my molds arrived, I could not hide my happiness and enthusiasm for long. I rushed to the store right away to get all the required goodies to make my canelés. Once this was accomplished, I came home to only realize the following : I would need to wait until the following day to be able to rediscover the lovely flavour left in my mouth after eating a canelé. Indeed those little treats are so special that they require resting time before spending time in the oven to be baked. My enthusiasm had me missed one important step. Read the recipe until the end before doing anything!
And so without waiting more, let me share with you the recipe I got, from that same pastry in Bordeaux: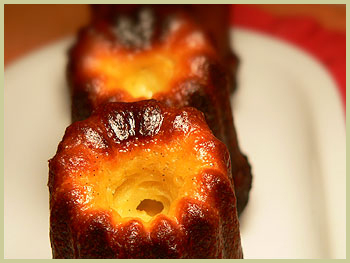 Canelé with cardamom crème anglaise
You need:
For the Canelé Batter:
½ l milk
2 vanilla beans
250 g sugar (I use less, about 180g)
125 g flour
6 egg yolks (I have tried with 4 too)
50 g butter
50 ml rum
For the Cardamom crème anglaise
1/2 l milk
7 cardamom pods
50 g sugar
2 egg yolks
Steps:
To prepare the cardamom cream, start by boiling the milk with the cardamom pods.
Filter it.
Mix together the egg yolks and sugar until very white.
Add to the milk, stirring constantly.
Place on heat again and slowing thicken the preparation without making it boil. It thickens slowly. Make sure not to boil!
Stir constantly with a wooden spoon, describing circular movements.
To prepare the canelés, you need to plan it on two days. The first day, start by bringing the milk to a boil with the vanilla beans. Let the beans infuse.
Mix together the flour and sugar.
Add the egg yolks and mix well.
Add the milk to this preparation.
Add butter and rum.
Place in a bowl in the fridge overnight.
The next day, preheat the oven at 425F.
Mix the preparation together. Grease the moulds with butter.
Fill them with the preparation (not right at the top as they rise and fall back again).
Let them cook for about 1 hour. Check regularly (you might prefer them less dark, but be assured that the dark colour does not affect the moist inside.
Remove from the molds when still hot and let them cool down.
EAT! One of my favorite afternoon comfort food on a cold day in winter.