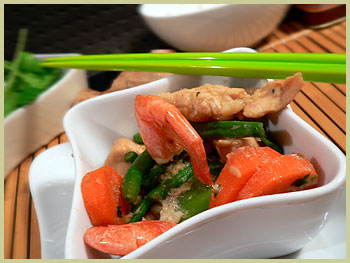 I have a strong attraction for Asian food. I am far from being an expert at cooking it, but I still cook it often with favorite recipes of my own or from the many cookbooks I have, to which I add my own variations to satisfy my taste and favorite flavors. I use basics and my beautiful Le Creuset wok. In my opinion, when there is little food inspiration for a meal, stir-fries are the best things to make.
Whenever we are in Paris, we have a tradition of going to a Thai restaurant in the 5th arrondissement called Chieng-Mai, 12 rue Frédérique Sauton, métro Maubert-Mutualité. In an original Authentic Thai setting, we find excellent service and food, such as shrimp grapefruit salad served in the grapefruit shells with cashews, or any delicious fish with lilies cooked in coconut milk. Over the last few months while travelling to Paris, I dined there a few times and have almost the feeling that I can now officially be considered as an habituée, just like our friend Ara whose first meal there was in the early 80s. Some celebrities can occasionnally be seen but that is not really why I go, seriously (although some gossips are always welcomed!). I think the time my friend mentioned he saw Catherine Deneuve there, I looked at him and said: "Ah bon?? Non! Pas possible! "Come on, it was Paris, so what did I expect, it surely was not my 600 inhabitant home village!
Last night, I decided to make a quick stir-fry to experiment more with basics. It was easy, fast and delicious. I recommend it for a quick fix.
Like any stir-fries, it required:
a few Asian sauces – which you should always have, such as oyster sauce and fish sauce
meat (this stir-fry is using chicken)
or fish (I use Maine shrimps for this recipe)
vegetables (try to mix colours so that it looks as nice as it tastes nice)
fresh herbs (don't ask me, I always have fresh coriander and parsley in my fridge)
garlic (a classic)
lemongrass (and this one too, I always keep a supply handy)
What is better than a quick stir-fry to get the best of the vegetables, crunchy and juicy, with all the vitamins?
Lemongrass Chicken Shrimp
(For 4 people)
You need
200 g chicken breasts
150 g small shrimps

( I love Maine shrimps for this recipe)

2 lemongrass sticks
3 garlic cloves
3 tbsp oyster sauce
2 tbsp fish sauce
Fresh coriander
Ginger root (1.5 inch)
150 g fresh carrots
200 g fresh French beans
150 g snap peas
Pepper
1 large tbsp sesame oil
Steps
Start by peeling the ginger and garlic and chop them thinly.
Slice the chicken breasts ready to be stir-fried and mix with the oyster sauce ; set aside.
Peel the carrots and slice them thinly.
Clean the French beans and snap peas.
Chop the white part of the lemongrass thinly. Remove any hard part.
Take a large wok and heat it. Add the oil, then after 30s, add the garlic, ginger and lemongrass.
Cook for a few mns and add the chicken (You might need to do a few batches depending on how big your wok is). Cook for about 5 mns.
Add the carrots and French beans and cook for 5 mns.
Add the snap peas and cook for a few more mns before adding the freshly chopped coriander.
Add the fish sauce with the shrimps, and let cook for a few more mns. Season with pepper as needed.The vegetables should not be overcooked but remain firm. When the shrimps are cook, stop the heat and cover for a mn before serving.
I served this dish with coconut flavored rice (thank you Nyep!) and arugula salad with sesame oil and white balsamic vinegar. The best part is that I have leftovers for tomorrow's lunch.