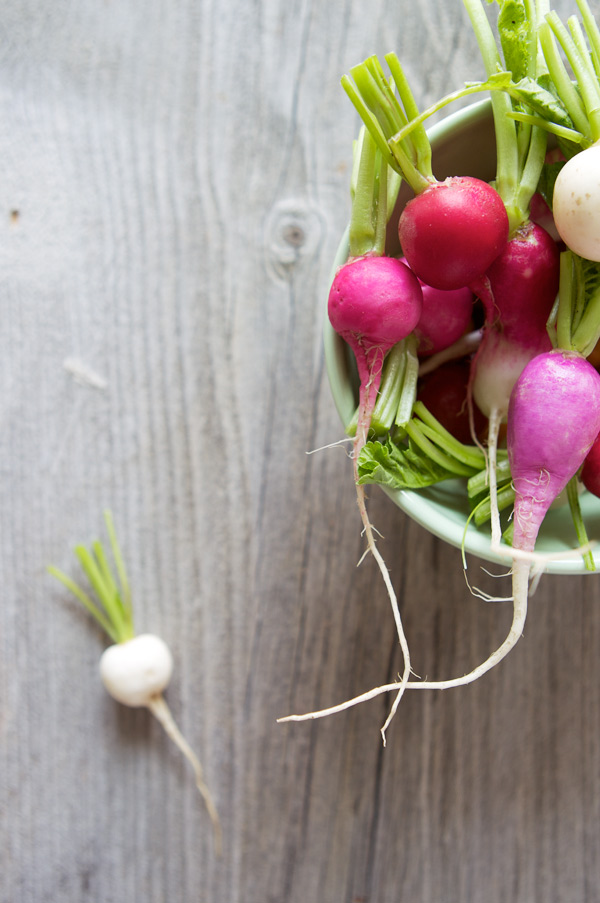 Les radis multicolores
When we woke up early on Friday with Lulu cuddled between us, the sun was already filtering through the bedroom blinds. A few robins were chirruping in the trees near our window and instantly, we knew that the day would be gorgeous. P. had the day off so we decided to go to the beach. And have a picnic.
Since our plan was rather spontaneous, I was thankful for my visit to the first farmer's market the afternoon before.
I had come home with pretty colorful radishes, strawberries, purple spring onions and beautiful mesclun salad in my market basket. Enough to imagine a radish salad that would accompany a dish of warm black quinoa with asparagus sauce that takes only minutes to prepare.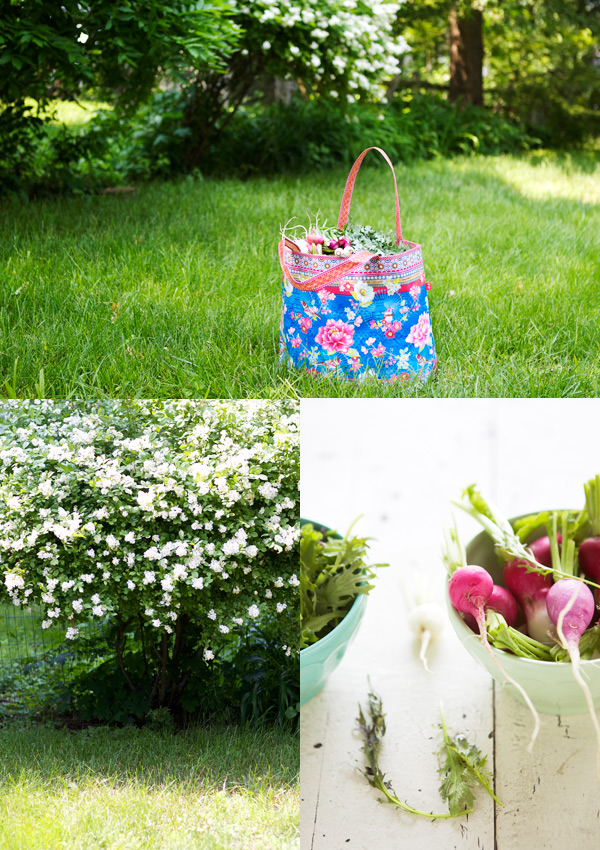 "On va à la plage," we told Lulu while we were having a plate of vanilla-flavored millet waffles at the breakfast table. Her face immediately lit with a large smile.
"Vacances !" she shouted out loud.
We laughed. Of course. Our small excursion sounded like a vacation indeed.
And so with the help from my Lulu, I prepared our picnic lunch.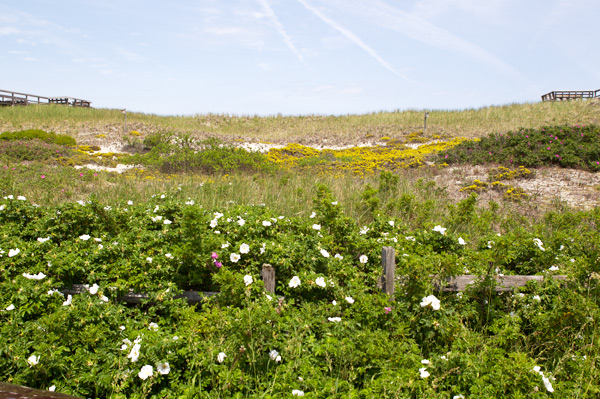 It was a beautiful and easy day.
The bushes lining the sand dunes displayed pretty flowers that looked like colorful pieces of candy. I could smell the vibes of summer without the crowds and the August heat.
As expected, Lulu had a lot of fun. Seeing her run and skip on the beach, laughing heartily, was the best gift we could have hoped for that day.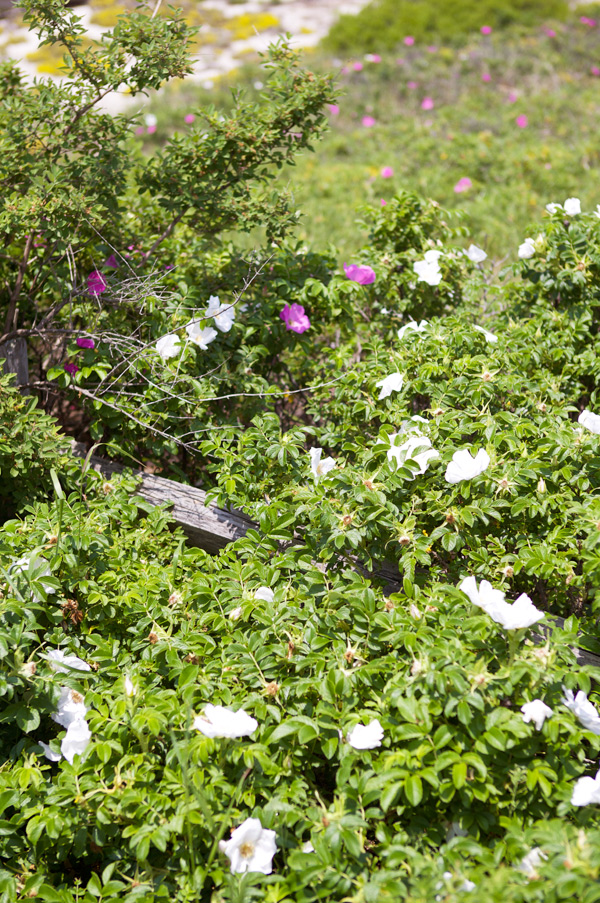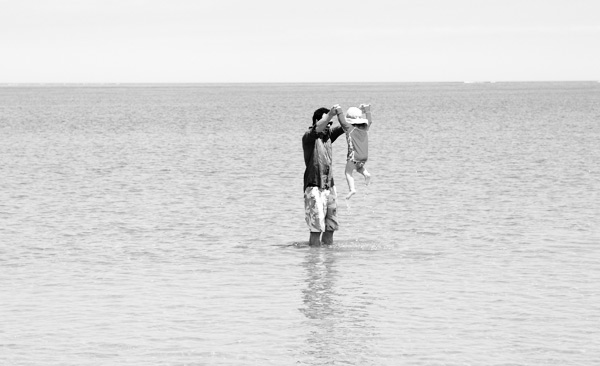 "Tu as faim ?" (Are you hungry?) I asked her shortly after her first dip in the water.
"Oui," she replied instantly.
The three of us sat on the edge of the blanket with our feet dug into the sand. And we started to eat. Quietly. Undisturbed by the seagulls curious about our food.
The way Lulu was letting me feed her quinoa showed that indeed, she must have been hungry.
P. and I enjoyed the balance of texture and spicy taste the radish salad brought to our meal. I had also packed a strawberry salad and apricots, and was glad to find rhubarb muffins in the freezer that I wrapped and tossed in our picnic bag too.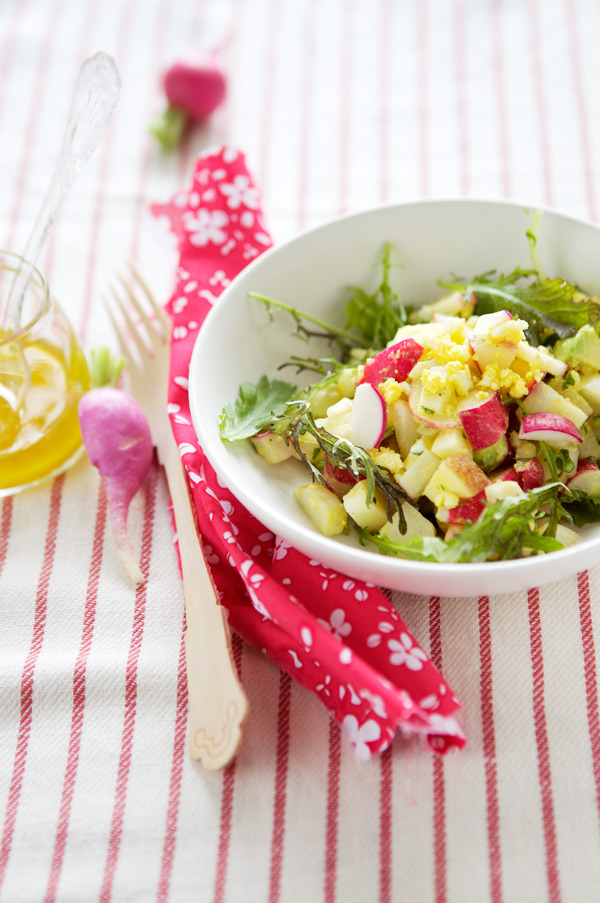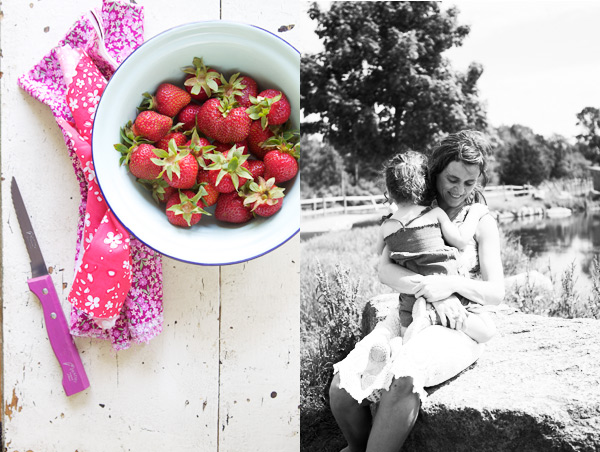 By three o'clock, we decided to leave because, on the way back, we wanted to make a stop at a farm nearby to pick strawberries.
"We start tomorrow," the tall solidly-built young girl standing at the cashier said when I asked her whether we could pick the fruit.
"But you can buy strawberries we've already picked, if you want. And you can go and see the animals at the back of the farm."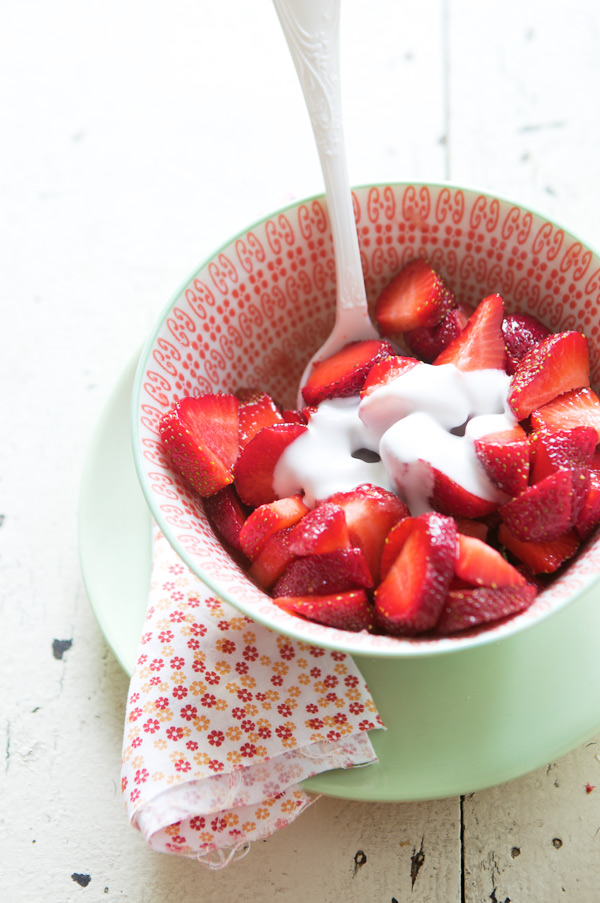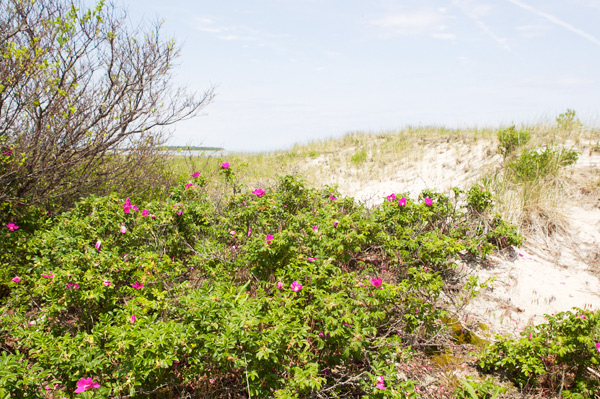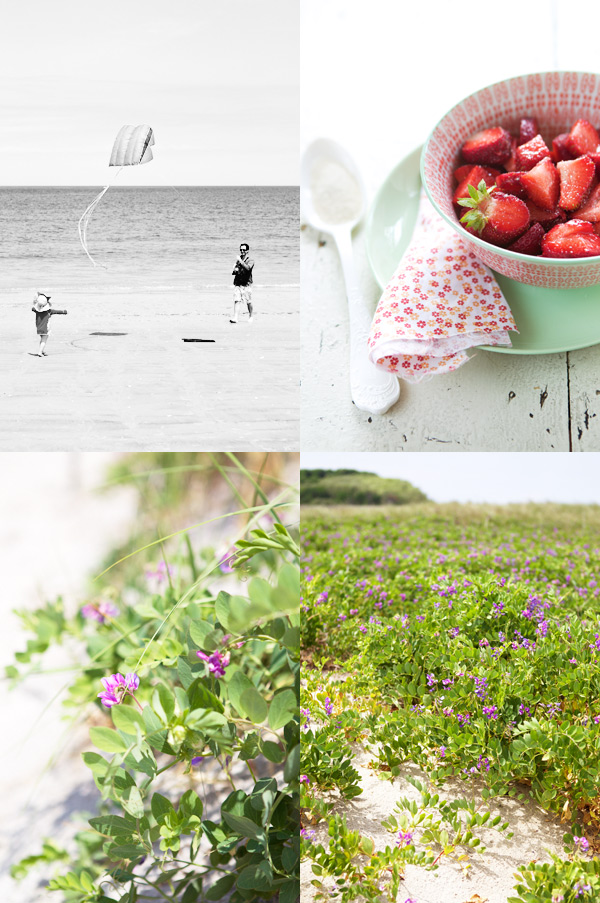 So I bought two large containers of strawberries. One for us to enjoy. The other to go inside a dessert I was planning to make and bring to a friends' garden party the next day.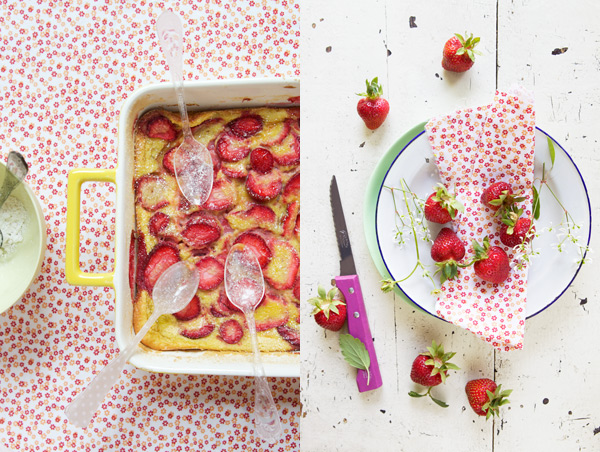 Les fraises de la ferme
And then we walked outside to see chicken and geese; ducks and goats; sheep and ponys.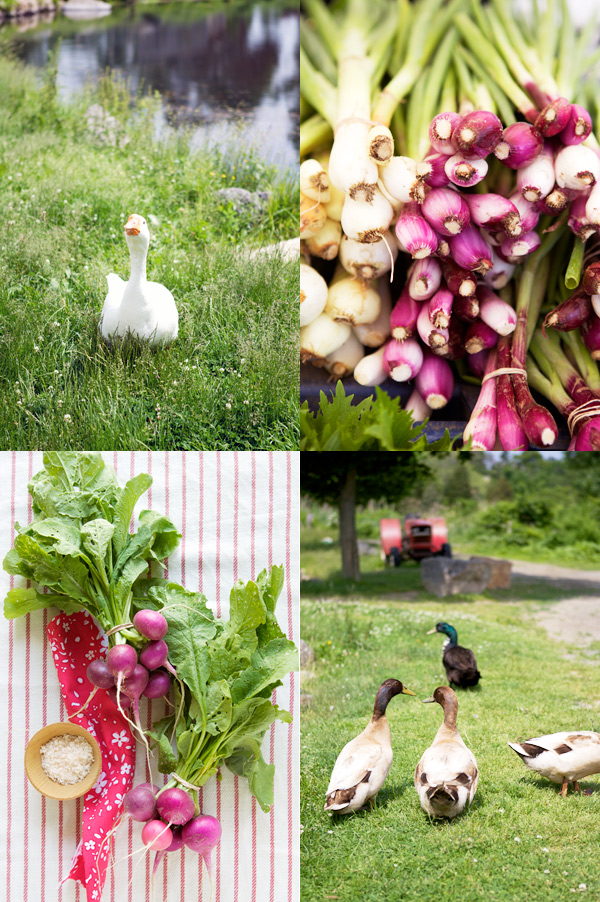 "On reviendra la semaine prochaine," (We will come back next week) I told Lulu as we were walking back to the car. She was holding her papa by one hand, with a warm doughnut I bought for her at the farm stand in the other.
"These are good!" P. exclaimed after biting into one too. "So nice that I think I want a second one!"
I looked at them and smiled. Munching each on a doughnut, they really made a happy-looking pair.
"I am sure she is going to sleep in the car after all of this, " I laughed.
It didn't fail. Back inside the car, within minutes on the road, Lulu was fast asleep, assuring us that she liked the beach, when we asked her if she had had fun.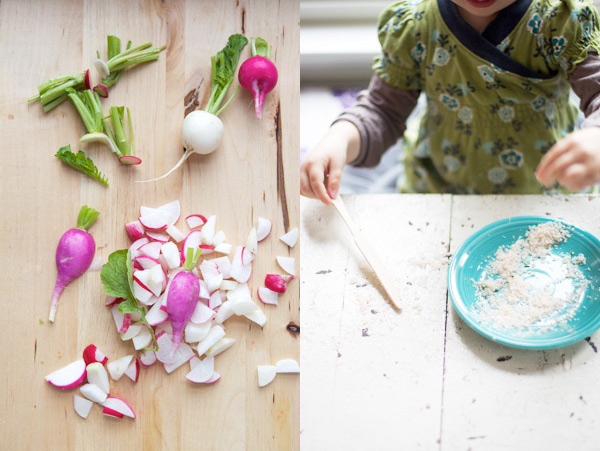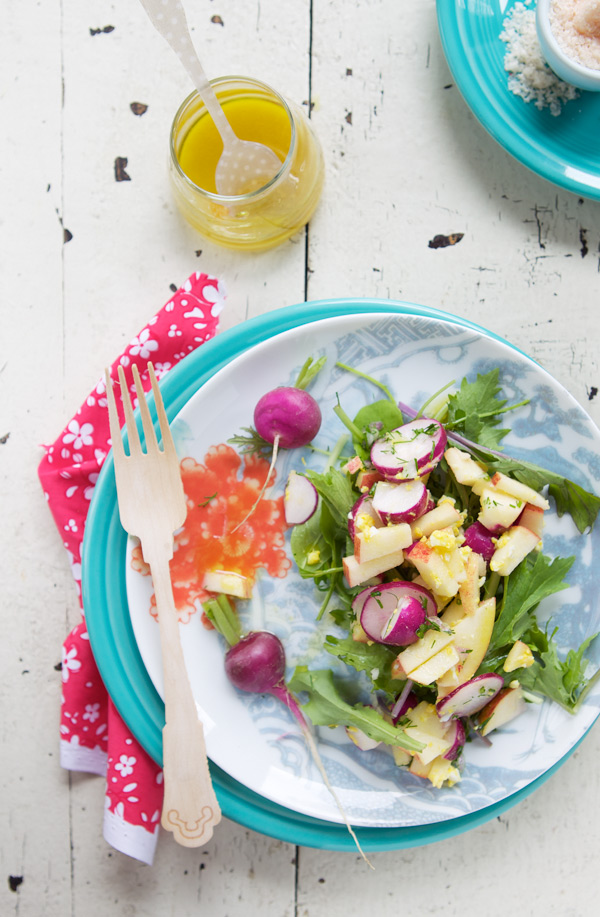 Radish salad with apple, avocado, egg and shaved Manchego
Radish salad with apple, avocado, egg and shaved Manchego

(For 4 people)
For the salad:
2 cups mixed mesclun salad
2 bunches of colored radishes, diced
2 hard boiled eggs, shelled and crumbled finely with a fork
1 red apple (like Gala or Honey-crisp), cored and diced
1 avocado, diced and drizzled with lime or lemon juice
Shaved Manchego cheese, to taste
For the dressing:
Sea salt and pepper
1.5 teaspoons honey-flavored mustard
1.5 teaspoons honey
2 garlic cloves, crushed
1.5 tablespoons white balsamic vinegar
3 tablespoons olive oil
1.5 tablespoons pistachio oil
1 spring onion, chopped
1.5 tablespoons chopped parsley, dill and chives

Steps:
To make the dressing: In a bowl, combine the ingredients in this order: sea salt and pepper, honey mustard and honey. Whisk in the vinegar and garlic, and finish with the two oils. Emulsify and stir in the spring onion and herbs; set aside.
In a large bowl, combine the mesclun greens, radish, egg, apple, avocado. Add the dressing and toss. Toss in shaved Manchego cheese and serve.