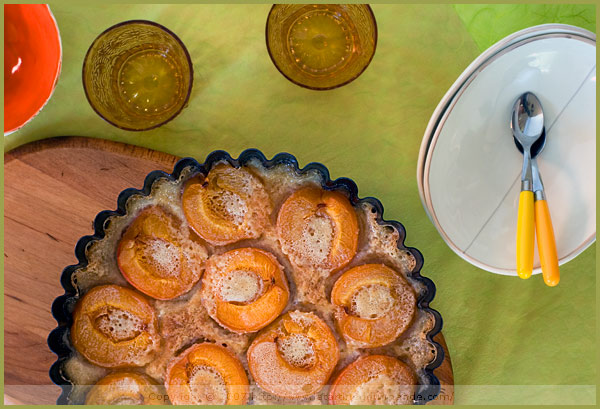 Apricot Chestnut Clafoutis
L'été.
Summer.
Some people like it hot and dry, some like it hot and humid, others prefer it cool — I have not heard anyone yet ask for rain though, even amongst members of P.'s Irish family.
Me?
I am looking forward to Indian Summer, already — in Boston, they are amazingly beautiful. La chaleur, not my cup of tea, if you ask. I prefer it dry and moderately warm. Quite picky, you might say?
Yet, I can acknowledge that summer has the gift to provide a lot of beautiful produces, fruit and vegetables. Plenty of fresh colorful ingredients to make tasty, colorful salads, like this Crunchy Vegetable Salad, salade de légumes croquants.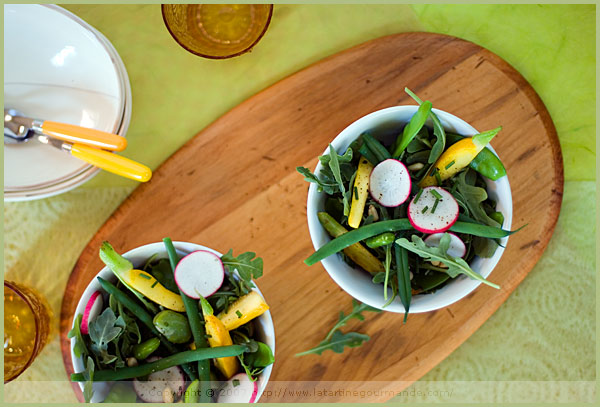 Crunchy Vegetable Salad — Salade de légumes croquants
Or to prepare seasonal fruit desserts.
Do you know anyone who would complain about this?
Pas moi.
I am especially fond of this time of year when we finally see Apricots show their face. I never resist them.
Although I have not found the best ones yet, those eaten simply by the piece, juicy and sweet, making a mess after the first bite, I have already managed to cook them in a delectable clafoutis. Apricots are really a whimsical and difficult fruit to have right. Too ripe and they suddenly have an unpleasant taste of fermenting alcohol. Still hard and you feel as if you were eating a piece of sour plastic. I am sure that you might not believe me, or add that you have heard this before, but I will say it nonetheless: it was the best clafoutis that I ate in a while. Not the most beautiful one. Not the most presentable one. But so memorable. So much so that I have decided to make a second one tonight.
To enjoy the richness that summer has to offer, beside the heat. And while there are no recipes attached here, I hope that you will not mind. I could not wait to share my Apricot Happiness before I am done with the writing.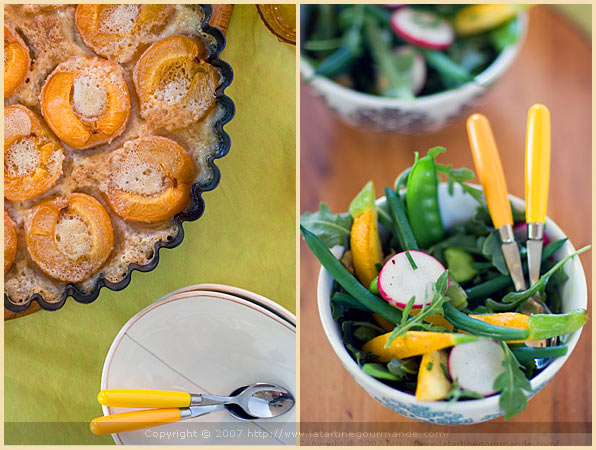 Technorati Tags: Food Styling, La Tartine Gourmande, Food Photography, Apricot Clafoutis, Chestnut Flour, Gluten Free Baking, French Dessert