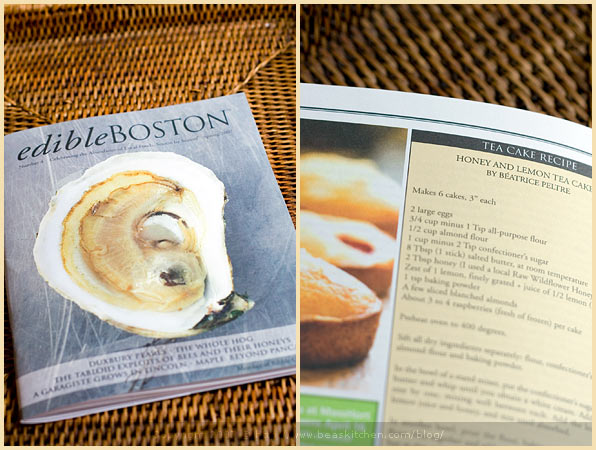 Boston Edible Spring Copy
I am a lucky one. I will spare you the details of how it happened — it however made me realize that I live in a small city, even with a population of four million plus. A while ago, I met with Ilene Bezahler, the friendly editor and publisher of Edible Boston. Have you heard about this magazine, in Boston, San Francisco, Atlanta, Phoenix, to only name a few cities where there is an edition? Edible Boston offers rich useful information about how to eat locally and provides timely resources about local food news and events. I was thrilled when Ilene invited me to contribute.
My first contribution is in the latest 2007 Spring edition in which I suggest a Honey and Lemon Tea Cakes recipe. I received my copy today.
The recipe will be available on Edible Boston website.
I hope that you will enjoy the magazine as much as I do if you get a chance to get hold of a copy.
Thanks Ilene!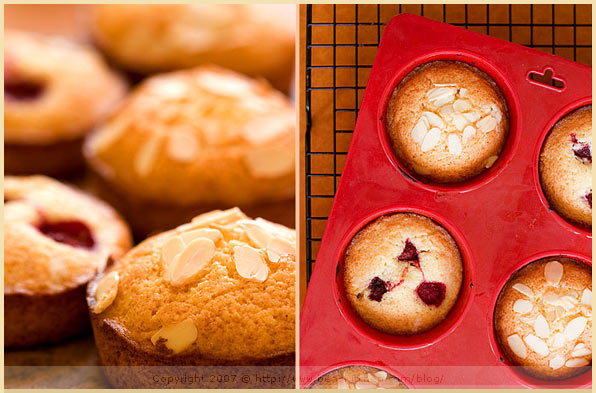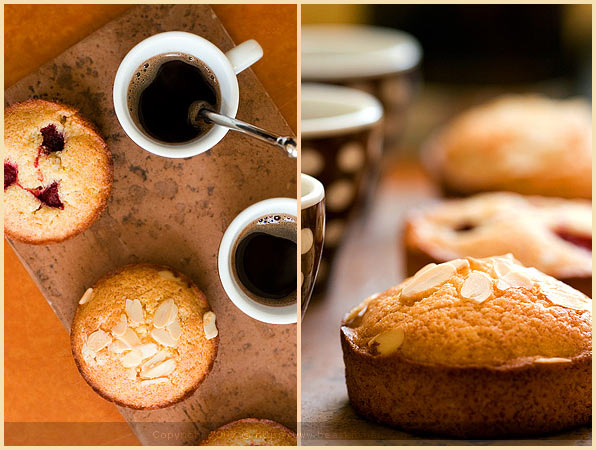 Honey and Lemon Teacakes
Makes 6 cakes, 3" each
You need:
2 large eggs
3/4 cup minus 1 Tbsp all-purpose flour
1/2 cup almond flour
1 cup minus 2 Tbsp confectioner's sugar
8 Tbsp (1 stick) salted butter, at room temperature
2 Tbsp honey (I used a local Raw Wildflower Honey)
Zest of 1 lemon, finely grated + juice of 1/2 lemon (2 Tbsp)
1 tsp baking powder
A few sliced blanched almonds
About 3 to 4 raspberries (fresh of frozen) per cake
Steps:
Preheat oven to 400 degrees.
Sift all dry ingredients separately: flour, confectioner's sugar, almond flour and baking powder.
In the bowl of a stand mixer, put the confectioner's sugar with the butter and whip until you obtain a white cream.
Add the eggs, one by one, mixing well between each.
Add the lemon zest, lemon juice and honey, and mix until absorbed.
In another bowl, pour the flour, baking powder and almond flour. Mix together and add to the previous batter. Mix together but at this point, do not overwork the batter. It should be thick and creamy.
Grease small molds (muffin type, silicone if you have them) and fill 3/4 full with the batter.
Place a few raspberries on top and gently press them down. Add a few sliced almonds on top.
Bake the cakes for 10 min, then reduce the oven temperature to 350 degrees and continue to cook for 10 to 12 minutes. Check that they are golden in color and remove. Wait for a few min before removing from the molds. Let cool on a cooling rack. Serve with a nice cup of tea or coffee.