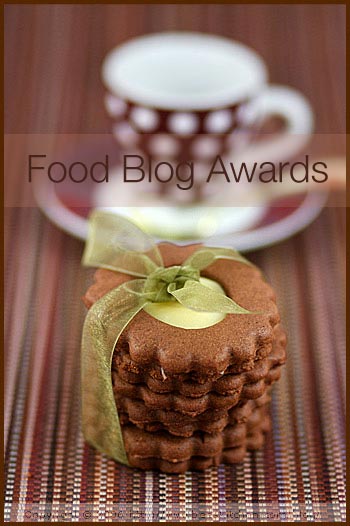 I would never have imagined….
What a nice surprise that is! I just found out tonight that I have been nominated in the Best Food Blog Awards 2006 hosted by Well Fed in two different categories, along with very talented food bloggers.
The names of the Top 5 Food Blog Nominations have just been announced for all categories.
I have no other words but to thank everyone of you who actually nominated my blog in the two categories that follow:
So what needs to happen now?

Voting!
Ah, this is the second hardest part, when you see the list of food blog names next to mine. They are all great !I would, of course, be pleased to see voting coming my way (imagine me smiling), but I also want to wish good luck to all of us.
If you follow the links below, you will be able to access these two categories.
Voting is open until January 9th, 2007 midnight EST, so do not wait! And thank you in advance for all of your support!
En français
Je n'y aurais jamais cru…
Quelle agréable surprise ! Je viens juste d'apprendre ce soir que mon blog a été nominé dans la compétition pour Les meilleurs blogs culinaires 2006 organisée par Well Fed , dans deux catégories différentes, aux côtés de talentueux bloggeurs et bloggeuses culinaires.
Le nom des 5 meilleurs blogs culinaires a été annoncé, toutes catégories confondues.
Je n'ai pas d'autre mot, mais que de remercier toux ceux et celles qui ont nominé mon blog dans les deux catégories qui suivent :
Alors, que pouvez-vous faire dès à présent ?

Votez !
Ah, c'est la deuxième chose la plus difficile après la première étape, quand on voit la liste des noms au côté du mien. Tous superbes ! Il va sans dire que je vous encouragerais bien à voter pour moi, bien sûr (imaginez un sourire à mes lèvres), mais je veux surtout souhaiter bonne chance à tous les talentueux nominés.
Si vous suivez les liens ci-dessous, vous pouvez accéder aux deux catégories où mon blog a été nominé.
Vous pouvez voter jusqu'au mardi 9 janvier 2007 à minuit, heure de la côte est américaine, alors n'attendez pas ! Et merci beaucoup d'avance pour votre soutien !